For some people, having a good camera is all that's needed to take professional-looking photos. But for most of us, it can be difficult to capture the best photo or even take a simple and presentable selfie.
Many smartphone cameras might have the settings to do so, but there's always room for improvement. Fortunately, there's Camera360, an Android camera enhancement app that uses different camera modes, filters, and other settings to create the best-looking photo.
Take a closer look at what Camera360 is all about, how it has defined the world of photography and selfies, and why millions of people choose to use Camera360 over others in this article.
A Camera App Designed for Selfies
Get the Camera Options You Need to Take the Perfect Shot
Different Camera Modes for Different Occasions
Beauty in a Single Tap
The Most Social Media-Friendly App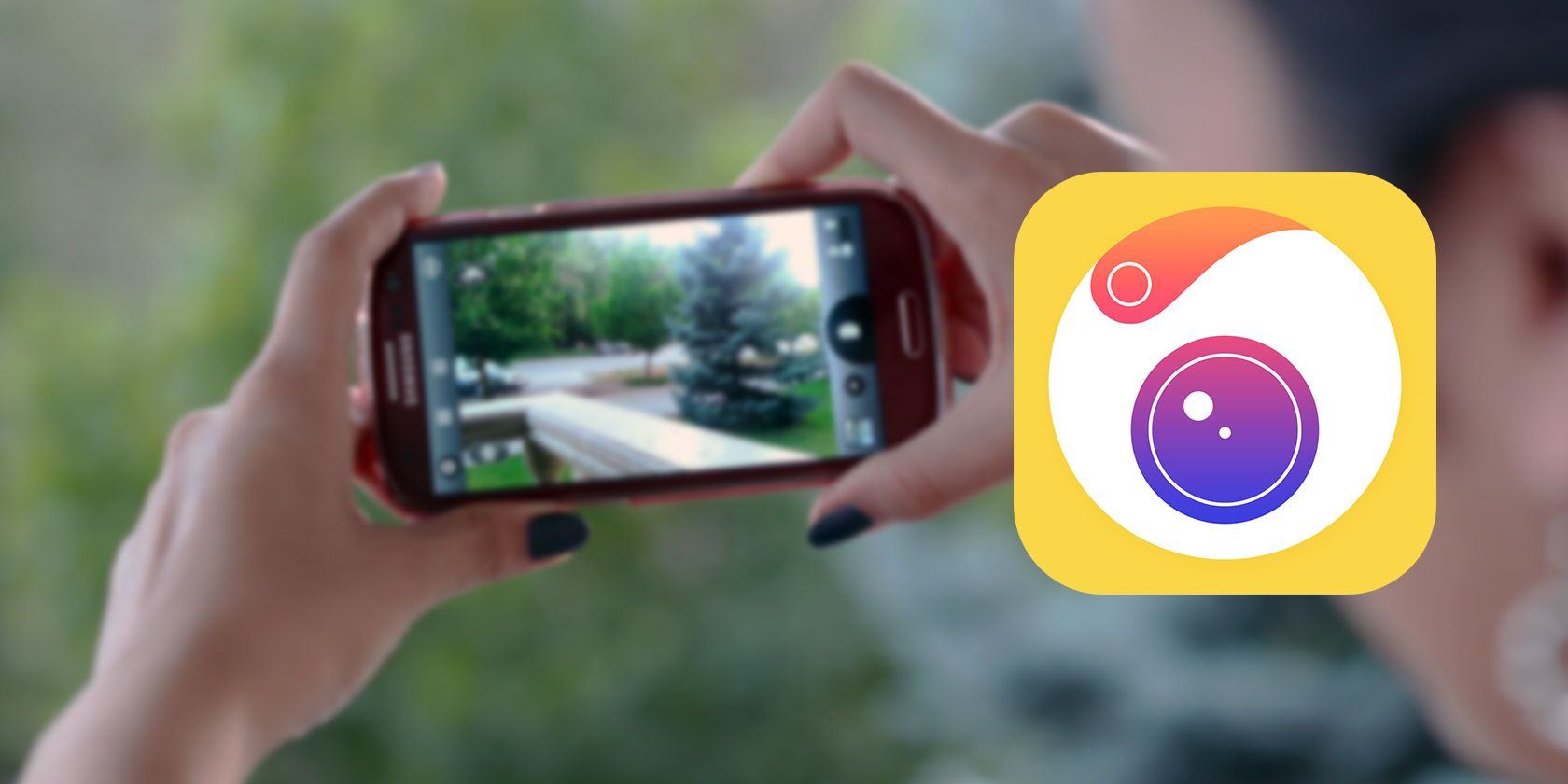 A Camera App Designed for Selfies
Selfies, as defined by modern society, are photos taken of oneself using your phone's camera. On social media, it's easy to find hundreds of celebrities posting perfect selfies showing off their blemish-free skin and perfect skin tone.
You might think that you could never capture the perfect selfie, but all it really requires is a good camera app. Camera360 is the leading Android camera enhancement app that focuses on enhancing your selfies.
In the app, there's a whole section made specifically for selfies, and when you run the feature, it automatically starts your front camera and takes a selfie. You are then treated to a wide variety of options to enhance your selfie before posting it on social media.
You can even trigger the camera to take a selfie using a thumb-up gesture. The result is an Instagram-ready 1:1 format which should make it easy to upload your selfies on social media without too much editing.
Less Clutter, Better Navigation
Previously, users were not happy with how the app was designed. Navigation was a total mess, and users were confused with where to find the camera mode or setting that they wanted to use.
In the most recent update, Camera360 has improved its user interface, keeping all of the main features of the app while allowing them to download peripheral features through the in-app store for free.
This provides less clutter and gives users the ability to choose the features that they like to use without having the burden of navigating through a wide selection of options that they would barely choose. No more spending a couple of minutes trying to find Burst Mode.
Get the Camera Options You Need to Take the Perfect Shot
Alongside the many features that you can find on the user interface of the app, there are a few that are quite important if you are looking at Camera360 as your go-to camera app for taking amazing photos.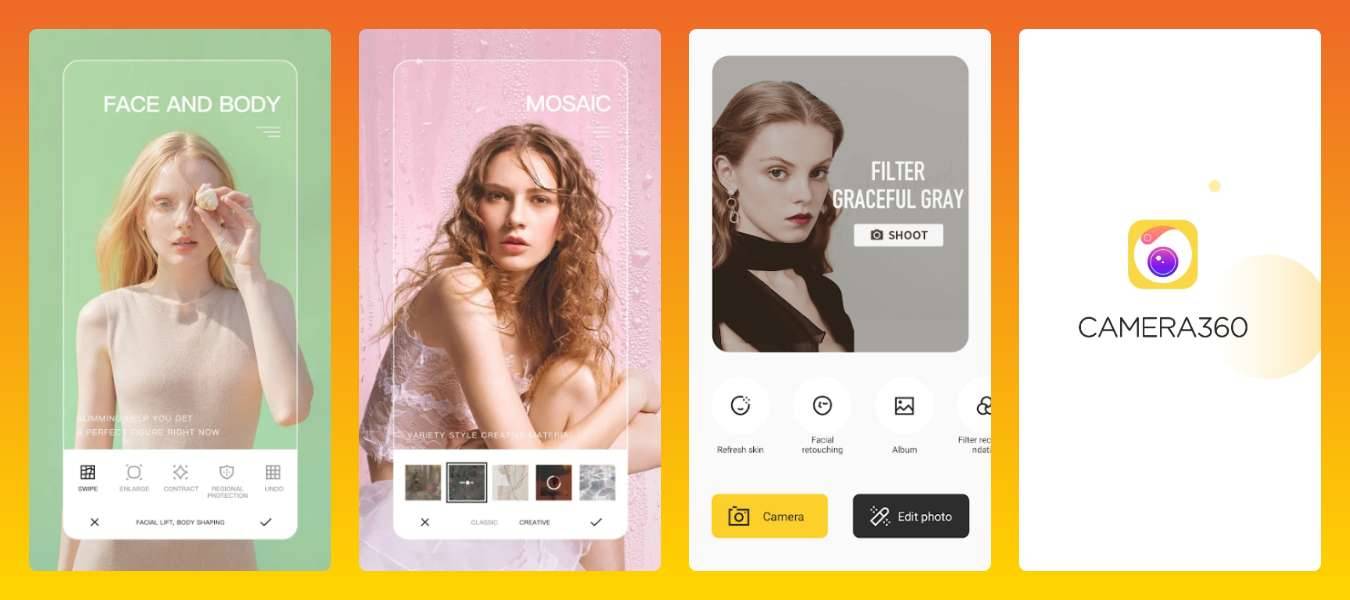 The app also features built-in camera tools that will allow for versatility when taking photos. At the top portion of the screen, you'll notice several options that allow you to toggle flash and switch between your phone's cameras.
Some options will allow you to modify different aspects of the camera, including exposure, timer, white balance, and image stabilizer.
These settings are quite important for those who want to capture the best photo to post on social media.
Taking Better Pictures with the Camera360 Camera Tools
Taking good photos has never been easier with the help of the Camera360 app. The app features typical camera modes while using your phone's camera.
For those who have shaky hands and have a hard time getting the shot, the app also has the Stabilizer mode where it stabilizes the images. There's also the Timer mode and Burst mode, where you get to shoot a series of photos within a few seconds.
At the Settings tab, you'll also find a wide variety of options for your camera, such as auto-focus that lets you focus on the exact focal point and options like microspur and infinite distance.
Advanced Camera Modes for Different Occasions
Camera360 also has some of the best camera modes out of any camera app for Android. The Tilt-Shift mode, a very popular camera mode, allows you to place either a vertical or horizontal bar to focus on a certain area and blur the rest.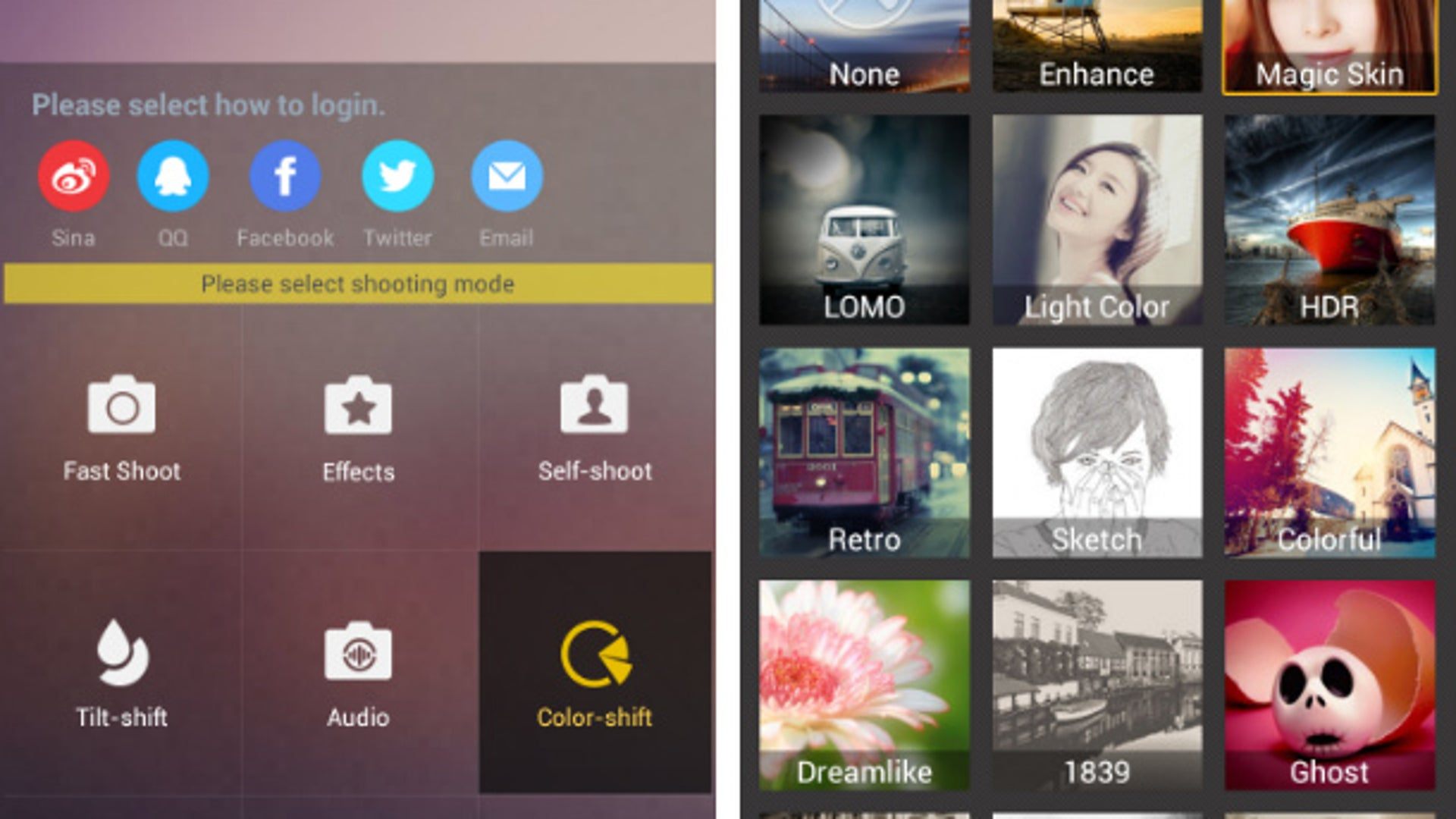 The Color-Shift mode renders your photo in black and white with the option to select a single color to appear in the image. Many users tend to use the color red as it has the best contrast against black and white.
Then, there's the Audio mode, where you get to incorporate a five-second sound clip into your photos which fully captures the experience you had at that moment.
Lastly, you have the Puzzle Mode and Photo Splice Mode, where you can create fancy collages from the photos saved within your gallery. Try to experiment with these camera modes and see which ones fit your style the best.
A Wide Variety of High-Quality Filters
You might find yourself having to use other apps just to find the best filters for your photos. Some might even look to Instagram to create the filter and then save the image to use on other social media apps.
With Camera360, there's no need to search elsewhere for high-quality filters. There are 200 pre-installed filters to try and even more ready to be downloaded within the app.
Filters are divided into different categories, which include Retro, HDR, Dreamlike and more. Many of these categories are further divided into subcategories that feature even more specific filters for your needs.
Beauty in a Single Tap
If there's ever a time when you begin to doubt your photography skills, launch Camera360 to come to the rescue.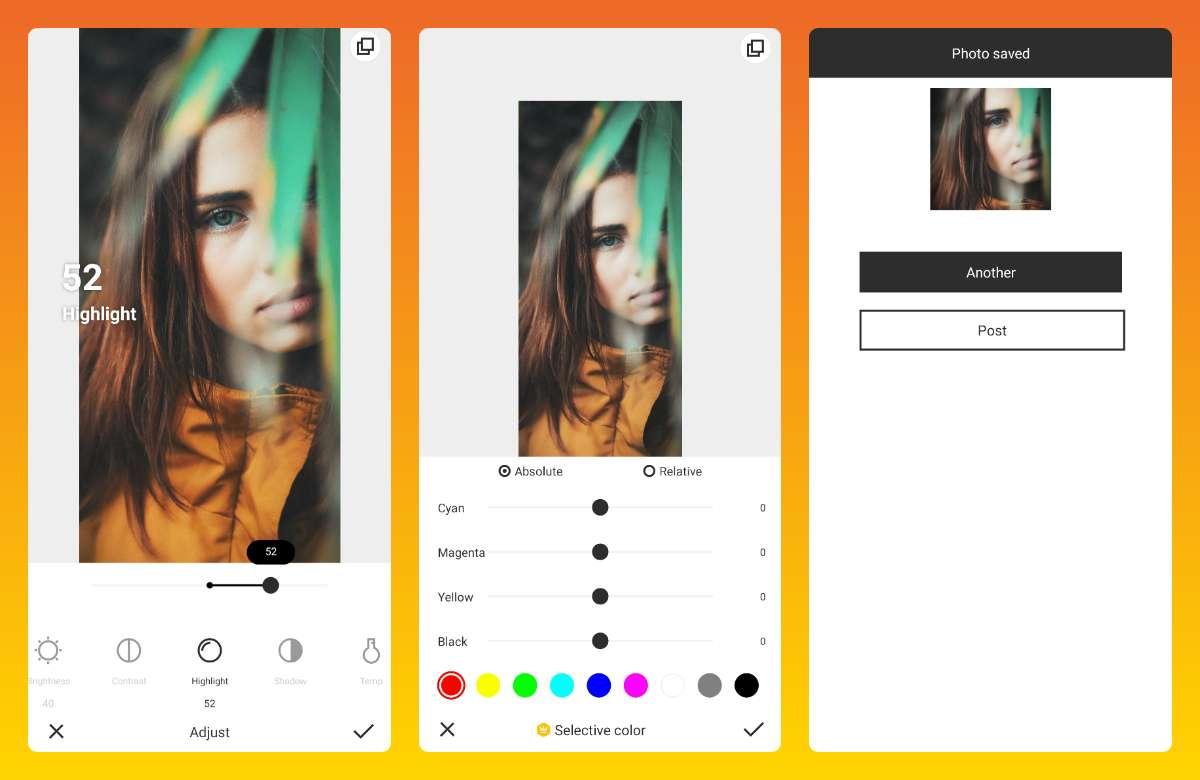 Most of us don't have the time to learn photography skills that will result in beautiful images, especially when we're just using the app for selfies and the usual group pictures with friends. However, we still want our photos to look good.
This is why Camera360 has some of the best single-tap features out of all camera apps. With just one tap, your photos are enhanced, and any imperfections are immediately removed.
Photos are transformed into professional-looking images that many people may think were taken by a photographer. This is why Camera360 remains one of the best Android camera enhancement apps on the market.
Store Your Photos Safely
It comes as no surprise that Camera360 also has a great saving feature through its Cloud service. The app allows you to store your photos, including your app settings, through the Cloud service.
All of your photos and settings are stored privately within the service, so you know there's nothing to worry about. With this service, you can access your photos at any moment.
It also helps that you can still recover all of your photos and app settings if you happen to lose your phone.
The Most Social Media-Friendly App
Probably one of the best features that Camera360 has come up with in the past few years is the option to link your social media accounts to the app. This allows you to share your photos immediately after editing them.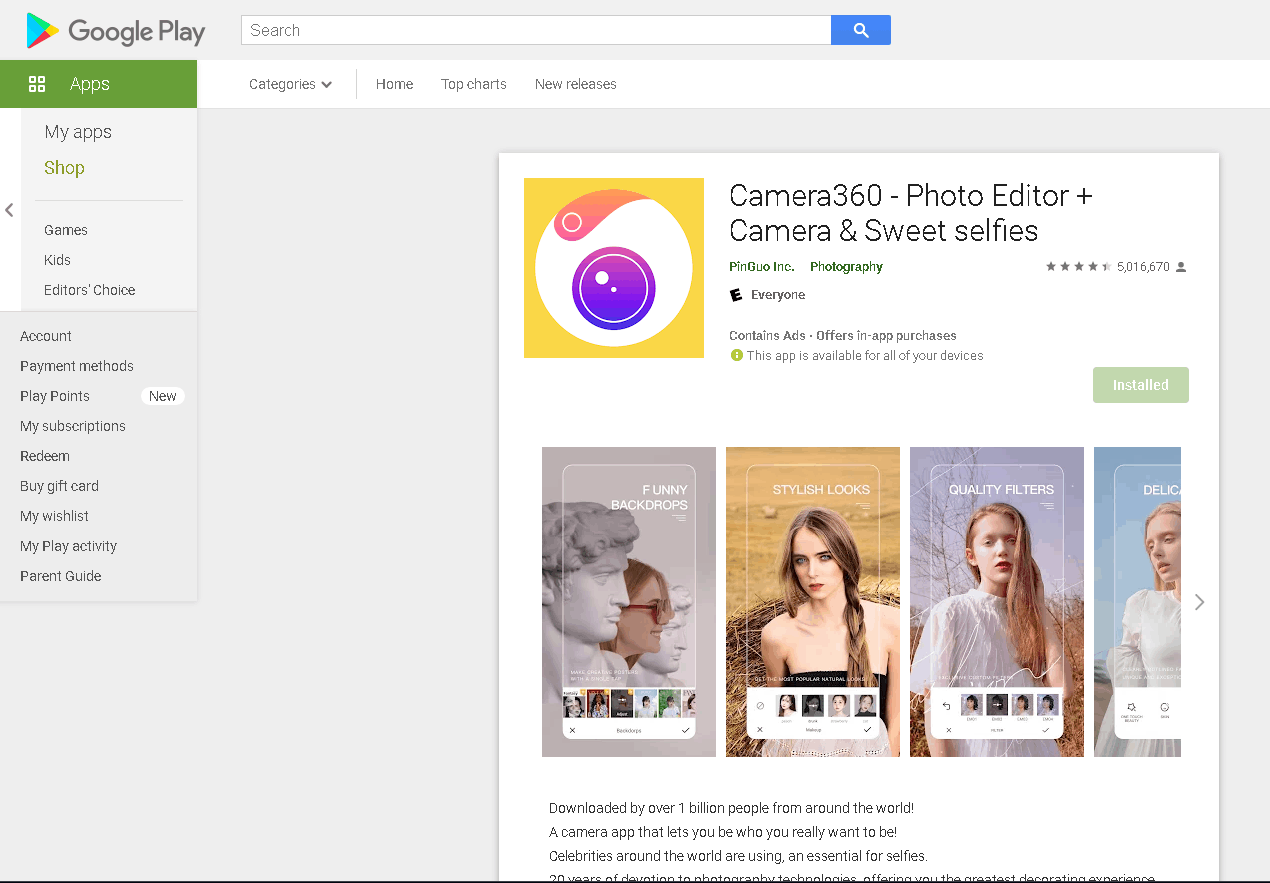 No more uploading and re-uploading images that take up a lot of your time. Simply tap Share, and your picture will immediately post to whichever social media accounts you choose that are currently linked with the app.
Users are also even treated to mini-games such as the Capture Challenge, where you get to take photos, share them through your profile, and whoever has the photo with the most popularity wins.
This motivates users to take great photos, edit them, and get rewarded by unlocking some premium content on the app for free. You also get to connect to the developers on their official Facebook page.
Downloading Camera360
Camera360 is now available to download for Android mobile devices. It is free to download and use, but some app features may require in-app purchases.
To download, search for the app on the Google Play Store under the name "Camera360 – Photo Editor + Camera & Sweet selfies" and tap the Install button.
Wait for it to fully install, and then launch the app by clicking the Open button or opening it from your phone's app tray. Connect your social media account to enjoy more features.
Conclusion
In general, Camera360 offers some of the best camera features that you could hope for. There is a wealth of camera modes that you can use to capture exciting photos and a wide variety of options such as filters and beauty settings to make your photos look even better.
With the recent update to its user interface, Camera360 is now easier to navigate and use, especially for those who are new to using the app. It's no wonder why more than 500 million people have downloaded the app.