There has been a steady increase in the usage of mobile banking because of the convenience it brings. As of 2021, there are over 57 million mobile banking users in the country.
As the biggest banking institution in the US, Bank of America also offers mobile banking through their Bank of America Mobile Banking app. The bank made all their financial and banking services available through this comprehensive app.
Get to know more about the Bank of America and how its clients can utilize its mobile banking services below.
About Bank of America
Privacy and Security When Using Bank of America Mobile Banking
Enrolling an Account
Receiving Account Alerts
Paying Bills
Checking Your Credit Score and Redeeming Rewards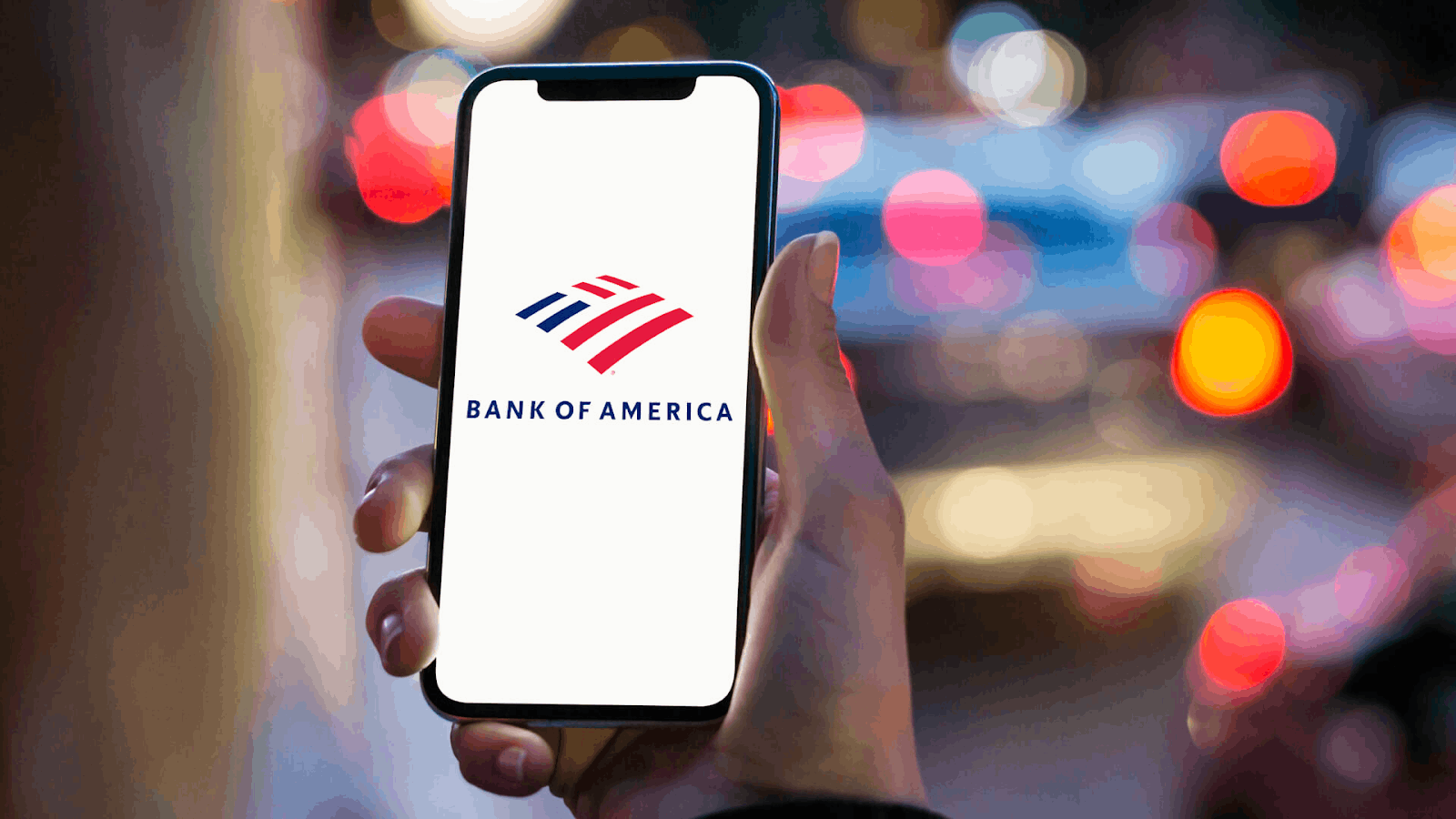 About Bank of America
Bank of America Corporation, simply known as Bank of America, is a multinational investment bank and financial services company. It has a rich history of being a full-service national bank, rendering services for over 240 years.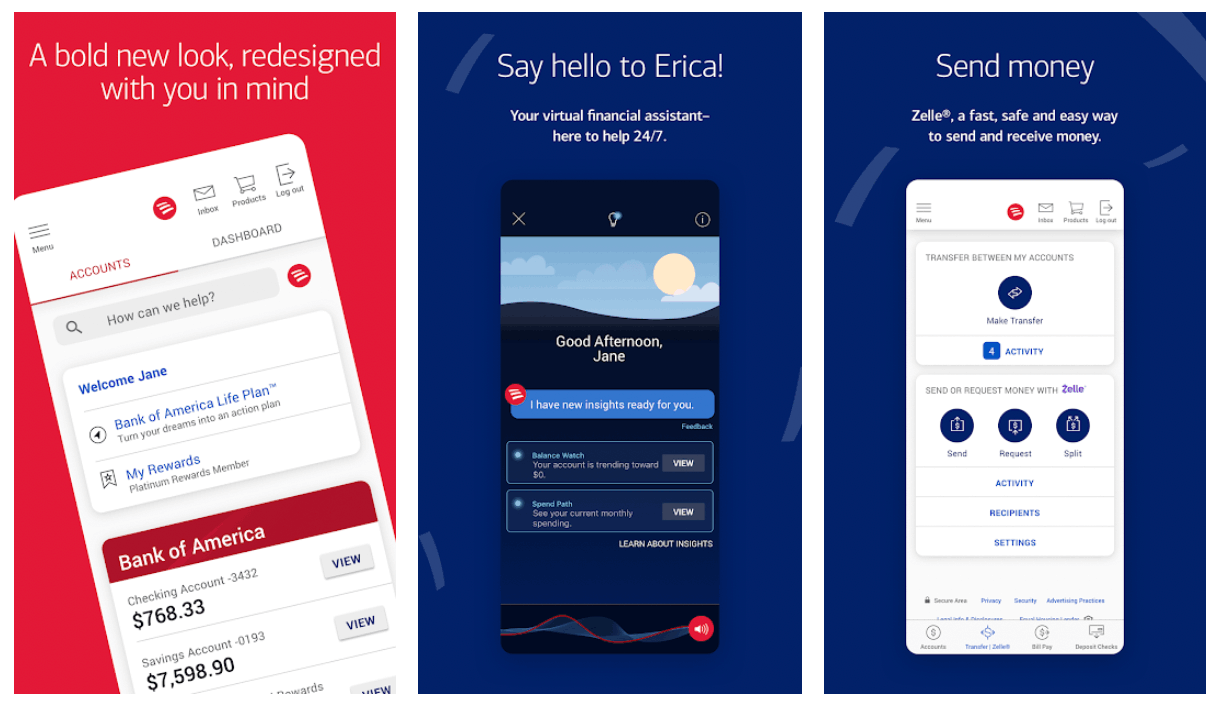 Founded in San Francisco, California, it is now headquartered in Charlotte, North Carolina. The banking institution serves 10.73% of all American bank deposits.
With many customers and clients, Bank of America is the second-largest banking institution in the US. Bank of America is also considered the eighth largest bank in the world.
Bank of America offers financial services focusing on commercial banking, investment banking, and wealth management.
Downloading Bank of America Mobile App
Bank of America launched its app in 2011. It aims to provide convenient banking transactions to its customers and clients.
The Bank of America Mobile Banking app is free to download on both the Google Play Store and the Apple App Store.
It can be found by searching "Bank of America Mobile Banking" in the search bar of both app stores.
Privacy and Security When Using Bank of America Mobile Banking
Understandably, people are wary of using mobile banking given the threat of breach of personal information online. However, Bank of America, as the biggest banking institution in the country, has impeccable technology to protect users' privacy.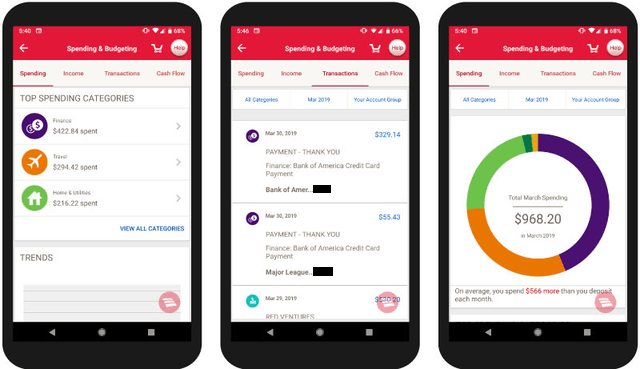 Upon installing the app, Bank of America explains its End User License Agreement, complying with North Carolina laws. It mentions that the use of the app may also be subject to other local, state, national, and international laws.
Aside from the End User License Agreement, the app also includes its Privacy and Security policy. Bank of America ensures that they are compliant with the rules and laws on US Consumer Privacy and California Consumer Privacy.
Users can also control how Bank of America can share their data, opt-out of ads based on users' online activity, and see how to receive promotional emails.
How Personal Information Is Shared
Bank of America gives utmost importance to its users' privacy. Thus, they conduct regular assessment reviews to abide by the privacy standards set in place to protect the collected, used, and shared personal information.
A notice is displayed explaining how Bank of America collects personal information when the users visit, use, or interact with the bank online and through the ads displayed on their online services or other non-affiliated third parties.
The app also states that they use or share personal information collected to deliver products and services to its users, such as through advertisement or event management purposes.
Enrolling an Account
It is easy to create or enroll an account on the Bank of America Mobile Banking app. New users should provide the last six digits of their card or account number and Social Security Number (SSN). Users may use their Tax ID Number (TIN) instead of their SSN.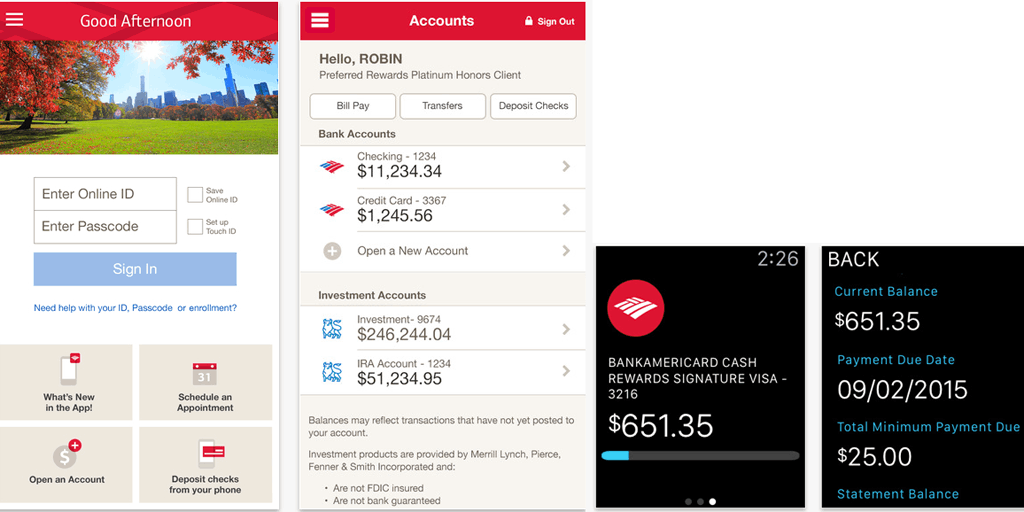 Ensure that the indicated information is accurate as the app automatically checks it matches their records. Users must also provide personal information such as name and address.
Users must also create a user ID and password to easily login when using the app. There are a total of five steps to complete when enrolling an account on the app.
Once the users successfully enroll in an account, they can save the User ID on the app. This means that the next time they open the app, the users do not need to provide their User IDs each time.
Logging in and Security
Bank of America ensures that no one can access the user's account on the app. Thus, they provided two ways of logging in on the Bank of America Mobile Banking app. One is through login credentials, and the other is using biometric features.
Users commonly use their login credentials to access their accounts. However, the app offers a more convenient and safer way to open their accounts on the Bank of America Mobile Banking app through fingerprint ID or face ID.
If the app automatically detects that someone is trying to access the user's account without consent, the app notifies the users. In addition, if the users lose their card, they can lock the account on the mobile app and eventually request a replacement.
Receiving Account Alerts
It is important to stay on top of your online banking activity, especially with the number of threats there are these days. Bank of America provides alerts for every transaction or activity made using the app. Users can turn on these alerts when setting up the account.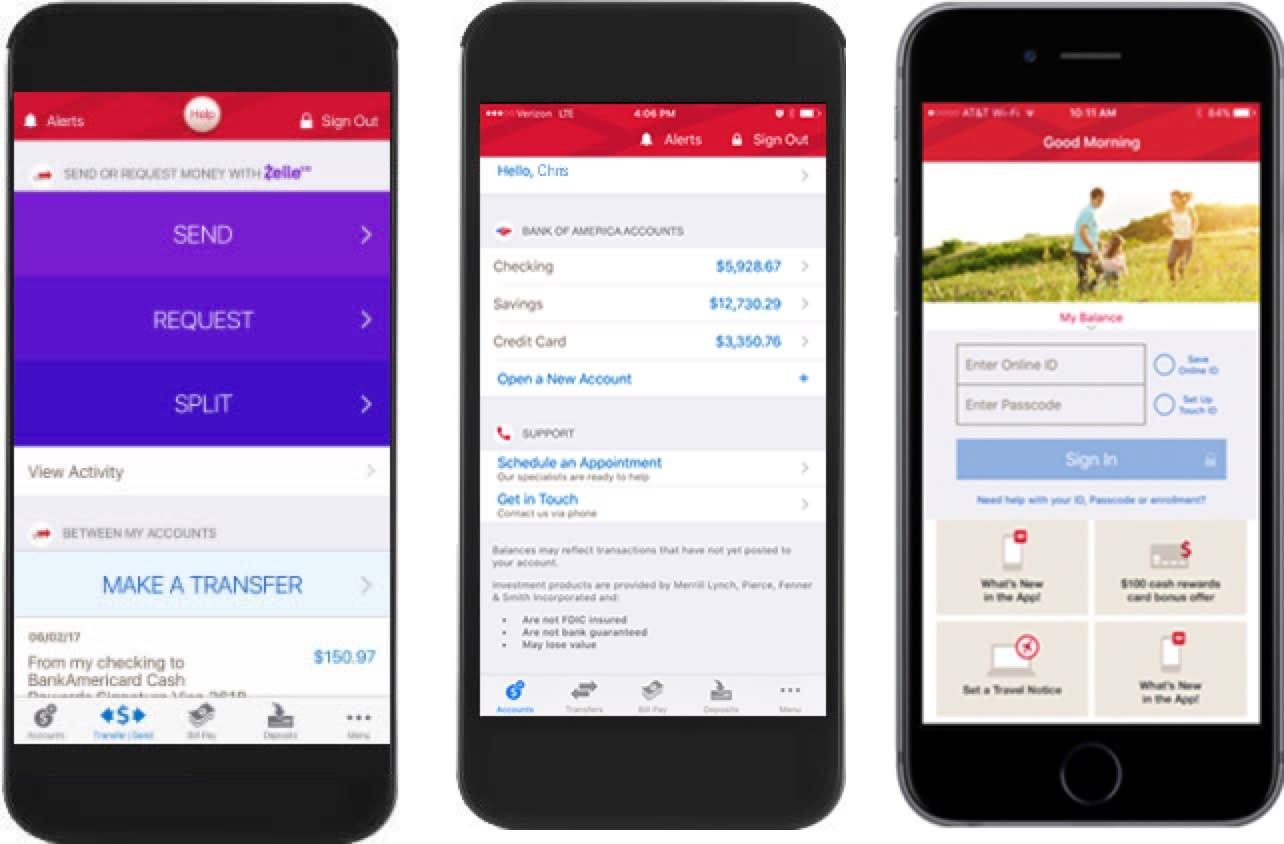 Users can quickly know if there are any unusual card activities like sudden or drastic spending, questionable usage in a different location, or any unauthorized transactions. Users can immediately take action to resolve the issue.
Moreover, the app notifies the users whenever changes in address, phone number, user ID, or password occurs. Users will also not miss out on any pending payment due as the app reminds them and informs them whenever the payment is posted successfully.
The other notifications are whenever the card is charged over a minimum amount, card balance within a set amount of the card limit, and cash transaction from card over a certain threshold.
Managing Accounts
There are also ways to manage accounts on the Bank of America Mobile Banking app. Users can easily review their activities for different types of accounts, such as checking, savings, and credit cards.
It is also possible to view mortgage, auto loans, and other account balances on the mobile banking app. Users may also order checks online through the app. Moreover, users can set alerts for important account information.
Lastly, there is no need to go to bank offices or branches to request a physical credit or debit card, as it is possible to do this on the app. Users may also request a replacement of these cards through the Bank of America Mobile Banking app.
Paying Bills
True to its goal of convenience, Bank of America allows users to pay their bills online through mobile banking. However, this feature is only available for eligible accounts.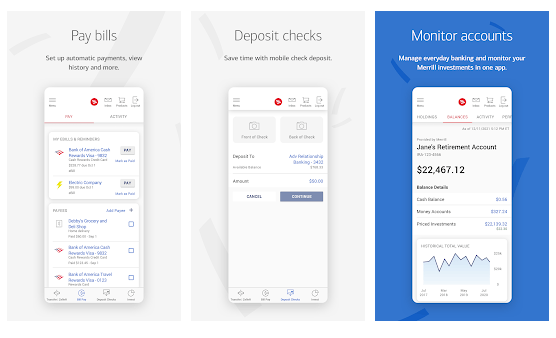 Users may schedule, edit, and cancel payments on the app. It can be used for online shopping, utility bills, and others. Users can automatically set the payment recipient, especially those paid regularly.
Bank of America Mobile Banking also supports paying eBills. Users may scan the QR codes to avoid manually typing in the bill information. Scanning QR codes also lets you pay automatically.
In addition, the app allows users to make credit card payments. It can be done by providing the account information and amount. Users can set the payment frequency, whether one-time or weekly, monthly, or quarterly.
Transferring Accounts
The Bank of America Mobile Banking lets users transfer, send, and receive money through the app. The money transfer on the app is safe and secured.
The Bak of American Mobile Banking app uses Zelle to transfer money between users across various domestic banking institutions. Users simply need to provide the recipients' US phone numbers and email addresses.
It is also possible to transfer funds between their checking, savings, and credit accounts at Bank of America.
Checking Your Credit Score and Redeeming Rewards
Another thing that users can access on the app is their credit score. According to their TransUnion Data, the banking institution provides users free access to their FICO credit scores.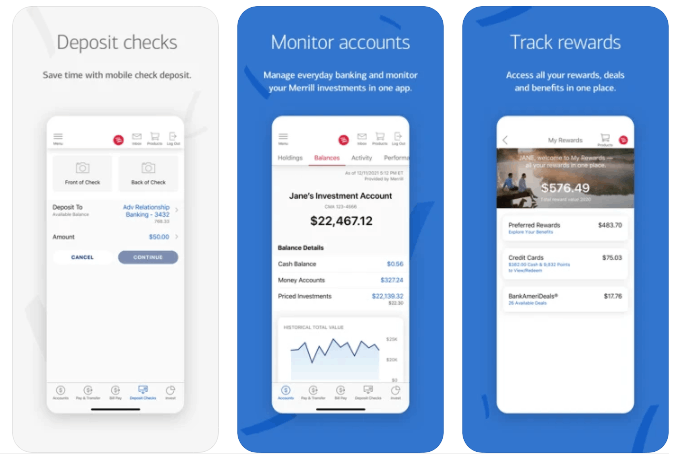 Users can monitor their credit score easily as it is displayed on their app's profile. Bank of America Mobile Banking shows the credit scores in a spectrum between poor and exceptional. They can also know the key factors that impact their score.
Users with rewards credit cards with the bank can use the mobile app to easily redeem their rewards. They may set up automatic redemption of the rewards at the end of the month.
Moreover, users can activate other cashback deals via the BankAmeriDeals program, where they can redeem offers with select merchants.
Asking Erica
Bank of America offers a way to help users with their concerns even if they do not visit a branch. Bank of America Mobile Banking offers Erica a virtual financial assistant.
Users can ask Erica to do numerous transactions such as paying bills, transferring funds, ordering checks, and monitoring credit scores.
Erica also provides valuable insights and financial guidance.
Conclusion
Bank of America ensures that its clients and customers can enjoy its financial and banking services wherever they are through mobile banking. The mobile app allows account holders with Bank of America a way to manage finances more easily.
Upon enrolling in an account, users can get account alerts, pay bills, manage accounts, transfer funds, redeem rewards, and many more.