If you want to buy or sell online you'll find that eBay is one of the easiest companies to work with. There are millions of active eBay users worldwide today. Originally you could've only bought or sold at eBay if you were using a personal computer.
The trend is now to move away from the PC-way of buying and selling and do your eBay business on the go. The eBay mobile app has been developed to make eBay transactions even more streamlined and convenient for you.
With the eBay mobile app, you can buy, sell, or browse straight from your phone or another mobile device. It is available for free on iOS and Android and has a range of great features to help you keep track of your eBay activities.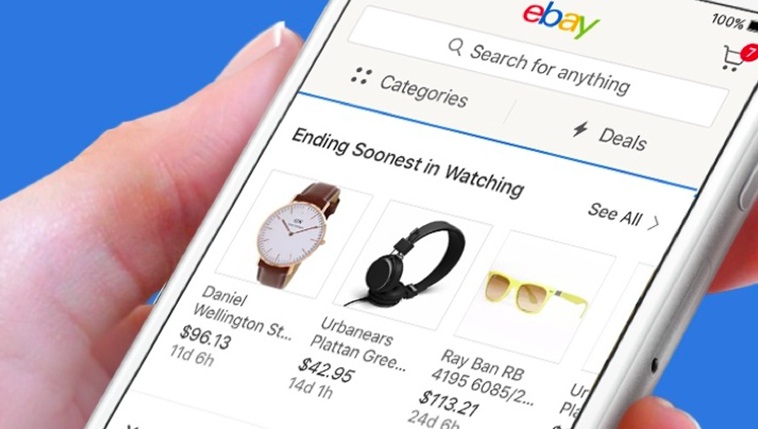 About the App
Like most other mobile apps the eBay mobile app is easy and convenient to use. More and more eBay sellers and buyers are choosing the mobile app over the website version.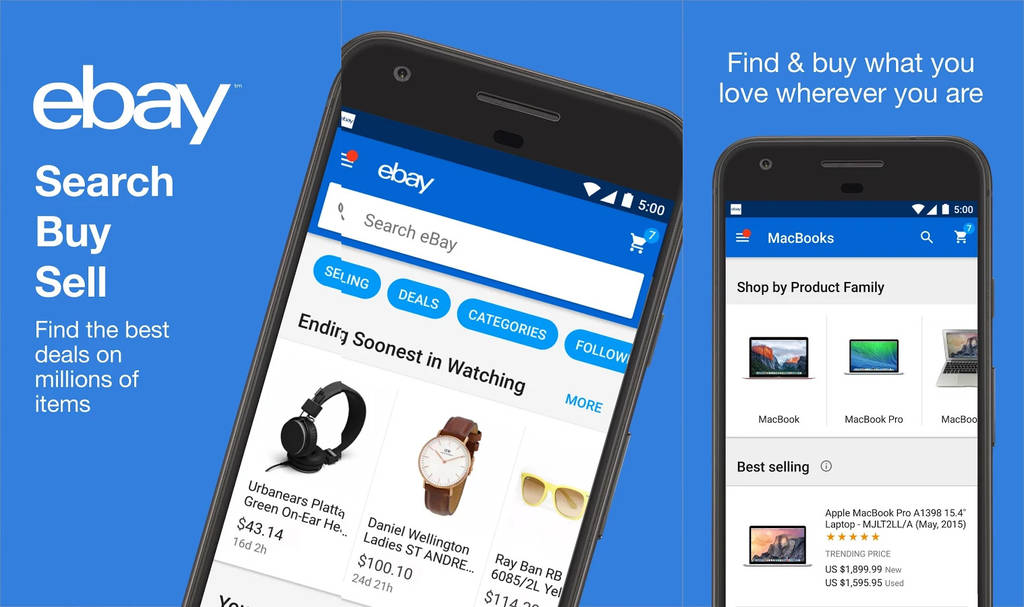 The mobile app gives you the freedom to set up your preferences at the start, and as it is running within an interface environment, you become engrossed in your transactions. It is easily and instantly accessed when you tap on the icon on your mobile device.
The eBay mobile app is designed to allow you to search, bid, buy, and sell all over the world and to give you the freedom to do this from anywhere where your mobile device can connect to the internet.
The app is available for both Android and iOS, and it allows you to utilize the bar code scanner on your mobile device to find a product quickly. If you are a seller the bar code function can link information in your prospectus directly to your eBay ad.
Easy to Fix Common Possible Hick-Ups
Generally, you will not encounter any problems with the app, but if one of the common problems occur, you should be able to fix it yourself. If you can't launch the app, check for updates in the app store and download the latest version.
If you've already had the newest version and you still can't launch the app, uninstall it and then reinstall. You will not lose any information if you uninstall and reinstall. If product photos won't upload, the first thing to do is to reboot your mobile device.
This will solve the problem in most of the cases, but if you still have the same problem, uninstall and then reinstall the eBay mobile app. When you can't log in with your eBay-user ID or password, your device's autofill could have completed your details incorrectly. Double-check your information and enter it again.
How to Download
It is easy and quick to download the eBay app onto your mobile device. The app is available for Android and iOS devices. To download the app onto an iOS device, click on the App Store icon on your device. When the App Store has opened, tap on "Apps" and then tap the search icon.
Type "eBay" in the bar at the top of the screen and start the search. When "eBay" appears in the list of apps, tap on it. Complete the process by tapping on "Get" and "Install". If you use an Android device, it is just as easy to download the eBay mobile app onto it.
You only have to tap on the Google Play Store icon on your device, and when Google Play has opened, type "eBay" in the bar at the top of the screen. To complete the installation, tap on "Install" when "eBay" appears in the app-list.
Once you have the app on your mobile device remember to keep an eye on the app store for the latest updates. Update regularly to ensure that you are always using the latest version of the eBay app.
How to Use eBay's Mobile App
To use your app effectively on your mobile device, you have to access the correct category for what you want to do. You have several categories of actions to choose from. You find these categories at the top of the screen on your mobile, just below the search box.
When you choose "Categories" you can see your recently viewed items. You can scroll down and you get to both your buying and your selling overviews. At the bottom of each section, there is a "View All" button.
In the "Saved" section you'll find searches, sellers, and products you've saved for future reference and use. When you tap on "Deals" you can see all the special deals and promotions for the day. In "Selling" you list items for sale, and you can see your selling history.
Features of the eBay Mobile App
The eBay app supports multiple languages to make it easy for people around the world to use eBay. The mobile app allows you to bid and buy items from all over, and to sell your articles to anybody anywhere in the world in minutes.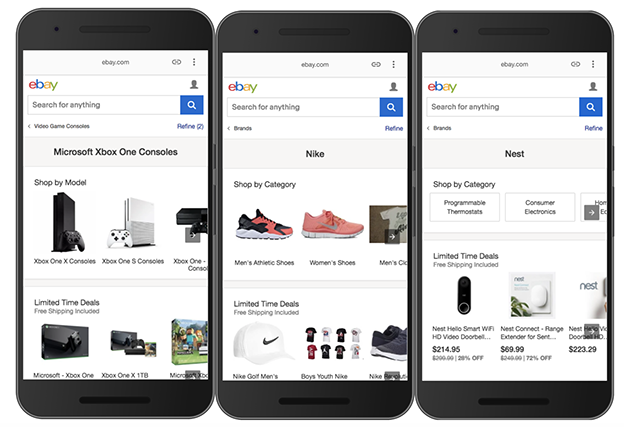 To save you time when searching for items, the app also allows you to utilize your device's scanner to scan items' bar codes. You buy and sell straight from your mobile device by listing the items you want to sell in just a few seconds.
With the app, you can make customized notifications about the eBay items you want to sell, and if you want to buy, you can follow your favorite sellers to browse for things you want. Your eBay business can be managed in full just by using your mobile device.
Other Features
With the eBay app, you can continuously discover trending items and quickly make good deals on the go. You don't have to wait until you get home to your computer and perhaps miss a good deal.
The app gives you access to millions of items and essentials. By only tapping and typing on your phone you can search and buy DIY-articles, home essentials, electronics, clothes, and much more. Just as easy you can sell virtually anything via the app from your phone.
You can use the eBay mobile app very effectively when you're looking for items to resell on eBay. For example, if you are at a garage sale, you can quickly see how much you can sell an item for before buying it for reselling purposes. If you like to use dark mode on your device to reduce the light emitted by the device's screen, you can enable dark mode on the eBay app.
Selling with the eBay App
It is easy to create and manage your listings with the app. To create a listing in the app, select "List an Item" on the "Selling". The app offers some useful shortcuts. You can scan your item's bar code to automatically add product details from your catalog. You can also take photos and add them directly to your listing.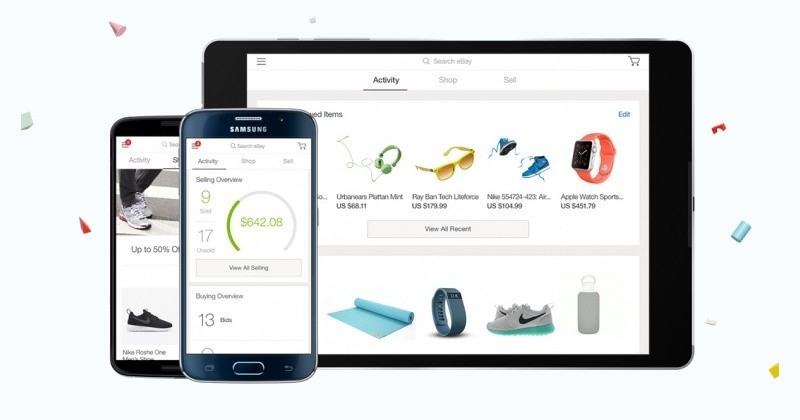 Open the app on your device, and select "Browse" or "Deals", or type the article's name in. You'll get the option to auction or to buy now. Make your choice and place your bid by indicating the amount you are prepared to pay and confirm.
If you won the bid, you will be advised to pay via PayPal. The guidelines to pay by PayPal will be given to you if you are a first-time buyer.
You can also indicate that you are interested in an item, but want to be notified when the price has dropped. If your notification-option has been activated, you will be notified when the price is lower.
How to Get Notifications
You can turn on notifications to stay up to date with your listings and other eBay activities. For an iOS device, go to "Settings" and select "eBay" in "Notifications" on your device. Choose "On" to allow notifications.
Then open the eBay app and go to "Settings" in "My eBay". Choose "Notifications" and indicate which notifications you'd like to receive. For Android devices, it is just as easy.
Go to "Settings" and select "eBay" in "Notifications" on your device. Choose "On" to allow notifications. Then open the eBay app, and select the dropdown in the top left corner. Go to "Notifications" in "Settings" and choose which notifications you'd like to receive.
Tips
Ensure that your notifications function is set correctly on your mobile device and in the eBay app. eBay can notify you about items you are watching or saved searches that have to be followed up, and many more.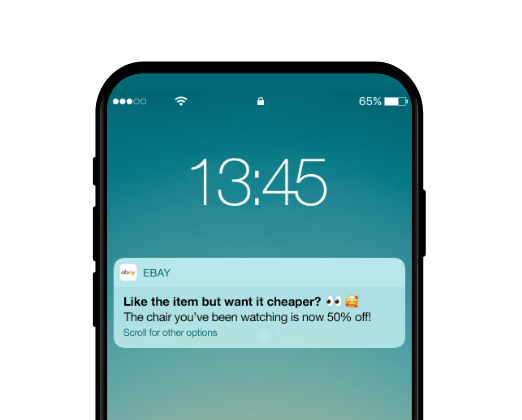 The app is designed to keep you informed and to help manage your selling and buying globally.
Frequently-Used Features
The eBay mobile app has two features that you should use as frequently as you can. The one is the feature to input your text from speech. Tap on the microphone icon to activate this feature. Then there is also an icon that looks like a bar code and offers you a scan option.
This scan option can be used to determine whether a specific item has been sold already, but it can also be utilized if you want t to sell an item. The bar code function can link all the detail of the item from your prospectus to your eBay advertisement.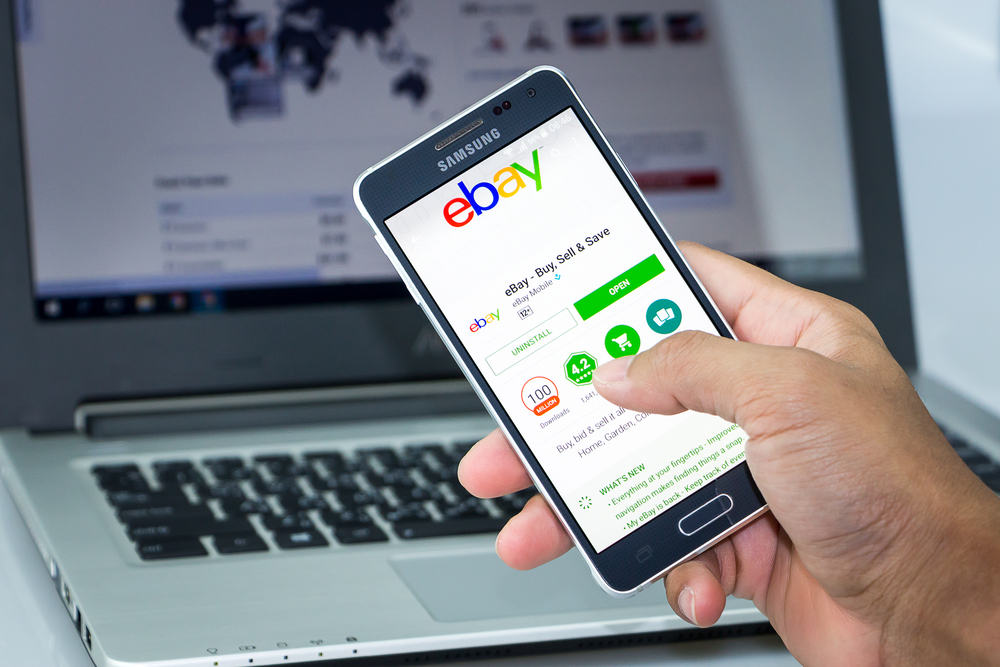 Conclusion
Although Amazon seems to be ruling the online world with its buying and selling platform, eBay is still in the game because it's designed for a different type of market. The app lets you buy and sell individual items that are previously used or new. They also let you get into business without major hassles with set up.
The app is free, easy to install, and easy to use, and you stay informed with all the notifications you'll receive. eBay also regularly updates the app and every update comes with more exciting features and improvements. More than 400 million downloads of the eBay app have already been made across the world.