It almost sounds too good to be true and yet it is. If you are a music junkie with your headphones always on, you can now earn money while listening to your favorite music. With the Current Rewards app, you get paid to listen to music. It is free and there's no catch.
You just enjoy listening to your music and simultaneously earn rewards. And the money-making app doesn't only reward your music-listening, it also rewards you for other activities on your mobile such as watching videos, downloading and playing games, answering surveys, and many more.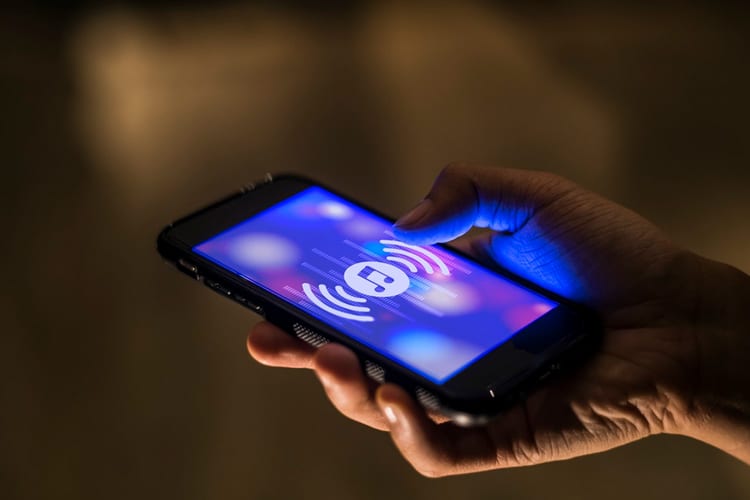 If you like listening to your music on your mobile and want to earn money with your phone, you should have a look at the Current Rewards app. It is a platform providing you with a seamless free music streaming experience and offers reward opportunities to cash in on your daily habits.
About the App
The Current Rewards app allows you to earn passive money while listening to music or completing other small and fast tasks on your mobile. In principle, the main income is derived from listening to custom radio stations. You earn points for each song you fully listen to within that station. There are more than 100,000 radio stations to choose from.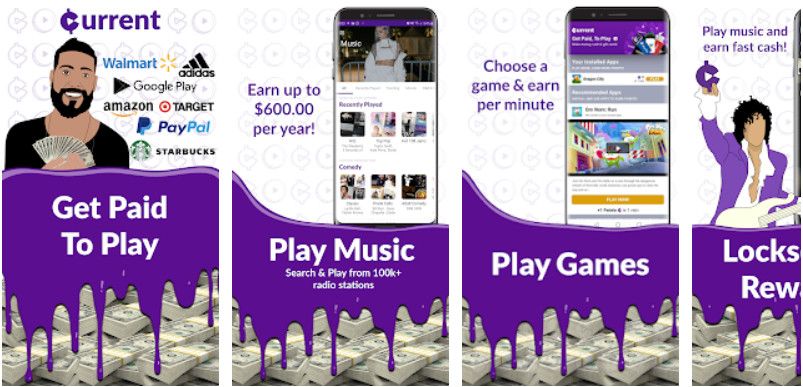 The rest of your income is derived from doing a variety of micro-tasks on the app. Filling out short surveys to earn rewards is a very popular activity. Another popular activity that will earn you rewards is the downloading and playing of games. Watching selected videos also contributes to your passive income.
And when you shop via the app you can save as you will get rewards for your purchases too. One of the easiest ways to add to your income is to just refer a friend or family member to Current Rewards. When a referred person registers, you get paid.
When you want to withdraw your money, you are presented with a wide variety of redemption options. You can take the cash, or you can convert the rewards to gift cards from Amazon, Target, Starbucks, or Google Play. You can even redeem rewards for items like mini-drones and Bluetooth speakers.
How to Download
If you need more information before you download the app you can visit the Google Play website for the app. Most of the answers to the questions you might have will be answered there. When you're ready, get the app for your Android device by clicking on the Play Store icon on your mobile. (There is a version available for iOS also.) When Play Store has opened, type "Current Rewards" in the search line.
In the option-list that will appear, tap on "Current Rewards". When the Current Awards widow has opened, tap on "Install". Then follow the prompts. The app will also prompt you to sign up and register for Current Rewards. This is compulsory to enable you to earn money. The sign-up process is very easy and simple. It requires less information than what is generally required by most other money-making apps.
You just enter your mobile number and verify it via the confirmation text you will receive. From the drop-down list that will then appear, select your country of residence. Don't forget to click at the bottom of the screen to request to join the app's rewards program. If you prefer to sign up and register via email or on Facebook, you can do that as well. However, phone number verification is the fastest way to register.
Main Features
The main feature of this app is that you earn passive income just for listening to your favorite stations, or get involved in micro tasks. The rewards change from time to time, but the main current rewards are cash gifts and free Music Player Personalization.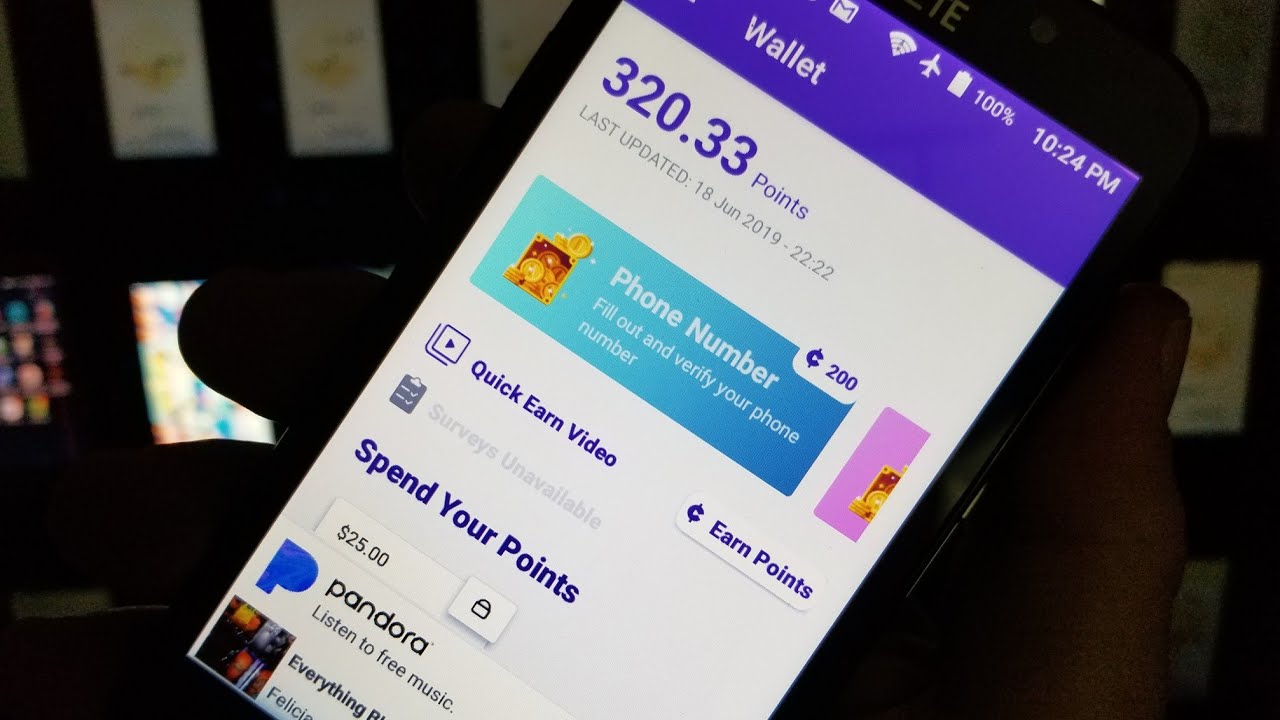 You earn cash rewards when you are listening to free music while working out or even when you are just charging your phone. You also have access to free offline music playing and free radio while driving. When you are playing games on the app you add to your passive income.
According to Current Rewards you can earn up to $600 annually by only listening to music through their app. This is perhaps a bit overrated, but you will make some money without any effort.
Notable Features
Apart from the main feature of free listening to music and simultaneously earning money, the app offers other features as well. You get paid cash by sharing your opinion through surveys on the app. Another way of adding to your rewards is to try free games and apps, and then give your opinion on Current Rewards. The games are from the best game studios in the world. Even watching short videos via the app will earn you money.
By inviting friends and family to join Current Rewards you can earn gift cards and cashback. If you put Current's free music player on your lock-screen you will be awarded. You also get paid cash instantly when shopping and saving via the app. When charging your phone you can also make some money!
In a nutshell, your benefits include potential earnings of $600 annually, more than 100,000 radio stations to pick your music from, a variety of redeeming options, an easy sign-up process, and many opportunities to earn money through video-watching and filling out short surveys. Thus, you earn money while busy doing other things.
How to Use the App
There are different ways to use the app, and you will be rewarded for everything you do on your mobile via the app. It is easy and simple to use the Current Rewards app. If you have a mobile device with Android or iOS, go to your phone's app store and search for "Current Music". Points are the Current Music's reward system. You can eventually redeem your points for gift cards, unlocking premium app features, or payment through PayPal.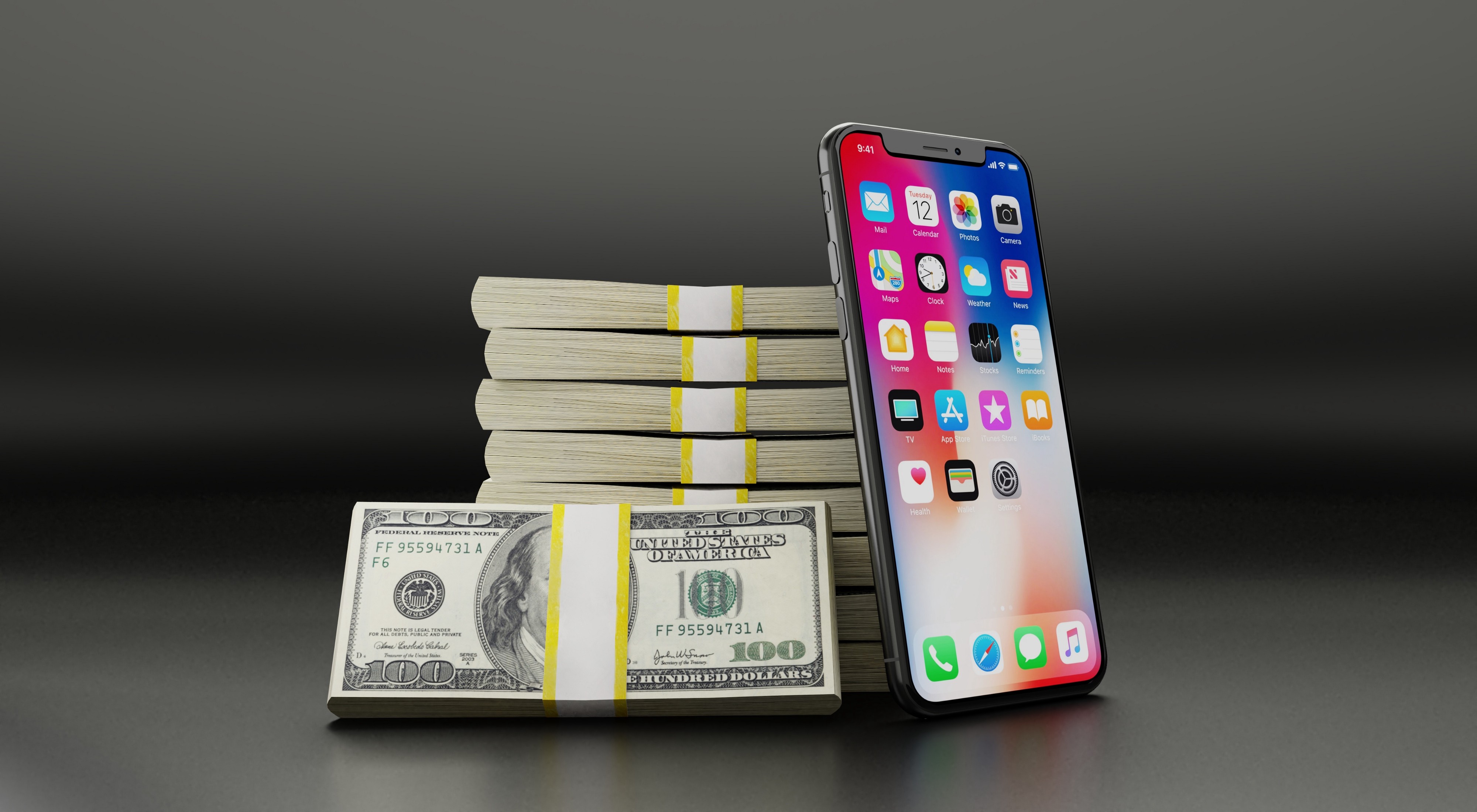 Once you've become a member, Current Rewards pays you passive income just for listening to music. But there are also other ways to use your app to earn money apart from listening to the Current Rewards app radio stations. The app offers surveys that don't take a lot of time to complete.
On the one hand, it is interesting to complete the surveys when you have nothing else to do or are bored, and on the other hand, you will receive rewards for completing every survey. By playing selected and interesting games you earn rewards. The good news is that you don't have to reach specific levels or beat enemies to be rewarded. Current Rewards pays you per minute as you're playing.
If you refer friends and family members to join Current Rewards and download the app, you and the new member receive 200 points each. Thus, a referred member starts his points chart with 200 points. You just have to ensure that you use a referral code when referring somebody to collect your 200 points. You also get 5% of each of your referrals' earnings for life.
Ways to Make More Money
That's not all! Another feature of the app you can use to save money is the cashback shopping section. When you shop online through Current Rewards you will earn points and cashback. The Current Rewards app offers a video section where you have to watch short clips and ads to earn more points. This is also an easy way to passively earn points and rewards. The videos are short and it is not a large time-consuming activity.
If you transform your phone's lock-screen to include the app, you automatically earn rewards and points. Again, with not much effort you can create a lifelong passive income from Current Rewards.
Rewards on the App
The app offers a variety of rewards. If you want a gift card from a retailer where you shop online a lot, it can be arranged via the app. Walmart and Amazon gift cards make awesome gifts. But you also have the choice to get cashback.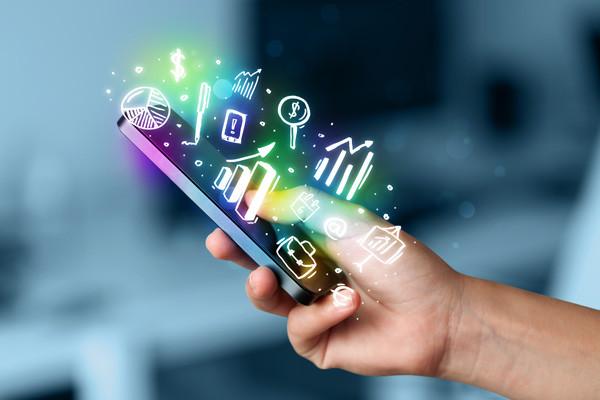 You will be paid via PayPal, and remember, the PayPal payments are real cash! You have to remember when utilizing the Current Rewards app that your location, how much of your profile is completed on the app, and how long you are consuming the music determine the speed and amount of rewards gathered.
Stay Up-to-Date with the App
Ensure that your profile on the app is always up to date and completely filled out. Also, don't forget to listen to music via the app when you can. The more you listen, the more rewards you earn. Remember you can listen with your earphones when you are jogging, eating, doing chores at home, or traveling to and from your office.
This is where the real earning potential is – you can listen to music and earn rewards while busy with other tasks. You must also not forget to share your preferences and comments with the app. You will be rewarded for your efforts.
Conclusion
In conclusion, we recommend all music junkies who are always listening to music with their headphones to download the Current Rewards app and register with Current Rewards as soon as possible. We cannot think of an easier way of creating a passive lifelong income as what this app is offering.
Users love the app, and more than 300,000 reviewers have given the app a 4.4-star rating on Google Play. Enjoy your new way of earning rewards and money and once they start piling up, you can use a money management app to make sure you utilize those easily-earned funds correctly.