Capital One specializes in auto loans, credit cards, banking, and savings accounts. It is the fifth-largest credit card issuer by purchase volume.
With more than 60 million customers, Capital One aims to make its services accessible to users whenever they want. As such, the bank introduced mobile banking to its customers through Capital One Mobile.
The Capital One Mobile app lets customers access their banking needs anytime. Discover the Capital One Mobile features and learn how to use the app below.
Getting to Know Capital One
Setting Up Online Access
Enjoying Capital One Mobile Security Features
Receiving Account Alerts
Monitoring Credit Score
Paying Bills Online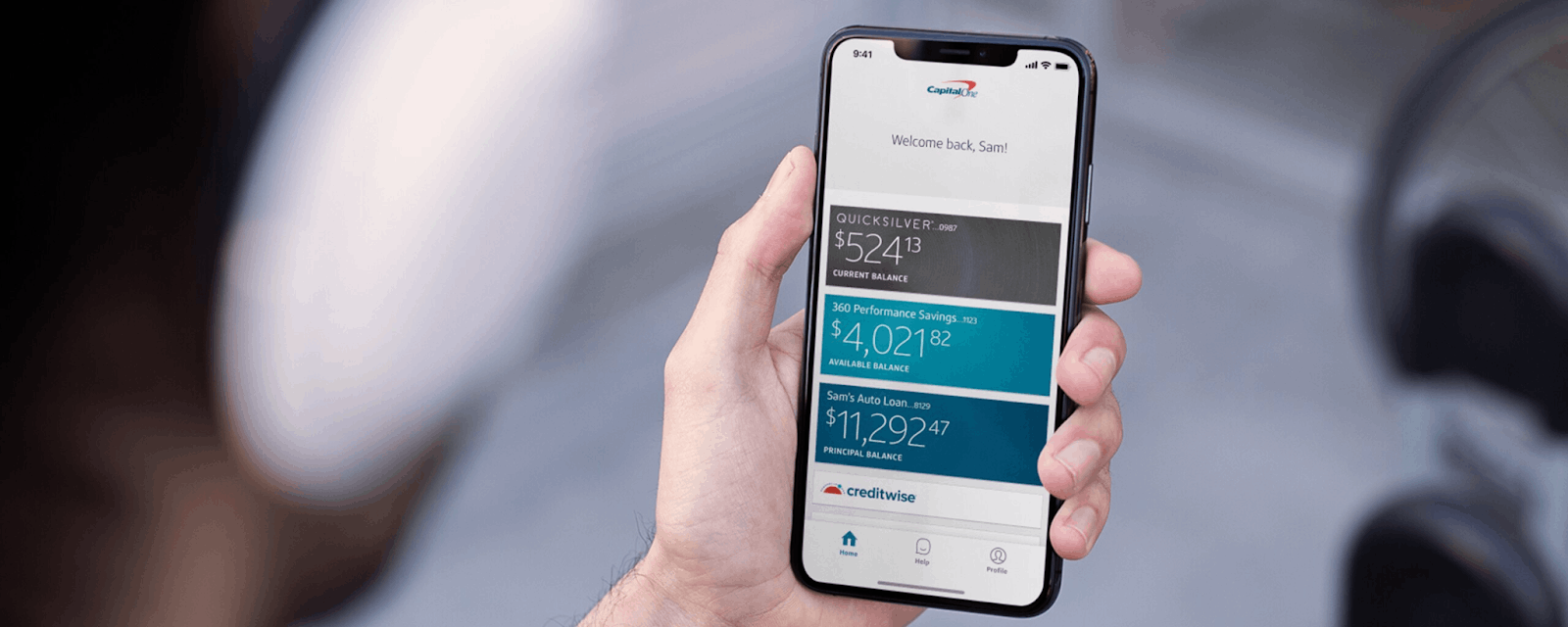 Getting to Know Capital One
Capital One Financial Corporation, commonly known as Capital One, is an American bank holding company headquartered in Mclean, Virginia. Richard Fairbank and Nigel Morris founded Capital One in July 1994 in Richmond, Virginia.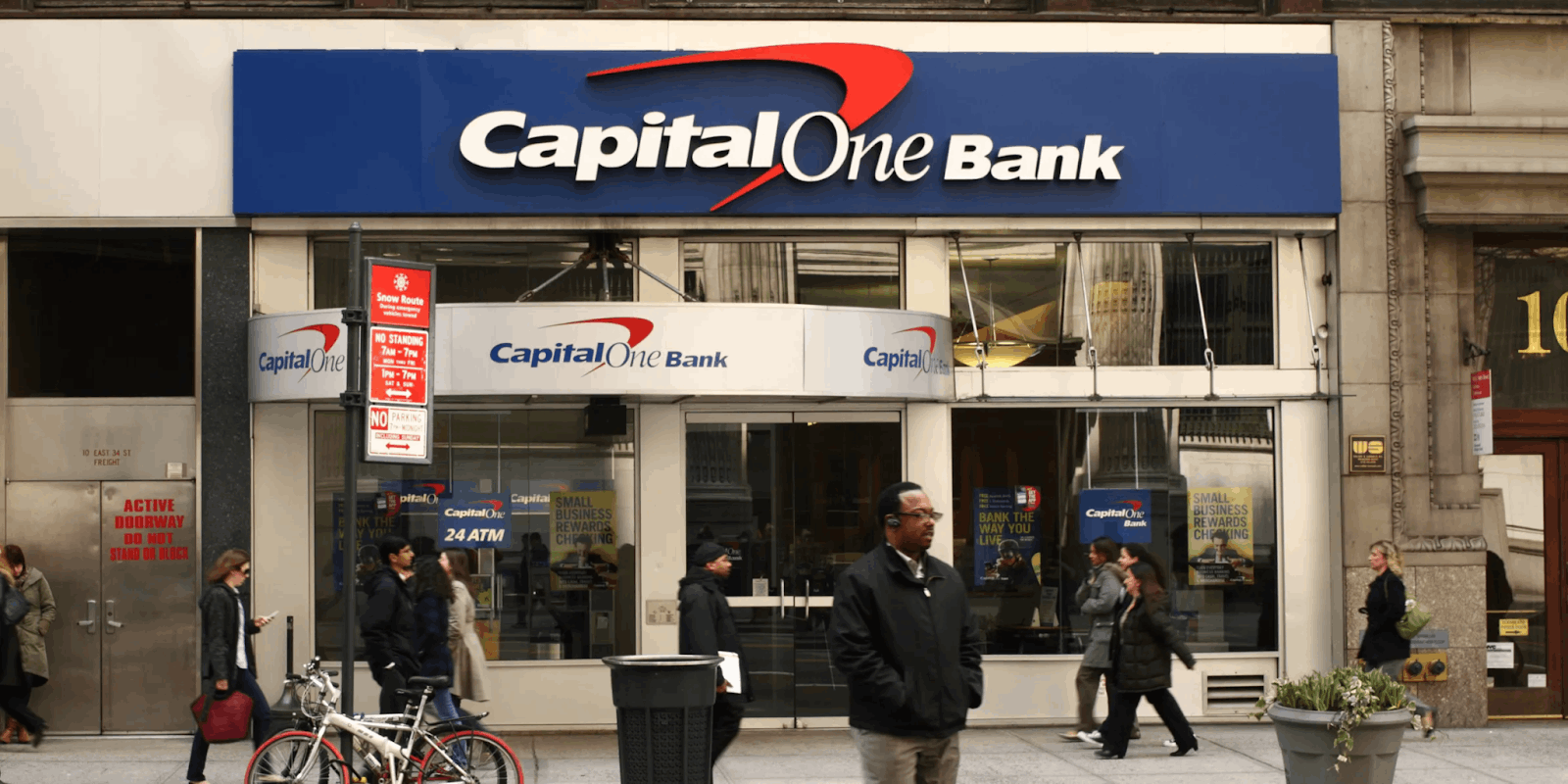 At present, Capital One is one of the largest banks in the United States and established itself as a technology-focused bank. The banking institution operates in the United States, Canada, and the United Kingdom, with over 750 branches and 2,000 ATMs.
The bank holding company operates in three divisions: credit cards, consumer banking, and commercial banking. In 2018, credit cards were the source of 75% of the total revenue, while 14% is from consumer banking and 11% is from commercial banking.
Installing the Capital One Mobile App
As of 2016, Capital One catered to 62.5 million customers in the countries it operates. The bank wants to make its services available to these customers and to provide convenience. Thus, Capital One launched Capital One Mobile, its mobile banking app.
Capital One Mobile can help customers easily keep tabs on their finances by monitoring where their money goes. App users can also manage their accounts, access statements, get notifications, view their recent activities and transactions.
The Capital One Mobile app is free to download from the Google Play Store and the Apple App Store. Customers can also send "GET" to 80101 to Capital One to instantly get the mobile app. Capital One Mobile requires Android OS 7.0 or up and iOS 13.0 or later.
Setting Up Online Access
Customers who already have an online account with Capital One can sign in using their duly registered username and password. Meanwhile, new users need to sign up for a new account, so they need to proceed to the "Set Up Online Access" option.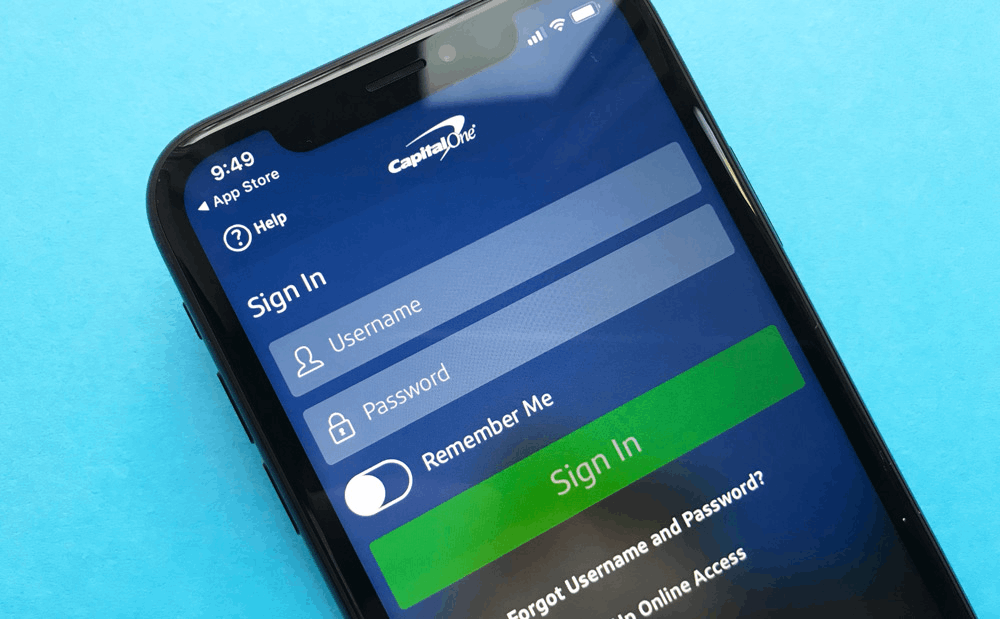 The Capital One Mobile app will then ask the new users to provide their personal information, including their name and birthday. They also need to input their Social Security Number or Individual Taxpayer Identification Number to verify their identity.
Users may also opt to use their bank account number to sign up on the app. Capital One Mobile will ask for their email address, phone number, and other personal information. The app will confirm if they want to receive notifications through their email or phone number.
Once the app verifies the identification of the users as it matches Capital One records, they can now create their unique username and password. When successfully registered, they can now sign in on Capital One Mobile using only their username and password.
Log-In Security Features
Capital One ensures that the privacy and accounts of its users are duly protected, especially when are using the mobile app. It offers several security features to ensure that legit users will be the only ones to access their accounts on Capital One Mobile.
First, the app has two-factor authentication verification through text. Users may also enable facial or fingerprint recognition biometrics to have a more secure login process. Aside from security, using facial and fingerprint recognition can speed up the process of signing in.
Enjoying Capital One Mobile Security Features
Capital One customers trust the mobile app because of the several security features. Capital One Mobile ensures that users have a safe and secure mobile banking experience with them aside from the strict log-in features.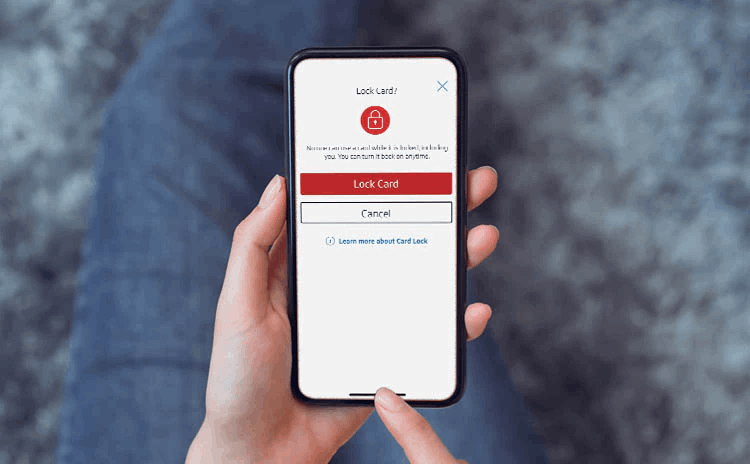 First, users can immediately lock credit cards when they are lost or stolen. Users will not have to worry that other people might use the card as Capital One declines all the transactions, including recurring payments, returns, and rewards redemptions.
After locking the credit card, users can also unlock credit cards through the app if the card is found. If lost or stolen, Capital One Mobile users may request a replacement, and the bank will provide a schedule or appointment when the card will be available for pick up.
Getting a Virtual Credit Card Number
One of the most popular features of Capital One Mobile is the virtual credit card number. This feature lets users purchase online without using their actual card, especially if they cannot remember their credit card number or details.
The virtual credit card number can be requested through the app wherever and whenever they want. With this feature, users may feel more secure shopping online as they do not need to use their actual credit card number.
Check the home screen of Capital One Mobile to request the virtual credit card number, which will be given after a two-step verification process. Users can also cancel the virtual credit card number once they are done with it without canceling the main account.
Receiving Account Alerts
Capital One wants its users to be on top of everything happening on their accounts, so it provided the Account Alerts feature. Here, users will receive notifications for every transaction, activity, due date, and other important reminders from the app.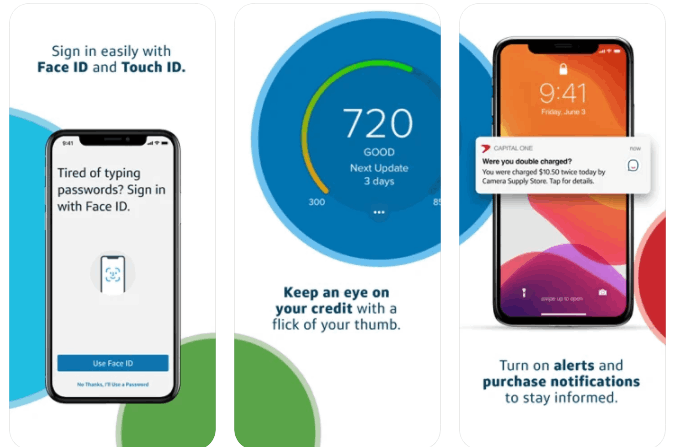 Capital One Mobile sends the alerts by email or through push notifications so that users will be immediately informed. Users can customize the alerts by choosing the activities or transactions when the app will send alerts.
Users can receive alerts when credit is below a certain amount, a transaction was made outside of the US, payment is due, a payment has been scheduled or posted, a payment is two days past due, and purchase over a certain amount has been made.
Based on these options, users can set the allowable amount to be used during purchase. Ultimately, these account alerts help users avoid potential frauds.
Managing Capital One Accounts
The basic feature of Capital One Mobile is account management, wherein users can access all their Capital One accounts. They can access all full card information on their phone.
It is also possible to do transactions on the app using multiple accounts. Users just need to select the account to credit a purchase payment. It is also easy to check the balances for each account.
Monitoring Credit Score
Since Capital One specializes in credit cards, it has features that focus on credit card account management and credit score monitoring. With the help of the built-in CreditWise tool, users can get their real-time credit score for free.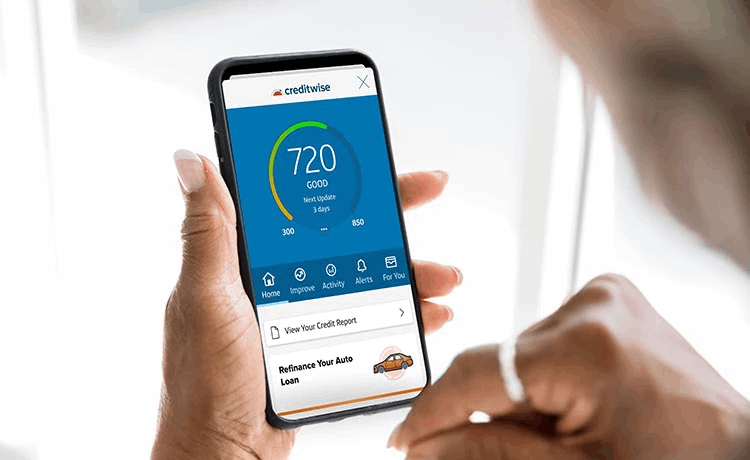 Moreover, Capital One Mobile explains the details to help users understand their current credit score, such as what transactions affected it. Through CreditWise, the app provides tips and recommendations on improving the credit score based on credit account activities.
The app also has a detailed explanation of how a credit score improves. For example, users can get insight into their length of credit history, utilization rate, payment history, recent inquiries, new accounts, and total available credit.
In addition, Capital One Mobile lets users have access to their TransUnion credit report, which includes the following: accounts, balances, inquiries, personal information, and public records.
Redeeming Rewards and More
Capital One Mobile users can directly check their rewards balance and redeem rewards on the app. All the available redemption options will be displayed so that users can check each one of them and find the best deal.
In addition, each redemption option has the details on how much cashback users need for each one. It is also possible to activate Captial One offers through the mobile app. Additionally, the app can be used for online shopping and finding the best offers from several retailers.
When users purchase using the offers, users can get cashback deals that usually come in percentages or specific amounts. Users just need to visit the merchant or retailer via the Capital One Mobile app.
Paying Bills Online
Capital One Mobile supports paying bills online to provide convenience to its users. According to its feature description, Capital One Mobile users can make one-time payments and set up AutoPay to pay the bills in just a few taps.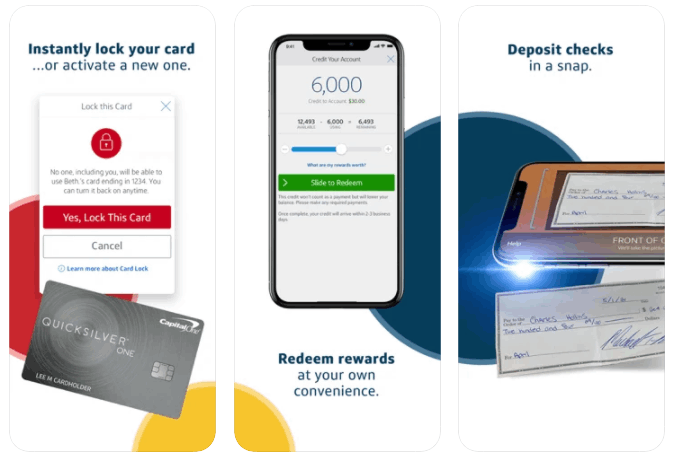 With this feature, users can stay on a schedule to avoid penalties or fines. Users can add as many billers as they need and set the schedule for automatic payment for each account.
To add a biller on the Capital One Mobile app, users must click on their checking account to find the "Pay Bills" option. Then, tap on the "Add Payee" button to enter the information needed to pay the bills.
Transferring Money
Capital One offers a speedy, secure, and free way to send money through the mobile app. Users can send and receive money in just a few minutes. However, the app only supports money transfers between enrolled users.
The app also ensures that the transaction is safe as users only need their US mobile number or email address. The money transfer is entirely free.
Moreover, another way to transfer money is by depositing checks. Users just need to take a photo through an app of their checks. Capital One will process the request and notify the users once the check has been successfully deposited.
Conclusion
The Capital One Mobile app offers customers a secure and convenient online banking experience. It has features for credit score monitoring, account management, rewards redemption, bills payment, money transfers, and much more.