Gone are those days when people used to spend hours in shopping malls to find that perfect outfit. Everyone nowadays lives and breathes online, they prefer getting their stuff at home with a click.
Additionally, buyers get to save more with crazy discounts during sales like Black Friday. Yet it's quite difficult to find a brand that not only offers the latest products but also is affordable.
But there is one such brand that has been offering the trendiest products since 1984. From craziest designer outfits to breathable and stylish workout clothes, Forever 21 has it all! And since the brand has its own shopping app, here is how you can download it and save big while shopping!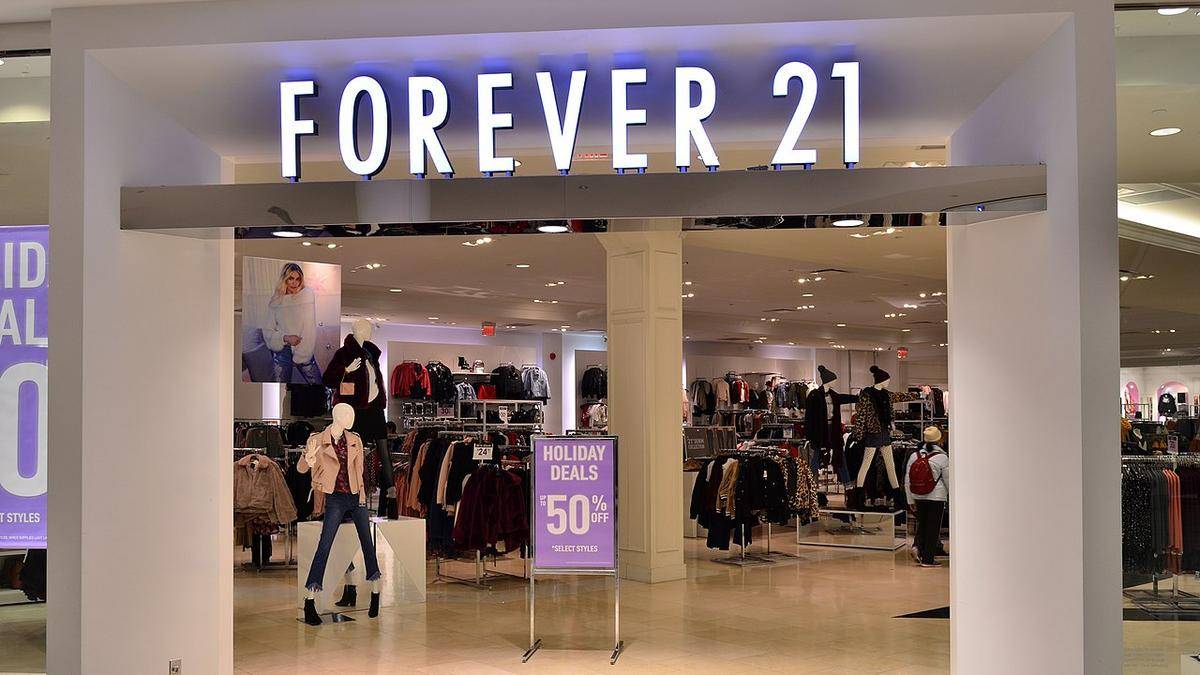 About Forever 21
Forever 21 was originally started as a shop called Fashion 21 back on April 21, 1984, in Los Angeles. Over the years it has become the fifth-largest specialty retailer in the United States. Since then the brand's focus is to meet the fashion needs of people worldwide of all shapes and sizes.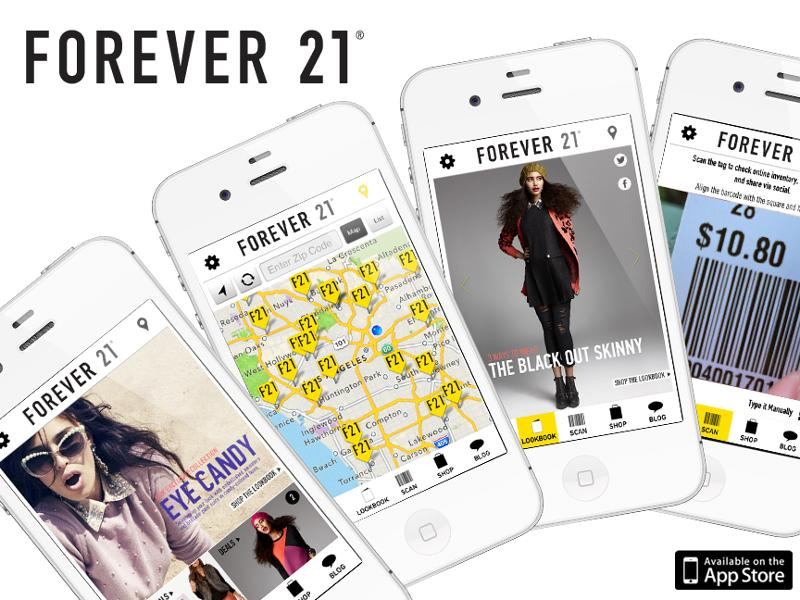 Forever 21 has different styles according to every occasion and season like dresses, trousers, activewear, and many more. Also, the brand recently started a line of bridesmaid dresses at affordable pricing. To date, the brand has around 623 locations worldwide!
Since the company has operated for so long, there were surely a lot of uncertainties faced on the path to success. In 2019, Forever 21 filed bankruptcy and had to close most of its businesses overseas, mostly in Asia and Europe.
But now the brand has refocused to enter the fashion e-commerce world via online channels to win back its shoppers! In fact, the strategy here is to attract customers to buy online to save customers time and keep the company's expenditures low.
Forever 21 Product Range
Forever 21 has a wide product range since they add new items to their inventory daily. In the women's clothing section you can buy tops, tees, coats, jackets, sweatshirts, swimwear, skirts, denim. Whereas, the men's clothing section includes t-shirts, polos, shirts, sweaters, jackets, blazers, suits and tuxedos, denim, swimwear, sportswear.
Also, they have a great collection for kids including tees, graphics shops, sweaters, coats, sleepwear, pajamas, and more.
You can also find trendy footwear like boots, flats, heels, mules, loafers, trainers, and tennis shoes. Other than this, Forever 21 is even popular for its affordable accessories and beauty products collection.
Features of Forever 21 App
While the Forever 21 website can help you with all your shopping needs, the Forever 21 app has more user-friendly navigation, from your convenient, on-the-go device. Unique features like scan and shop, one-page checkout, and horizontal swiping to move between products are offered exclusively on the app.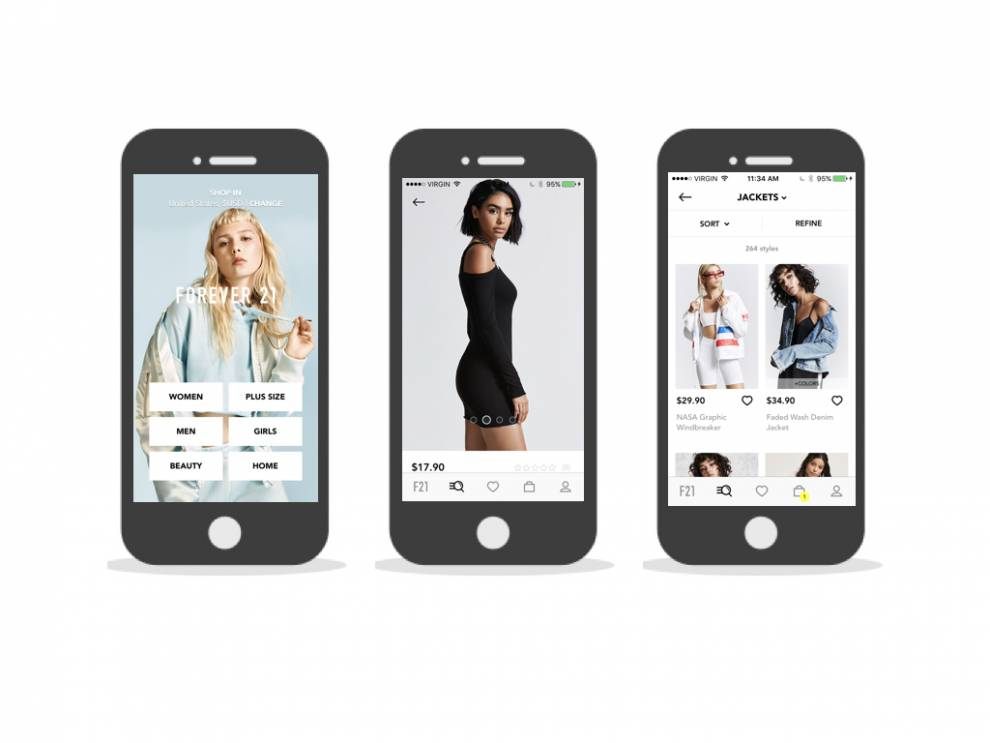 Users can also save their favorite item on the app and can track it down at the closest store. Find the trendiest pieces today on the Forever 21 app at surprising prices. This affordable pricing is one of the main reasons why the brand has sustained itself in the market for quite a long period.
As compared to prices in the store, when you will buy anything from the app, you can get it at discounted rates through coupons.
There is a sale section available in the app where you can pick up the best pieces in the best deals.
Easy Returns and Refund Policy
The Forever 21 app follows a straightforward exchange and refund policy. To return any purchased item, fill the order return form available in the Track Order section. Fill out the reason for returning, and the team will further process your request.
But there are certain return requirements you will have to follow to get a full refund. The item must have the original tags attached, and not be worn or washed. Through the app, customers can exchange their items instead of taking a refund, and takes just 3-4 business days.
Certain final sale items don't come with a return policy, like cosmetics, jewelry, or online gift certificates. The app even allows customers to exchange their item instead of a refund, and all this takes just 3-4 business days.
Tips for Finding the Best Stuff at Forever 21 App
Shop from the Best-Sellers section: You can locate the best-sellers section with just a few scrolls down in the app. There is also a 'Trending Now' option often flashed at the main menu. In both these sections, you'll find a mix of on-trend and everyday essentials starting from $2!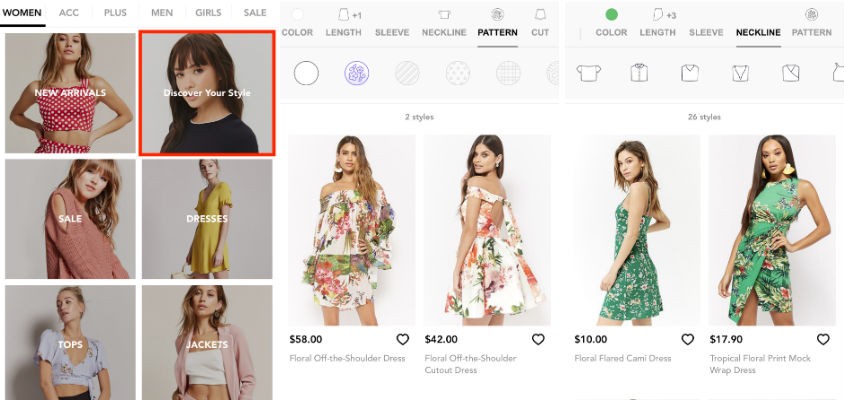 In the best-sellers section, there is also an option to shop for clothes according to their popularity, pricing, and fresh arrivals. You can also filter products by discounts, sizes, gender, and price range. Also, don't forget to search beyond clothing as there are a lot of impressive and best-selling accessory options.
Shop By the Right Keyword: Shopping online is time-saving, but for that, you have to learn how to efficiently navigate the app. Always try to narrow down your shopping selection by searching for exactly what you need.
For example, if you want a red top, then be specific about whether you want a tank top, lace-up crop top, etc. Also, you can search the brand's #F21xME, or #F21SummerCool hashtags on social media for outfit inspiration. In this way, you can easily spot items you may not have seen while browsing through the app.
Shop Often
The benefit of shopping online is you don't have to visit a store, and you can shop anywhere, anytime. Thus we would suggest you go through the app often after every few months, as the brand changes its inventories regularly.
Especially those cute skirts that sell out in every size quickly, both on the app and in the store. If you spot something you like but don't have the budget to buy, make sure you add it to your ''Wishlist."
Since there is new inventory added every week you can still get the same outfit sometimes months later. You can also take a screenshot of the item and call or visit the nearest store to get it if it's not available on the site!
Incredible Ways to Save
Watch out for shipping deals: A great way to save while shopping on the app is to get your outfits delivered for free. Of course, Forever 21 offers free shipping but only after the purchase of $50 or more. The app also runs some free delivery coupon codes at the end of the month.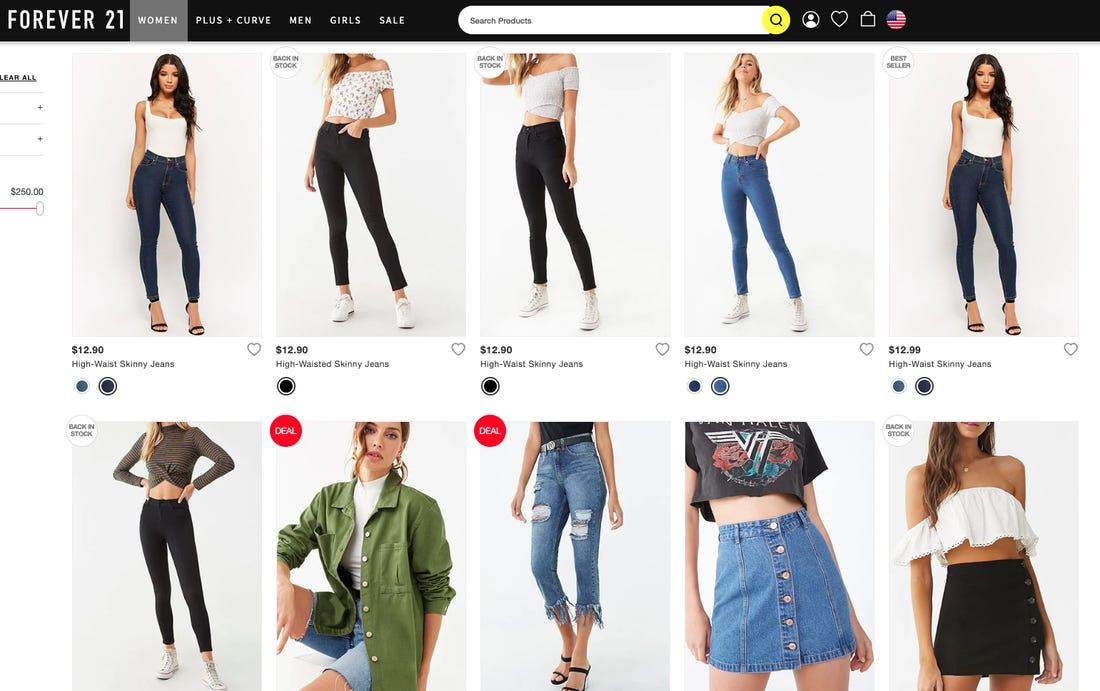 Sign up for the Forever 21 credit card: You can register for the Forever 21 credit card through the company's official website, and fill in the application form.
You have to provide general financial information like social security number and annual income. Through this card, you will get 15% off your first regular-price purchase, and 20% off on future purchases.
Holiday Savings
You can save a lot on the Forever 21 app during Black Friday and Cyber Monday sales in November. Also, there are fashion sales held during Labor Day, Halloween, and New Year's Eve.
Forever 21 even runs flash sales during month ends for 12 to 24 hours.
Make sure you don't miss out on any of the major sales by signing up for the Forever 21 emails!
What Customers Say
The app has a consumer rating of 3.7 stars on Google Play Store. No matter what, there will always be room for improvements and even the app has some.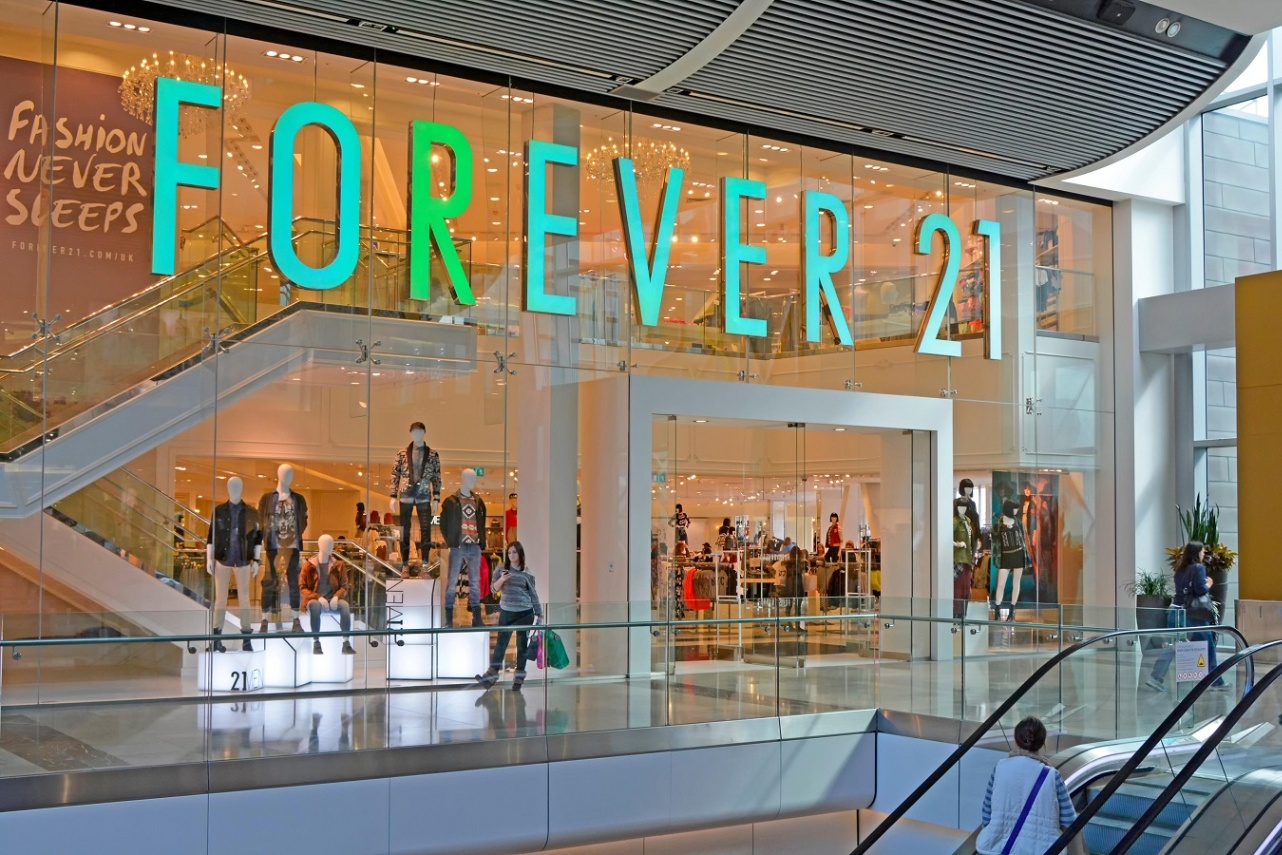 Even the customers believe that the app is good for teens as they have some cute, unique, and basic stuff.
But the most common problem faced by most of the users was related to cart and Wishlist products. This usually happens due to a technical glitch and can be avoided by reinstalling the app or just buying the product directly without Wishlisting it.
How to Download the Forever 21 App
You can easily download the app from Google Play Store and Apple App Store for free. There are over 5 million downloads of the app and the size is just 25 MB!
To be able to download the app, the device version should be iOS 10.0 or later, or Android KitKat 4.4, Lollipop 5.0, Marshmallow 6.0, or later. Head to the app store for your device and search for 'Forever 21'. Select the correct search result and click "Install" or "Get" to begin downloading to your device.
After installing the app on your device, sign-up by entering your email address or continue with your Google account or mobile number. Now, you are all set to dive deep into the amazing collection of Forever 21!
Conclusion
The Forever 21 app offers the best shopping experience to users with its low pricing and consistent promotions. So, to build your wardrobe to be more stylish and trendy on a budget, the Forever 21 app is the place for you!