Through the years, mobile banking has gained popularity for its convenience. As one of the largest banks in the world, JPMorgan Chase launched the Chase Mobile app to cater to the banking and financial needs of its millions of customers.
The Chase Mobile app gives users a safe and secure platform to do online banking anytime. Users can access and manage all their Chase accounts on the app. They can also transfer and deposit money instantly.
Check below to learn how the Chase Mobile app helps its customers manage their accounts with just a few taps.
About JPMorgan Chase
Discover the Chase Mobile App
Read Chase Mobile's License Agreement
Manage Chase Accounts on Chase Mobile
Plan and Track Budget on Chase Mobile
Monitor Your Credit Score on Chase Mobile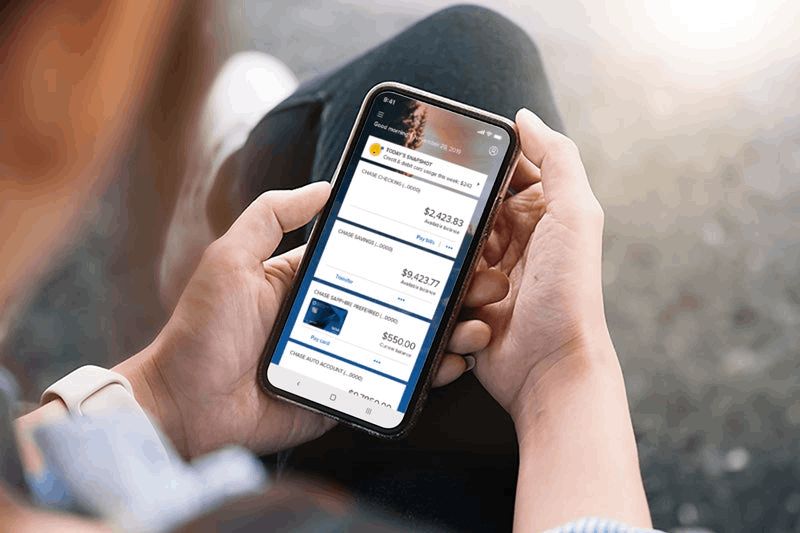 About JPMorgan Chase
Everyone knows JPMorgan Chase as it is the largest bank in the United States and holds the fifth spot as the largest bank in the world. It is the top banking institution in terms of market capitalization. In 2021, JPMorgan Chase had total assets of $3.78 trillion.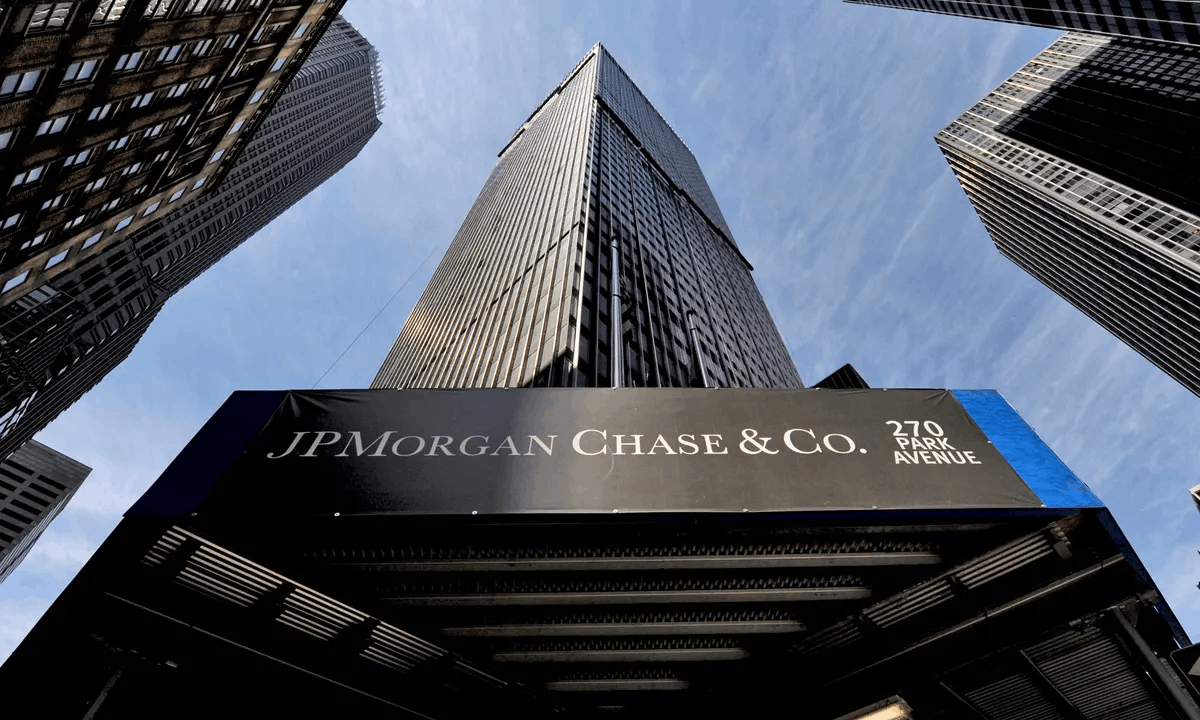 The banking institution has an interesting history as it built on more than 1,200 predecessor institutions that had been merged to come up with JPMorgan Chase as it is today. According to them, its earliest roots can be traced to 1779 with the Manhattan Company.
JPMorgan Chase is known for its banking and financial services on investment, private banking, private wealth management, asset management, and other treasury services. This American multinational investment bank has its main office in New York City.
In addition, JPMorgan Chase describes itself as the leader in commercial banking, investment banking, financial transactions processing and asset management, and financial servers for consumers and small businesses.
Learning About the Chase Brand
The financial services holding company has the "Chase brand," which focuses on credit card services in the United States and America. It also covers the retail banking activities and commercial banking in the United States and the United Kingdom.
This Chase brand was formed in 2000 when the Chase Manhattan Corporation merged with JP Morgan & Co.
Discover the Chase Mobile App
As one of the largest banking institutions in the United States, JPMorgan Chase needs to cater to millions of customers. The company launched the Chase Mobile app to provide a platform where their customers can access banking, investment, financial, and credit services all the time.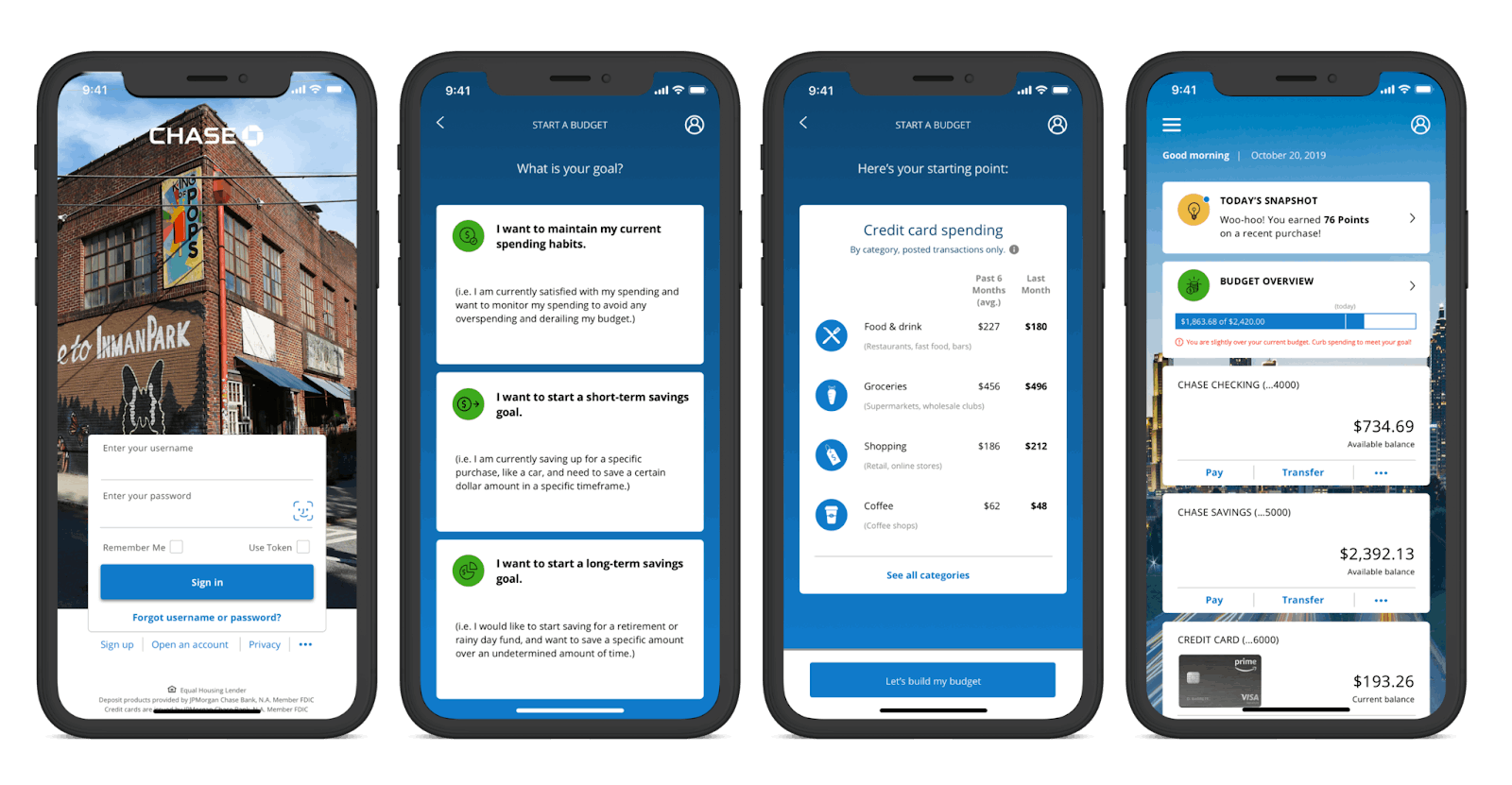 The Chase Mobile app has been available to its customers since 2010. It aims to help their clients bank securely at their convenience as they can do mobile banking anytime and anywhere, especially whenever they need to do so.
Through Chase Mobile, customers can easily manage their accounts like investments with JPMorgan and credit accounts on Chase. The app allows its users to check their real-time credit score, deposit checks, track monthly spending, and send and receive money.
JPMorgan Chase describes the app as a platform where users can manage their money from almost anywhere with always-on security and protection. Their customers can safeguard their money, lock cards, and more on the Chase Mobile app.
Installing the Chase Mobile App
The Chase Mobile App is available only for select mobile devices, even though it is available in almost all countries. Chase Mobile only supports being installed on Apple and Android devices.
JPMorgan Chase customers can get the Chase Mobile app for free in the Google Play Store and the Apple App Store. The app must be installed on devices running on Android 8.0 or later and iOS 13.0 or later.
Read Chase Mobile's License Agreement
Upon installing the app, users need to read and accept the End User License Agreement, which supplements the initial agreement when users have Chase Online, Chase Online for Business Banking, or J.P. Morgan Online accounts.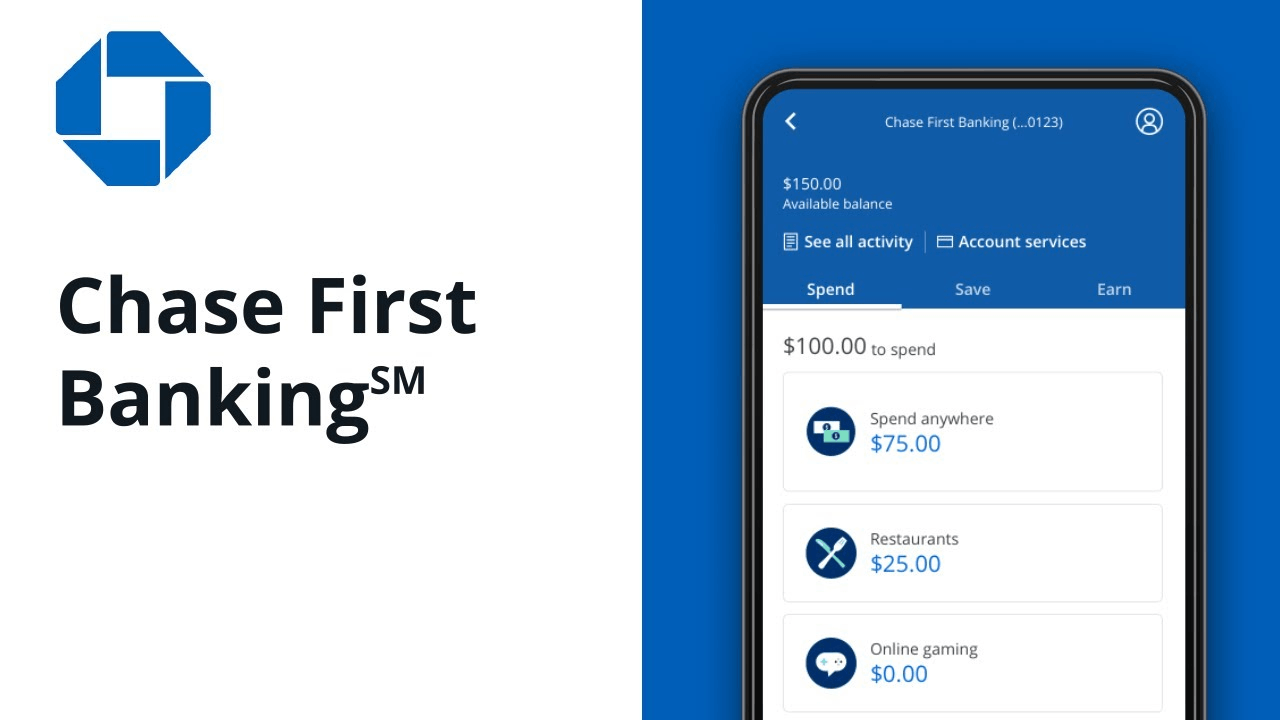 The agreement has eight parts that tackle the following: grant of a license, ownership of the application, consent to use data, termination, disclaimer of warranty, limitation of liability, additional terms, and miscellaneous. Users need to click the "Accept" button after reading.
In addition, the app seeks permission to access the following parts of the users' mobile devices: storage to read its content, camera to take pictures and videos, Wi-Fi connection information, device ID & information, location, contacts, and many more.
The Chase Mobile app also wants to access Bluetooth settings, receive data from the Internet, change network connectivity, prevent devices from sleeping, control Near Field Communication, view network connections, full network access, run at startup, and control vibration.
Creating an Account on Chase Mobile
Users who already have an account on Chase Online can just log in on the app by providing their duly registered username and password. Customers can also seek technical support in case they forget their username or password.
New users can also sign up on the app by providing information about existing JPMorgan Chase accounts. They will need to provide their account type, account or debit/credit card number, social security number, and username.
Then, users will need to verify the accounts with their records and select those which they want to enroll on the app. In addition, the app will ask for another set of personal information to complete the profile on Chase Mobile. Lastly, users must register a password to secure their app's account.
Manage Chase Accounts on Chase Mobile
The primary feature of the Chase Mobile app is account management. Their customers will have 24/7 access to their accounts to monitor their balance and make transactions like deposits, payments, and many more.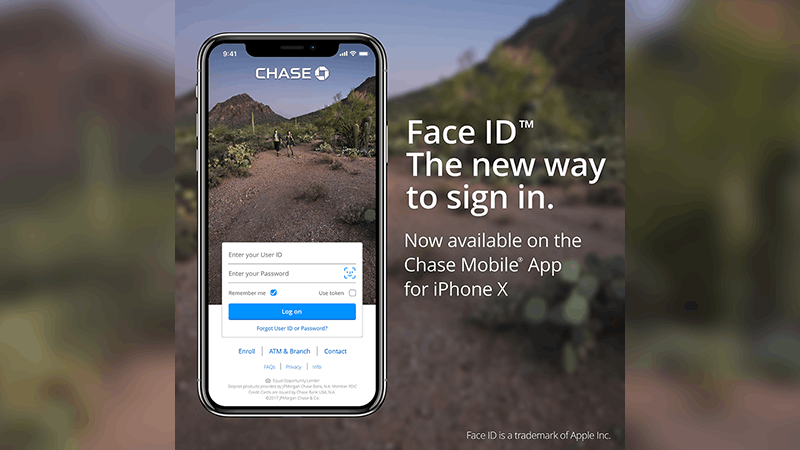 The app lets the users review all the activities in their accounts, whether it is savings, credit cards, auto, business banking, commercial banking, or checking. Users will be updated on where their money goes and comes through the Chase Mobile app.
Chase Mobile also offers a transaction history of up to 24 months and seven years of credit card statements. There is also a clear breakdown of payments and spending by category to see the trend and check if it is aligned with the set budget.
Users can navigate through multiple accounts on the app, so they just have to select which account they want to proceed with a certain transaction. It is easy to toggle among those cards or accounts as the list is found on the app's Home screen.
Experiencing Secure and Safe Mobile Banking
Chase Mobile ensures that users will have a secure and safe banking experience. The app supports more stringent security for account login. Users may use their respective Apple Touch ID or Face ID and Android's Fingerprint Login to open their app accounts.
The app also provides 24/7 fraud protection to its users. It will send direct messages to their mobile device once any suspicious or unusual debit or credit card activity is detected. Users can immediately check their accounts and recent transactions to verify the detected threat with these alerts.
Moreover, users can easily lock their accounts whenever they lose or misplace their cards. The bank will automatically block any transactions, especially new purchases, cash advances, and balance transfers. It is also possible to unlock the card through the app.
Plan and Track Budget on Chase Mobile
Chase Mobile wants its users to have a clear plan of their money by tracking, budgeting, and monitoring it day-to-day. The app has a budget feature wherein users can set up a monthly budget and stay on track to meet their target.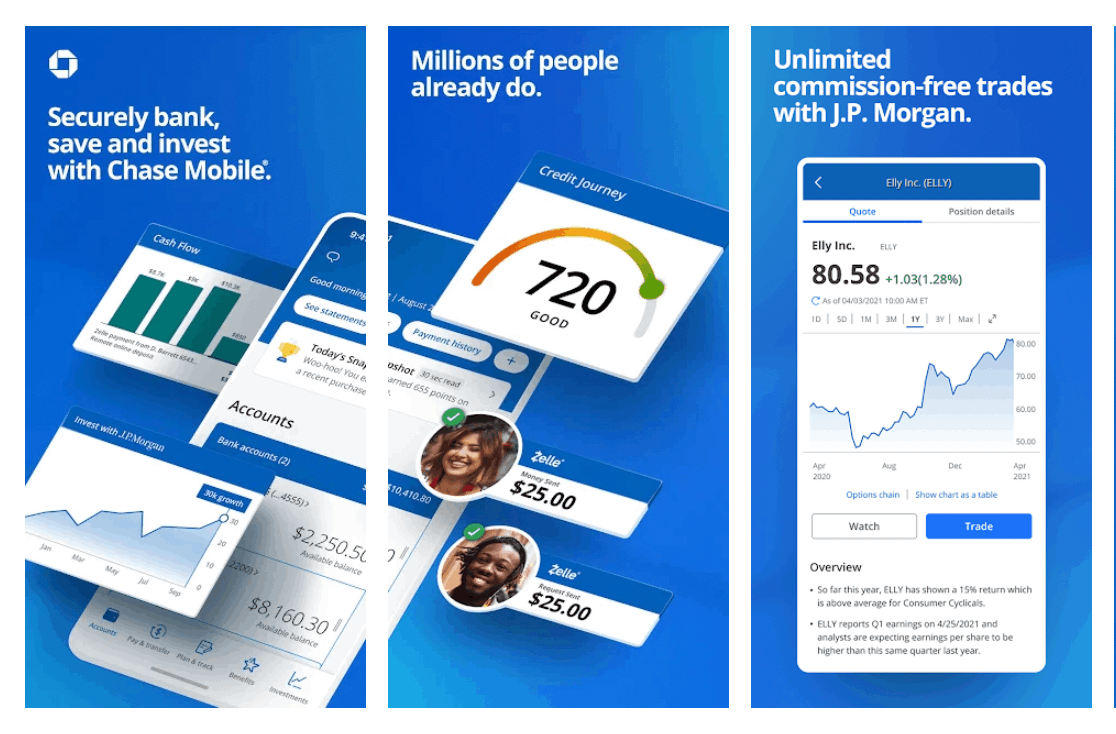 This feature allows users to calculate the flexible budget they want to spend and save for the month. It will also automatically track all the individual credit and debit card transactions to record spending.
By planning the budget and spending, users can identify the amount left on the flexible monthly budget, wherein Chase Mobile encourages the users to transfer the money into any eligible savings account.
The only requirement to use the feature is having at least one Chase checking account and one Chase credit card. Note that some of their partner credit and debit cards may not be applicable to set up a budget on Chase Mobile.
Depositing and Sending Money
Chase Mobile stays true to its mission to provide convenience to its customers through its two popular features: QuickDeposit and QuickPay. Customers are allowed to deposit checks through the app by using the scanned copy or photo of the check. Thus, customers do not need to visit a branch to deposit.
Meanwhile, users can also do a person-to-person money transfer in real-time, supported by Zelle. According to their data, this feature is mostly used on the app because users can easily send money to anyone.
Chase Mobile supports transferring money to other Chase users and non-users. To send money to people without a Chase account, they need to sign up with their phone number and email address.
Monitor Your Credit Score on Chase Mobile
Since Chase accounts primarily deal with credit card services, users can use the Chase Mobile app to access their credit journey. They can check their real-time credit score by enrolling in the app's credit journey program.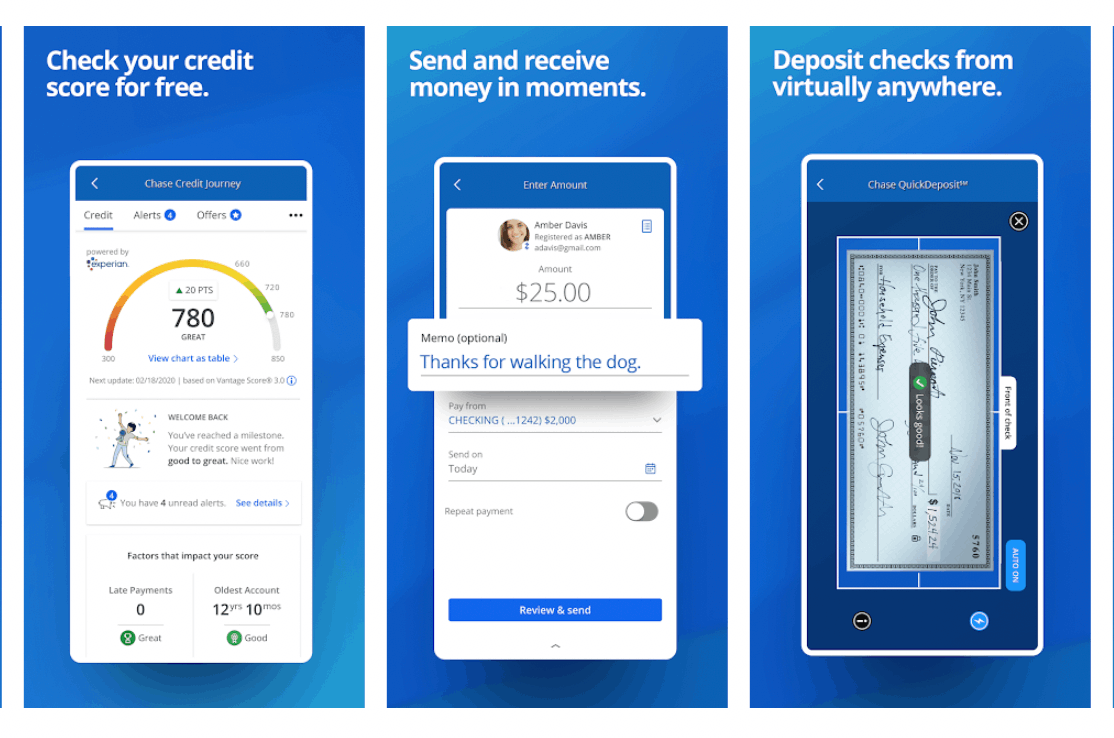 Users can also monitor their credit activity based on recent transactions through this feature. The app also provides a guide on how credit scores work and some tips to improve your credit score.
Moreover, the app can also help users shield themselves from identity fraud through credit monitoring. Aside from the credit score and other related things, Chase Mobile also lets users schedule, edit, or cancel payments for their respective Chase credit cards.
Redeeming Rewards and Offers
Using the Chase Mobile app, users can check their Ultimate Rewards balance by accessing the portal. They can easily check their card benefits, transfer to travel partners, and see redeemable rewards.
Aside from rewards, Chase Mobile also has Chase Offers, wherein users can get cash back on purchases from various retailers. They can add offers connected to their Chase credit cards to check the amount earned and the best deals to redeem.
Conclusion
The Chase Mobile app lets its users manage their accounts in one place wherein they can deposit checks electronically, transfer money, monitor their credit score, and redeem rewards.
The users can enjoy JPMorgan Chase banking services 24/7 while feeling secure and safe.