Any seasoned photographer can transform a photo they took into a breathtaking work of art. In fact, there is no shame in using a photo editor to achieve their desired result, as long there is no deceit going on.
However, having the right software to help them do this is essential. Thankfully, beginners and professionals alike can get such help from their most handy device: their smartphones.
Snapseed is a great editing app that users can access without a hitch. Plus, it is designed to work just like most professional image editors. To use it, check out this guide.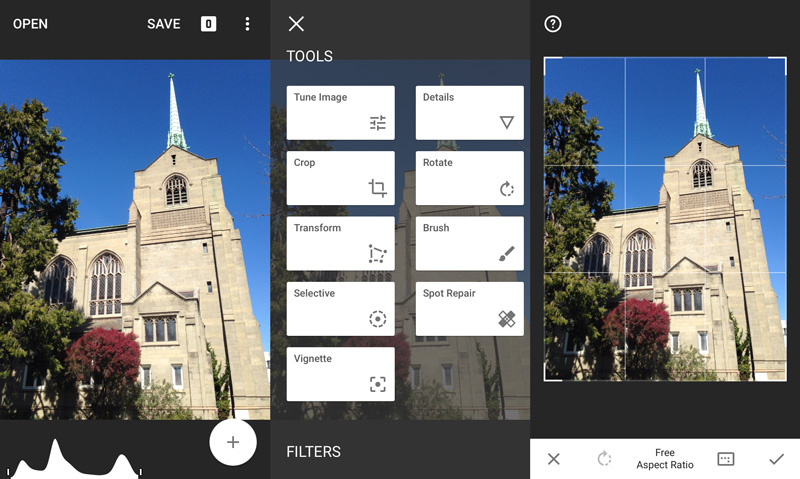 What Is Snapseed?
Snapseed is Google's professional photo editor offered to Android and iOS devices. It was developed by Nik Software and has a lot of good reviews. After being purchased by Google, the application garnered better reviews for the additional features and services built into it.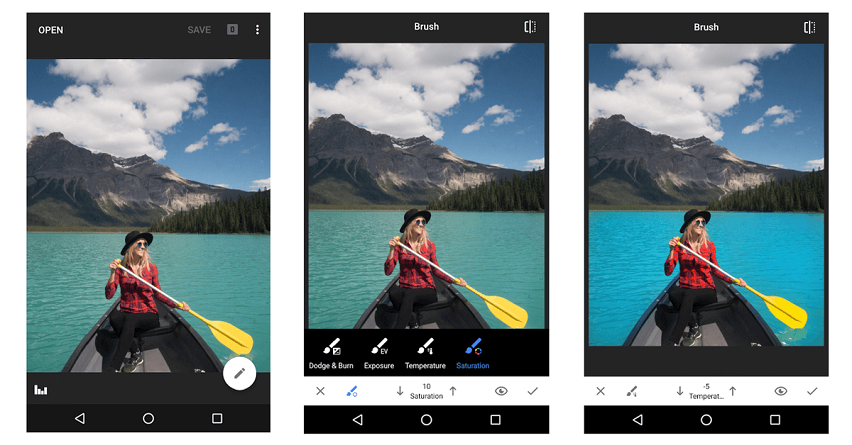 This application is packed without numerous tools, filters, and settings that can help users achieve the effect and final output there are going for. It can process JPG and RAW file formats, making it a great tool for pro and beginner photographers alike.
The app also lets users create looks, filters, and settings that can make it easy for them to apply their own style in each photo. Plus, it gives access to tools that let them precisely get the results they are looking for.
Special Features of Snapseed
When starting to use this application, users should be aware that it carries a wide range of features they can use to make their photos show exactly what the photographers see in a scene.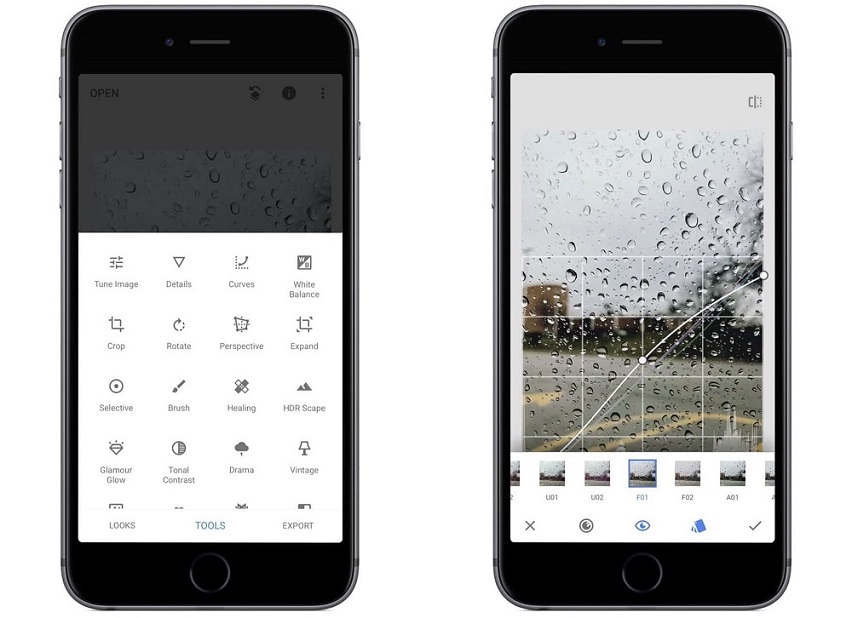 Preset settings let photographers apply a filter or a set of effects that capture the mood, ambiance, and quality they want to convey. This offers a quick way to edit photos, especially as users only need to select the preset they like best.
Aside from the presets, this application also boasts of a well-endowed toolbox composed of various editing tools like Tune Image, Details, Curves, White Balance, and many others. These are all intended to help users tweak their photos.
Best Tools in Snapseed
One of the most important things to remember about Snapseed tools is that they are built to offer precision to users. They let the app users fine-tune their photos in order to control a variety of elements.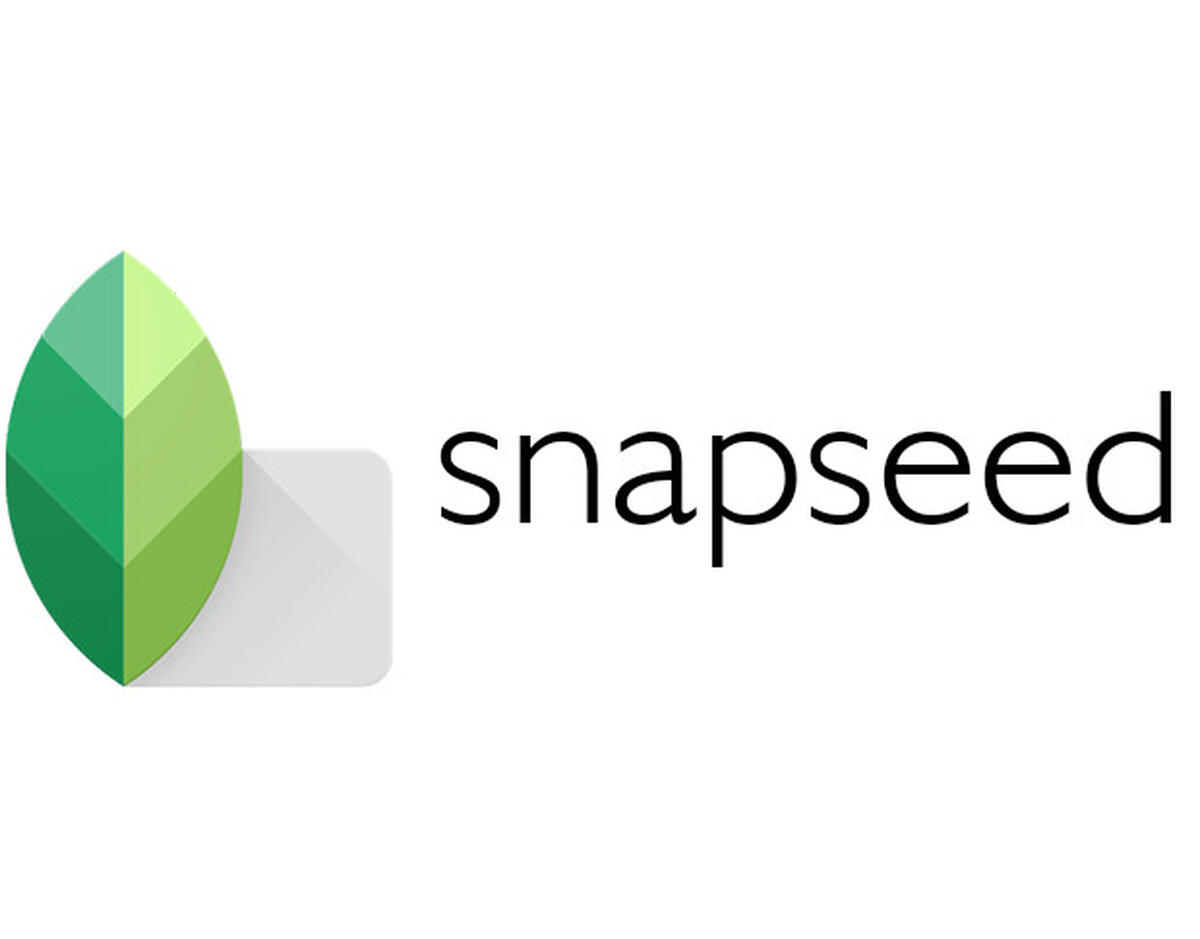 To know more about these tools, here are a few examples along with a description of what they can do.
Tune Image
After uploading an image to be edited, users can then start with the editing process. Say, they did not select Preset effects and decided to fine-tune the photo themselves. Tune Image is a great tool to do this.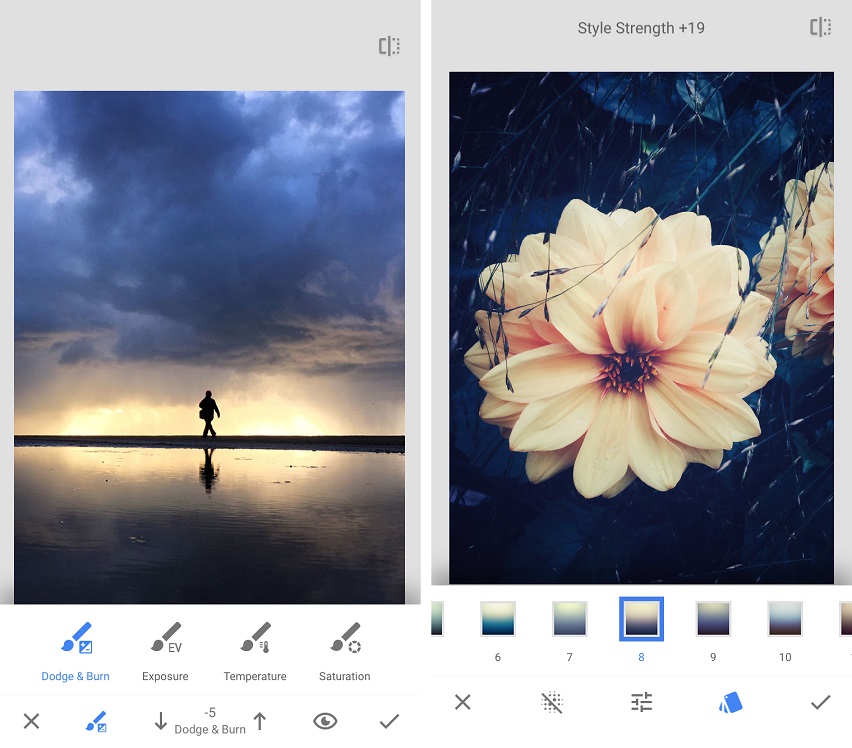 Tapping this tool gives editors a lot of options, from brightness and contrast to shadows and warmth. Tweaking any of these options can help achieve the desired effect. For example, increasing warmth can give the photo a redder, yellowish, or orangey quality.
Increasing or decreasing these can change the color, mood, and tone of your image, so it is important to practice discretion when editing.
Details
Photos that are too dark take away some of the finer details people would normally see in a photo. The Details Tool lets users bring out even the minute details. Remember that these details offer a lot to the photo, especially as they show the image as it really is.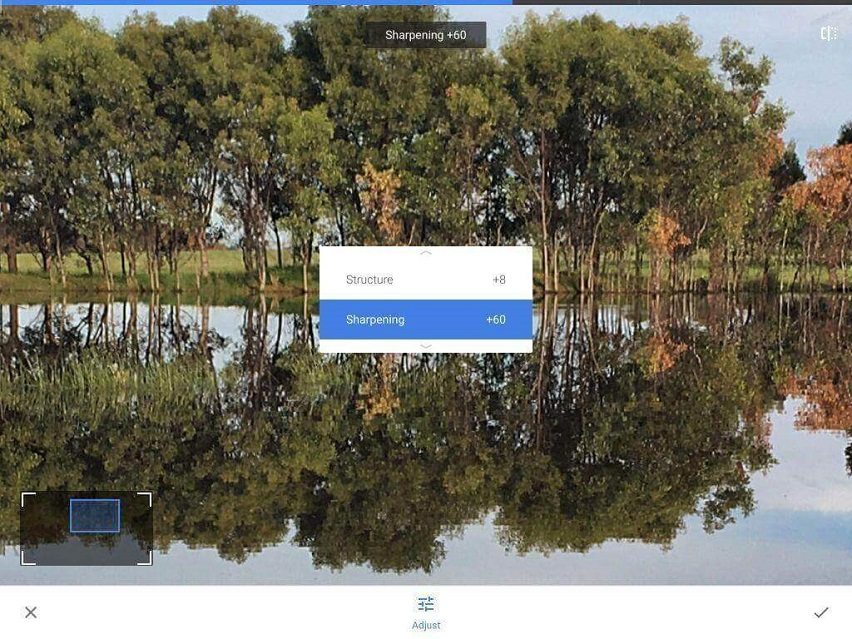 Some of the best details that Snapseed can bring out include wood gain, peeling paint, fabric textures, and rust. These give justice to the image and hones in on the personality that the subject has.
Crop
For many people, the Crop Tool only serves to remove parts of the image that they want to remove. Because of this, many ignore the value of this tool. People with an eye for the picturesque will certainly know where to exactly crop the photo for better composition.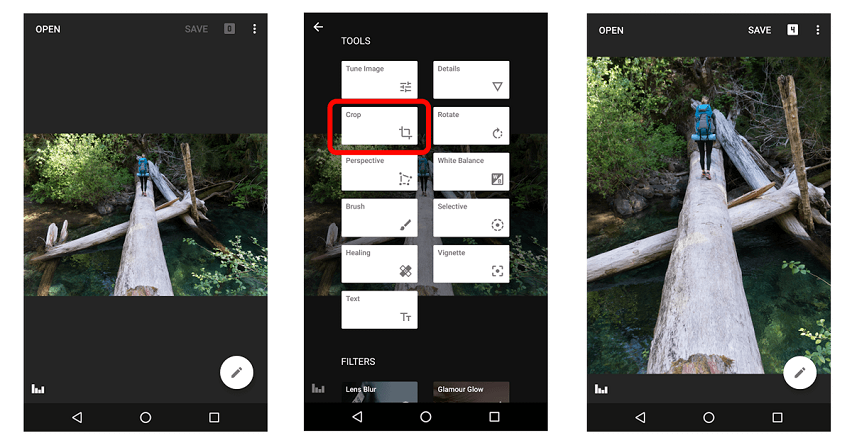 Cropping can help to better focus on the subject while enhancing the framing of it. Plus, photographers can adhere to the rule of thirds with the help of this tool.
Selective
Now, for the more complicated parts. Sometimes, users want to edit only a certain part of the image. The Selective Tool helps with this. It allows editors to simply tap on the place of interest, then add or remove places that are selected.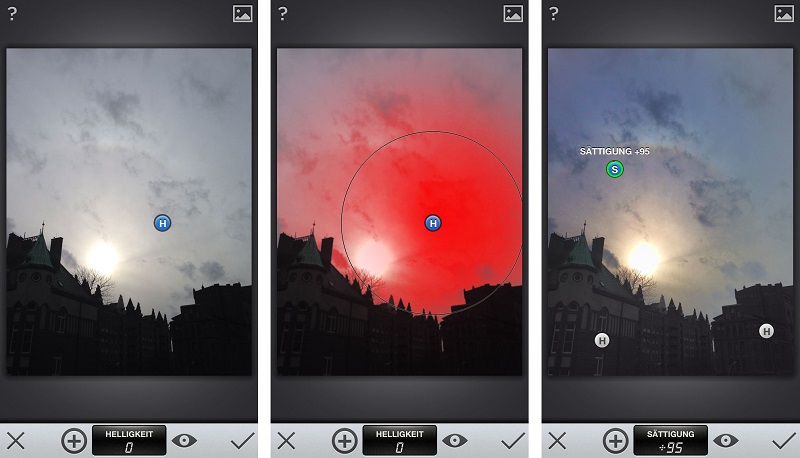 Once all the needed sections are selected, users can easily use other editing tools to fine-tune the selected areas only. Users can apply modifications to the brightness, contrast, saturation, or ambiance of these areas.
Healing
Even photographers slip up sometimes, which means that there are shots that could have been perfect save for some distracting mistakes and blemishes. The Healing Tool is the best way to easily correct these.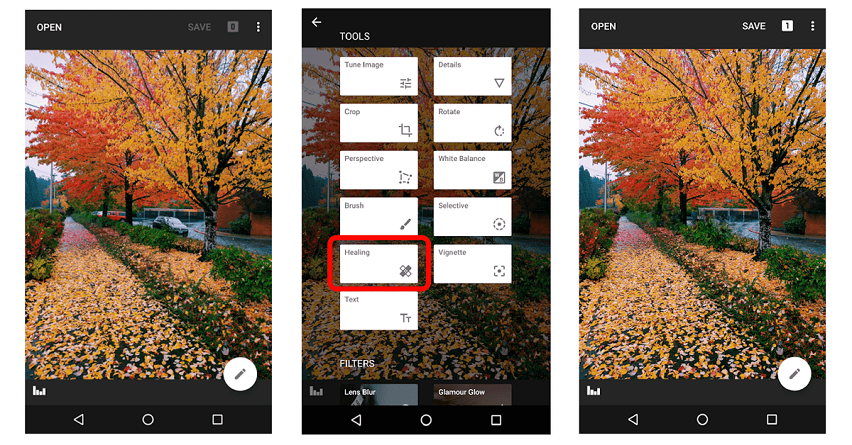 This can be used to edit out unwanted items in the scene or skin blemishes such as scars and moles. In fact, you can even take an entire car out of a photo as shown above.
The main thing about this tool is that it uses an unblemished part of the photo to cover up the blemished part. Users can experiment with this tool in order to get the best results, especially as it has an undo button.
Perspective
This tool lets users adjust the point-of-view of the photo. The subject and lighting of an image may be great, but it also may not look good because of the angle. This is easily fixed by Snapseed's Perspective Tool.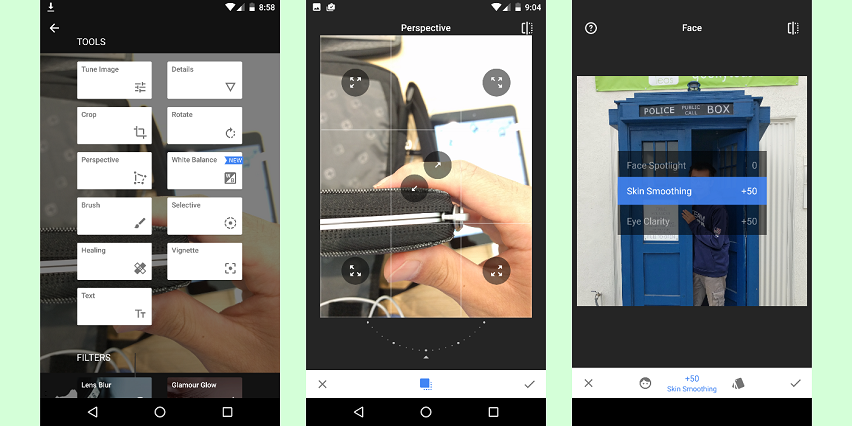 It lets users change the angle in order to get the perfect one. Those who are worried about going out of frame because of the angle change will be glad to know that the application is equipped with a smart way to fill in the edges.
After the re-angling and the smart-filling, users can easily crop out the filled edges in order to create the best photo.
Brush
For many editors, the Brush Tool is one of the most powerful ones, especially as it is the tool that offers the most control over the photo. It lets users fine-tune the photo with the touch of their fingertips, almost literally.
Opening the Brush Tool gives users the option to use dodge and burn, exposure, temperature, and saturation in particular places. To use these functions, users just need to swipe the area in question with their fingers.
This gives better control over the photo editing process. Plus, these functions are much more particular, making the edits much more nuanced.
Various Effects
Lastly, some of the best tools in Snapseed fall under the effects category. These are tools that let users apply settings to achieve a certain effect. This includes Glamour Glow, Grainy Film, Drama, Retrolux, Grunge, and Vintage.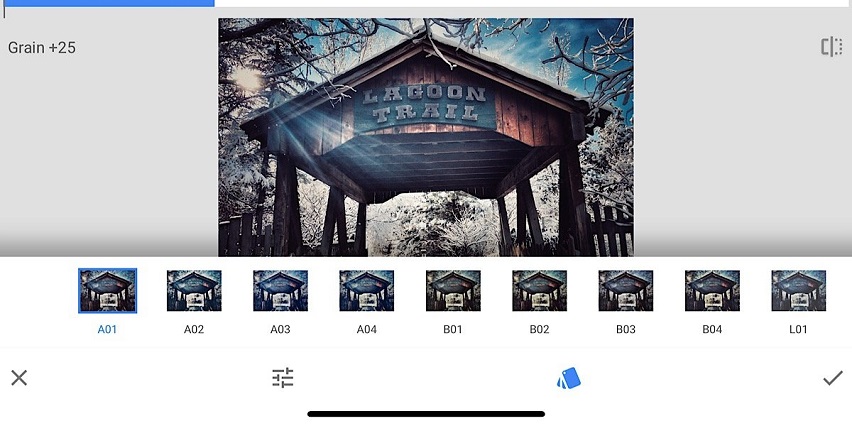 Unlike Looks, these effects let editors modify the intensity of the effects. For example, the Vintage gives the photo an old-timey vibe. Users can alter the kind of feel it gives off by picking the best item in the color palette.
The same process applies to other effects. Moreover, each effect offers a different quality to the image that makes them unique and valuable.
Other Notable Features
Aside from those mentioned above, this application also has an outstanding feature called RAW Develop. With this, editors can simply access their RAW files, which often need a special program, and edit from there. Then, they can export it to JPG, which is more universal.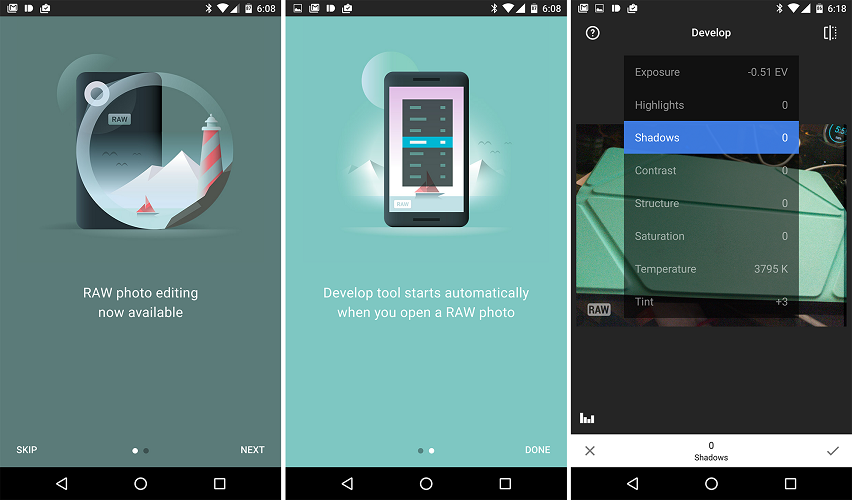 After editing, this program takes users to the Export tab in which they can save a copy of their image and export it to other applications. It offers three ways of saving the output namely Save, Save a copy, and Export, which all have different functions.
For Save, the application overwrites the original copy, while Save a copy creates a new file with the edits made by the user. Lastly, the Export option creates a new copy of the photo with all the edits permanently implemented.
How to Use Snapseed
The first thing users need to do is to download the application on the App Store or Play Store. Then, simply tap on the Get or Install button to initiate the download process. Once done, it will appear in the phone's Home Screen or App Drawer.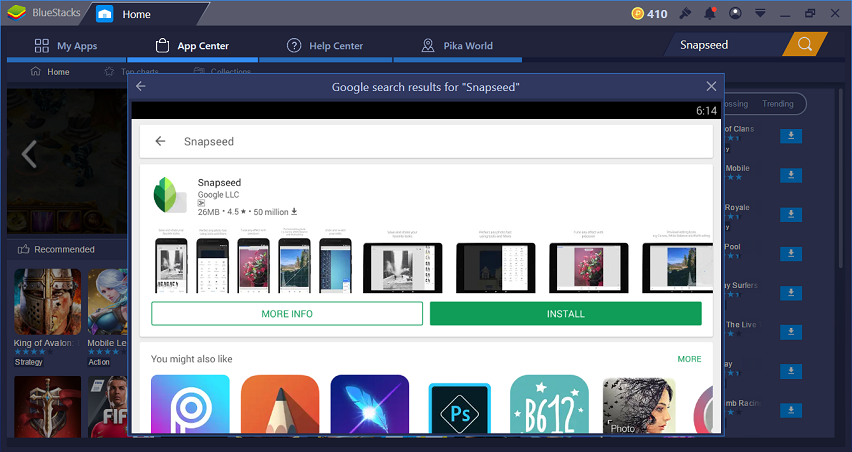 To start using Snapseed, photographers just need to launch the app and give it access to files and folders. Then, upload the photo and edit it away.
One tip users will benefit from is to never be afraid to edit photos. The app has an undo button, so you are free to experiment.
For beginner photographers, it is important to simply take photos, so you can have more images to choose from. With the vast possibilities offered by Snapseed, there is plenty of opportunities to bring out the best in every shot.
Conclusion
Snapseed is one of the most useful and valuable photo editing applications around. With the help of this software, professionals and beginners alike have more options to modify their images and create outputs that truly capture their points of view.