Editing your Instagram stories has never been easier thanks to the plethora of apps that have emerged to help you. The Story Art app is one of those and offers more than 2000 templates to help you create the perfect collages for your Instagram story or feed.
With 500 million+ daily active users, influencers and brands want to interact with their followers better and attract more followers each time they put a story and drive the audience to their profile. Story Art makes it all possible by offering hundreds of different editing options that make the story as extraordinary as possible.
Not everyone has an expensive professional camera for perfect high-quality pictures or a graphic designer's skills to edit the image so that it looks exemplary and conveys the right message to the audience. In that case, users can use the Story Art app to make the editing much easier for absolutely free of cost. This article will enlighten you with the details about the Story Art application and all you can do with it!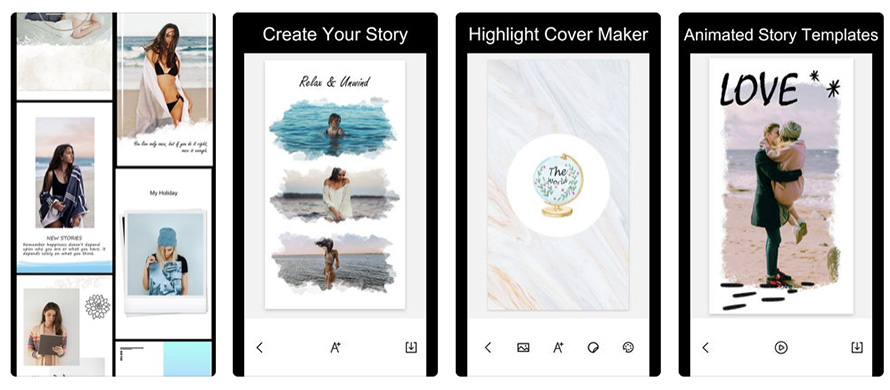 About the App
Story Art – A story editing app for Instagram makes your story or post look much more interactive and aesthetically pleasing than before. When more than half a billion people view the stories, it is worth spending time editing the story and making it look better and eye-catching. Instagram is one of the best platforms for influencers, celebrities, photographers, and artists to show off their talents.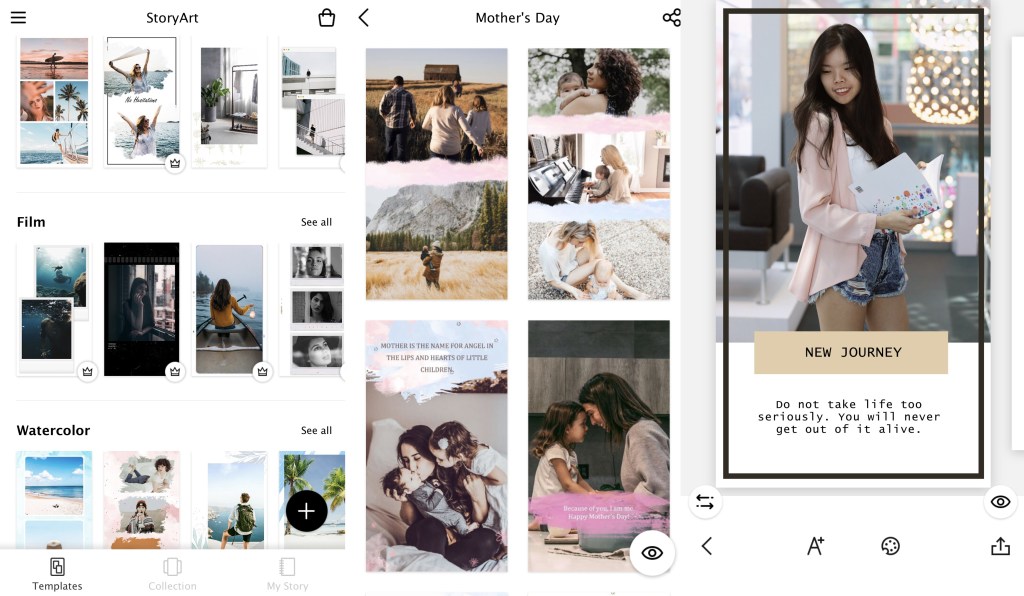 The platform can also be used to interact with millions of other users globally, which makes Instagram stories a golden opportunity to reach out to the audience and communicate with them. The potential for creativity is endless as Story Art offers various unique tools and features to make our content unique and eye-catching.
In Story Art, users can find flawless layout templates, collage designs, highlight cover icons, and background colors. Several different types of Layout templates set a particular theme and background for your picture. A template will provide you with a sample layout that will already be edited and ready to insert your photos in the same structure.
For example, a Happy Birthday layout template will have beautiful artistic borders and backgrounds with cakes and presents. By attaching multiple pictures in the template, the user will be able to create a collage. You can further edit the image by adding icons, logos, and writing of your own choice.
What Else Is There to Know?
Story Art not only enables us to edit the photographs but also allows us to edit our videos, which we can upload on our stories or post on our timeline. A wide range of video editing tools is available in which users will be able to increase or decrease playback speed, increase or decrease the default volume, and change the audio track, for example, insert music in the background of the video.
Editing pictures and videos using Story Art is effortless as it features a bug-free and user-friendly interface, which makes the application very easy to use. Social media managers need to convey the right and accurate message, which is also visually appealing and attractive at the same time.
For example, an online clothing store on Instagram offers a 50% discount on sales, so the Instagram account manager needs to post a story that displays a 50% discount tag. That discount tag logo is easily visible, eye-catching, and focused upon. Only then will the audience notice the message that is trying to be conveyed and show interest in the online store.
How to Download?
Story Art can be easily downloaded from the google play store. All you have to do is visit the play store and type "Story Art" in the search bar.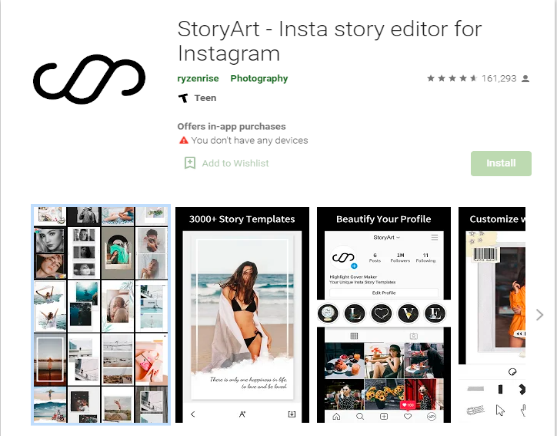 Select the Story Art application and press the green install button. Wait until the application has been downloaded and installed, and it will be ready for you to use.
Main Features
Story Art features many different editing and customization options for users to edit their photographs and videos according to their liking and theme. We can find more than 2000 collage templates, all unique with different colors, shapes, and squares, which will help create perfect Instagram stories and highlights. One of the most useful and unique features of Story Art is that you can create your own entirely new collage or theme.
You can do that by adding multiple pictures in a single background. The background color can be selected from a wide range of colors, and unique borders can be added. Users can also add icons and stickers from a collection of 120+ highlight cover icons. These icons can be used to create a cover story for Instagram highlight too, which will help the profile look attractive and organized.
Story Art allows its users to write down their thoughts and quotes on the photograph with different font styles. The text in the picture usually helps in the communication and conveys an accurate message. Similarly, a quote at the bottom of a beautiful photograph of a sunset or scenery looks aesthetically pleasing and creates a sense of calm.
Enjoy Other Visuals Too!
There are more than 60 themes of different colors and designs, including polaroid, retro, film, minimalism. Editors can now easily make their photograph look like it is from the 1900s with a beautifully vintage effect.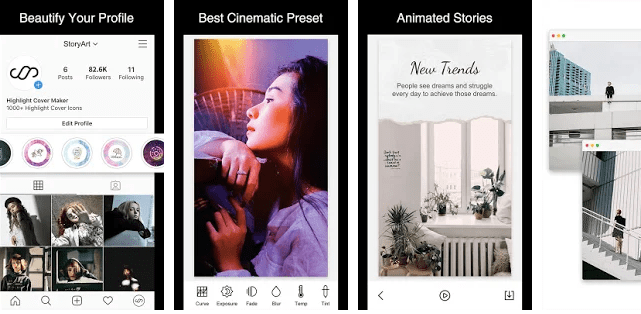 Photograph's visual effects can also be edited with the help of Story Art's filters and customized editing. There are hundreds of different filters available that can be applied to alter the photograph's visuals and make it look better.
Customize Your Visuals!
The visuals can be also be customized by using the options such as exposure, contrast, ambiance, grain, saturation, blur, etc. This feature is most important when the user feels like there is something excessive in the photograph.
For example, the picture is too dark or unclear for some reason. We can quickly increase the brightness and sharpness of the image to make it look more visible and apparent. Story Art allows the users to edit videos for posting the videos on their stories where they can also blur a part of the video to hide private information.
How to Use the App?
Story Art features a very user friend and visually appealing interface with soft colors with easily noticeable visible options, which makes it very easy for a first-time user. It does not require the user to sign-in to an account to use it. We easily download it start editing right away. Upon opening the app, the user will first find themselves on the home page, where there are many types of sample templates such as film, paper, watercolor, love, girlish, etc.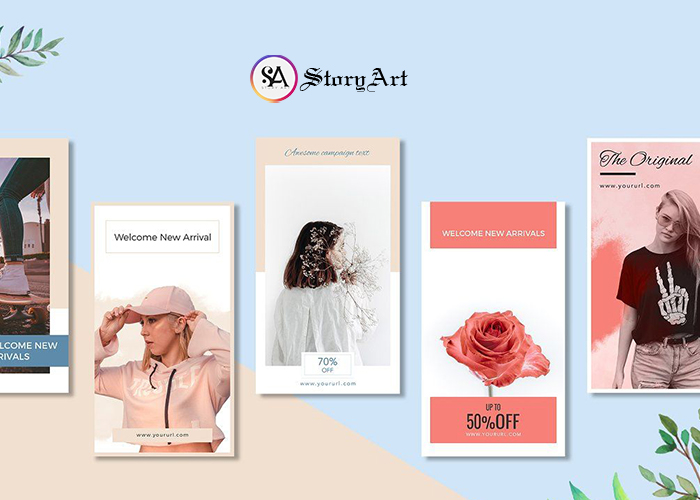 After selecting one of the templates, the app will take you to the editing page. The user will be able to see a space in the frames where they will have to attach their photograph. Photographs can be attached by merely tapping inside the empty frames with a plus sign in the center. Another way to attach a picture is by selecting the picture icon on the screen's bottom right corner. On the bottom panel of the screen, we will see text, logo, and background color options.
Selecting the text option will open a new panel on the bottom from where we can choose the font style, text alignment, text size and spacing, text color, text background, stroke width, stroke color, and shadows. There is an eye icon on the top panel of the screen that will enable us to preview the final result before saving it. On the top right corner of the screen, a save icon is available.
By pressing the save icon, it will provide the user with multiple options for the save location or the upload platform for the picture, which are either album or Instagram, Snapchat, and other media. By selecting the album option, the final edited image will be saved in the smartphone's gallery.
Tips for Using the App
There are more than 2000 story templates in Story Art, making it difficult to find a template category that we previously long time ago as templates, collages, layout, icons, logos, and font types are often updated. We can add our best templates to the favorites by pressing the small heart-shaped icon on the left side of the editing screen. We can also view our previously saved final edits on the "my story" option, which is placed on the bottom right corner of the screen.
Story Art pro is highly recommended for users and social media managers who keep their Instagram thoroughly updated and want the best visual results and editing options. Story Art Pro can be purchased by pressing the shop icon on the home screen's top right corner. By buying the app's pro version, users will have access to many newer and unique templates, filters, stickers, animated stories, and much more, which will make the stories look more creative and pleasing.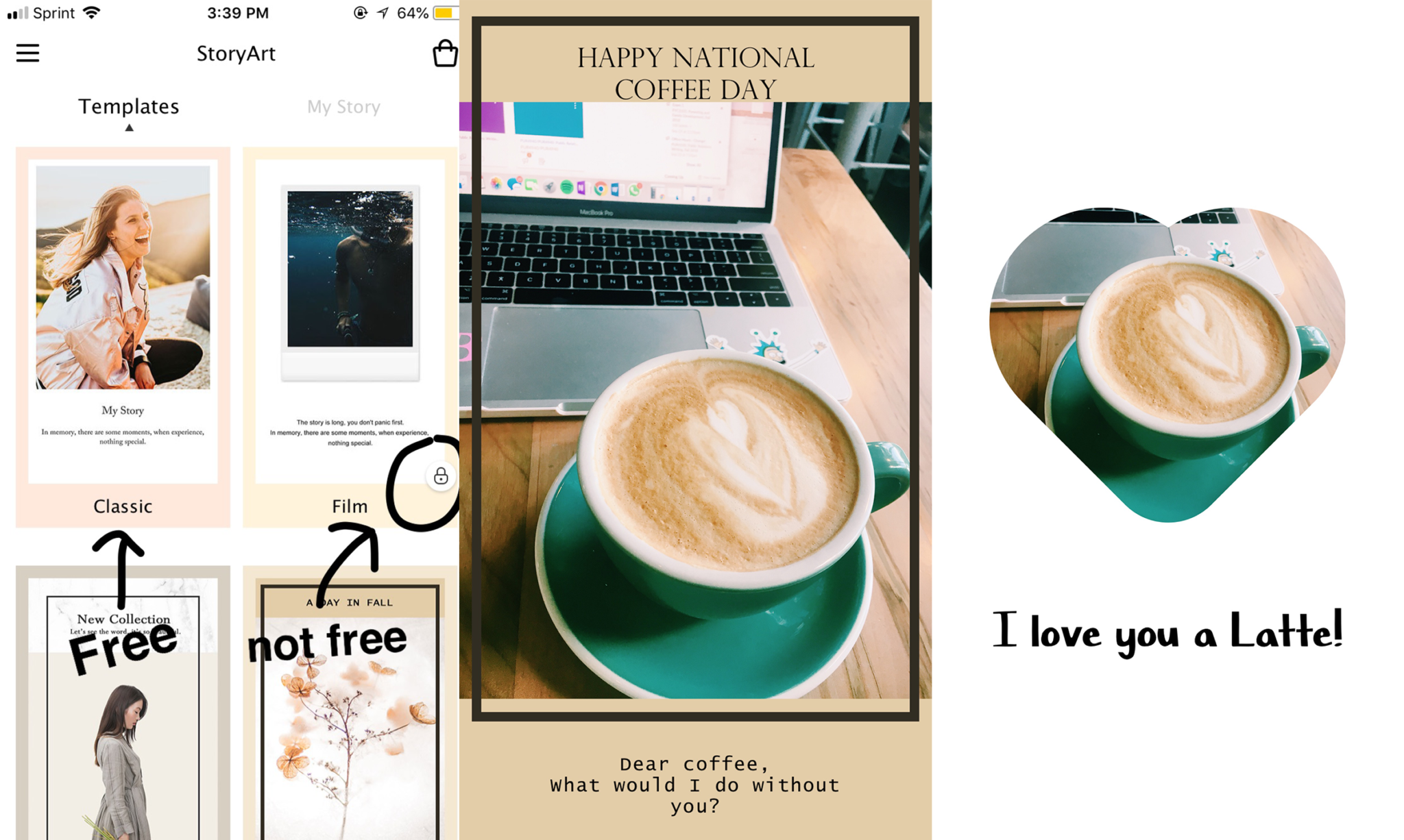 Conclusion
People want their Instagram stories to be memorable and that's why there are now many story creation apps to help you put your best story forward. Story Art is one of the highest-rated Instagram story editing applications on the Play store. It is straightforward to use and offers a great variety of preset templates and many other design effects such as text fonts, themes, and filters, etc.
Story App is absolutely advertisement free too, which makes it an effortlessly quick editing application. Advertisements and pop-ups sometimes make it very annoying for some users who subsequently leave a terrible review. Though the app is free to install and includes many free presets, in-app purchases might be required at some point for frequent users who expect a much better result.