YouTube has become a highly sought-after career choice in the previous decade. And while you may have great ideas for content creation, shooting and editing videos might seem like a nightmare to any beginner. With the upsurge in content production, many video editing software have mushroomed. And with a wide range of choices comes crippling confusion.
On your smartphone or tablet, the finest video editing apps for YouTube allow you to do complex video edits. Without the need for pricey desktop software, both amateur and professional YouTubers may now edit videos on the fly utilizing apps accessible for their mobile devices.
This article will provide a list of the best video editing software for YouTube newbies. We have included tools with incredible assets and simple interfaces. So, you don't need to buy any courses or be a tech-savvy person to get started.
Adobe Premiere Rush
KineMaster
Filmora
Lightwork
Shotcut
GoPro Quik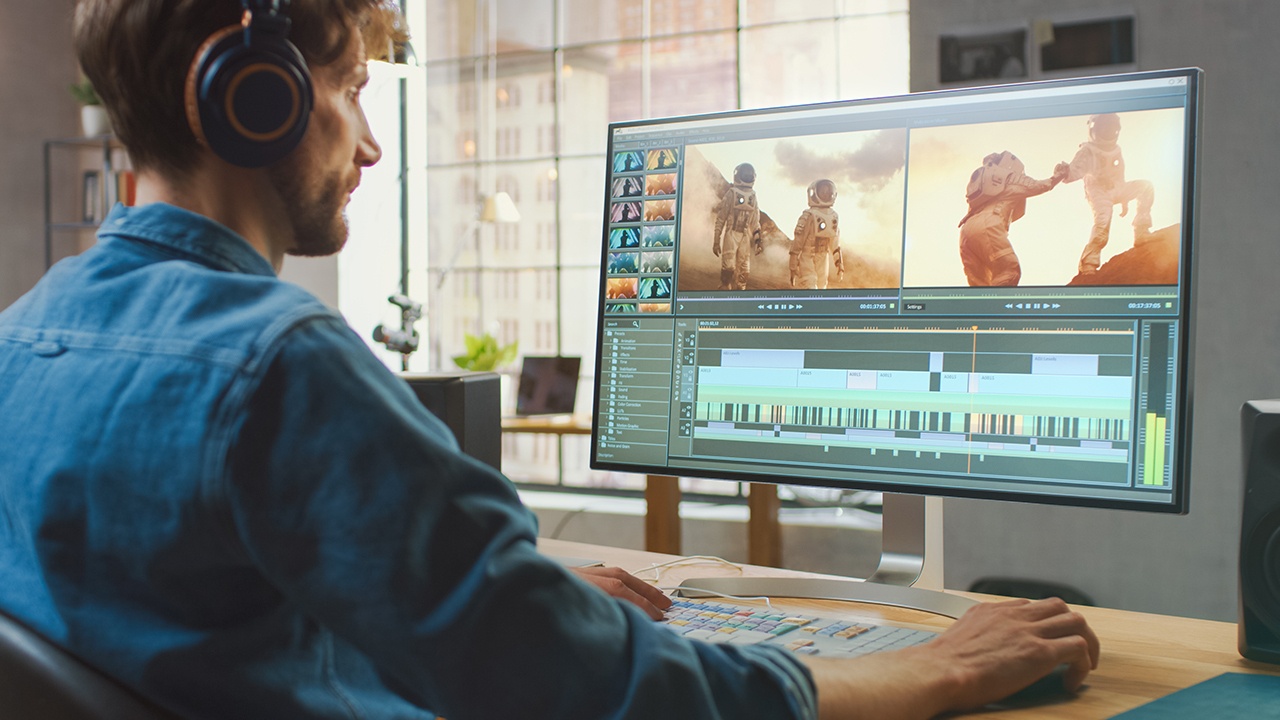 Adobe Premiere Rush
Premiere Rush is a slightly modified version of Adobe Premiere Pro CC. Premiere Rush is a mobile version of Adobe's Premiere Pro software, which has long been regarded as the gold standard in desktop video editing.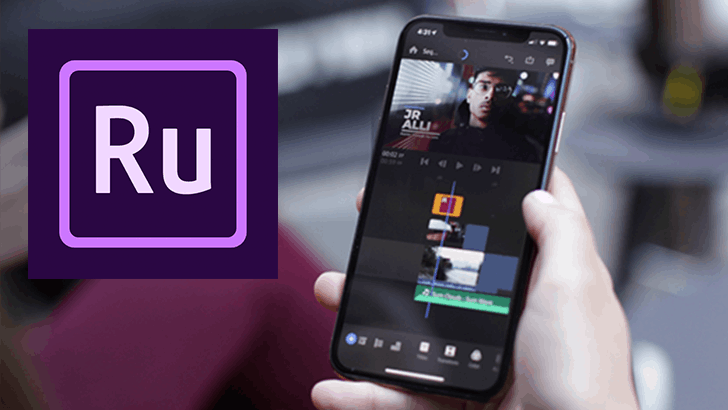 It was created with YouTubers in mind. Content makers for YouTube and video bloggers are their target audience. Color correction, video resizing, dealing with audio, and other functions are available on premiere rush.
Premiere Rush is available for iOS and Android smartphones and is part of Adobe's Creative Cloud bundle, allowing films to be altered throughout Adobe's suite, including Premiere Pro. 2GB of storage is included in the free starting plan.
A paid monthly subscription starts at $9.99/£9.98 per month.
Salient Features of Adobe Premiere Rush
Adobe Premiere Rush lets you edit up to four video and three audio tracks using a variety of features including custom titles, color corrections, speed changes, and a variety of transitions. Voiceovers and ducking are two audio features. For images and graphics, you can use Adobe Stock.
It has a user-friendly UI that is responsive and snappy. It's easy to use and provides helpful advice for newcomers. When compared to its competitors, exporting files is a breeze. It also synchronizes work between desktop and mobile devices, making them more accessible.
Unlike most of its competitors, it comes with great color and title tools. YouTube, Facebook, Vimeo, Snapchat, Instagram, and Twitter are just a few social media channels where the final files can be readily shared.
KineMaster
The KineMaster app is one of the most powerful smartphone editing applications on the market, especially if you're searching for a tool that supports green screen modifications.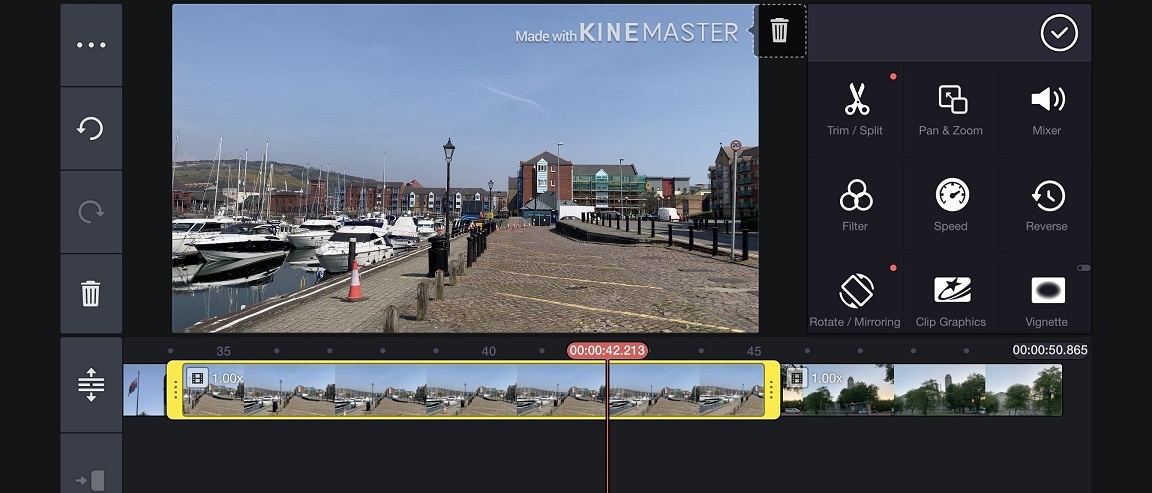 It has a chroma key that can combine several movies for green screen post-production, as well as a slew of other editing choices and capabilities that you'd expect to see in professional editing software.
KineMaster is free to download and use on iOS and Android smartphones.
However, removing advertisements, creating films without a watermark, and exporting at the highest quality requires a $4.99 monthly membership (1080p and 4K).
Salient Features of Kinemaster
KineMaster offers a wide range of capabilities while staying simple and easy to use. It doesn't offer the same level of fine-tuning features as Premiere Pro or DaVinci Resolve, but it's a step up from other popular mobile editing programs like iMovie.
KineMaster offers a multi-layer interface with blending options, chroma-keying, and audio mixing, among other things.
There are sliders to alter brightness, contrast, saturation, and other aspects of a clip's appearance. There's also a large selection of Instagram-style filters to choose from.
FilmoraGo
FilmoraGo is one of the most popular video editing solutions. The smartphone app offers a simple, intuitive layout which makes it super easy to use. It can be found on both the Google Play Store and the Apple App Store.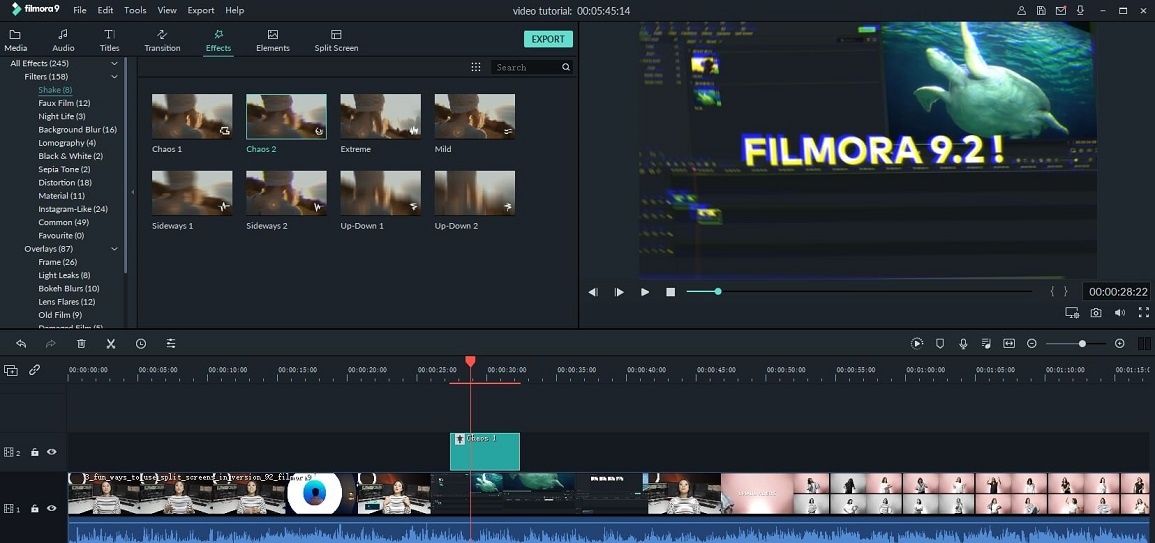 It also includes several pre-installed themes, titles, images, and filters to help you get started with the software.
You may experiment with hundreds of fun effects, stickers, and text overlays, all created with social media in mind.
Salient Features of FilmoraGo
With a three-panel structure for source content, video preview, and timeline across the bottom, Filmora's Full Editor interface is similar to that of most video editing software.
It features a non-skeuomorphic UI that is clean, minimalistic, and dark. This is enhanced by a wealth of useful effects, text tools, and filters, as well as basic video editing and output choices.
The macOS and Windows versions both cost $51.99 a year, or $79.99 if purchased outright. If you purchase a Filmora license, you will receive extra effects to use in your video productions, as well as the removal of watermarks, and access to 24/7 technical assistance.
Lightwork
Lightwork enables beginners working from home to create high-quality content that will attract their target audience.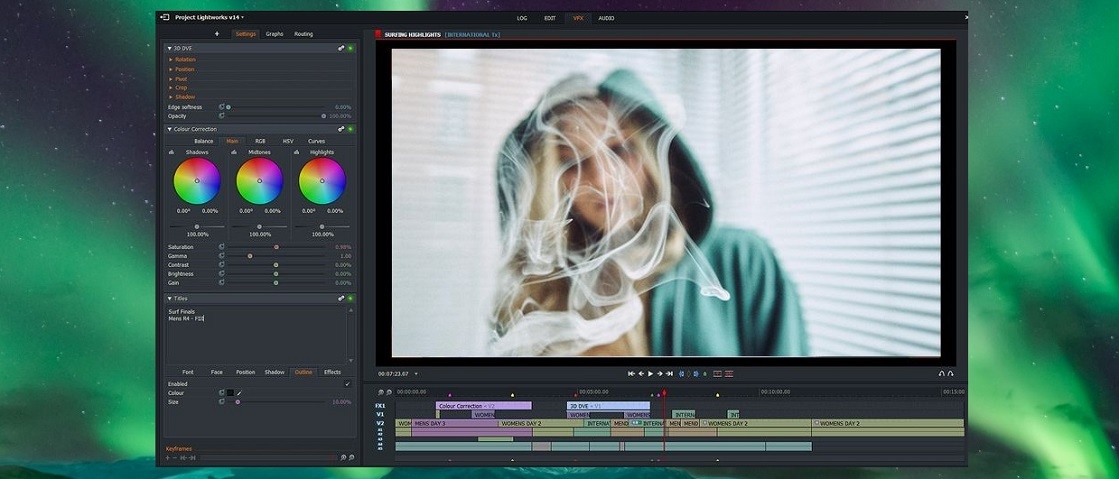 Lightwork is the go-to video editor utilized by anyone from up-and-coming directors to award-winning filmmakers. It was created by the powerhouse Editshare.
Within the program, you can access a collection of free clips, sounds, and effects that you can use to spice up your production. There are more than 100 options to choose from.
The program collaborates with royalty-free media giants Pond5 and AudioNetwork to provide you with everything you need to make an outstanding presentation.
Salient Features of Lightwork
Lightwork allows you to edit films for many formats such as 2k, 4k, PAL, NTSC, and high definition. It's quick and versatile, and once you get used to the way it works, you'll find it surprisingly simple to use.
Lightworks enables you to edit video to a high level. However, when compared to other solutions like DaVinci Resolve and VSDC, the possibilities of the effects are somewhat restricted.
Lightworks Pro is costly compared to other premium software. Lightworks Pro costs $24.99 per month where Premiere Pro is $20.99 per month. To buy the software outright, Lightworks Pro costs a whopping $437.99 where competitor Final Cut Pro is only $299 .
Shotcut
Shotcut is a cross-platform video editing software for FreeBSD, Linux, macOS, and Windows that is free and open-source.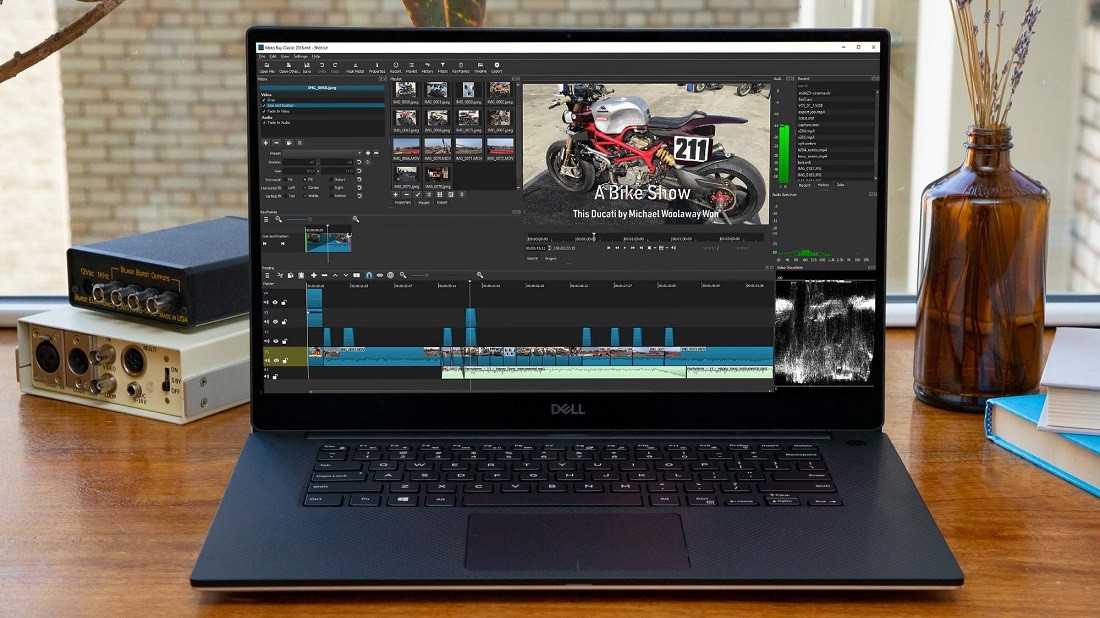 Shotcut supports video, audio, and picture formats for editing.
It's one of the most all-encompassing video editing apps that lets you cut/trim videos, add effects, adjust playback speed, and even add text/music.
The best part is that you can export all videos directly in HD and with no watermark.
Salient Features of Shotcut
The app is quite easy to use and brings almost all editing features to your fingertips. You can make edits to a video file or can also turn a bunch of pictures into a pro-looking slideshow.
Shotcut supports hundreds of audio and video formats along with special effects. You can extract files from your phone or record videos and music directly in the app. Shotcut also has an in-app music library with over 100 songs for TikTok, vlogs, or videos.
To beautify your videos, you can add filters and magic video effects, like Glitch, Zoom, Retro, and more. You can also play around with cool text effects and animations. Once you're done with your final masterpiece, you can directly share it on all major social media platforms.
GoPro Quik
GoPro Quik footage continues to be one of YouTube's most popular categories, with gripping, adrenaline-fueled footage of anything from skating to cycling and skydiving.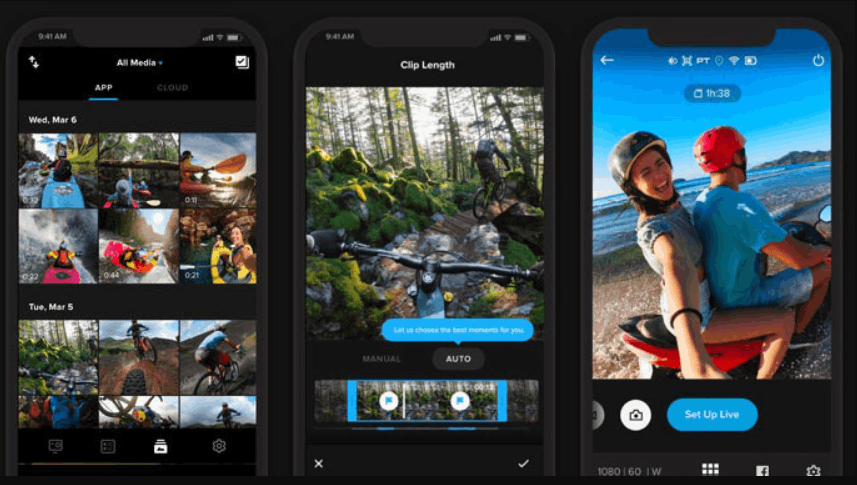 Included in the editing tools are the ability to change speed, sound and color as well as adding freeze-frames or reframe options. GoPro Quik also contains a helpful horizon leveling tool that can help stabilize shaky camera work.
Videos may be embellished with stickers, title cards, and images with this software. There's also a theme library with pre-made music clips, transitions, and effects that can be added to videos.
While the app is free to download for iOS and Android, a GoPro membership unlocks unlimited cloud storage and backup for recorded footage.
Salient Features of GoPro
GoPro Quik features a slick new user interface with additional filters, tools, and music.
This is a significant improvement over the previous Quik app and a thorough refresh for all GoPro customers. The new multi-speed option, which allows you to change the pace of a video in the middle of a clip, is the most remarkable feature.
Whether the original content source was a GoPro, a DSLR camera, or another device, Quik instantly extracts images and videos from your device. Quik comes with 25 filters and 18 royalty-free audio tracks, with full access to all features available for $9.99 per year or $1.99 per month.
Conclusion
Whether you're a YouTube pro with thousands of followers or simply want to share beautifully-edited home films with family and friends, take advantage of these YouTube editing programs to elevate your footage.
The YouTube video editing applications described above are available for iOS, Android, or both platforms.