In times where we are not always connected with our loved ones, it's always a convenience when there can be a certain way to remain in touch. Many applications have come and gone throughout the years, but one application has always remained at the top of its game; you may famously know it like Snapchat.
Snapchat is a quick and exciting way to share all of your moments with whoever you like. It helps you keep the people around you updated about where you are, what you're doing, and how you're feeling too! When it first came into the market, Snapchat was not as popular as it is now.
If you have teens at home or if you are the teen yourself, Snapchat has become a very frequently used application for all. Being one of the famous applications out there, Snapchat allows you the opportunity to make your moments look fantastic! This article will enlighten you with all the details about Snapchat and its convenience to all.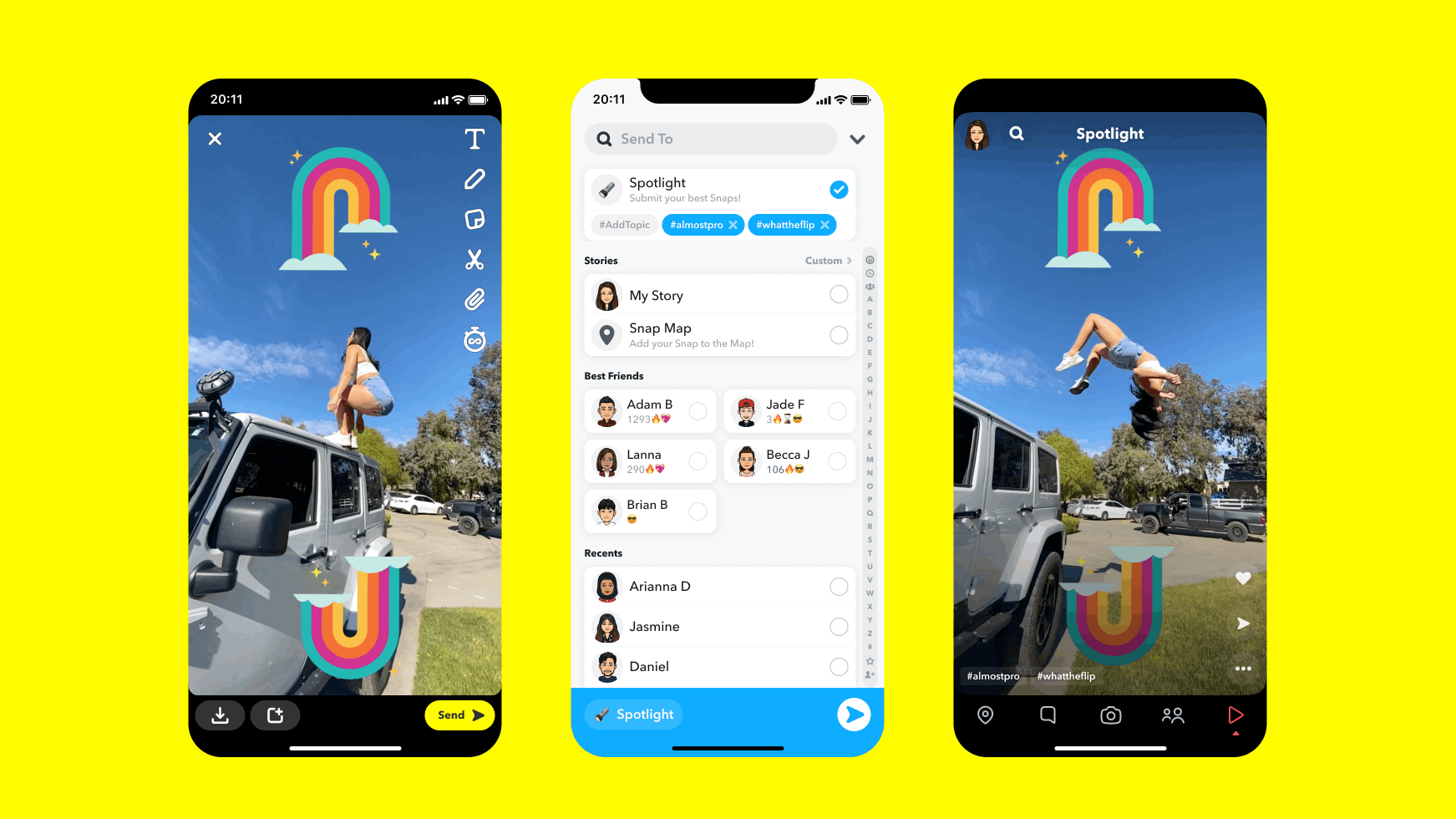 What Is Snapchat?
Snapchat is a multimedia and social networking platform through which users can send each other pictures or videos, more commonly known as snaps. The point of these videos and photographs is that they will disappear after a specific time of them being sent to the other person; they don't stay forever.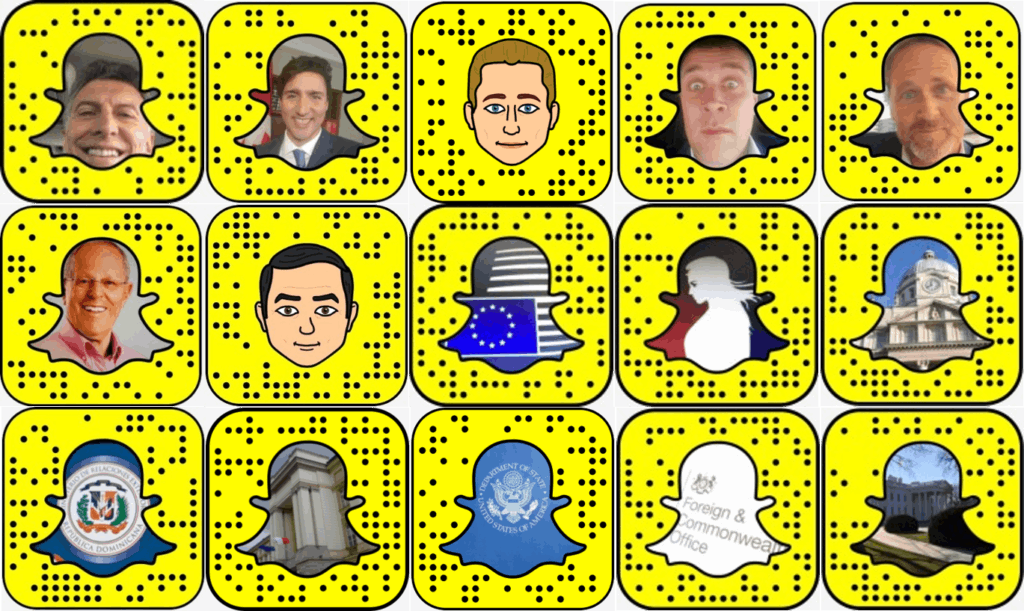 The application can be referred to as promoting the 'new type of camera' where users can put on filters, lenses with special effects, and stickers then send it to their friends and family for a short amount of time; however, you do get one chance to replay the snaps!
After much development, Snapchat has also begun catering to call services where users can talk to each other through the application.
Changing drastically in terms of improvement, Snapchat has come quite a long way in terms of its interface; there have been many updates to the application throughout its time, and there are many more to come.
Main Features
The essential point of Snapchat is to encourage a natural flow of interaction between users who send each other snaps before the image or video is made inaccessible. The purpose is to allow users to send private and one-on-one photo-sharing options, but the constant updates have improved its functionality.
Now you can also use Snapchat for live video chatting, creating Bitmoji avatars for your user and accounts, creating a chronologically sorted 'story,' and so much more.
For other publishers like Buzzfeed, Snapchat also caters to a section called 'discovery' where they can showcase their content for Snapchat users. Let's discuss some of its main features in detail below.
Take 'Snaps' on the Go
The application opens straight to the camera so that you can instantly start taking photos without having to click anywhere else. With the snaps that you take throughout, you will get the option to send it to people and tell them what you're up to!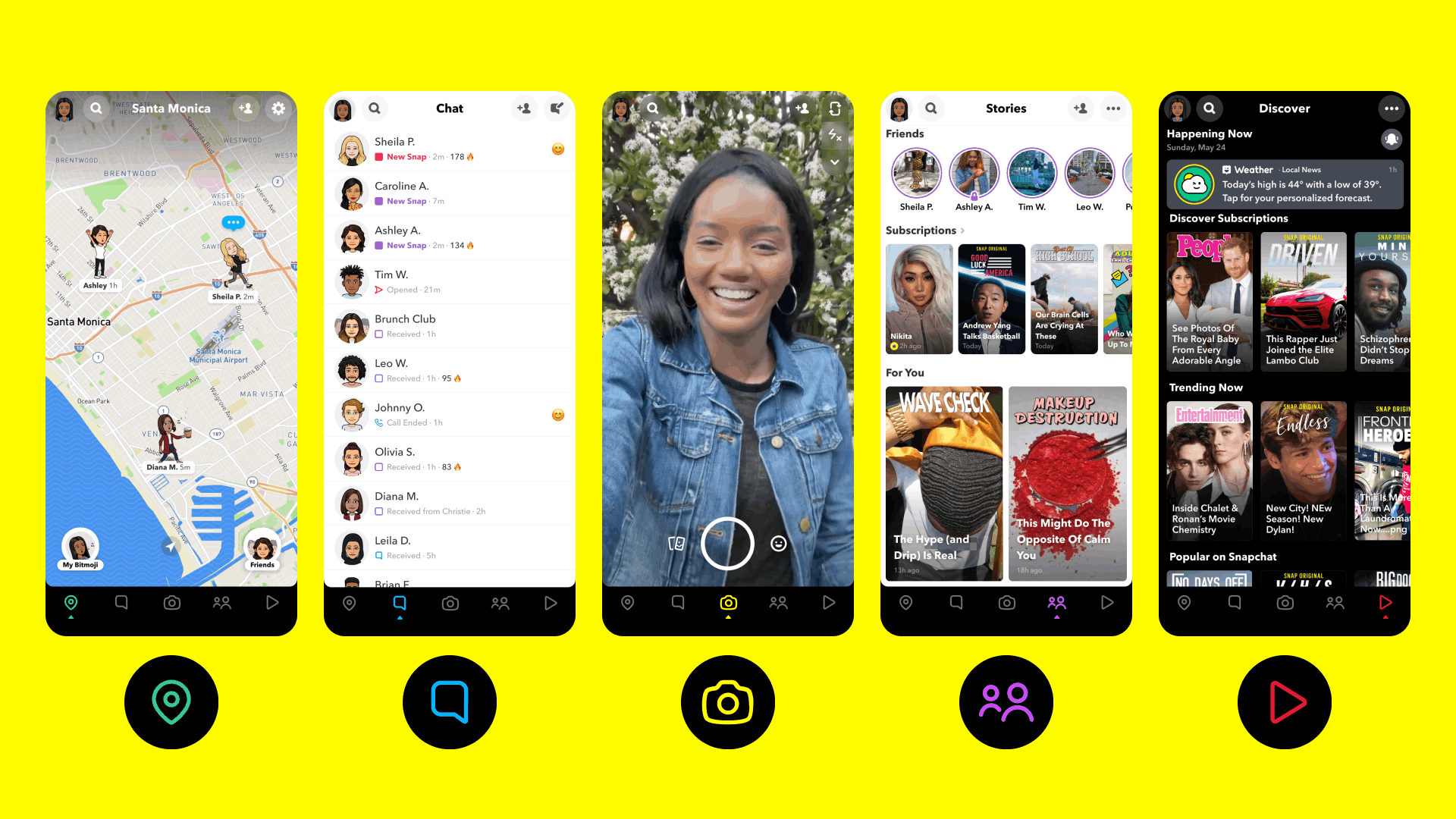 Not only that, but you can also add lenses and filters along with quirky stickers to make your snaps look exciting. The database gets updated with new filters and lenses every day so that every snap can be better than the last! You can discover the games on Snapchat that you can play with your face, dance with your 3D Bitmoji, and whatnot.
Snapchat also offers you the opportunity to create your filters and then share them with the community, or you can pick one that has been created by others as well! All new ones and all the good ones can be found on the filter tab in seconds.
Put up Stories
Not only do you get the chance to share snaps directly with your friends, but you can also put them up on your personally curated stories! Have people watch what you're doing the entire day and let it all unfold in front of their eyes – how cool is that?
There are also public Snapchat community stories that are filtered according to your interests. For example, you can follow a celebrity and watch what they're doing too! Other than that, there will be stories put up by publishers regarding original shows, breaking news, and so much more.
Chat with People
You can easily use Snapchat to stay in touch with your friends. A friend sent you a snap of them going to a cool restaurant? Reply to them and ask about their recommendation! You also get the chance to create groups on Snapchat and then share your day with all of them in one place.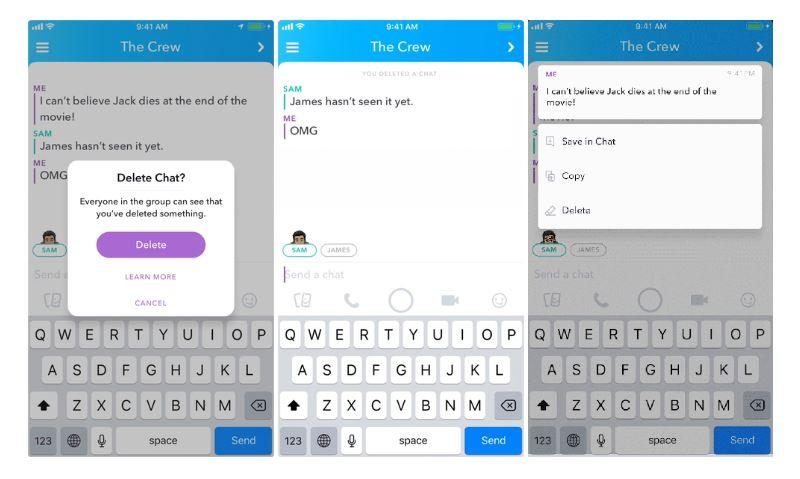 You don't only have to chat; Snapchat also allows you to video call up to 16 people at one time! Even throughout your call, you can add up filters and lenses to have fun and make conversations even more exciting.
Like stickers while conversing? Snapchat brings Friendmojis where you and your friend can find exclusive Bitmoji stickers that have been made just out of the two of your Bitmojis. It helps you make the most out of your conversations and talk through stickers as well!
Make Use of the Snap Map
Snap Map allows you the opportunity to check where your friends are and who they could be hanging out with as well. However, this only works if they have opted to share their location with you! You can also do the same, and if it makes you uncomfortable, go off the grid with the Ghost mode.
Snap Map's idea is to encourage you to check other people's live stories from the communities near you. Check what they're up to because you might find interesting things about your area that you weren't aware of! You can also do the same for every Snapchat user spread across the world.
Save Photos on Memories
Snapchat offers you free cloud storage in which you can save the snaps that you take throughout your time while using the application. Go on a nostalgia trip or edit the snaps and send them to your friends again – you can even save them in your gallery through the Memories section.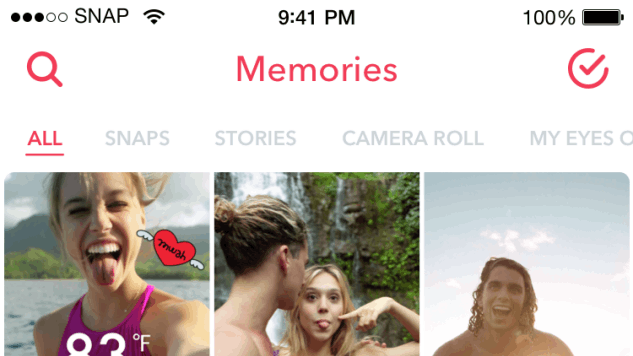 Search through the memories that you have made with your friend, specifically in your particular friendship profile. There will be a list called Charms in which you can discover all the things that you have in common with your friend; you can also check how long you've been friends for, astrological compatibility, and so much more!
If you've been friends with someone on Snapchat for a very long time, you bet that Snapchat will have it all recorded for you to go through again. You and your friend both can then check what makes the bond between you so unique!
How to Use Snapchat
As mentioned earlier, Snapchat updates are frequent, so it isn't easy to cover everything you can do with Snapchat. As soon as you open the application, you will be asked to sign up because otherwise, you won't be able to use it. Enter your name, email address, birth date, and then pick a funky username for yourself!
You can add friends on Snapchat by merely letting the application skim through your contacts by offering it permission to do so. If you don't want to add through contacts, you can also search up their username to add. Snapchat also lets you automatically add someone through the Snapcode, a unique QR code of each user.
You can take a photo by clicking on the big circle present on the main screen or a long-press for a video. Swipe right when the video or photo is taken, and you'll find the basic lenses and filters that you can use on it. Send the snap later to your friends or put it up on your story – whatever you want!
How to Access New Filters
Specially curated filters by the community can also be accessed before taking the photo or video on Snapchat. When you open the application, the main screen will have a big circle used to take the photo or video – on the right; you can find a smiley symbol.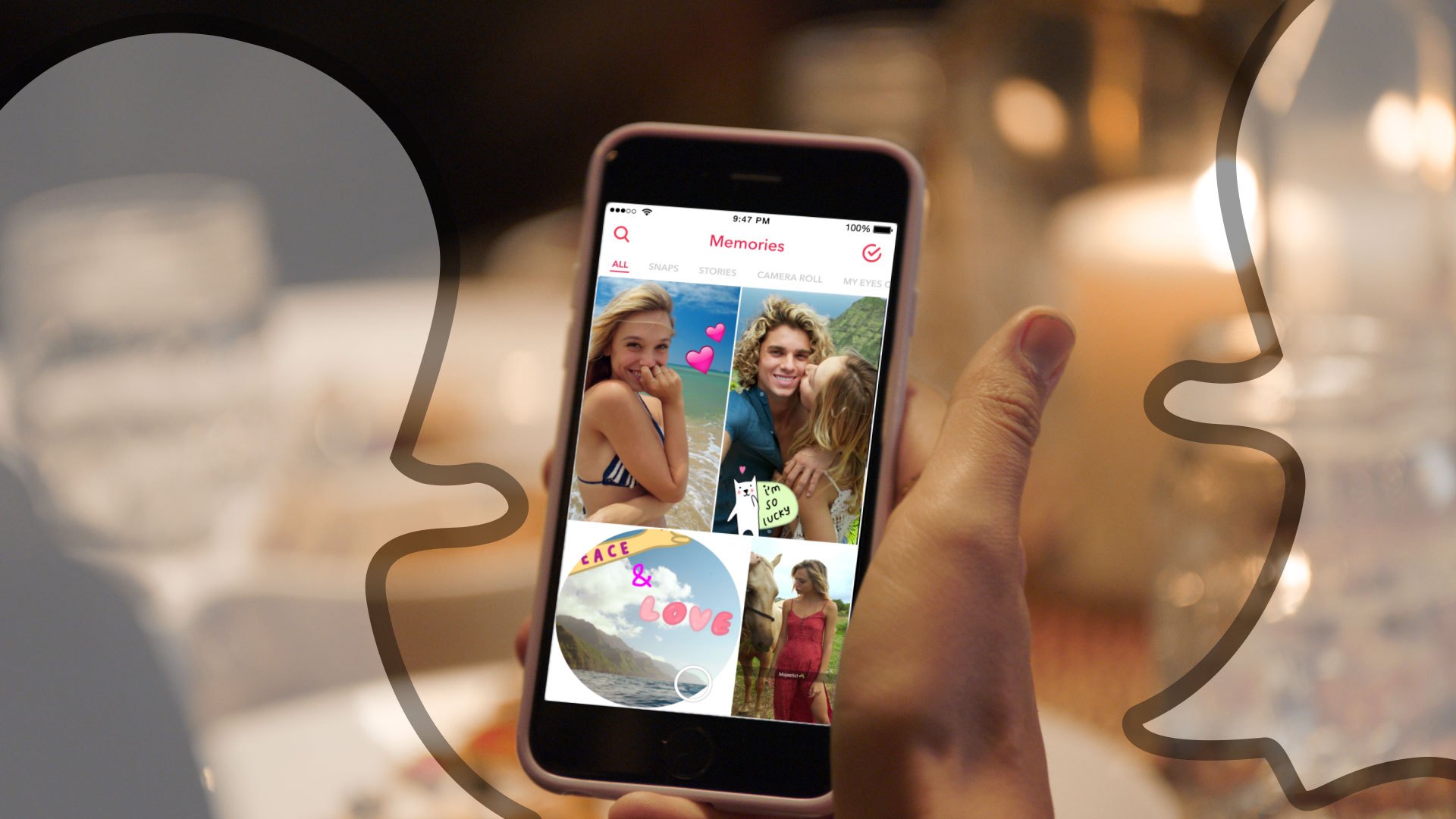 Once you click on the smiley symbol, you can explore other different filters and not as simple as the ones you can find after taking the photo. There, you can find the option to 'create' a filter of your own or 'explore' others – this will lead you to the filters created by the community.
The community specially creates these filters to enjoy the experience of sending and receiving snaps by taking it a little further. You can find funny filters and also aesthetic ones to make your snaps look enticing and exciting!
How to Download
Downloading Snapchat is just as simple as downloading any other application. If you use an iPhone, you can go to the App Store and write 'Snapchat' on the search bar before clicking on the first option to begin installing it.
However, if you are an Android user, you can go to the Play Store and write 'Snapchat' on the search bar or get redirected to the Play Store page. Click the first option on that page and hit install to enjoy all the fun-filled experiences that behold!
Conclusion
Snapchat has become so widely used nowadays that the thought of breaking streaks can cause friends to get upset with each other! It's a fun, and easy way to stay connected even when talking to each other daily is not a very viable option. So, download the application today and experience the fun for yourself!