With the continuous surge in technological advancements, a camera or a software expert is no longer needed to record your computer screen. Instead, the many available screen recording apps are enough to get the work done.
A screen recorder, also known as screen capture software and screencasting software, lets you record the entirety or portions of your computer or mobile screen. This includes the moments of your cursor, the things you type, or the videos you play.
Whether you want to make a tutorial, record a presentation for work, collect evidence of technical glitches to show tech support, or share game strategies, a desktop recorder app will help you do all of this and more. Here's an overview of five apps to help you record a computer screen.
OBS Studio
Flashback Express and Flashback Pro
Camtasia
Screencast-O-Matic
Bandicam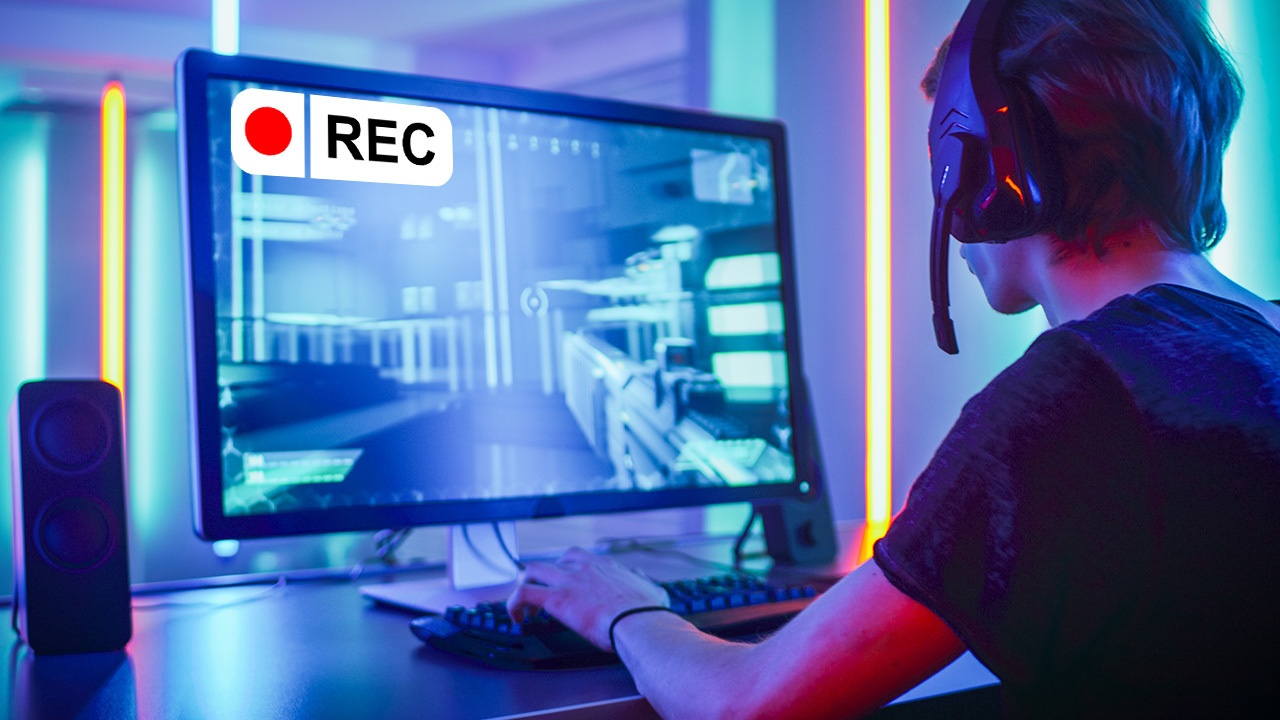 OBS Studio
OBS or Open Broadcaster Software Studio is open-source software that is ideal for screen recording and live streaming, especially for platforms like YouTube, Mixer, or Twitch. OBS Studio comes with a lot of features jam-packed into one program.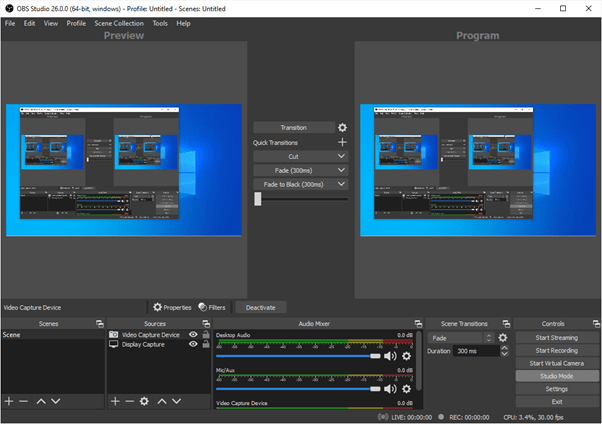 The main feature enables you to use multiple sources – like webcams, images, texts, browser windows, and more – to create scenes. With the Studio Mode option, you can also add transitions and cuts to your videos and even select which desktop application and audio source you want to share.
Additionally, there's no limit to the length of videos you want to record, taking away any time boundaries you may have had in the past. The floating control panel and audio mixer fix all the imperfections of your video and audio, along with saving your file in a high-quality MP4.
OBS Studio is free to download and does not carry any watermark. Further, this app also provides the option of saving footage and converting it into Flash Mode (FLV) format.
Unpacking the Details
Apart from recording the entire screen, OBS Studio also allows you to record partial contents of your desktop, be it macOS, Windows, or Linux. As you open the OBS Studio for the first time, click the "Auto-configuration mode" option in the Tools menu.
The app will then detect your system to find the settings that are compatible with your computer. Then you can set up your audio devices and add the source your video is based upon.
This app does not offer a video editor, so you will have to resort to another app if your recorded video needs any improvements. Furthermore, because of its open-source stature, it might run into glitches.
Flashback Express and Flashback Pro
Flashback Express is a free version of its paid counterpart, Flashback Pro. Developed by Blueberry Software, Flashback Express is a screen recording software for Windows that can record screen, mic, and webcam and will not put an ugly watermark on your end result.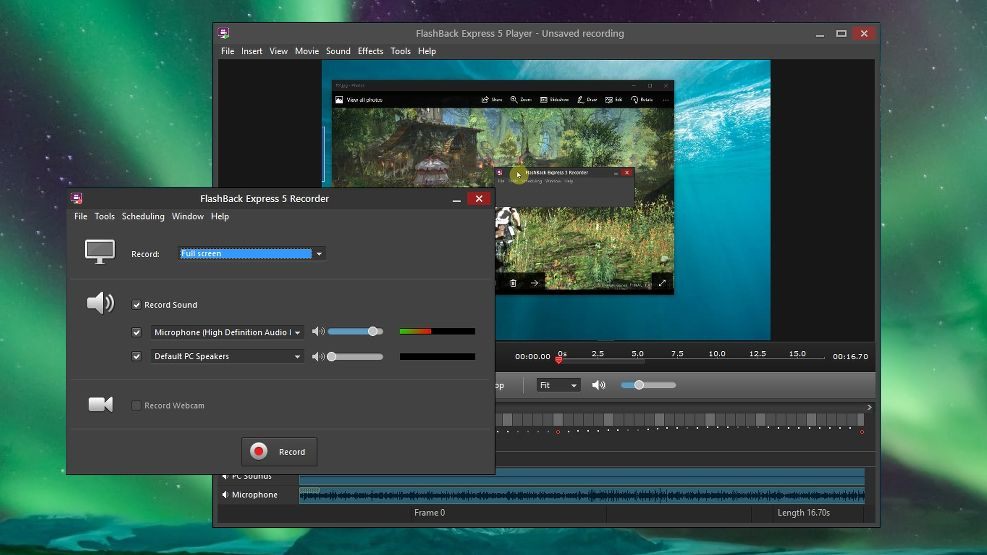 The interface and tools that Flashback provides are simple when compared to other desktop recorder apps, making it an ideal choice for beginners. When it comes to multi-monitor systems, you can either capture a single monitor or transition between multiple monitors, recording each as you go.
However, unlike Flashback Pro which comes with a brilliant set of editing tools, filters, and annotations, Flashback Express doesn't include any built-in video editor. Nonetheless, its well-designed interface and standard output formats, coupled with it being free, make this app a handy choice.
Videos can also be saved in the form of WMV, MP4, or AVI on Flashback Express. However, if you want to save the videos in QuickTime, Flash, GIF, or standalone EXE format, you will need to buy the paid version, Flashback Pro.
Additional Perks
You can make use of this app to record videos at scheduled times. All you have to do is set the date and time in the calendar and your video will be recorded accordingly. Once you finish recording, you can crop and trim your video before uploading it on an FTP server, YouTube, or your PC.
The premium version, Flashback Pro, will hide messy icons, make the cursor more prominent so that your viewers can easily follow your instructions, and even inform you about the number of frames recorded per second when it comes to gaming videos.
It comes at a price of $49 for a one-computer license and offers a lifetime use with a 10-day free trial. You can easily download Flashback Express from their website.
Camtasia
Camtasia is a more advanced app, perfect for office and classroom presentations as it lets you include clickable links, quizzes, captions, and callouts to create interactive videos. It can record both audio and video on multiple tracks and supports Windows and iOS desktop devices.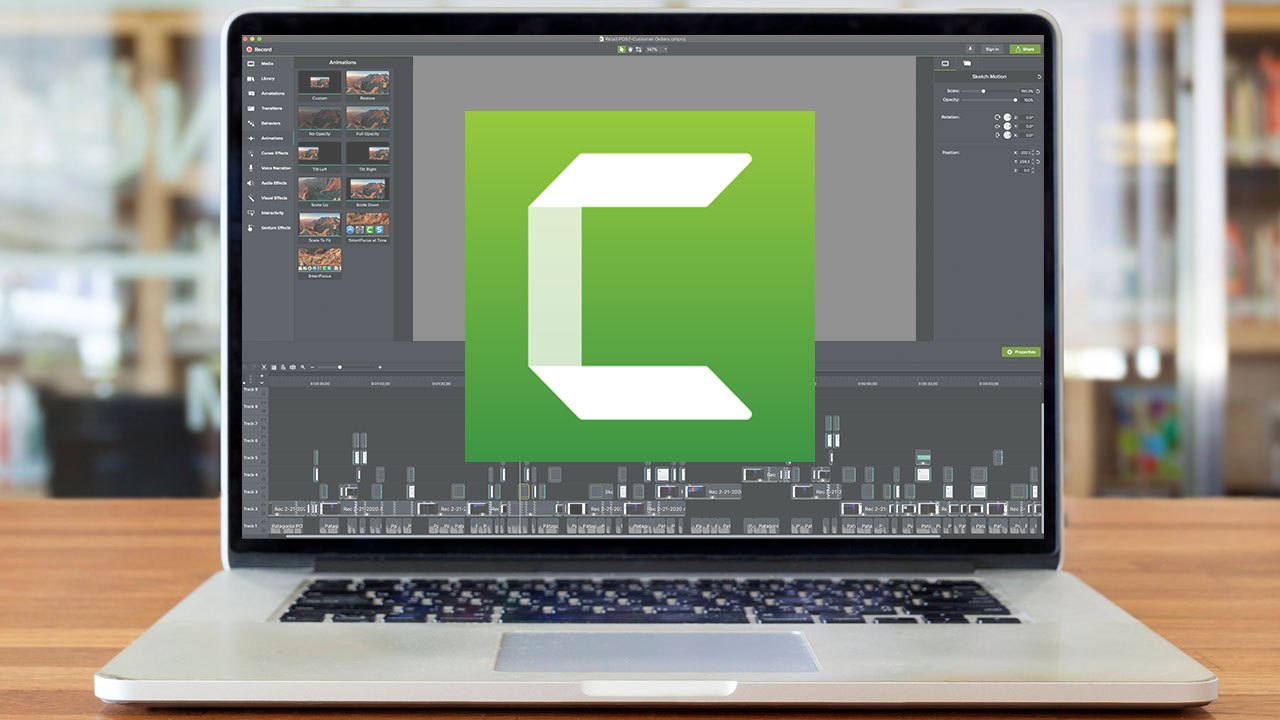 Camtasia has become one of the most in-demand apps with over 14 million users worldwide.
It shines particularly when it comes to its editing features, providing click-and-drag effects in addition to stock images. With the latest version, you can export videos at 60fps along with creating customizable intros and outros.
The free version of Camtasia provides you with the option to record videos on your mobile phone and then transfer it to this recording software for editing. It also features a library full of music and soundtracks, in addition to frame-by-frame editing.
Attributes and Concerns
The editing features also incorporate animated items, scrolling texts, and green screen effects that further give your videos a new charm. You can zoom in and out, record or import PowerPoint pages directly, and slide across scenes using the transition tools.
The only downside worth nothing is that after you add the interactive features in your videos, previewing and exporting the final video entails some challenges and delays.
It also comes at a price of $249 for a lifetime business license for two machines which could be quite heavy on the pocket. Nevertheless, it offers a 30-day free trial after you download the app so that you can decide for yourself if you want to invest in a payment plan for the app.
Screencast-O-Matic
Screencast-O-Matic offers similar features as the rest of its competitors, including online screen and video recording. It's a web-based screencasting software that also allows you to edit, host, and share a video.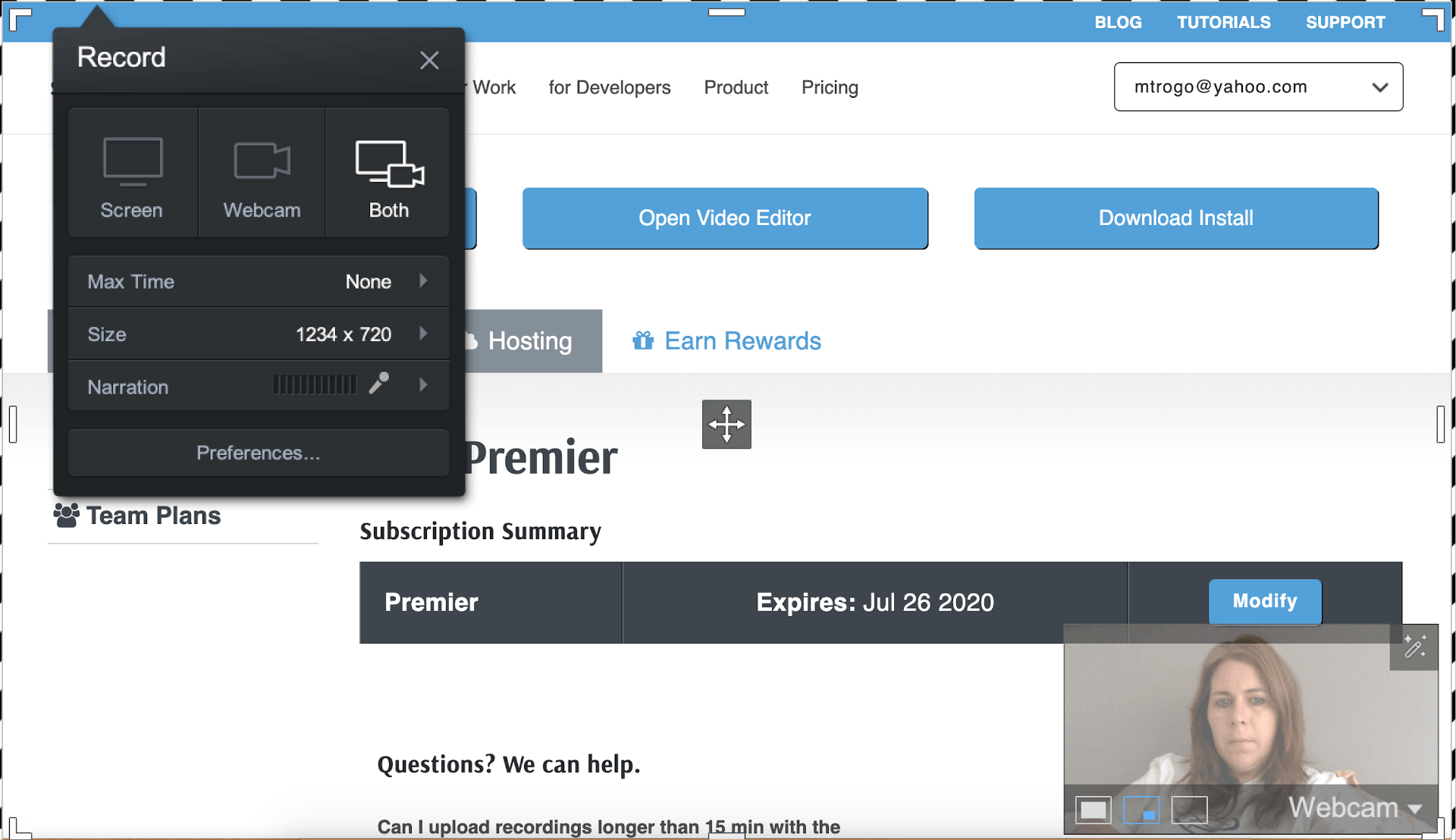 With the free version, however, you are allowed to record videos for only up to 15-minutes and the end result will come with a watermark. Screencast-O-Matic can be directly accessed from a browser.
As you install the full version, you can also use it as a desktop app without needing an internet connection.
Apart from uploading the videos on YouTube and other social media platforms, you can also publish them directly onto the free server host of the Screencast-O-Matic website.
Get More with the Paid Version
The paid version offers an abundance of video editing features that includes microphone recording, the addition of texts and shapes, zooming functions, closed captioning, and speech-to-text captioning.
In addition, you can also remove the watermark and get rid of the time limit on your videos, along with publishing them to Dropbox, Vimeo Pro, and Google Drive. The paid version also lets you password protect your videos which you can later search or un-list.
You can add green-screen effects, animations, annotations, and even alter the speed of your video, all at the mere cost of $15 per year, or $29 for three years. You can find the app for download from the Screencast-O-Matic website.
Bandicam
A perfect choice for recording gameplay, Bandicam is an excellent screen recording app that uses a high compression ratio to record 2D/3D games with 4K ultra-high-definition videos, and at 120 frames per second.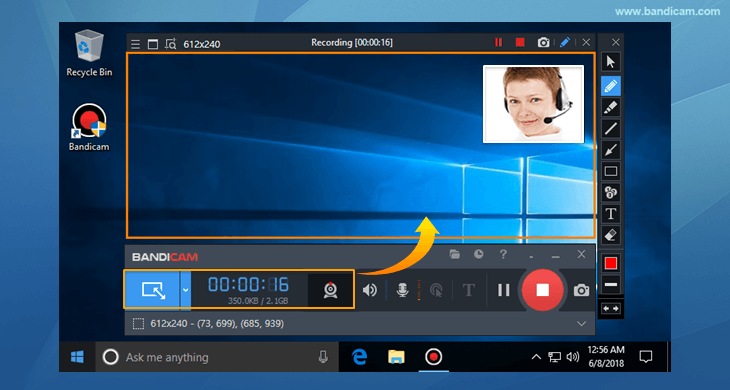 It can also record the full screen, part of the screen, mic, webcam, as well as external video devices. It also lets you draw and add text and offers mouse click effects and animations.
Moreover, with the lightweight package and the voice mixing feature, balancing the depth of your video recordings will be a no-sweat task.
A Few Concerns
The only complaint that we have about this app is its lack of any video editing feature. Furthermore, the free version gives only a 10 minutes time limit for the videos and the end result includes a watermark.
You will need well-equipped software to support high-quality recordings, but if you are a gaming enthusiast, this shouldn't be a problem for you. You can download the free version or pay $39.99 for the additional features.
The Bottom Line
Screen recording has become an important part of our day-to-day life. With the world having to quickly adapt to remote working, screen capture apps have made online demonstrations and presentations much easier.
Thankfully though, these desktop recording apps have made us far more independent and self-reliant, enabling us to make all-purpose videos for different requirements. And as you are now aware of the many free as well as paid applications, try them out and select the one that fits you best.