If you are looking for a web browser that is fast, safe, and easy to use, Mozilla's Firefox app is an option. If you are already using Firefox for desktop browsing, it will save you a lot of time and hassles if you get the app on your mobile. Your passwords, history, and bookmarks will sync if you create a Firefox account and sign in to it on all your devices.
If you like to decide how the tabs must display in your browser, what features you want accessible, and what color everything should be, you will enjoy Firefox.
Read on to find out what the app offers and get tips on using the Firefox app on Android. You could try it, and if you are not satisfied with what it offers, you can go back to the browser you are currently using.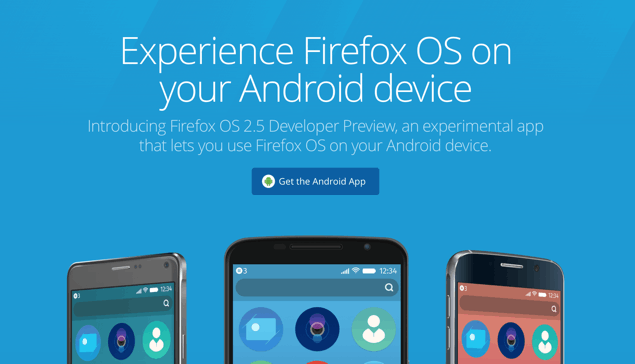 About the Firefox App
The most recent version of the Firefox Android web browser offers you a dark mode and a grid view for open tabs. The URL bar is now down at the bottom of the screen to accommodate larger phones, but you can move the bar back to the top if you prefer.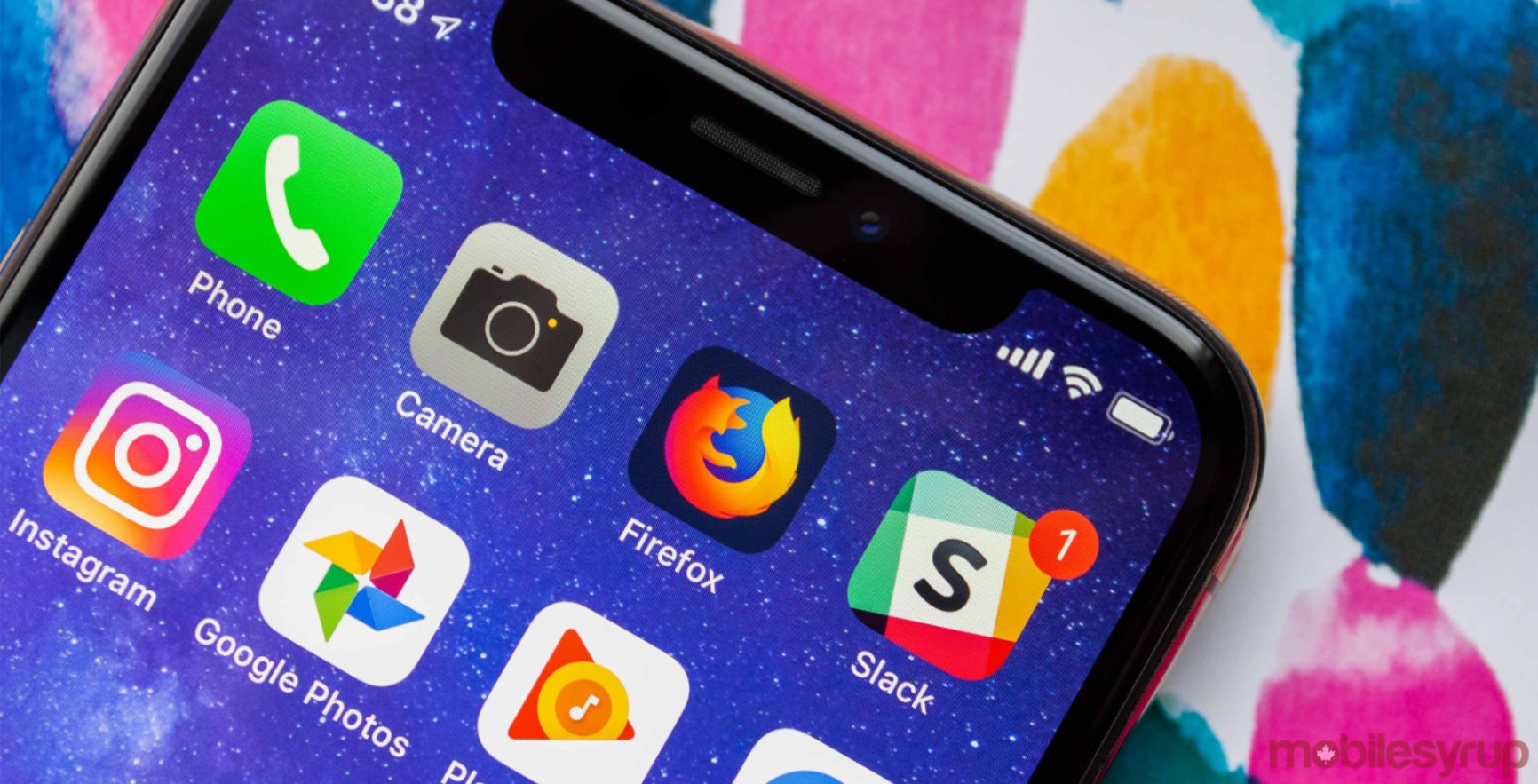 You can now also organize and save the websites you work with frequently in the "Collections" feature. These and much more might make the Firefox web-browser on all your devices just what you needed to keep your online work in one place and organized.
Mozilla's Aims
Mozilla aims to make the internet a public resource, accessible to everybody. They are continuously developing products like Firefox to promote choice and transparency. Firefox for Android gives its users more control over their lives online. It provides effortless privacy protection and is developed to make lightning-fast page loads.
To deliver fast speed, its tracking protection automatically blocks more than 2,000 known online trackers, which slow down pages.
Firefox is also designed to allow you to take your bookmarks, passwords, and privacy with you safely wherever you go and whatever device you are using.
Permissions Needed
Firefox needs certain permissions to function and provide you with an efficient service. The most important permissions include modifying and deleting your SD card contents, sharing your location, and taking or receiving pictures and videos.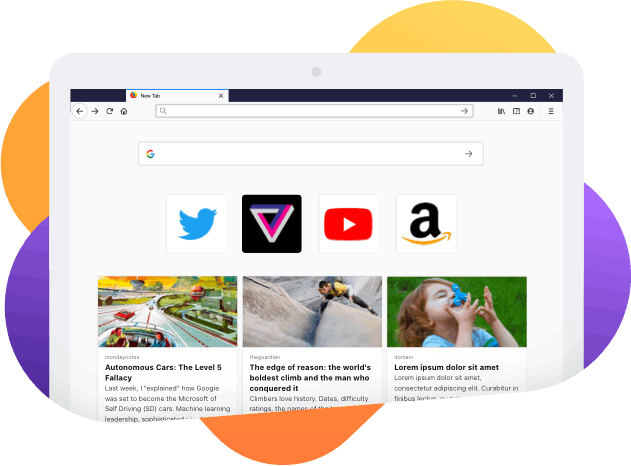 Firefox also needs communication permissions like full internet access to download web pages, add-ons, and other content over the internet.
The app must also be permitted to add system tools like bookmarks and shortcuts and modify your global system settings. You have to grant Firefox permission to enable or disable your Firefox Sync account when you change global sync settings on your device.
Extensions and Languages
Firefox's Android is being built with support for user-selected extensions in mind. Mozilla is continuously developing this aspect of Firefox.
Mozilla says it foresees in the long-term to migrate more extensions from its Android collection so they'll be available within the browser. Firefox for Android already has mobile video support for certain video formats.
It also offers more than 60 supported languages that can be easily selected through the browser settings. "WebAuthn" (the web authentication API) allows you to run Android N or newer versions to sign in to a website with a hardware token. A fingerprint system, enabling password-free authentication, is also available via the app.
How to Download and Install
Installing and Permissions: It is easy to install Firefox for Android. All you do is to visit the Firefox download page and tap on the Google Play icon. The Firefox page on Google Play will open, and when you tap "Install." Accept the permissions to begin downloading. When the download has been completed, tap the "Open" button.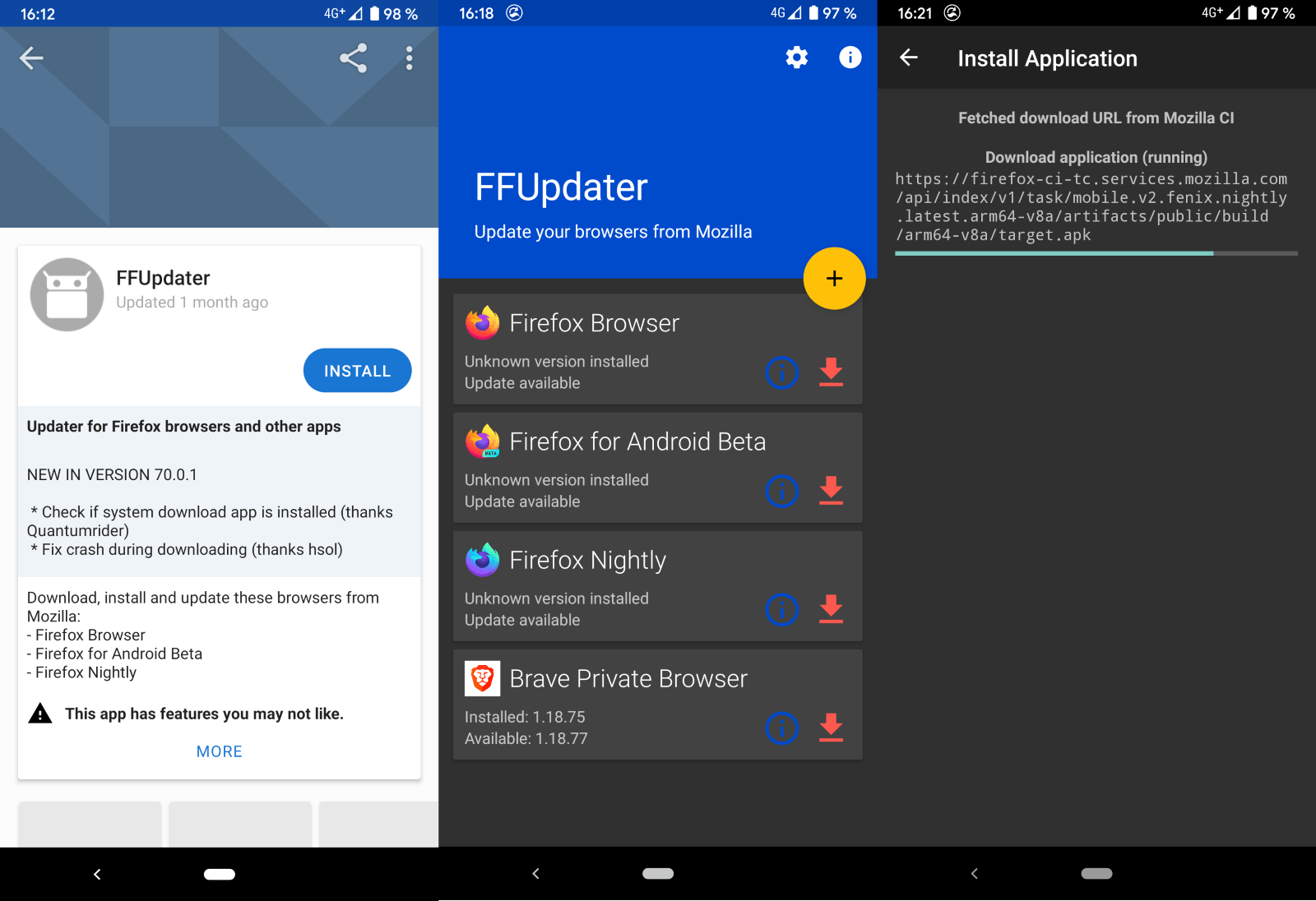 Firefox needs certain permissions to function and provide you with an efficient service. During the downloading and installing process, it will ask you to accept all the permissions to finish the processes.
Remember, although you grant the permissions, Android will, for safety reasons, always first ask you whether it may use the permission before it performs that function. This will happen each time you visit a website requiring a specific function like taking or uploading a picture or finding your location.
You must also remember that Firefox will add your sync account to the Android sync settings. This allows you to manage your accounts list. Your Wi-Fi information must also be available to Firefox. To enhance speed further, Firefox might load links in the background while you are using another app.
Main Features of the Firefox App
Fast Loading: One of the main features of Firefox is its lightning-fast page loads and the automatic blocking of more than 2,000 known online trackers and malware, which slow down pages. This blocking of malware also makes your experience on the web browser more secure and a lot faster too.
Switching Devices: You can also change devices, and Firefox will pick up where you've left off. Start using Firefox for Android on your mobile phone and then switch to your Firefox browser on your laptop, and you go on as if no switching has taken place.
With Firefox on all your devices, you are allowed to take your bookmarks, saved logins, and browsing history wherever you go. Firefox also takes your passwords across devices but at the same time always ensures that your devices are secure and private.
Intelligent Searches
Firefox searches intelligently to get you faster on the site you are looking for. Firefox anticipates your needs and provides you with suggested and previously-searched results across the internet.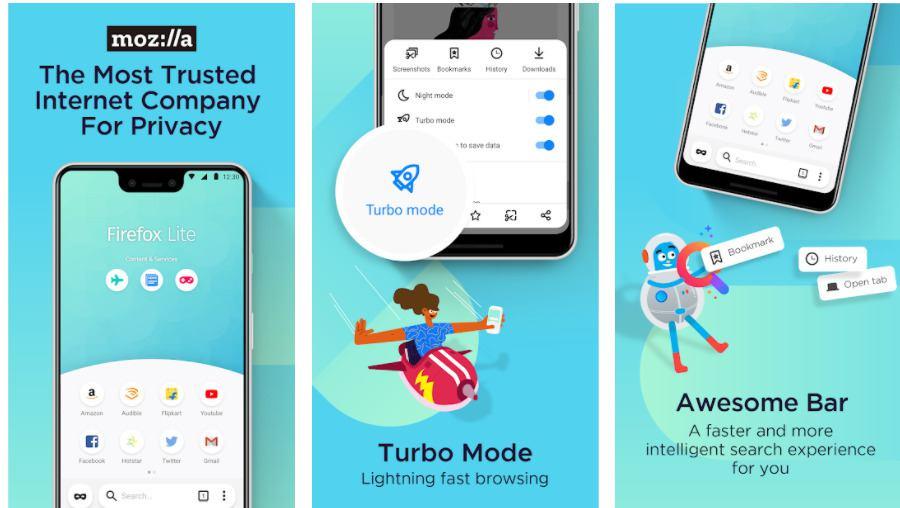 To gather this information, it looks at all your search engines. It also provides easily accessible shortcuts to search providers such as Amazon, Twitter, and Wikipedia.
Easy To Read Interface: With Firefox on Android, it is easy to switch to Dark Mode anytime. This allows you to decide when you want your eyes to rest a bit or to save your device's available battery power.
It also offers a single-switch reader view which strips away unnecessary elements to transform any article into a pleasant reading experience. For your comfort, the size and style of the texts can even be controlled.
Collections and Tabs
Another popular feature with users is the built-in "Collections." With this tool, you can, at any time while you're viewing a page, tap the app's menu icon and select "Save to Collection." It then adds the page into a group you've allocated to it. All your collections show up on the management screen.
The Firefox app allows you to open as many tabs as you like without losing track of your open web pages. And you save a lot of time as you don't have to search for the sites again if you've stored them in the collections section.
You can share links to web pages via your favorite and most recently used apps like WhatsApp, Twitter, Skype, Instagram, and Facebook. You can also send video and web content from your mobile phone or tablet to any TV equipped with streaming capabilities.
How to Use Your App
You don't need to open the app to use Firefox on your device. You search the web directly from your device's home screen. If you've added the Firefox for Android's browser search widget, you will get instant results without extra taps. If needed, you can also do private browsing with just one tap.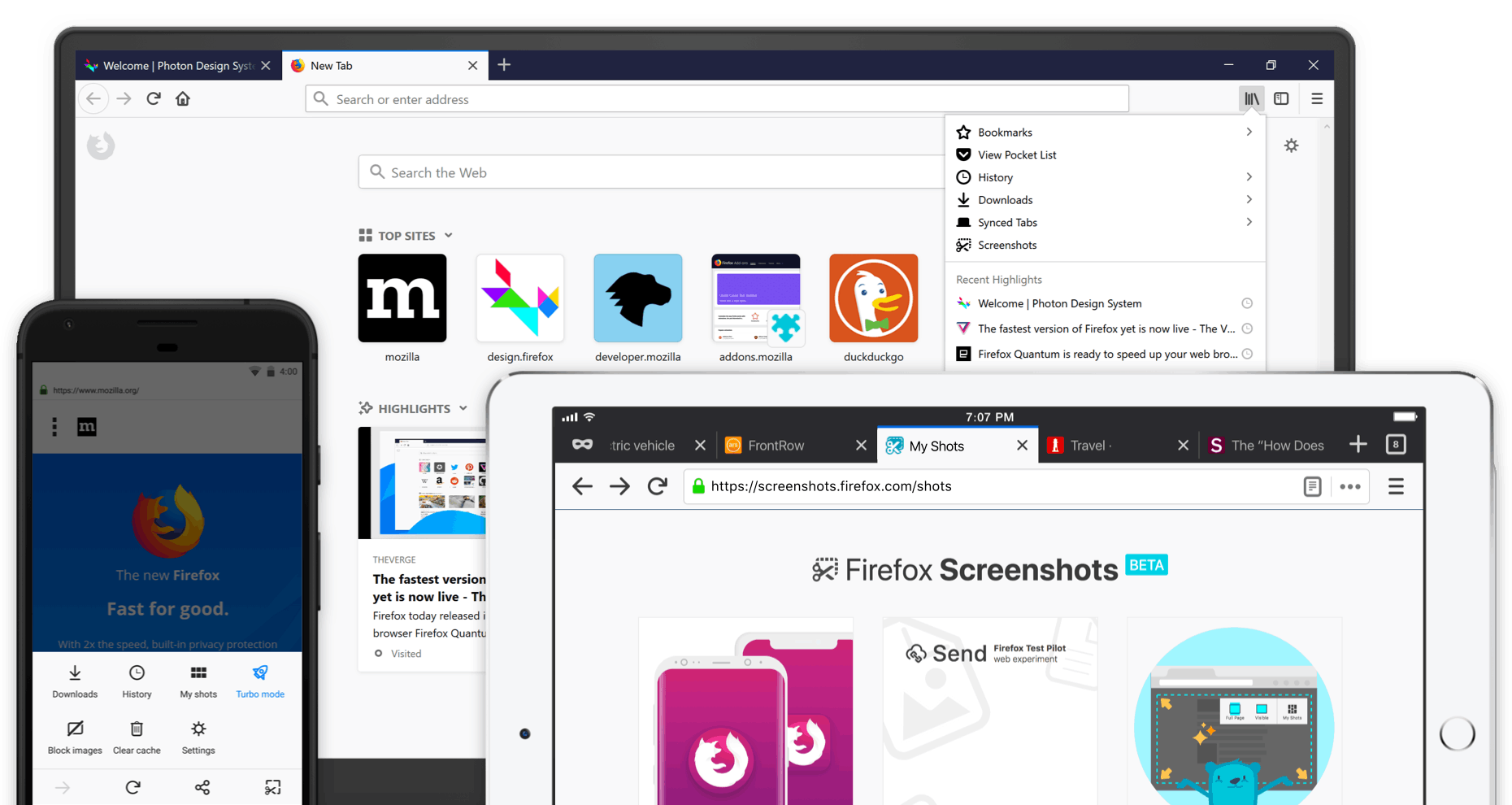 When you are finished with the private browsing and close the private browsing mode, Firefox erases your browsing history automatically from the browser and your device. You can move the search bar to the top of your device's screen for your convenience, although the default position is at the bottom of the screen.
Important Settings
When you start using Firefox, customize your enhanced protection settings to specify how much your personal data may be shared. Also, it indicates to your device that you've chosen Firefox as your default browser. Even if you've chosen to use Firefox as your default browser, you can still use other browsers.
Just tap on any other browser and immediately start browsing with that browser whenever you need to. This changing of browsers makes no lasting changes to your default browser's settings. Also, customize your web browser in such a way that it includes your favorite add-ons, including "Ad-Blocker," "Password Manager," and more.
Tip: Firefox allows you to open many tabs. You can organize them into "Collections," enabling you to stay on task. The "Collections" can also be shared across devices, so you don't lose time when you change devices. Another tip is to stream videos and play them in the background while you do other things. It's entertainment and multitasking, together on the same screen!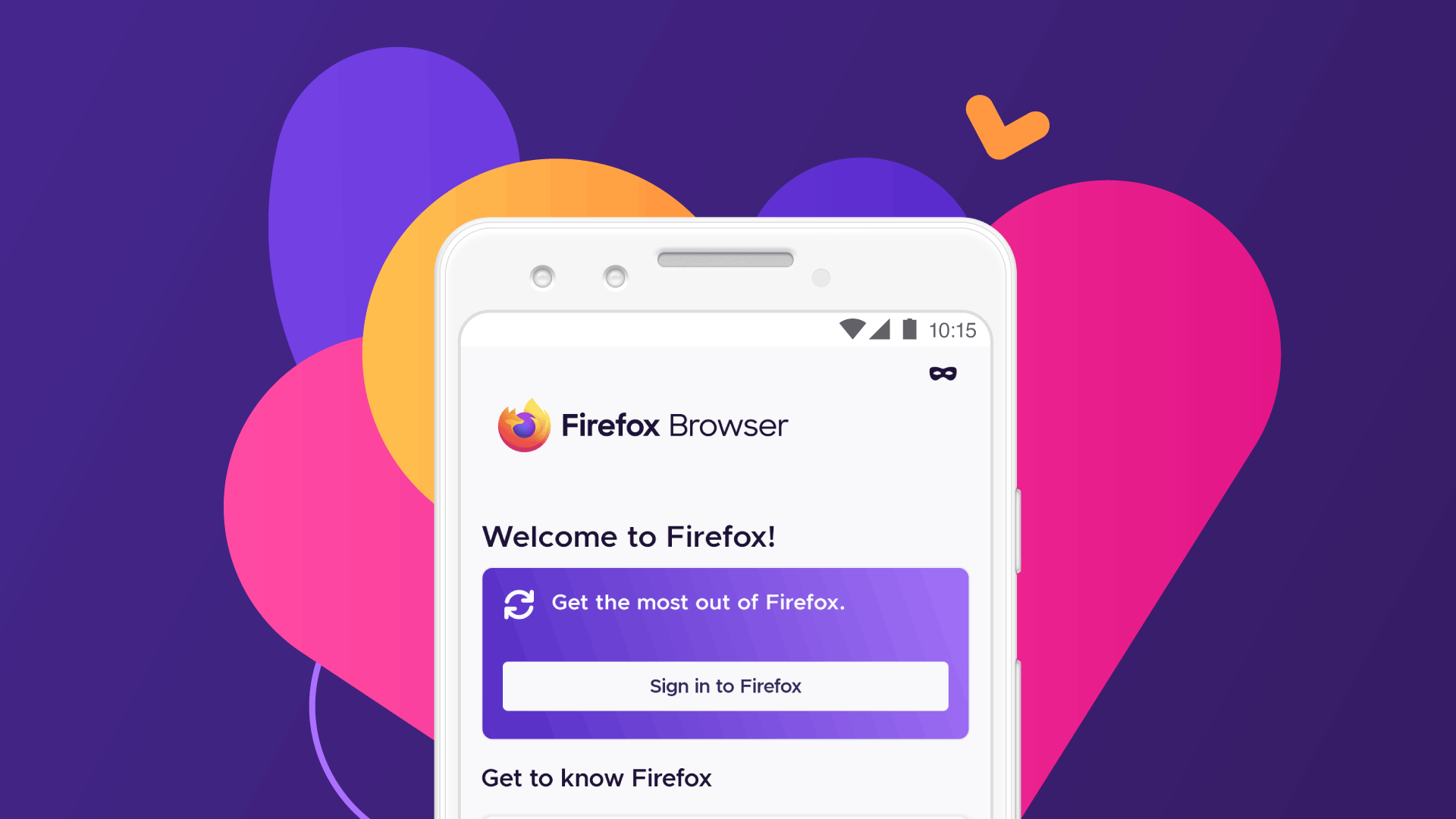 Conclusion
The Firefox app for Android devices offers many special options and settings to make your web browsing usage easy and efficient every time. Not only is it free to download and use, but it is also one of the best browsers currently available, which you can use across a variety of devices.
Most importantly, Firefox puts security and the safety of your data and personal information high on its priority list. We recommend you download the app and test it.