If you are an avid reader, it can be very difficult to bring your favorite books with you at all times. This is why many readers have turned to ebooks and audiobooks and read them through their mobile devices these days.
Kobo Books gives you access to millions of ebooks from all over the world and you get your very own portable library. Read your favorite ebooks, graphic novels, and more through the app.
To find out more about what makes Kobo Books an awesome reading app, as well as tips on how to use the app and where you can download it, check out the article below.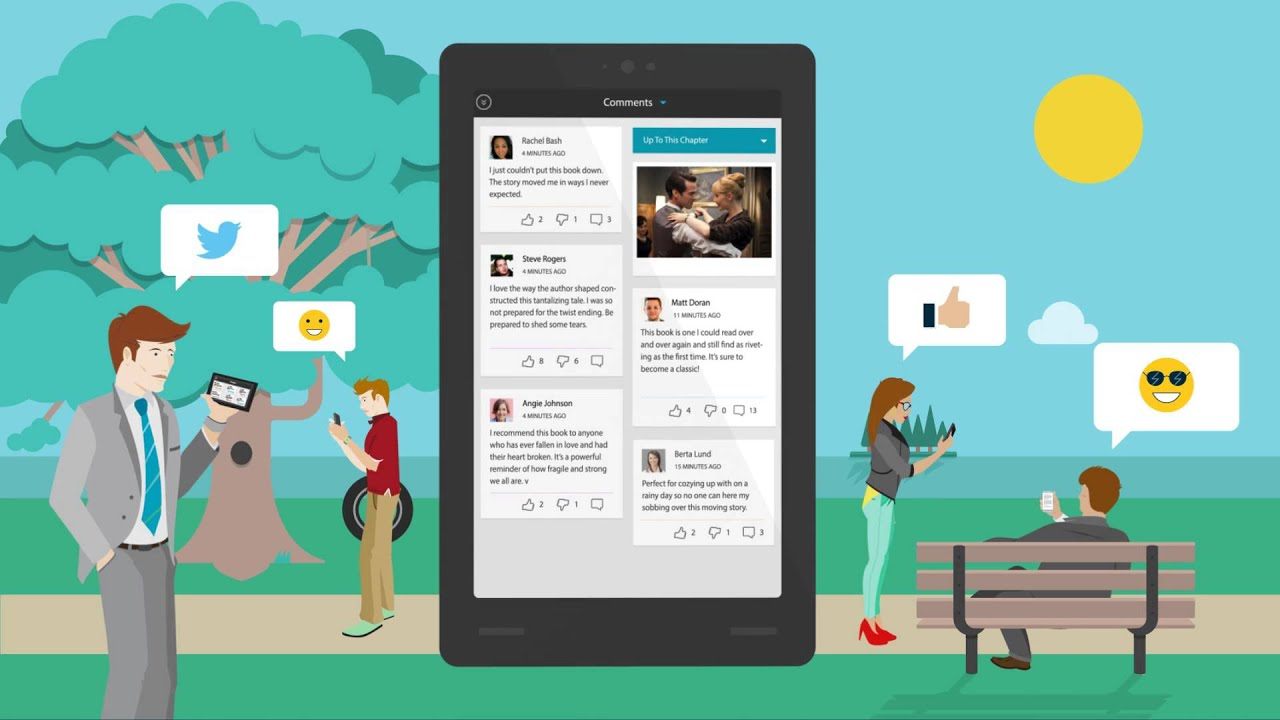 About Kobo Books
Kobo Books is a mobile app where you can read your ebook using your portable device. With more than 5 million titles available, you can bet that there will always be something for everyone in the app.
Reading ebooks and listening to audiobooks have their own set of advantages and are highly useful especially when you are stuck in traffic or you are out for a jog. You can spend countless hours reading your favorite ebook or listening to audiobooks when you download the app.
Each title is curated and categorized, and every ebook that you purchase earns you Kobo Super Points. Collect and grow your library of ebooks, audiobooks, and even children's books.
Discover new titles and authors along the way through recommendations and trending ebooks found in the app.
Where to Download
Kobo Books is free to download and free to use. To download the app, simply go to the Google Play Store and search for the app using the term "Kobo Books." Download the app by tapping "Install" and launch the app by tapping "Open."
Note that the Kobo Books app currently does not support Amazon Kindle eBooks or audiobooks, and only Kobo ePubs, DRM free ePubs, and audiobook formats are supported. Mobile devices must be running Android 4.4 or a higher version for the app to work.
Main Features
Kobo's main goal is to make sure that reading on the app is more comfortable and convenient than ever before. This is why the app is loaded with features that will help every Kobo App user to have the best time possible when using the reading app.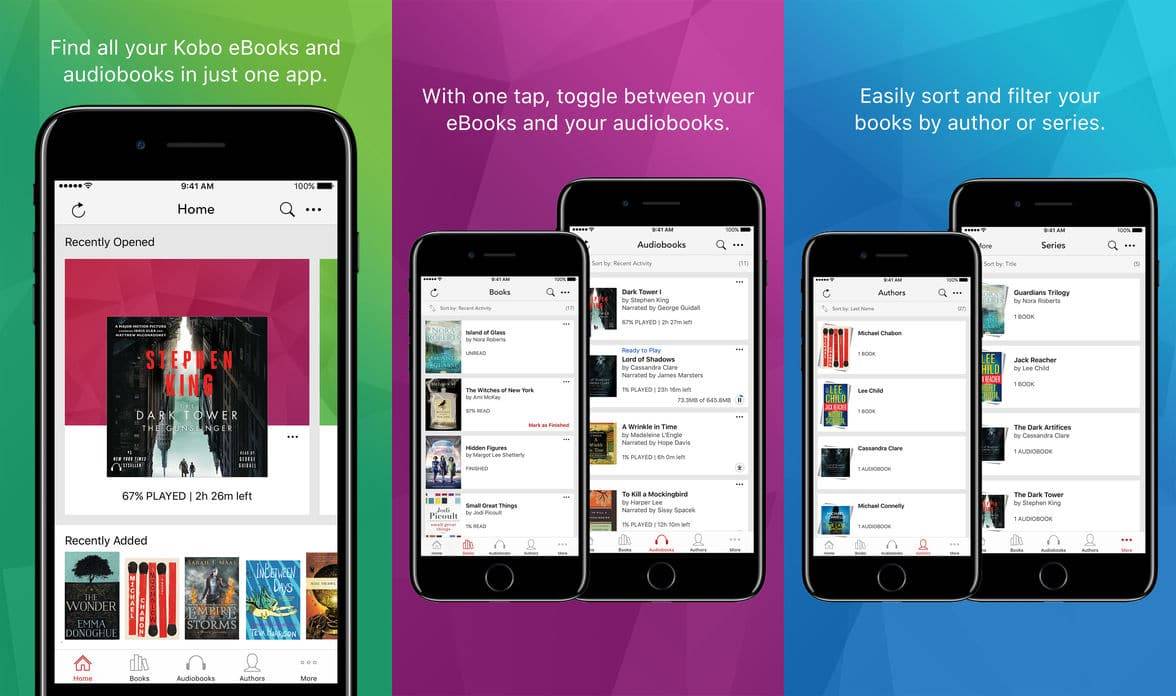 Users can enjoy clear text and adjustable font styles to enhance readability.
Choose Night Mode and make reading much easier for your eyes, especially if you want to relax before bedtime. You can also put the screen in landscape or portrait position depending on your device settings.
The Kobo app immediately syncs your device to another so you can always continue reading through your ebook device without having to start from the beginning.
Expand Your Horizon
Discover new ebooks and audiobooks from the recommendations and read through book previews or listen to samples. You can even review or rate an ebook that you liked, or recommend them to a friend over the app.
Kobo offers different languages including French, English, Italian, Japanese, Dutch, German, and many more.
How to Use
Reading with Kobo Books is very easy. All you need to do is swipe to turn the pages, just like you would with a real book, or you can tap the bottom corners of the page.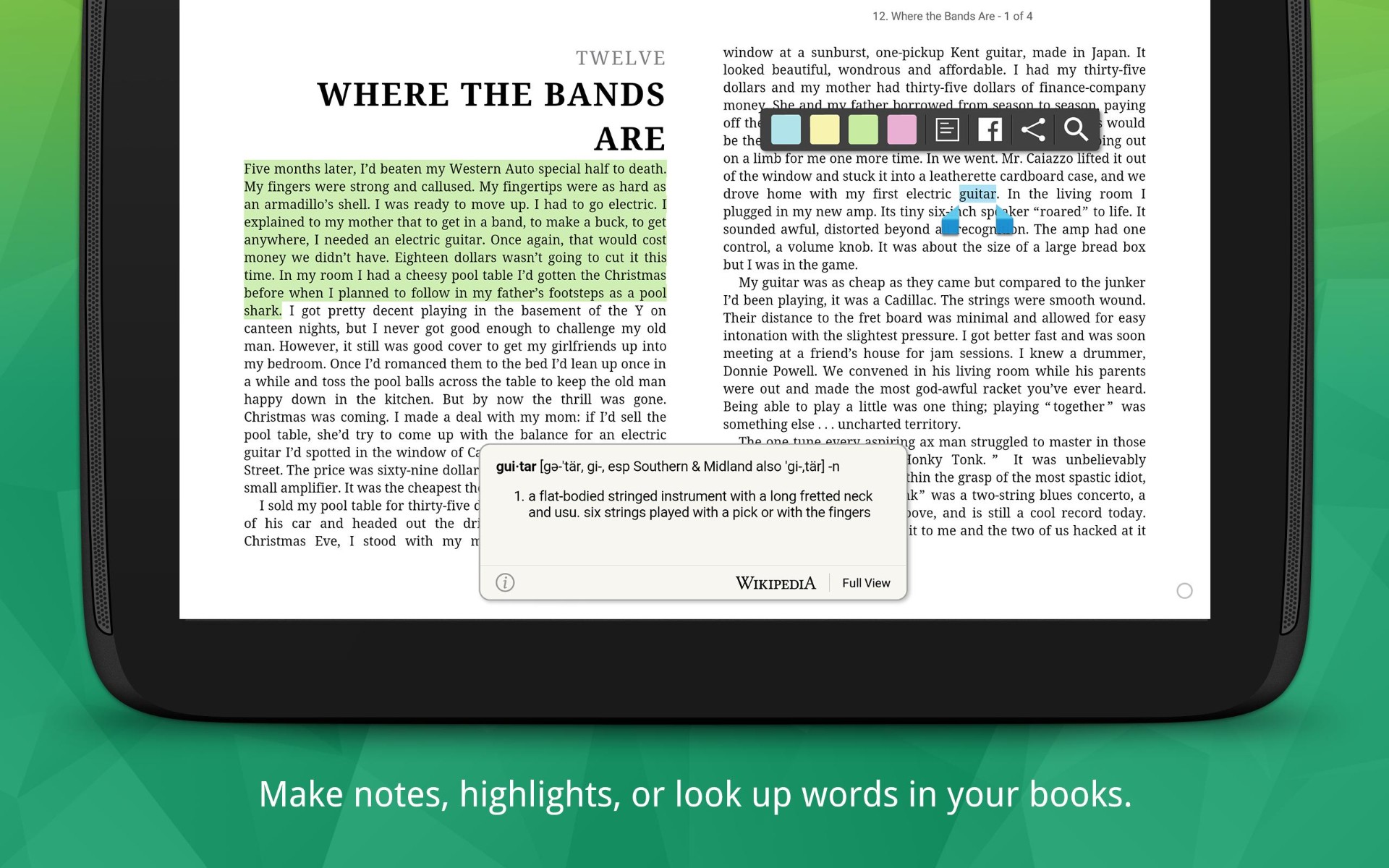 You can tap the upper right corner of the page to leave a bookmark while tapping the middle of the page will open navigation options as well as the main interface.
The main controls include a slider, a return button, and an option to return you to the 'I'm Reading' section, among other options. Users can alter the page-turn animation and remove spaces between paragraphs for better viewing.
Change your background and personalize your reading experience. You can even change the type of bookmarks that you like.
Downloading eBooks
Once you have purchased your ebooks, they will be immediately downloaded onto your device. However, many people prefer to save storage space on their devices so the app allows you to download your top five books to your device.
The rest of your ebooks will be stored and accessed online within Kobo. You can still download all of the ebooks that you have purchased to your smartphone to be able to access them if you are offline, however, this can take up a lot of space on your device so be warned.
Downloading the ebooks is highly useful if you are not near an internet connection at times.
Syncing Kobo Books
Syncing the Kobo Books app to your mobile device will allow you to access your ebooks and audiobooks on all of your devices so you can change from one device to another without having to start from the beginning each time.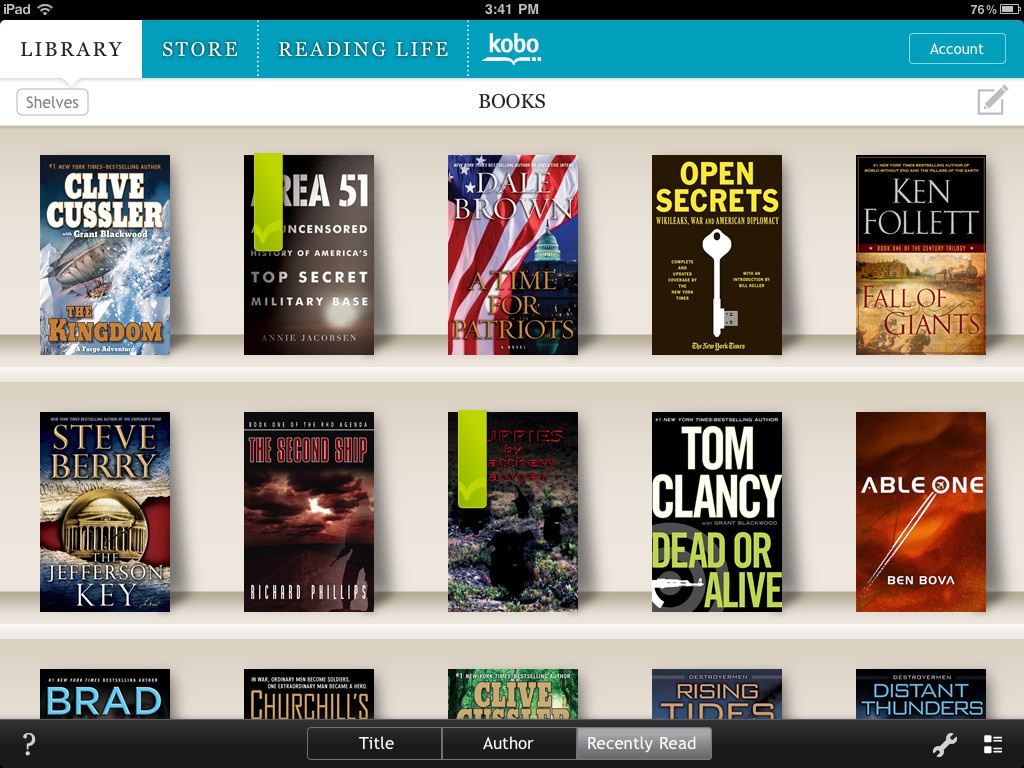 To start, make sure that you have access to the internet and launch the app. Tap the three-dotted icon at the top of the screen and choose "Settings." Tap "Sync" to begin syncing your account with the device.
Note that it will take a while for the app to sync all of your ebooks and audiobooks, especially if you have a lot of content. Once done, you can close the app and launch it again to see that the contents have all been synced to your devices.
Importing Files
If you want to import files from your computer to your mobile device, make sure that the file has Digital Rights Management (DRM) protection. Start by connecting your device with a USB cable and select "File Transfer." Launch the app and tap on the three-dotted option at the top of the screen and choose "Import Items."
Tap "Start" so you can choose which files you want to import. You can then tap "Import Selected" after you are done selecting all the items and wait for the files to import to the app. Once done, check the app library to see if the files appear there.
Organize Your eBooks
Imagine having your own enormous library of ebooks to read on the Kobo app and you want to search through them all to find a specific one. Kobo Books now has a feature that lets you organize all of your ebooks.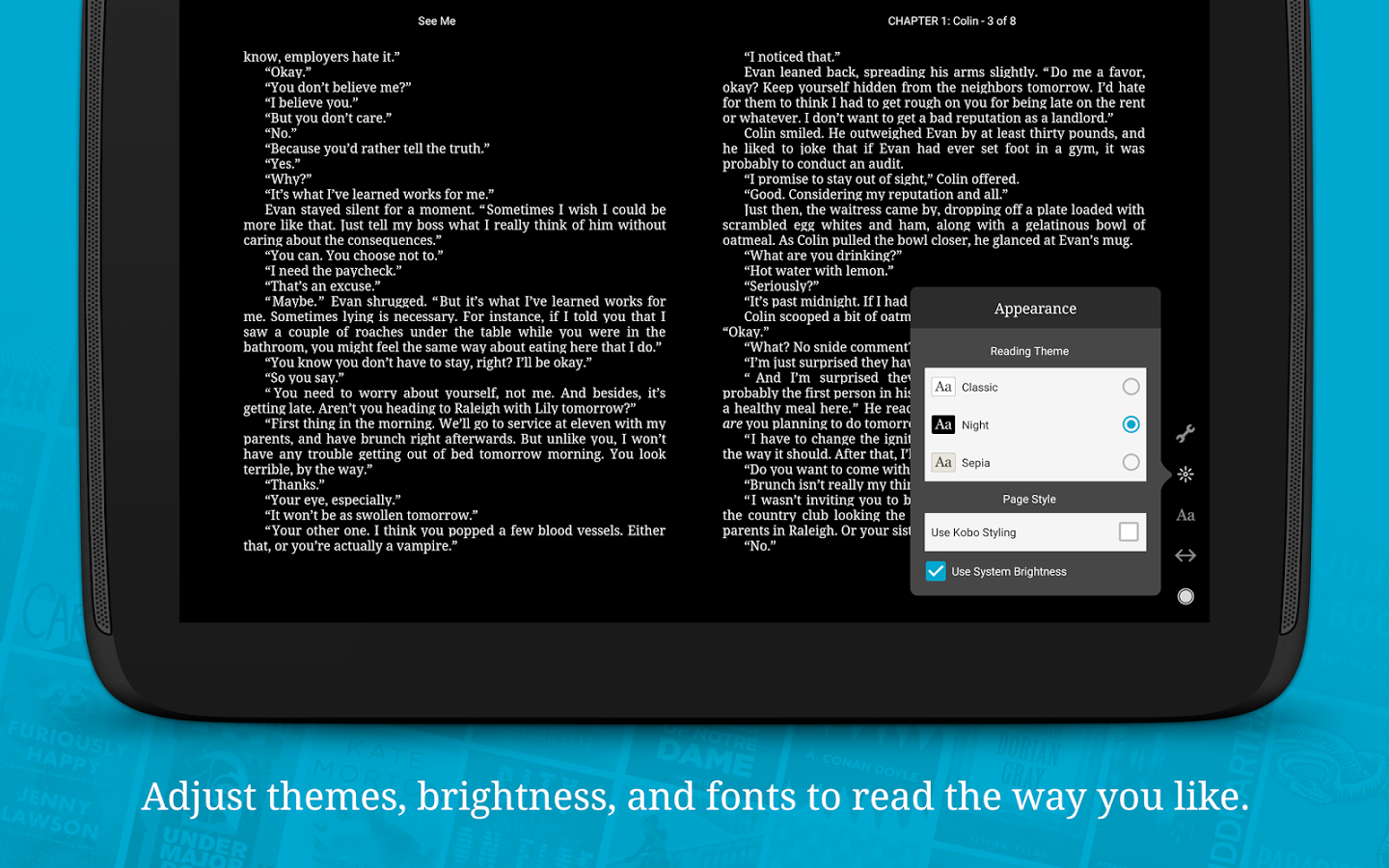 The app's default search function will sort by title, but users can now sort out ebooks by author, as well as recently read.
You can even bookmark your favorite ebooks so they will always be the first titles to appear in your library.
Adjusting the Font
Many readers may be worried that an ebook app might make it more difficult to read the ebooks, especially with the size of mobile devices. This is one of the most common concerns.
On the Kobo app, reading with a comfortable font is easy, especially for those who want to personalize their experience within the app. One of the major features of the app is the ability to change the font. There are more than 10 fonts available for users to change.
To adjust the font, tap on the "Advanced" menu and choose the type of font that you want to have. You can even adjust the boldness of the font as well as many other options. This should help make reading easier on your mobile device.
Buying Ebooks
The app features a huge library of ebooks where you can check out some previews and samples. Check out different recommendations from the library and see which ones you like.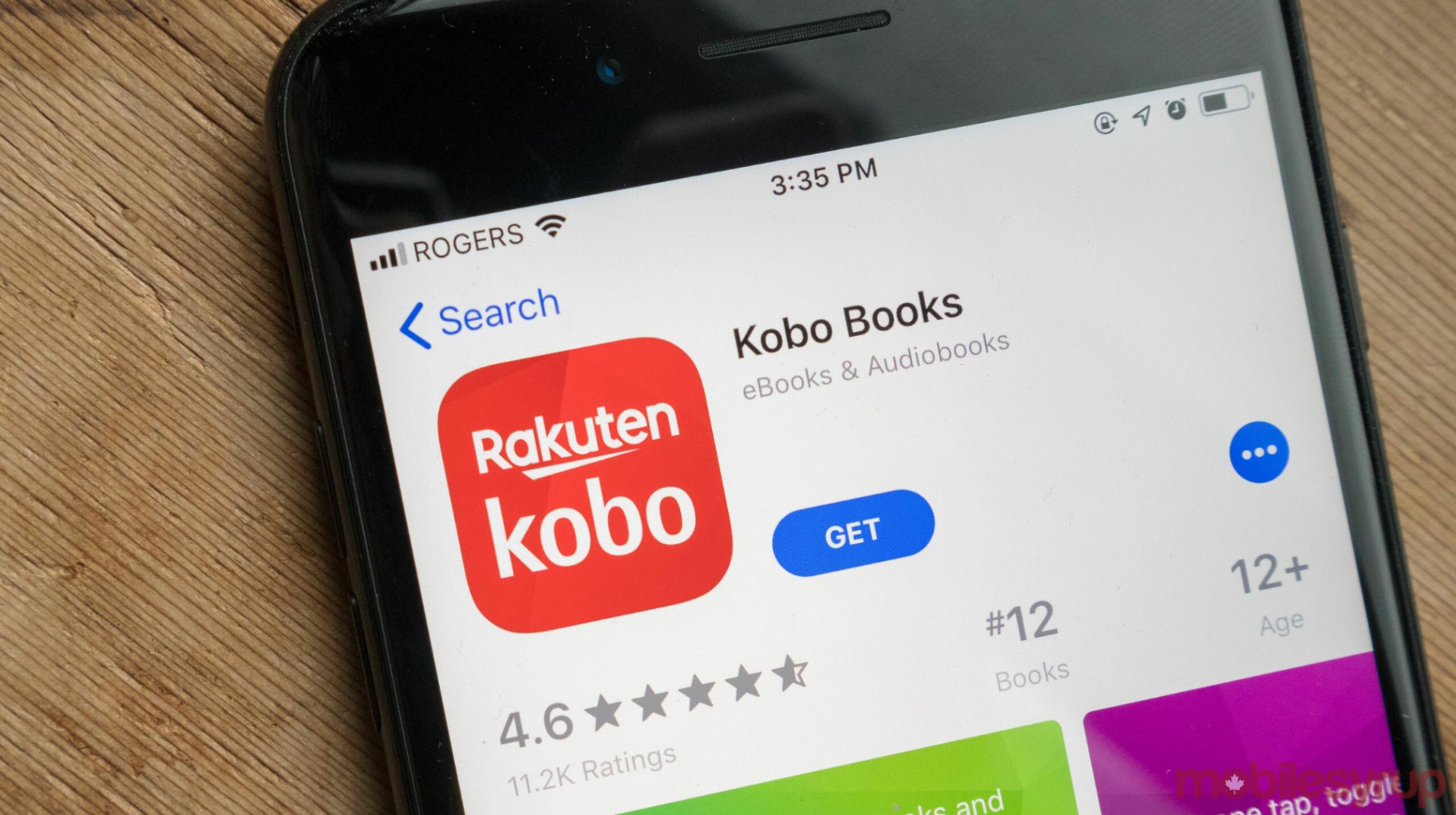 You can even listen to a few audiobook previews to discover new stories to listen to when you're stuck in traffic.
Once you have chosen your next ebook to read or listen to, simply prepare a valid credit card and connect to the internet so you can immediately download the ebook after purchase. Your ebook will be available to you on the homepage once you have completed the purchase.
How to Purchase Ebooks
To purchase the ebook simply head over to the Bookstore and tap on 'Categories.' Choose the category of the book that you are looking for. You can even tap on a sub-category and begin browsing. If you tap on the recommendations, it will immediately lead you to the main page of the ebook.
Tap 'Buy' once you have chosen your ebook to purchase and fill in all the necessary information required to make the purchase. Make sure to review your order and add any promo codes or gift cards you may have. Tap 'Confirm' to make the purchase and wait for the title to appear on your home screen.
Conclusion
With its long list of supported file formats and convenient and comfortable ways to read ebooks, Kobo Books should be your go-to app when it comes to reading ebooks.
Discover new ebooks to read or rate the books that you've already read. Join the community of ebook readers from all over the world and access your favorite ebooks and audiobooks using your mobile device.