What makes any particular logo stand out from others? Just like how you would attribute the checkmark logo of Nike to quality shoes and the Lamborghini logo to luxury; that is the kind of impression and impact the little piece of art has on your company.
Logos are essential to any business's success. Let us look at an easy way to create a logo in a few steps.
This blog post discusses the Logo Maker app, some of its features, how to download the app, and how to use it.
What Is The Logo Maker App?
How To Download The Logo Maker
How To Use The Logo Maker
Create A Logo With Designer
Backgrounds, Textures, And Colors
What People Think About Logo Maker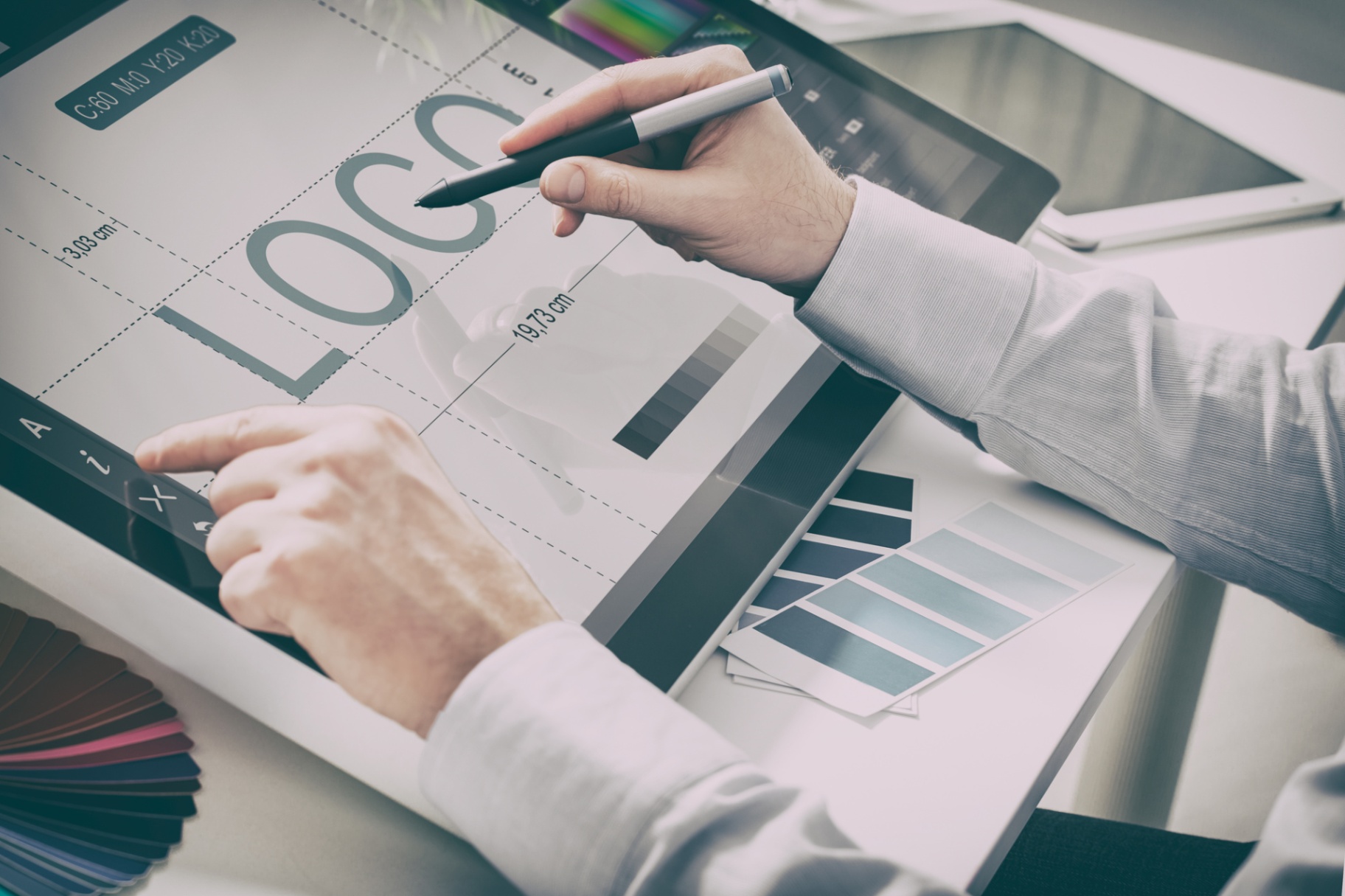 What Is The Logo Maker App?
You do not need to look for a graphic designer to help create your brand voice. Logo Maker allows you to be your own designer and unleash your creativity into your brand. The app makes it possible to create professional, unique, and fun logos.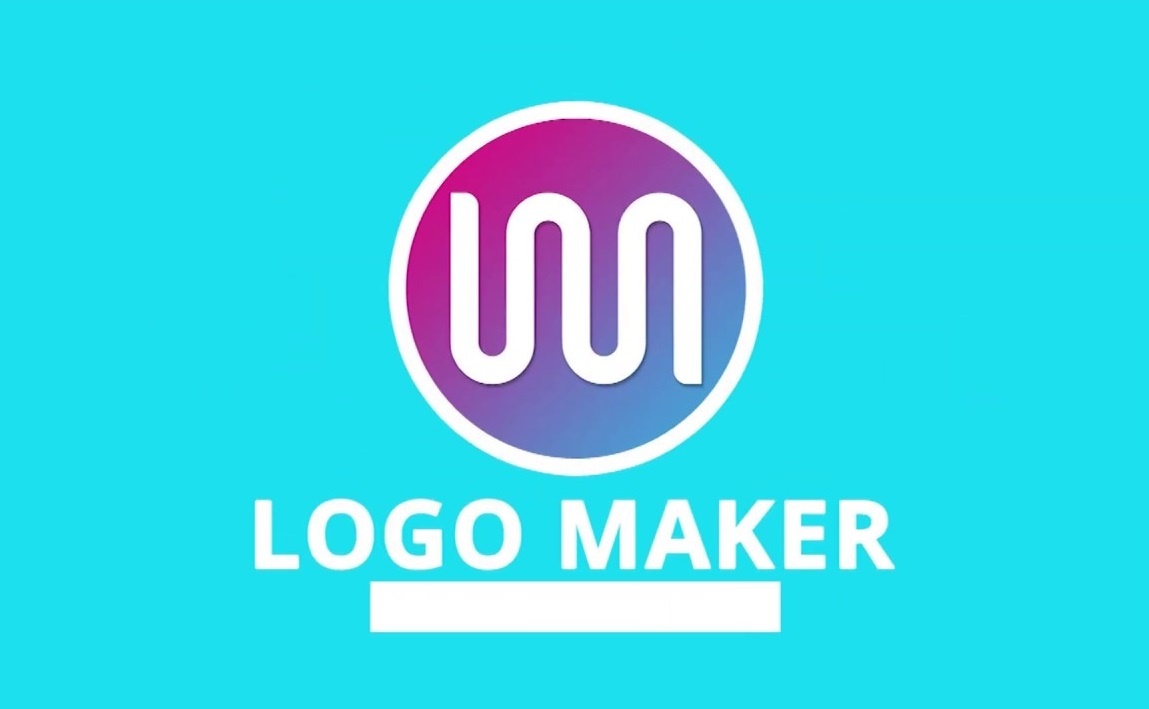 The app includes editing features like font customization, background changes, and a variety of colors. This makes it possible to customize your logo down to the last detail. The app is free to use but subscribing to its Premium package unlocks more incredible features.
For instance, you can buy in-app purchases like unique shapes and layouts. The price of these ranges from $2.99 – $19.99 per item.
How Can A Good Logo Maker App Raise Your Stakes?
A logo is a blend of imagery and text that tells your existing and prospective customers more about your vision, goal, and what your business is about. It is the visual representation that gives people a feeling of what you offer.
Having a great logo makes you stand out from the crowd and fosters your brand loyalty. A good logo has a simplistic nature, a lasting impression, and has relevance to your products and services.
These qualities save you a lot in terms of advertising and getting new and old customers.
How To Download The Logo Maker
Developed by Iris Studios and Services, Logo Maker is available for both Android and iOS devices. It has quite an impressive rating on both stores with thousands of reviews. It has a 4.8 of 5 ratings on both stores. At the point of writing, it has over 10 million installs and still counting.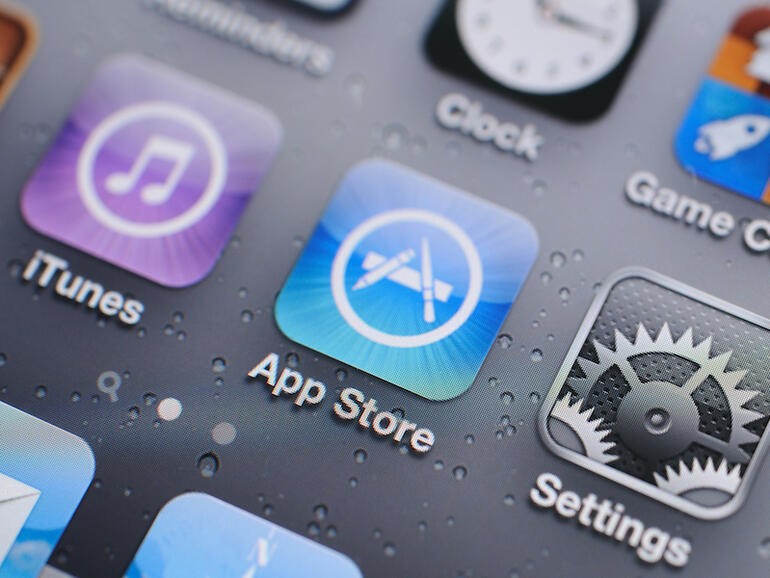 For either operating systems of Android or iOS, the app is available on the Google Play Store and App Store, respectively. Make sure you have enough space on your phone to accommodate the download for the app.
The size of the app is 28 MB on the Google Play Store and 73.3 MB on the App Store. The sizes are also open to increasing with continuous use, downloads and purchases. Android devices require an Android 4.2 and above, and iOS requires an iOS 12.0 or later for the application to run effectively.
Permissions Required By The Design App
When all requirements are met, click on the install button on the installation page. The download will commence, and afterward, the installation will begin automatically.
Logo Maker may request some of these permissions to function correctly on your mobile device. It includes access to your device's camera to take pictures and videos, access to read the content of your device, access to storage use to saving pictures and modifying its contents.
Other permissions are network access, the ability to prevent your phone from sleeping, and so on. You can also disable access to these permissions in the Settings of your phone.
How To Use The Logo Maker
On the first launch of the app, you will see a selection of five options. These are – Create Logo from Scratch, Create Logo with Designer, My Designs, My Logos, and Help & FAQ.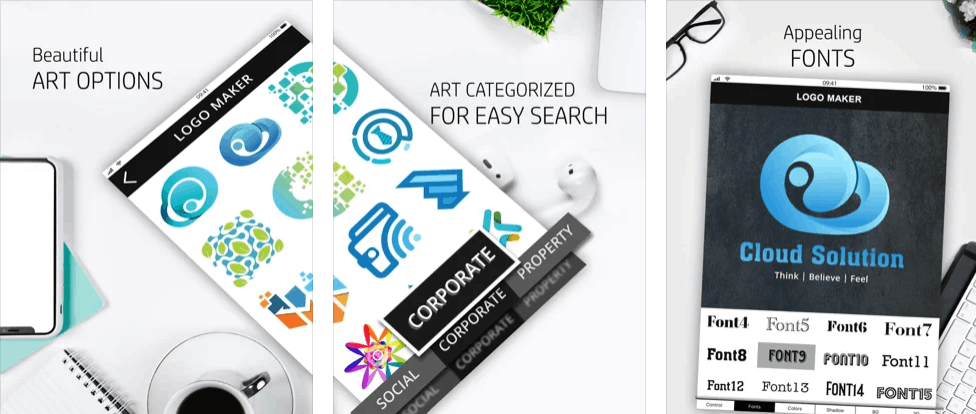 Creating a Logo from scratch and Creating a Logo with a designer would be detailed below. The My Designs page displays saved designs that you have saved previously, and it can be used as a template.
My Logos shows the logos you have designed and saved. Help and FAQ are self-explanatory as this is where you get assistance like how to use the app, how to cancel subscriptions,s, and the likes.
Create Logo From Scratch
You will see a plain canvas with a set of tools shown at the lower end of the page. Among the tools on the page is Background, which is how you select different types of logo background shapes, images, colors, gradients, textures, etc.
In addition to each edit, you can increase or decrease the intensity applied. The Art feature gives you different shapes to create the logo that would be within the logo background. It also lets you drag a shape to the best spot and rotate the image or shape.
This is also where you can add color, apply 3D effects, and more. The Text feature is where you add text and a tagline and edit different font types and sizes.
Create A Logo With Designer
Creating Logo with Designer is a Premium feature that gives you the professional help that you need to create a logo faster and more professionally. To start, you need to provide information in three steps. At the first step, you choose from a list of categories the type of industry your company falls under. You also input your company name and a tagline.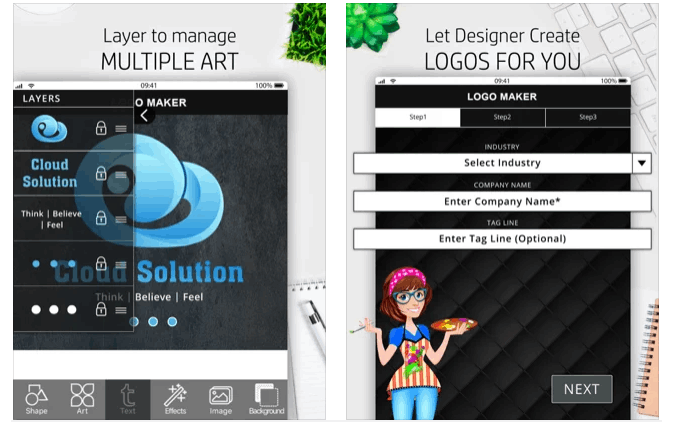 In step 2, you will be prompted to select from a font category for your logo. The font groups are Contemporary, Calligraphy, and Modern, each having different font styles.
Step 3 takes the information you provided in the earlier steps and automatically designs over a hundred cool logos that you can select from.
Some of these logos are free and can be saved immediately, while others require a fee.
Features Of The Logo Maker App
With the wide range of tools and graphic elements readily available to customize a logo, you can create logos easily and in no time. Using the Logo Maker, you get access to lots of different icons, symbols, and graphics.
Even with the free feature, you have all the tools to create an excellent logo by moving icons and shapes where you want them and forming something unique. I must admit that making an outstanding logo involves more than just moving shapes.
That is why the app provides a canvas to try out different styles with graphic elements like art pieces and shapes to aid you. With the smooth user interface, you can see a preview of the logo you are creating as you design.
Backgrounds, Textures, And Colors
After selecting the right icon or logo for your brand, you can try different shades, colors, backgrounds, textures, and more to set the tone. The Effects feature has an included edit with which you can select and see each effect.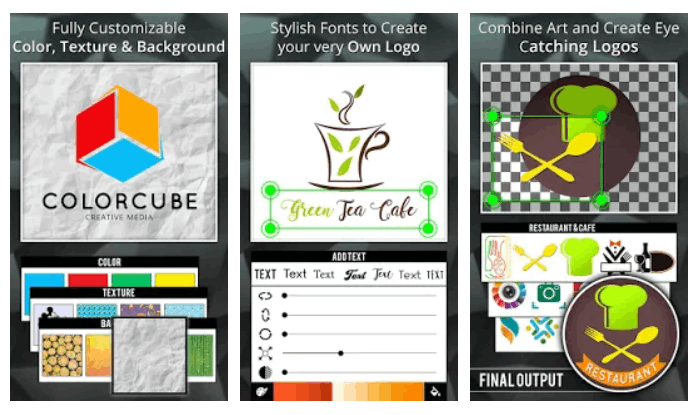 It gives more subtle touches to the design with pre-embedded edits in background and style. The last editing feature is Image which allows you to choose a picture from your picture library or take a photo directly.
You can add images to the logo background or the logo itself and make it personalized.
Social Media Engagement
The Logo Maker app is not limited to creating logos alone. You can create images, posters, and other graphical elements that support your brand.
Even better is that you can save these graphics on the app and share them with your social media accounts like Instagram and Facebook directly.
What People Think About Logo Maker
Logo Maker is praised mostly for its smooth and easy experience and the ability to make any type of logo from scratch. Both modes for "From Scratch" and "Help with Designer" give users what they want.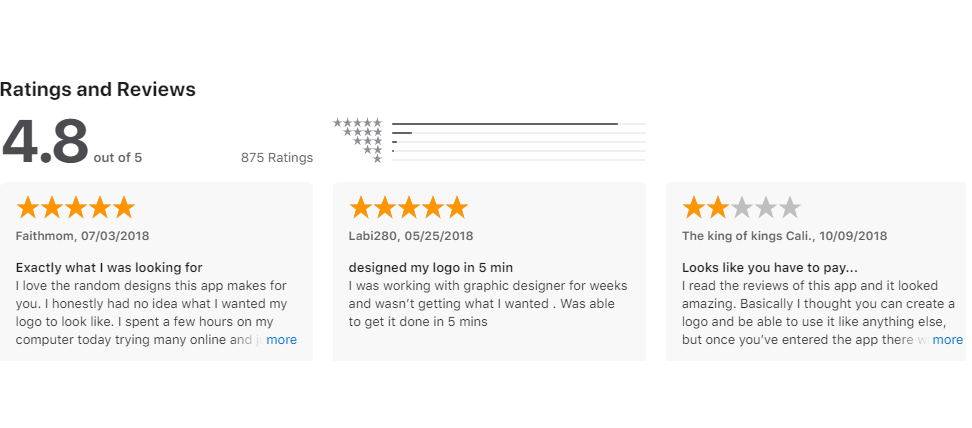 For creative geniuses whose brand voice can best be described by themselves should try out the first option. For oher users who want a logo fast and easy, the second option satisfies them as well.
A big complaint on my side is that the first thing I launched the app, there was a huge ad covering almost half of my screen.
Another issue users complained about is the Watermark which removes any form of originality from logos. However, both complaints can be resolved with a paid subscription plan.
Cost And Subscription Packages
Premium features give you access to all designer logos. It unlocks all Premium arts, which include stickers, backgrounds, and texture filters. Paying for the Premium feature also removes the default watermarks giving you originality in design, and of course, removes ads.
The monthly fee goes for $4.50, and the best-selling plan saves you 76% of the regular monthly fee and costs $1.1 a month billed instantly for a year. One last plan is the Lifetime plan of a one-time payment of $17.50.
The Bottom Line
Making an impression that stands out involves different things. One of those that would go a long way is by having a logo that signifies what you have to offer before you even make a move.
The Logo Maker app allows you to get that impression and all the benefits that come with it. The impressive customization and editing tools give you all you need to create that perfect logo.