Different individuals have their respective needs in terms of many aspects, including health, diet, and medication. For those with diet specifications, the most common provisions include non-animal products and gluten-free. Those under some of these diet preferences or restrictions know that it can be difficult to find restaurants that serve dishes that satisfy all these requirements.
So, many people tend to eat home-cooked meals to ensure their lifestyle. The good news is many restaurants now offer vegan and gluten-free food. In fact, there are a lot of places dedicated to offering such friendly dishes. HappyCow can help you find the best vegan restaurants near you. This article will talk about this app through the following topics.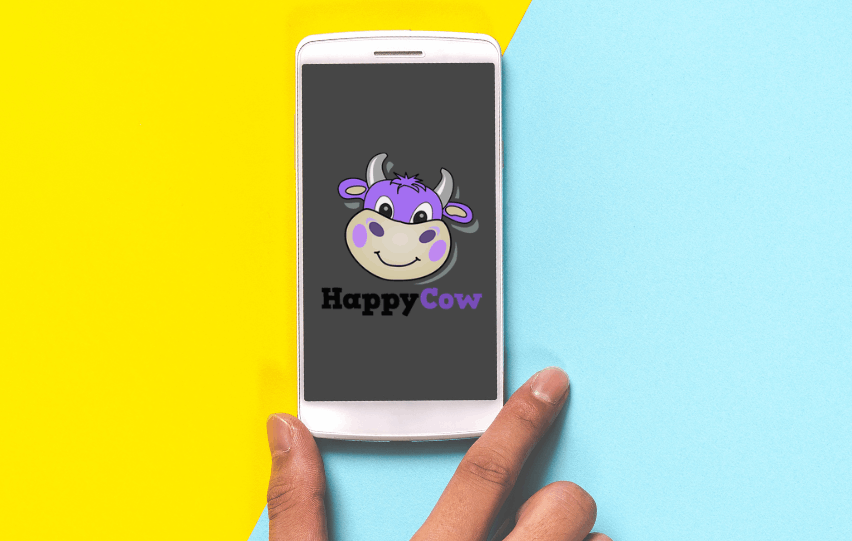 What Is HappyCow?
The most important thing to know about this application is that it is designed to locate undiscovered food places that can help fulfill users' appetites without costing them their diet specifications.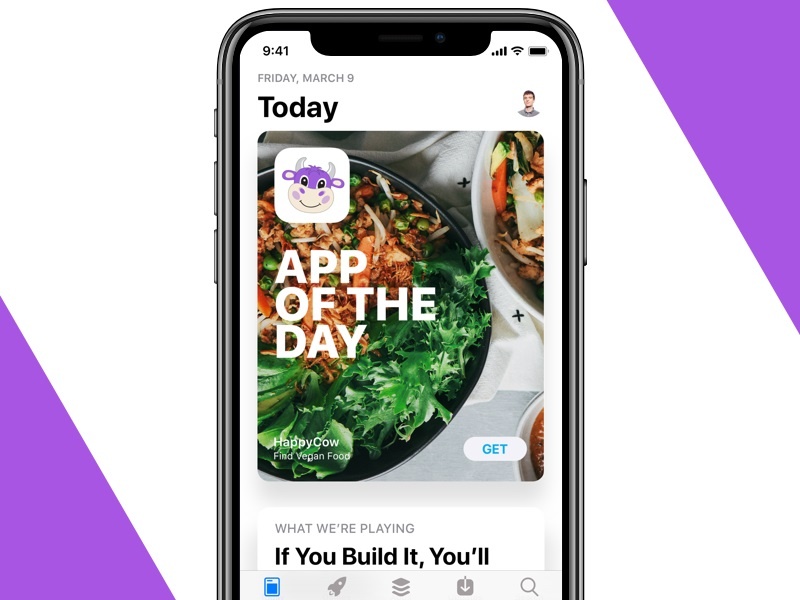 Users need to install it on their smartphones. It will do the work complete with all relevant details, including the exact location on a map, the kind of food they serve, contact information, some reviews, opening hours, and even photos of the place.
This makes searching for the next vegan foodie haunt much easier for those who pursue this lifestyle or are restricted by these diet specifications due to health issues. The app is guaranteed to look for restaurants that serve vegan and gluten-free food.
More than a directory application, it also serves as a crowd-sourced listing as owners can apply to be included in the directory, and users can also leave reviews when they visit a particular place. So, everything listed in the app is all first-hand experience.
Downloading HappyCow
Those who are interested in getting and using this application will be glad to know that it is available on the most common devices such as Android and iOS. They can be easily downloaded through the Play Store and App Store. This application has a download size of 122.8MB and is compatible with iOS and iPad 12.0 or later.
For android, it is compatible with Android 6.0 and up. It is downloadable for free, but keep in mind that it has in-app products. This product is upgraded to a full version for only $3.99, a one-time cost and not a monthly or yearly subscription fee. To ensure that the app's features will be worthwhile, it is important to check out what this application offers.
Aside from helping users locate the best vegan and gluten-free restaurants, this application offers different features that make the service more worthwhile.
Key Features of HappyCow
After downloading the application, users may be ready to start using it. To do this, launch the application and grant relevant permissions. Some permissions it requests include location, media, storage, and camera.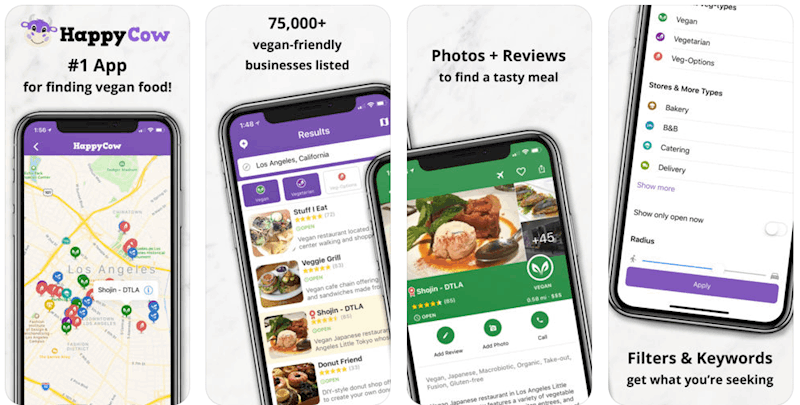 Then, using it is easy because of its intuitive interface. Here are some of its key features to check out to maximize what this application has to offer. Advanced Search – looking for something using an engine can be difficult, especially without the tools to make the search more specific. HappyCow makes this process an easier and more targeted one by adding an advanced search option.
In the full and upgraded version, users can filter their search and use keywords to find the right restaurant for their wants and needs. Particularly, the filter helps users find restaurants that are open at the time of the search.
Of course, the free version remains a valuable option as it still provides the best results, just without the ability to use keywords for searching and to filter results to get options that are open.
Comprehensive Details
The most important feature of this application is the level of detail it offers. Many people use available information to decide whether they want to visit the restaurant. With comprehensive info offered by the app, users can easily consider their options.
Besides showing vegan-friendly and gluten-free options, this application displays star ratings and dollar ratings to give users an idea of its pricing. Moreover, it shows if it is open at that time or not.
To give users an idea of how the menu looks, the application also lets visitors upload photographs. This way, they can decide whether they want to visit based on the food's appearance and the place.
Save Results
Another ability offered by the upgraded version is the save results option. The disadvantage of being able to connect to the Internet all the time is that many contents may not be accessible without a connection.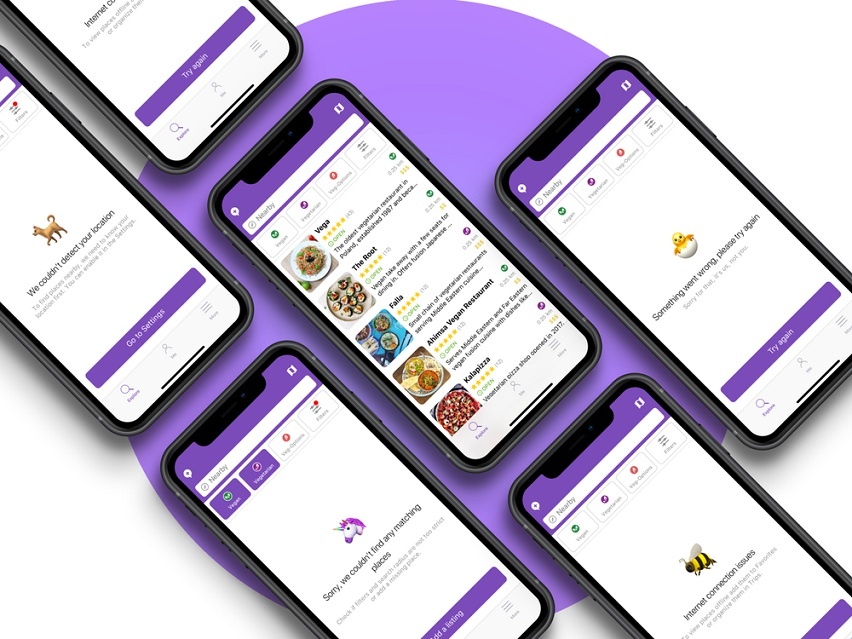 HappyCow solves this problem by allowing users to search while online and save offline viewing results. This way, users can still check the restaurants' profiles even without an Internet connection.
This feature is perfect for people who are always on-the-go and, thus, have to constantly go offline. This is also great for tourists who want to try out the friendly food scene in their area.
Community
Users do not have to rely on content already posted on the application. They can also create their own and interact without other users, giving them a more comprehensive source of information.
This is a great way to find other vegans and individuals with a gluten allergy, giving them access to more trustworthy reviews. Plus, it opens up more opportunities to make friends with like-minded individuals.
As a bonus, the app gives a preview of their bio. This lends insight into who they are, when they joined, the reviews they have given, what their interests are, their favorite cuisines, and many others.
Important Tips to Remember
HappyCow takes pride in giving individuals access to finding some of the best vegan and vegetarian options on the market. Because of its various features and offerings, learning how to utilize it to your advantage is essential.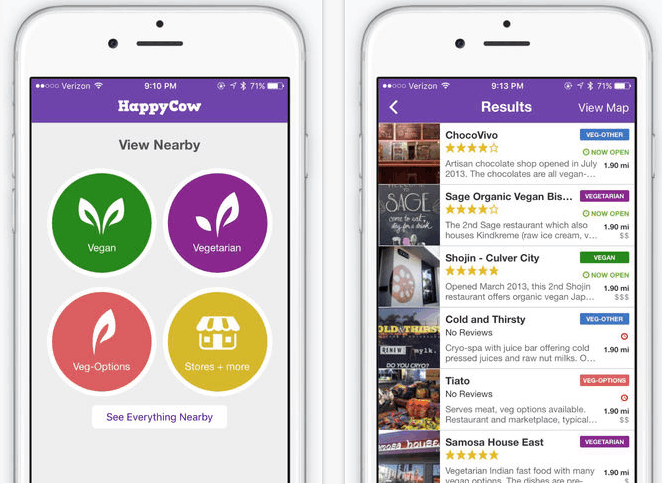 For a more fruitful and worthwhile experience, below are some tips that can help you get more out of this mobile app.
Activate the Geolocation Services
Finding vegan and vegetarian restaurants on the app is already straightforward. As a matter of fact, individuals can easily search for their city, region, or even key in their zip code, and the app will instantly provide a list of locations and dining establishments in a jiffy.
While this approach is already effective in itself, you might want to activate the geolocation service on your mobile phone. This allows you to find more specific restaurants in your vicinity, especially as this feature will take note of your area and the places within it.
Activating the geolocation service on your device allows the app to pinpoint where you are. By extension, it lets your device via the mobile app gather data stores and restaurants that cater to your interests, thereby providing you with valuable data.
Use the Filter Option
Vegan and vegetarian food consists of an extensive range of cuisines as well. From Indian to Mediterranean cuisine, you will find no shortage of eateries and food that will tickle your palate.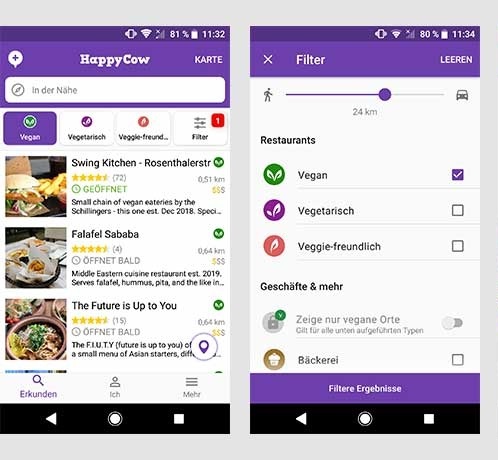 To better utilize the app to cater to your cravings and preferences, make sure to turn on the filters within the app. This gives you the ability to input keywords and limit searches within your desired outcomes.
Consider Reaching Out to Community Members
With HappyCow available in more than 180 countries worldwide, there is no denying that the vegan and vegetarian community is thriving. As a social app of sorts, do not hesitate to widen your network and instead reach out to community members.
Apart from finding like-minded individuals or even those with similar interests and values, the great thing about the app is that it allows you to connect with them wherever you are in the world.
Those who would want to travel and foodie friends to eat within just about every part of the world look no further. HappyCow allows you to message members of the community you would like to connect with.
Read Forum Posts and Articles
Last but certainly not least is taking advantage of articles, blog posts, reviews, and even perusing photos. This is particularly helpful for those who are looking to explore eateries located within certain cities or countries.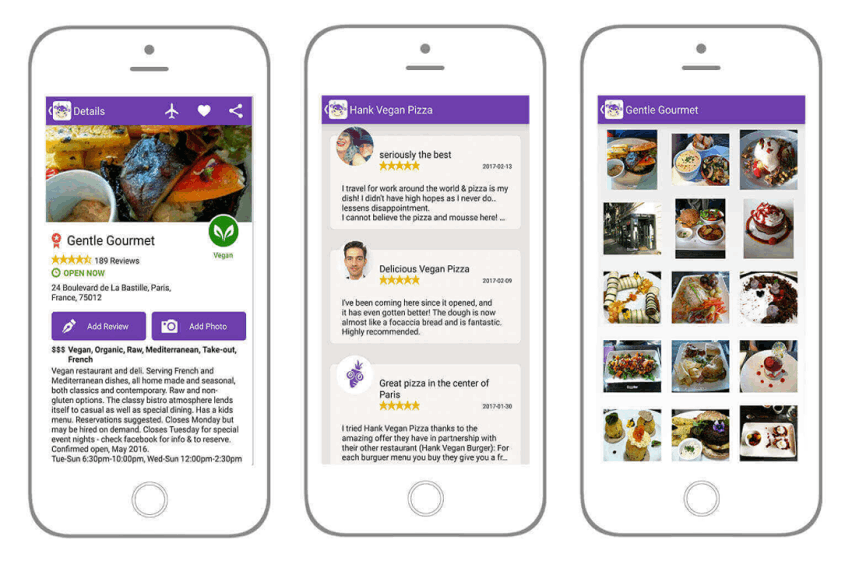 Members themselves make these reviews and forum posts. Besides sharing their knowledge, this is also a platform to interact and let your ideas be known.
Vegan and Vegetarian-Themed
From vegan and vegetarian-themed restaurants to skincare items, HappyCow fosters a safe space for people to discuss with one another. To help others in need and be helped in return, look through such posts, and you are sure to gain more insight every time.
Conclusion
Happy Cow may be one of the best mobile applications for vegans and individuals with gluten allergies. It is easy to dive into the vegan-friendly food scene with its helpful services and meet people who follow the same lifestyle.