Are you a radio head who loves listening to your favorite radio shows and music stations? Do you miss going back to the simpler times when all the world had been television sets, radios, and newspapers?
The radio certainly brings back nostalgia and reminds the world of simpler and quieter times. With so much media available today, the radio has been put on the sidelines, especially with the existence of video content that is available everywhere.
Mobile radio applications such as Simple Radio attempt to bring the radio back to people's lives by making it easier for everyone to access radio stations all around the globe. Read on and learn more about this app, its key features, how to use it, and much more.
Simple Radio – Free Online Radio Tuner
Key Features that Users Love
Using the App – Listen with Just a Tap
Listen to Music with Simple Radio
Bridging the Gap Between Radio Media and Youth
Points for Improvement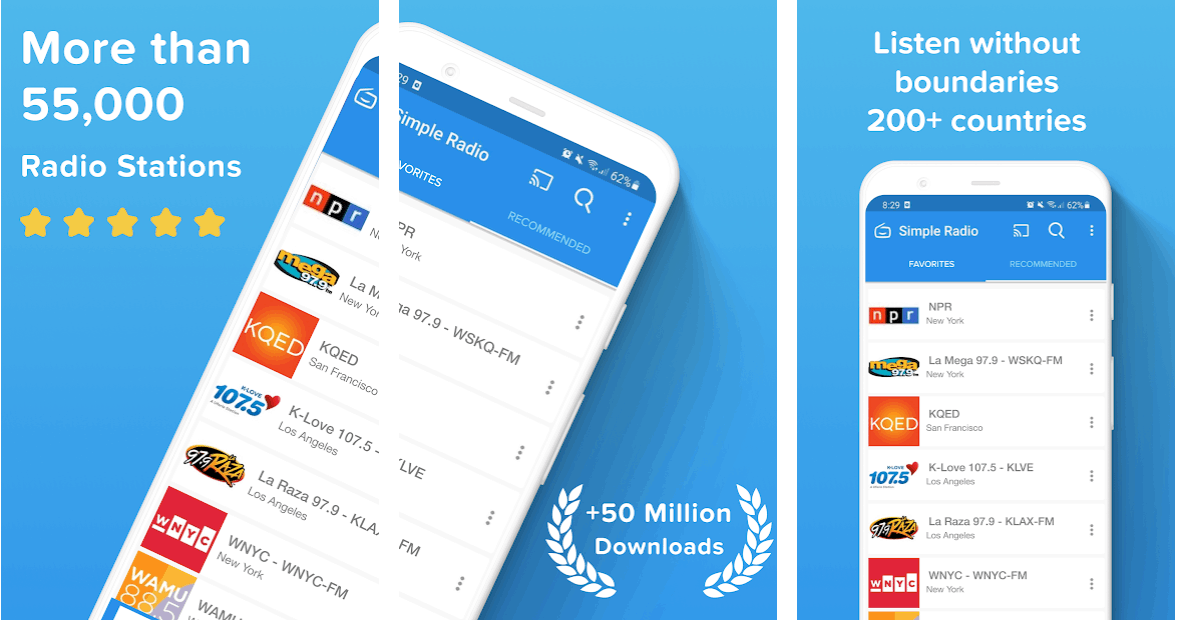 Simple Radio – Free Online Radio Tuner
The Simple Radio application developed by Streema is the easiest and fastest way to tune in to your favorite FM, AM, and online radio stations from all around the world. With this app, you can access music, sports, and news radio stations within seconds for free!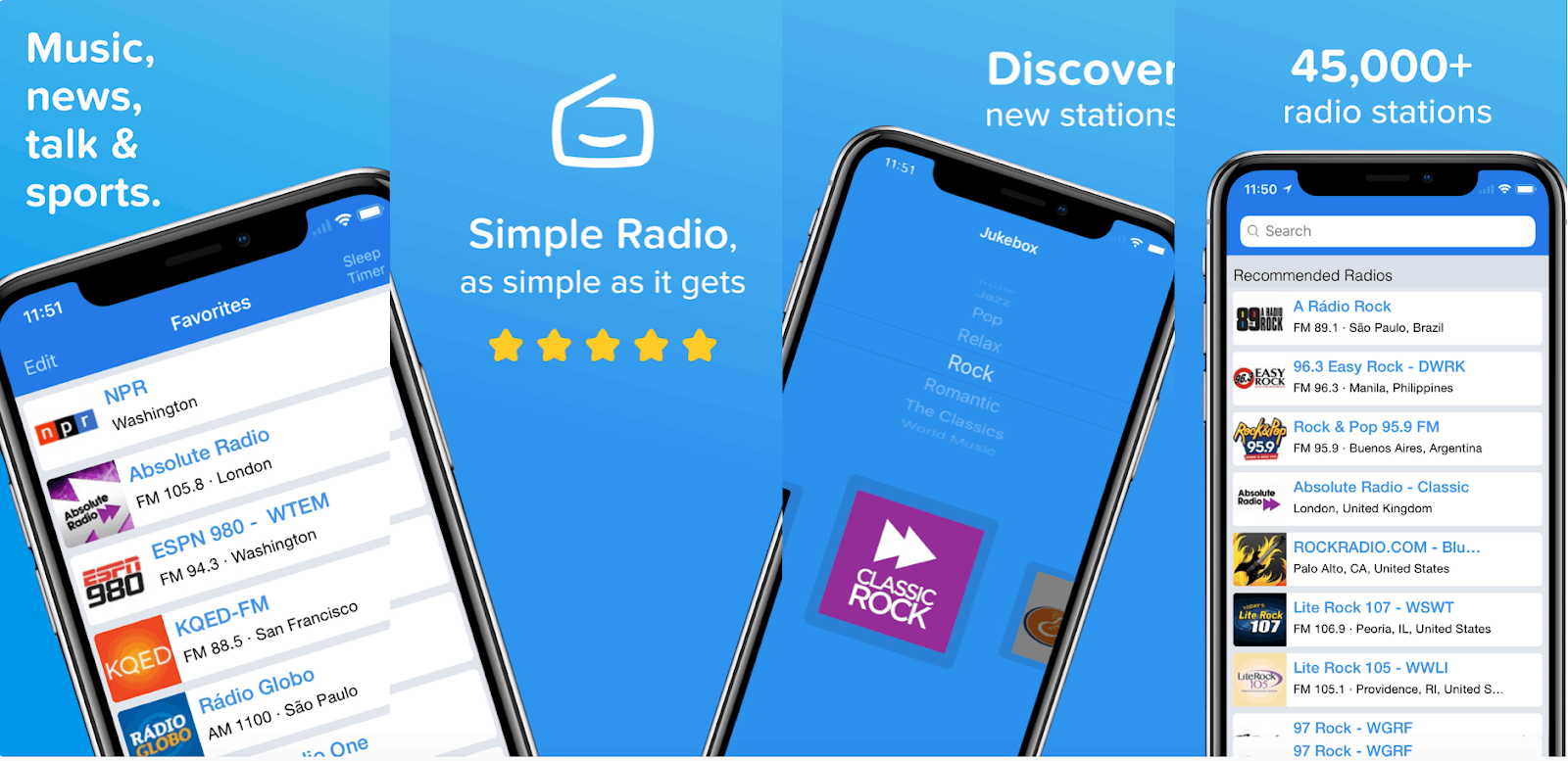 The app has access to over 70,000 radio stations around the globe, so you will never run out of radio stations to choose from. You can tune in to your favorite station or discover a new station to enjoy.
The great thing about Simple Radio is that it makes listening to the radio as easy as switching on a real radio set. Its simple interface makes finding any global station uncomplicated. You can even search by genre or by category to discover new stations to listen to.
Moreover, you can search by country, state, or city—just type in the country you want to listen to and instantly get a list of all available radio stations Catch your favorite free AM and FM radio stations and listen to music, news, and sports radio shows from all around the world with just a single tap.
Getting Started with the App
Simple Radio by Streema is available as a free download in the Google Play Store. It has over 50 million downloads and an impressive 4.6-star-rating on the platform.
You can upgrade to the premium version to experience an ad-free listening experience for only $3 annually.
If you're not ready to commit just yet, you can try out the 7-day free trial and see if it'll be worth the upgrade.
Key Features that Users Love
Simple Radio brings radio listening to a whole new level by combining the internet and the simplicity of listening to radio stations.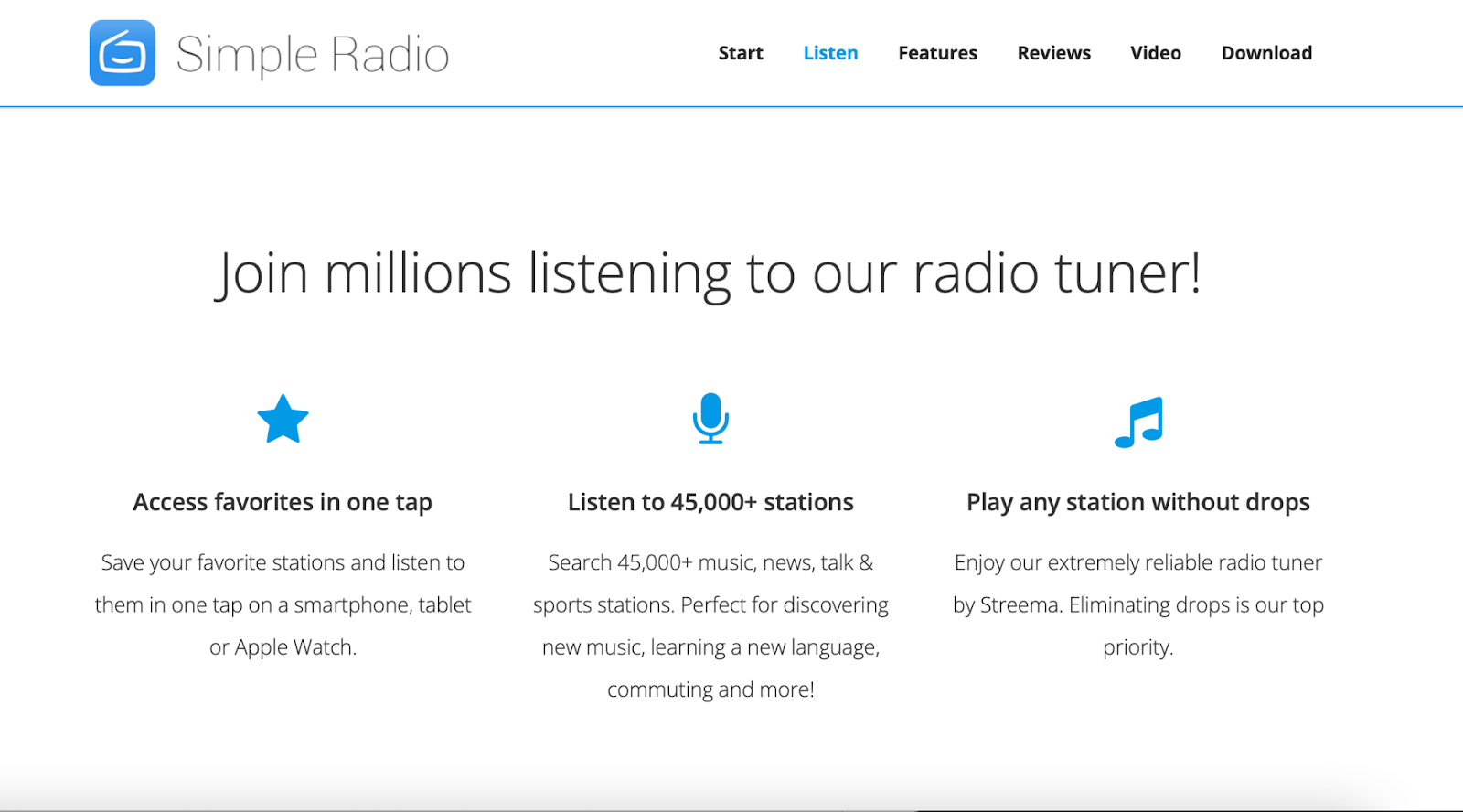 Its clean user interface is straightforward and effective, without complicated buttons and configurations that just don't make sense. As such, it is an application that all ages will enjoy using.
Another great feature of this mobile radio application is the one-tap access to favorite radio stations that users have saved. The app has been optimized to make the daily listening experience as smooth as possible, wherever you may be.
The app also guarantees excellent stability and reliability with absolutely no buffers or interruptions when listening through the app, even with the free version. The app only needs mobile data or a WiFi connection to work seamlessly.
Take Advantage of Multiple Platforms
With the Simple Radio app, you can use not only your Android smartphone to tune in but you can also use any Google Chromecast compatible device. Just use your phone to cast whatever you are playing to any Chromecast-supported device.
Simple Radio is also available on other platforms, including Android Auto, Amazon's Alexa, and a wide range of Apple devices.
Whichever device you are on, you will enjoy using the Simple Radio app.
Using the App – Listen with Just a Tap
The Simple Radio app is truly a simple and uncomplicated application. It has two main tabs—the Favorites and Recommended tabs.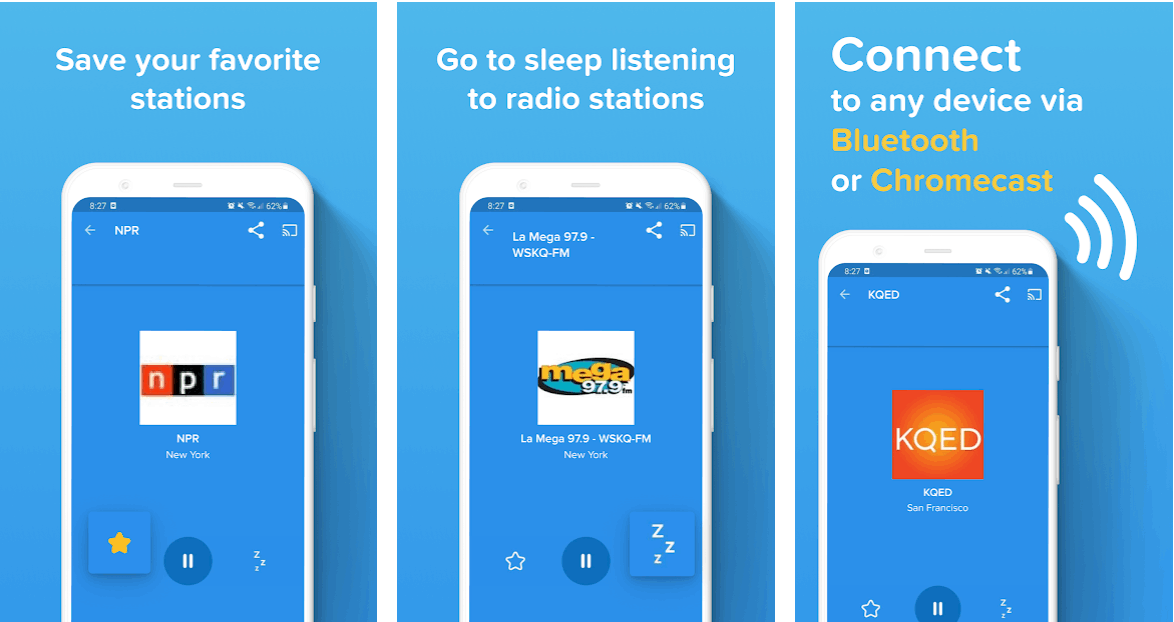 Once you've downloaded the app, you are immediately directed to the Recommended tab, where a list of stations is generated based on your location.
You will notice that there is a star sign beside every radio station's name. Press the star if you want to save the radio station. Then, the radio station appears under the Favorite tab. Now you can easily tune in to that certain radio station without having to search for its name.
Searching for a certain radio station can be done by tapping on the magnifying glass icon on the upper rightmost portion of the screen. You can enter any keyword, country, genre, or name to search for radio stations.
Simply Tap to Listen
Once you've found the radio station you want to listen to, just press on the name of the station and you will instantly hear the live radio feed!
Listen to Music with Simple Radio
After tapping on the name of the station, it will immediately start playing. Tap the name of the station again to expand the interface.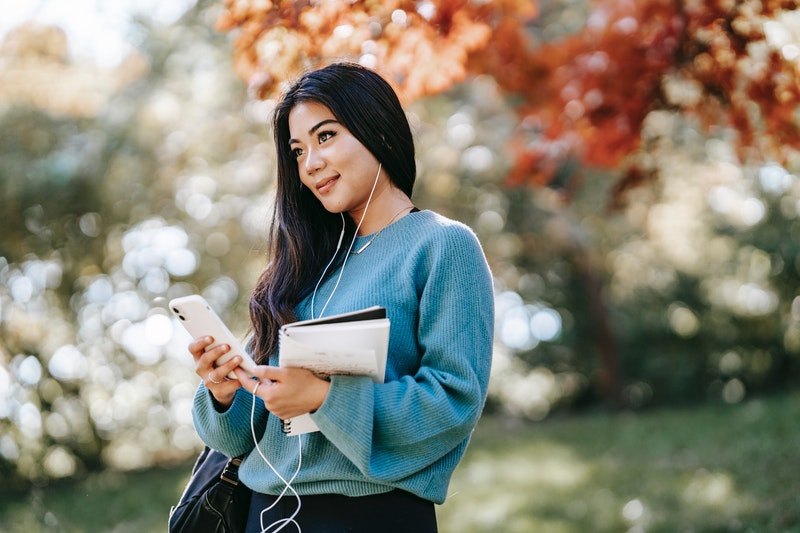 There are three main buttons on the expanded interface of the listening function—the star icon, the play/pause button, and the sleep timer.
You have the option to set a sleep timer and choose between five or 30 minutes, or to disable the sleep timer that you have just set. Remember that this is a one-time function and you will have to set it up again after the timer has elapsed.
The sleep timer is only available on the premium version and is unavailable for free users.
The Share Function
You can also share the radio station you are listening to using the Share button found on the upper rightmost portion of the expanded listening interface.
Depending on the device that you have, you can send a link via Messenger, SMS messaging, email, and Bluetooth, among many others.
Bridging the Gap Between Radio Media and Youth
The app aims to make the radio listening experience accessible to all. With the proliferation of streaming platforms, the current generation no longer knows what it's like to listen to the radio.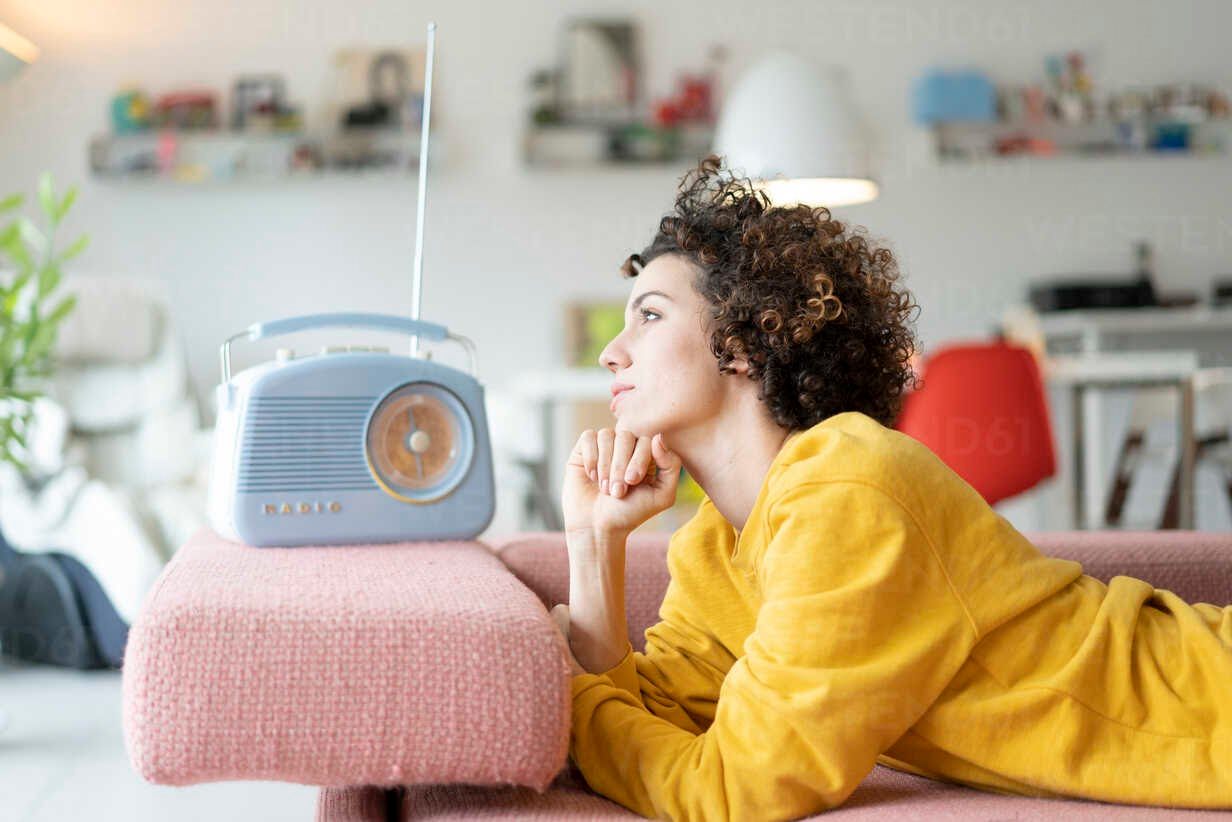 The radio, being one of the oldest technological media forms, has shaped a large part of society's culture, norms, and beliefs. It is important that the youth can experience what it is like to listen to this media, in addition to the complex media that they consume today.
Apps such as the Simple Radio app make it easier for everyone of all ages, youth who are trying out the experience and old folks who are reliving their past through the radio, to access radio stations and travel across the world by listening to different languages, music, news, among many others.
Closer to Home
Some users have also expressed how they use Simple Radio to remind them of what it feels like to be home.
Because radio stations usually cater to the local community, people who are far away from home have a glimpse of what it is like to be back in their homes by tuning in to their local stations.
With Simple App, home is brought closer to those who are unable to go back to where they came from by letting these people listen to radio stations, wherever they may be.
Points for Improvement
While the app is already an exceptional piece of technology, there is still room for some improvements to continuously uplift the listening experience with the Simple Radio app.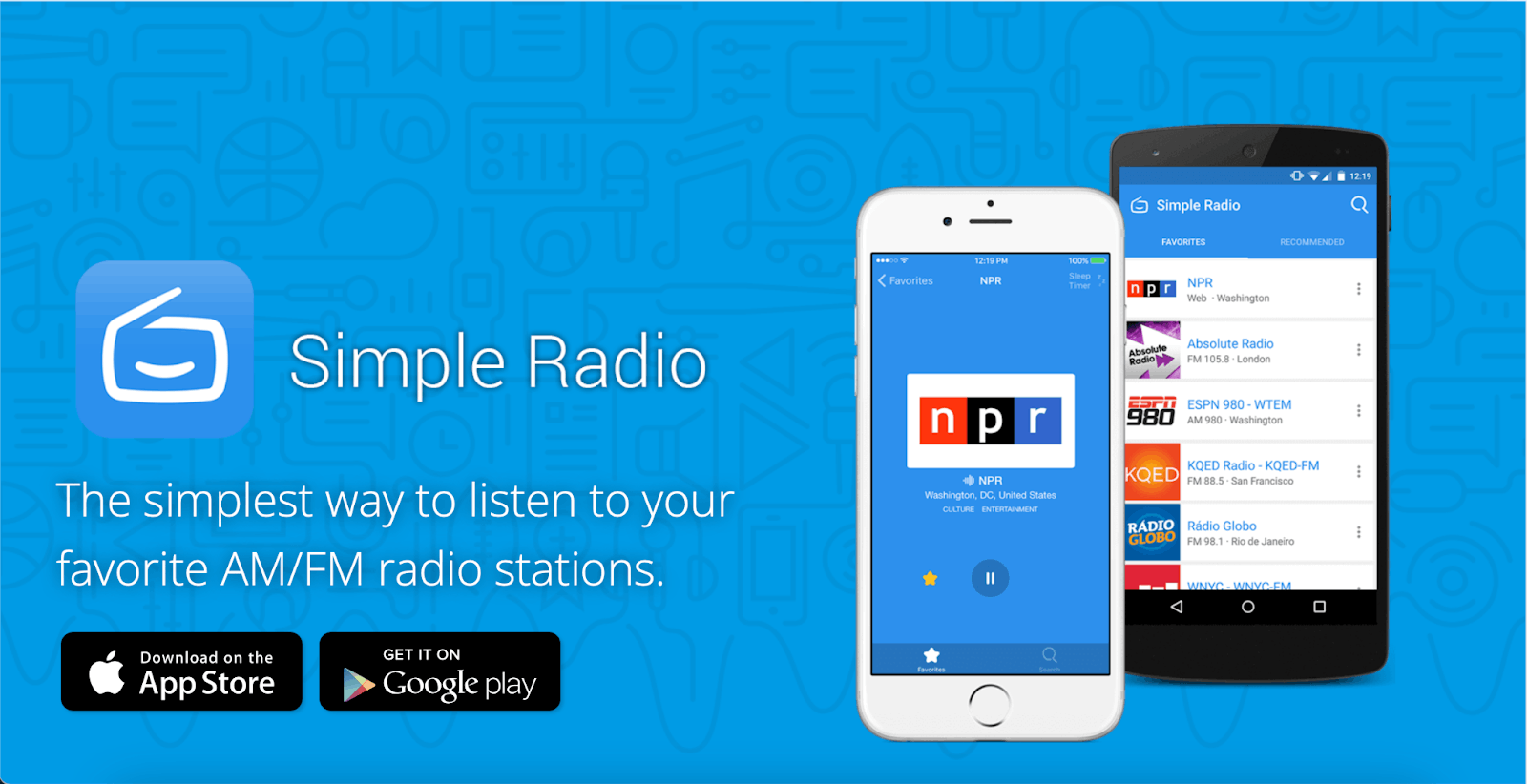 The first improvement would be to allow users to organize and group their favorite radio stations into folders or subcategories, rather than just one list. This will be beneficial to listeners who want to organize their favorite radio stations instead of scrolling down a long list.
The second would be to improve the search function by adding filters and categories. The current setup does not allow advanced searching based on filters and keywords, which can be tiresome to use. It will be better if users can add filters such as country, language, genre, and type of radio station.
The third would be to add more options on the sleep timer function since five and 30 minutes are limited options. It would be best to add a 45-minute, 90-minute, and 180-minute sleep timer option.
Potential for Live Television
Developers of the app can also explore combining live television and radio streaming in a single app.
This feature will make the Simple Radio app stand out from the rest of the apps out there in the market and will engage a lot of users worldwide.
Conclusion
The Simple Radio app has revolutionized the way society consumes radio media. Through this application, people from all over the world can tune in to stations halfway across the globe.
This application has the potential to transform radio into a bigger and larger media platform than it is today. The significance of radio media to the world will once again be seen, and it is only a matter of time before apps such as Simple Radio turn that into reality.