One important aspect of delivering a speech or making a presentation is engaging your audience. However, a long speech can be a reason for certain difficulties. Many of us have experienced fumbling over our words or missing a few of our lines during our delivery.
These days are over as the Simple Teleprompter app is now available for your mobile device. Simple Teleprompter is a mobile version of a teleprompter that helps you stay on track with your speech or presentation.
Find out more about Simple Teleprompter and how it can help you become a better presenter in the article below.
All About Simple Teleprompter
The Use of Teleprompters
Light and Easy to Use
Ensure You Speak Accurately with Simple Teleprompter
Use Simple Teleprompter as Your Cheat Sheet
Never Break Eye Contact with Your Audience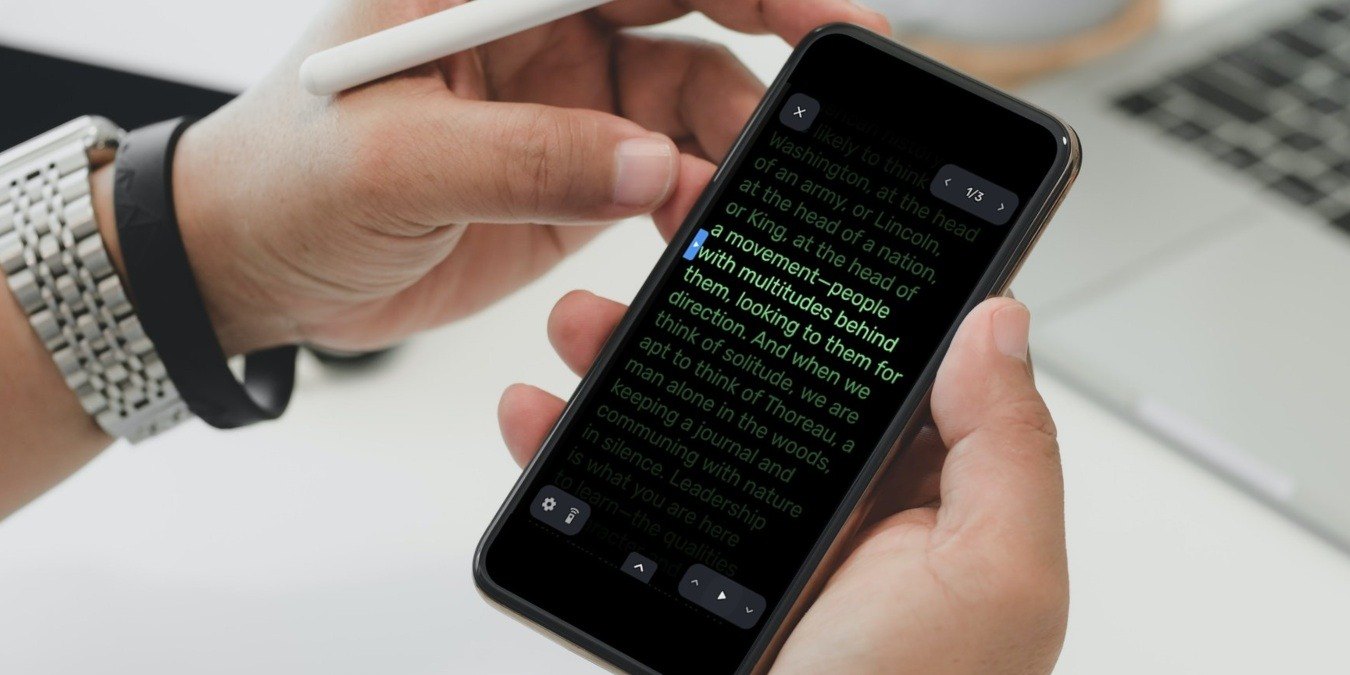 All About Simple Teleprompter
Simple Teleprompter is a free-to-use app that allows users to type text and display it teleprompter-style immediately. Developed as a way to help filmmakers, the app features a very simple interface that you can understand and functions as expected.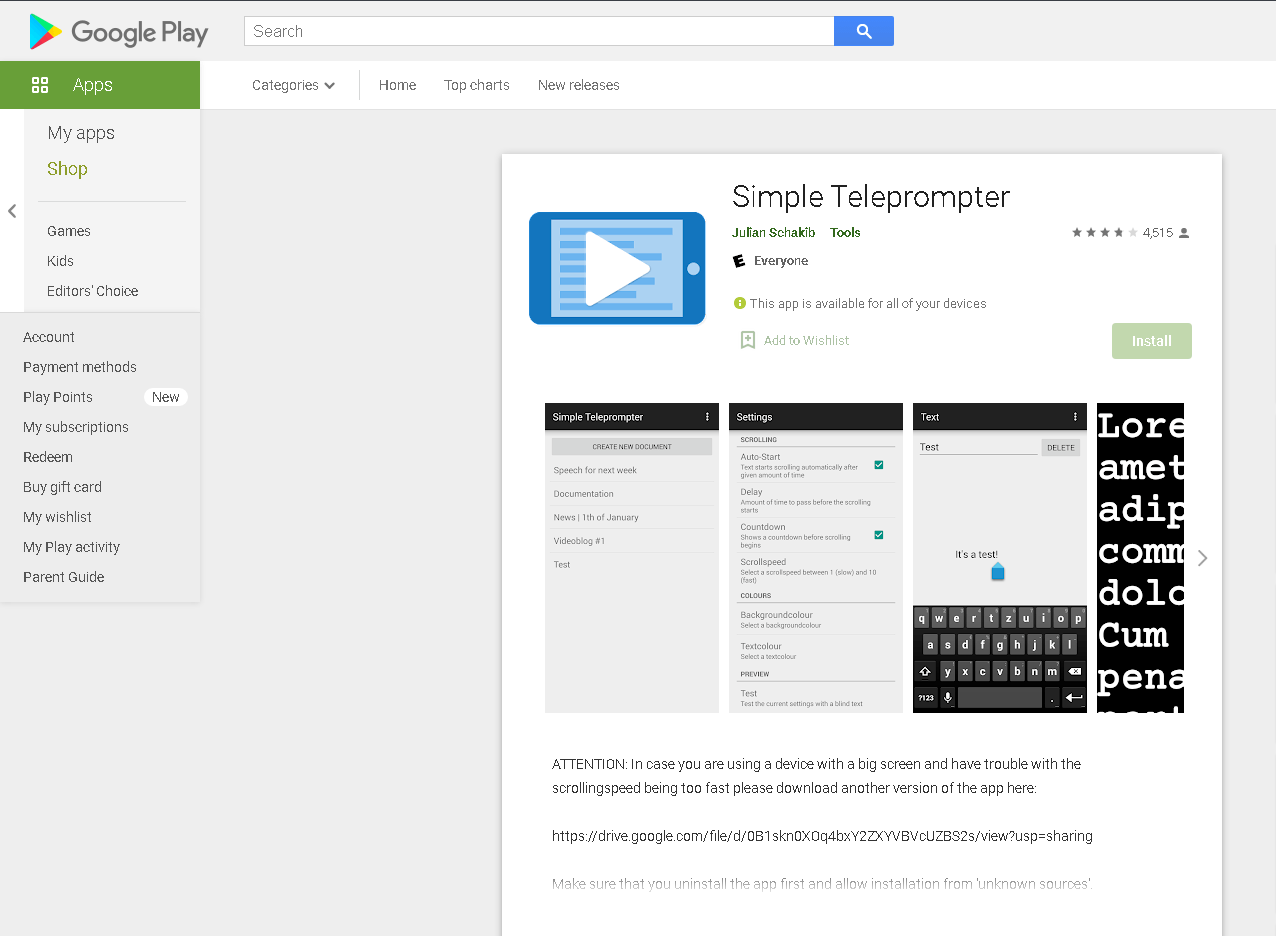 Simple Teleprompter is very useful during presentations and discussions where you need to provide a constant flow of information, or you simply want to have a smooth-sailing demonstration.
There are a lot of features, such as auto-starting and mirroring. Locking the orientation of the teleprompter means you don't have to worry about your device getting in the way of your presentation.
You also get to save, delete or even edit old documents and create new ones for your presentation. The app also enables users to import files through a text file format.
Downloading Simple Teleprompter to Your Device
Simple Teleprompter is available for Android devices and is very easy to download and install. First, launch the Google Play Store and search for the name of the app.
Tap on the Install button to download the app and wait for it to complete the installation process.
Once done, tap "Open" to launch the app. It is compatible with almost all mobile devices that use the Android operating system, including tablets and phones.
The Use of Teleprompters
The use of teleprompters can be traced back to the early 1950s where it was commonly used as a way to deliver speeches and provide information quickly.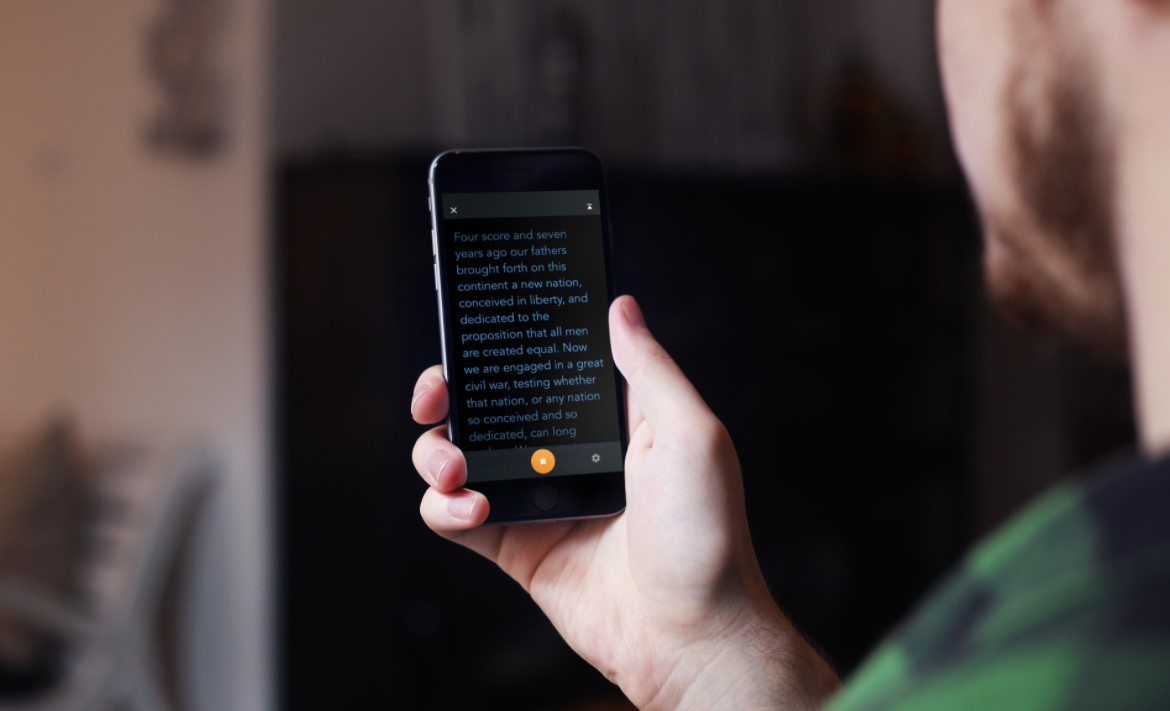 It became a popular method and a common communicative practice at that time which changed the way we deliver information today. Teleprompters are commonly used in forums such as assemblies and even in the classroom.
There are a lot of uses of teleprompters, but the main reason why people use them is for speakers to focus on delivering a speech without looking at their notes.
From the audience's perspective, it would seem that the speaker has delivered the speech effectively, but in reality, the speaker is just reading the text shown on the teleprompter.
Making Presentations Look and Feel More Natural
The best presentations are those that immediately capture the audience's attention. Maintaining the audience's attention span can be very tricky, and if you keep on looking down at your notes and break contact with your audience, you end up becoming disingenuous to them.
You portray yourself as someone who did not prepare their speech well enough or did not do their homework. It makes you look bad towards your audience. This is why teleprompters are a great way to guide you with your presentation.
Any kind of notes that is presented on the teleprompter will help you go through all the critical points of your presentation and make it look more natural. This is why many people want to use a teleprompter application such as the Simple Teleprompter.
Light and Easy to Use
Probably the best benefit you get from using Simple Teleprompter is the fact that it is on mobile. Mobile devices are popular for their versatility and portability.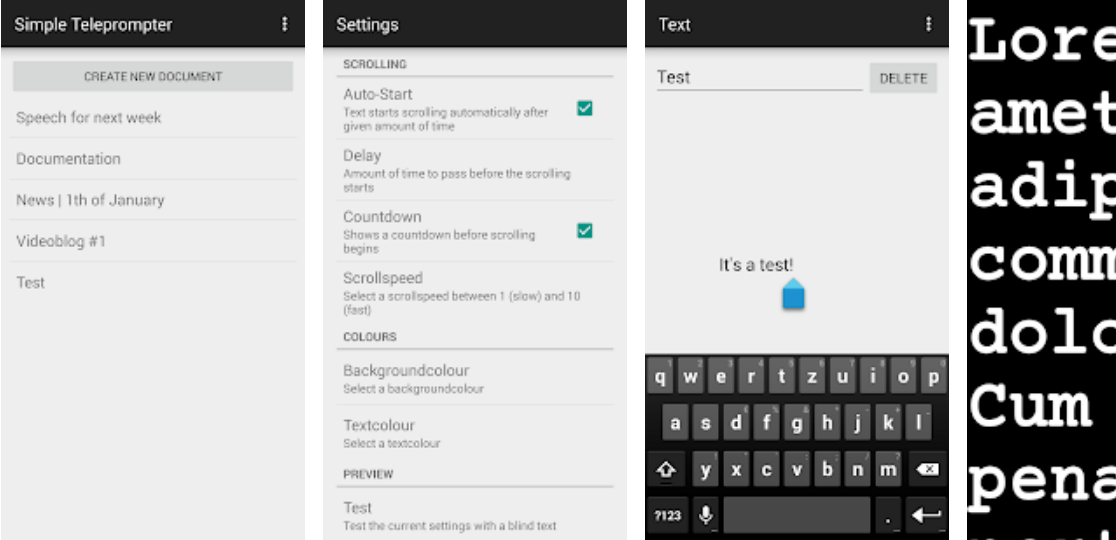 With the app, you can prepare your speech at any time and any place.
Whether you are on your way to work or stuck in traffic and you need to finish writing your speech, you can always write it in the app and then use it as a teleprompter during the presentation.
The best part about using the app is it also lets you import files from your laptop, so you always have your speech or presentation with you.
Avoid Going Off-Topic
One of the main pain points when delivering a speech or making a presentation is going off-topic. It can be tough to avoid getting carried away by the presentation and begin to trail your words.
The next thing you know, you're way off-topic, and your audience begins to feel confused and disinterested. Simple Teleprompter allows you to stick with your topic by having your presentation and speech displayed to you.
This way, you get to stay on topic, capture your audience's attention, avoid going off on tangents, keeping your audience interested. The Simple Teleprompter provides a steady workflow for you to follow, which makes for a great presentation.
Ensure You Speak Accurately with Simple Teleprompter
Even when you write your speech for hours, edit it accordingly, and practice it over the next few days, there's always room for error, especially when you're on stage.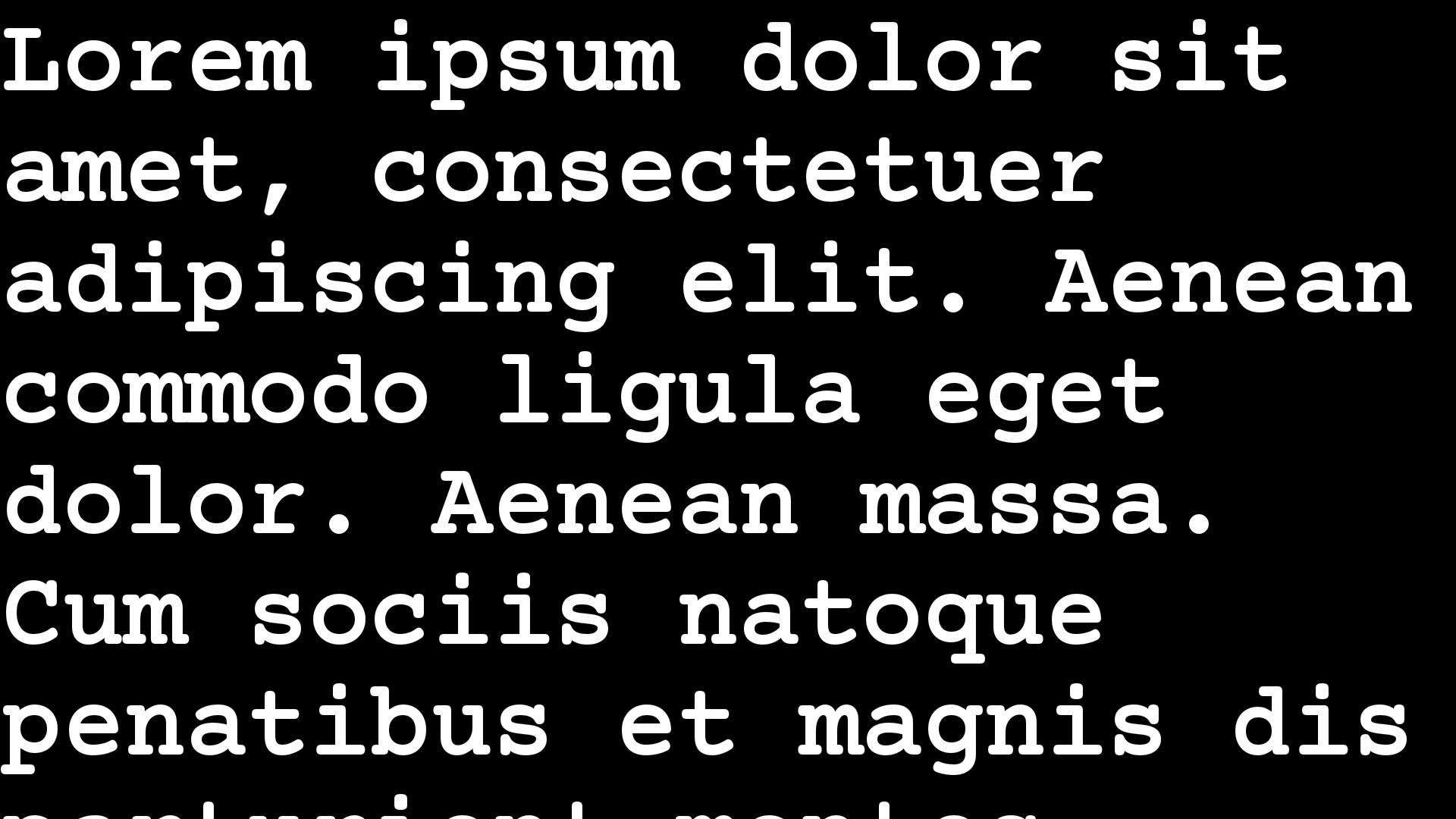 Your speech may even come out not the way you intended it to be. Sometimes, we just want to deliver a solid speech that accurately relays the idea within the speech.
A teleprompter is the best way to help you use the exact words and phrasing for your speech.
You get to deliver your speech with great accuracy and convey your ideas and thoughts to your audience perfectly.
Prevent the Need for Memorization
Long speeches can be difficult to memorize, especially for those who are not fond of making long speeches or memorizing them. It's already difficult to memorize a few sentences, let alone deliver a long speech, without skipping a few items in between.
While you may have your notes with you, you still need time to find out where you are with your speech. Having the Simple Teleprompter allows you to deliver your speech without having trouble remembering the main points.
This also helps you with delivering your ideas perfectly. Long scripts shouldn't be a problem now that you have Simple Teleprompter on your mobile phone.
Use Simple Teleprompter as Your Cheat Sheet
Teleprompters are used to provide a streamlined flow to your presentation. One of the obvious reasons why people use Simple Teleprompter is to avoid mishaps during your presentation.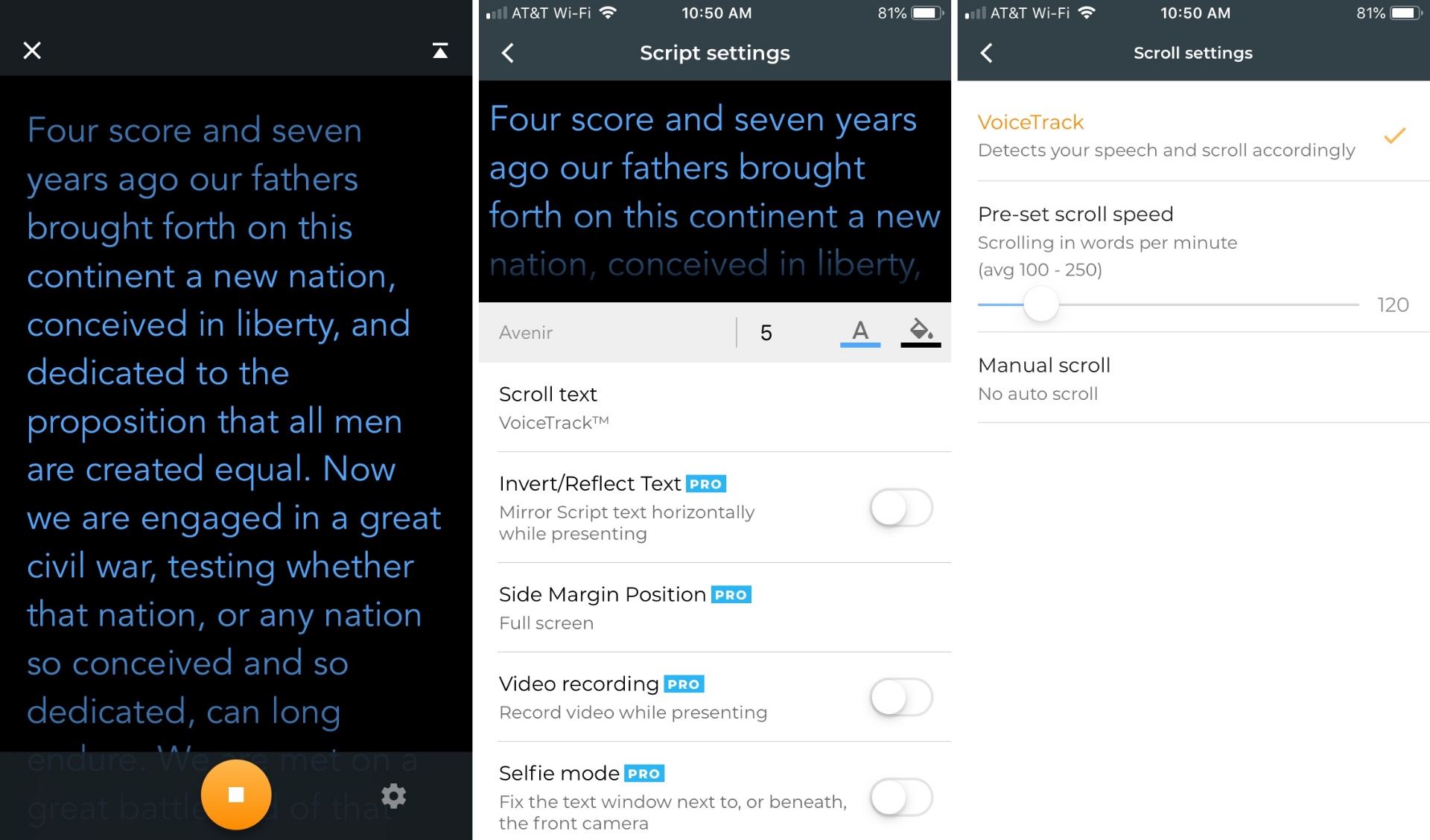 When you have to memorize your speech, there's a chance that you might forget a few sentences, and you end up wondering what your next line is. This can result in poor presentation and make you look unprofessional.
The Simple Teleprompter is a great way to avoid such a situation from happening. All you need to do now is to focus on your speech, read your lines through the teleprompter and engage your audience.
It's a great way to charm your audience without having to worry about your lines.
Have a Steady Pace and Proper Timing
Delivering a speech or making a presentation is all about conveying your idea to your audience. To properly present your idea, you will need proper timing. Timing is key to rousing your audience's interest.
However, that can be difficult if you don't practice your speech or have a guide that would enable you to increase your voice or emphasis on certain parts of your speech. The Simple Teleprompter provides highlights that will allow you to hone in on what matters most.
It is important that you also provide the optimal speaking speed when delivering a message to your audience. Teleprompters can remove this issue by providing you with the text you need to have the proper speed and pacing.
Never Break Eye Contact with Your Audience
Having the Simple Teleprompter app with you encourages you to engage with your audience even more. You don't have to worry about forgetting your lines or going off-topic.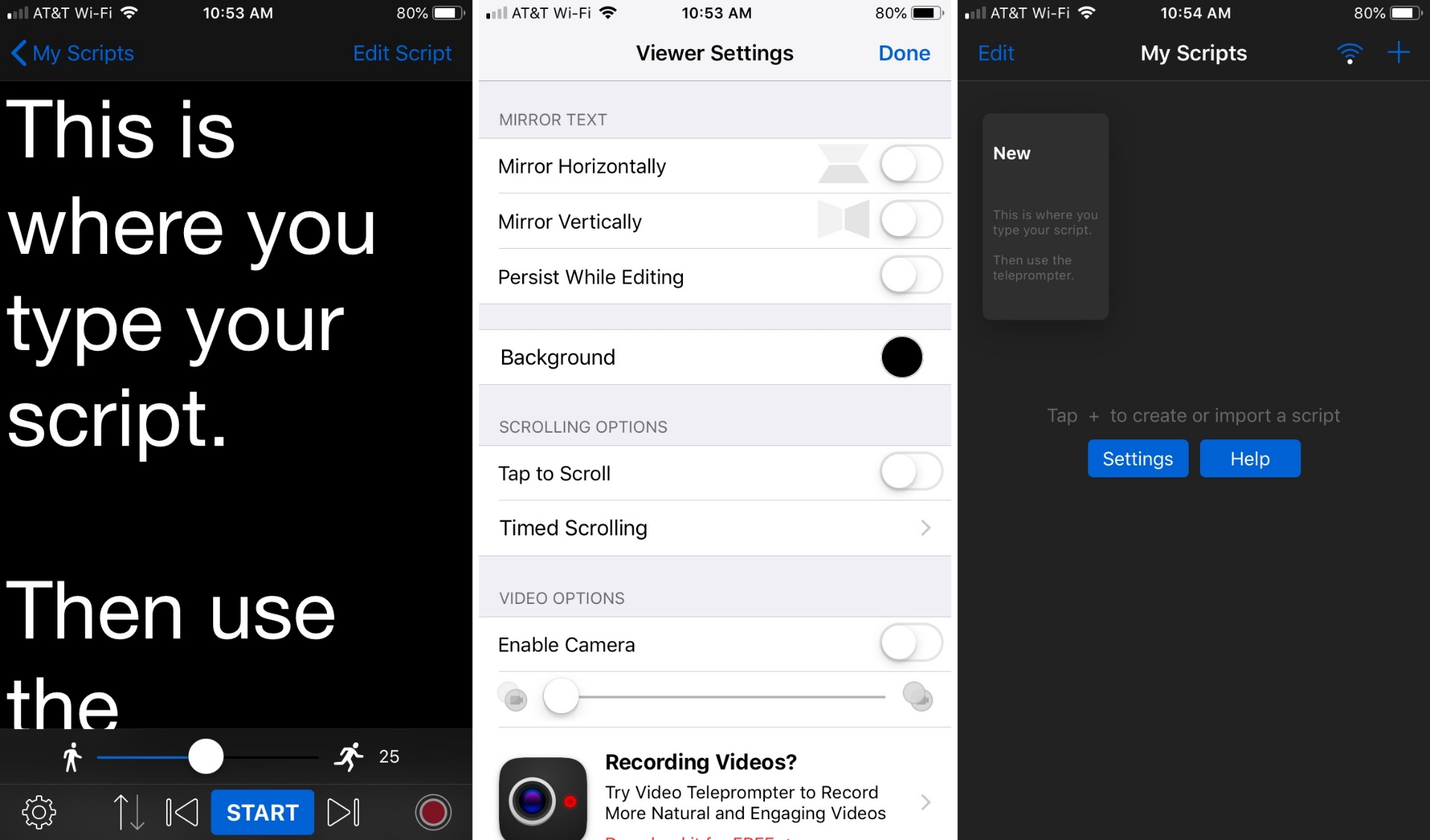 Using the app ensures you'll never break eye contact, thus captivating your audience and enabling you to instill your ideas.
Eye contact is a sure-fire way to seize your audience's interest, and with the help of Simple Teleprompter, you should be able to do so effortlessly.
More Features to Offer
Simple Teleprompter has even more features that will let you control the flow of your presentation.
If you want to have a certain amount of time to pass before the teleprompter starts scrolling, you can do so within the settings, or you may want it to automatically start when you turn it on.
There's also an option to change the background color so you'll always get to see the text clearly. Users can also test the current settings made within the app by using the Test button to ensure that the scroll speed is in line with your pacing.
Conclusion
If you ever need to give a long presentation or deliver a speech in front of an audience, having a tool such as the Simple Teleprompter on your phone will truly make a difference.
It's available to download for free and does not take a lot of space on your phone. It's easy to use and offers you a way to better engage with your audience.