Are you someone who is into the advertising business, promotional tactics, or wants to grow your business on social media? Then, this very Poster Maker 2021 app can be a great opportunity for achieving the same.
Poster Maker 2021 is a new generation app that has a broad collection of modern, complementary, and premium poster templates. From event posters to business posters, this ingenious app will solve all your artistic queries.
The segment below introduces you to everything that you must know regarding the Poster Maker 2021 app. Let's take a glance at its unique features, subscription guidelines, and how to download in this illustrated guide.
About Poster Maker 2021
How To Download Poster Maker 2021
How To Craft An Effective Poster
Choose Vivid Graphics
Features Of Poster Maker
Share Directly On Social Media
Grow Your Brand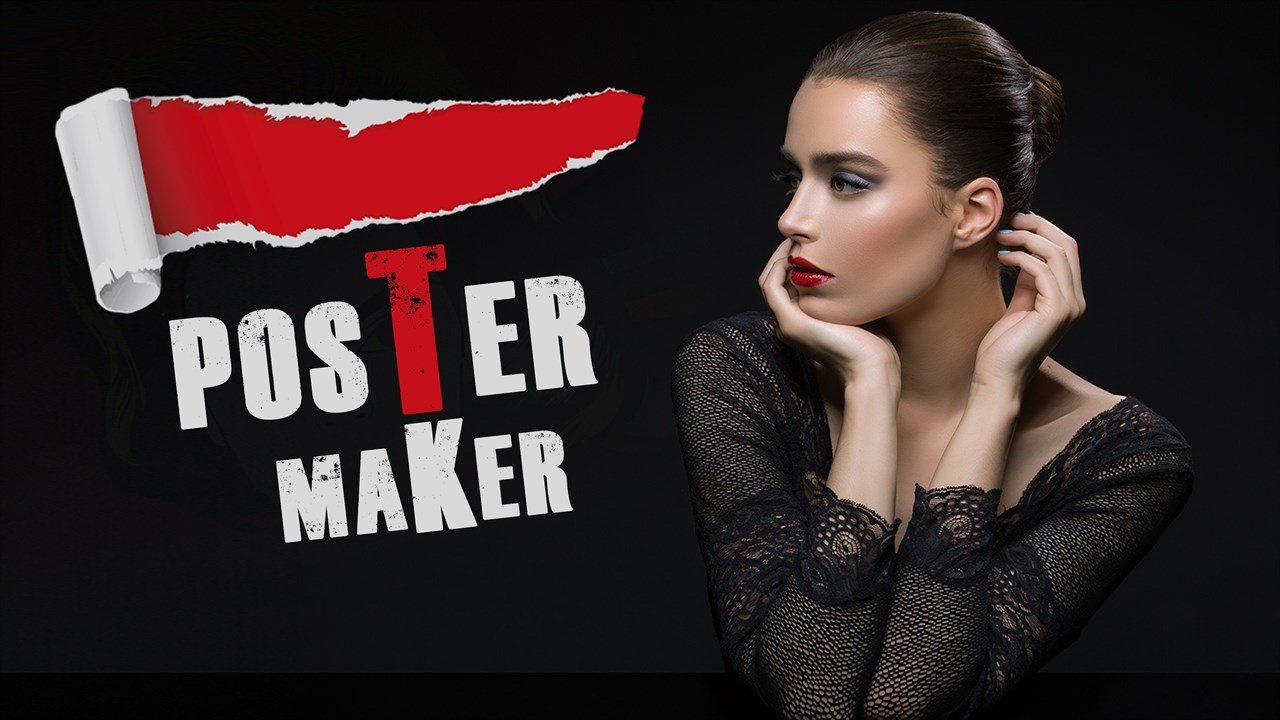 About Poster Maker 2021
Offered by Photo Studio and Picture Editor Lab, Poster Maker 2021 helps you create flyers and posters. I have used this app to create posters that help me in advertising and promoting my business on social media platforms.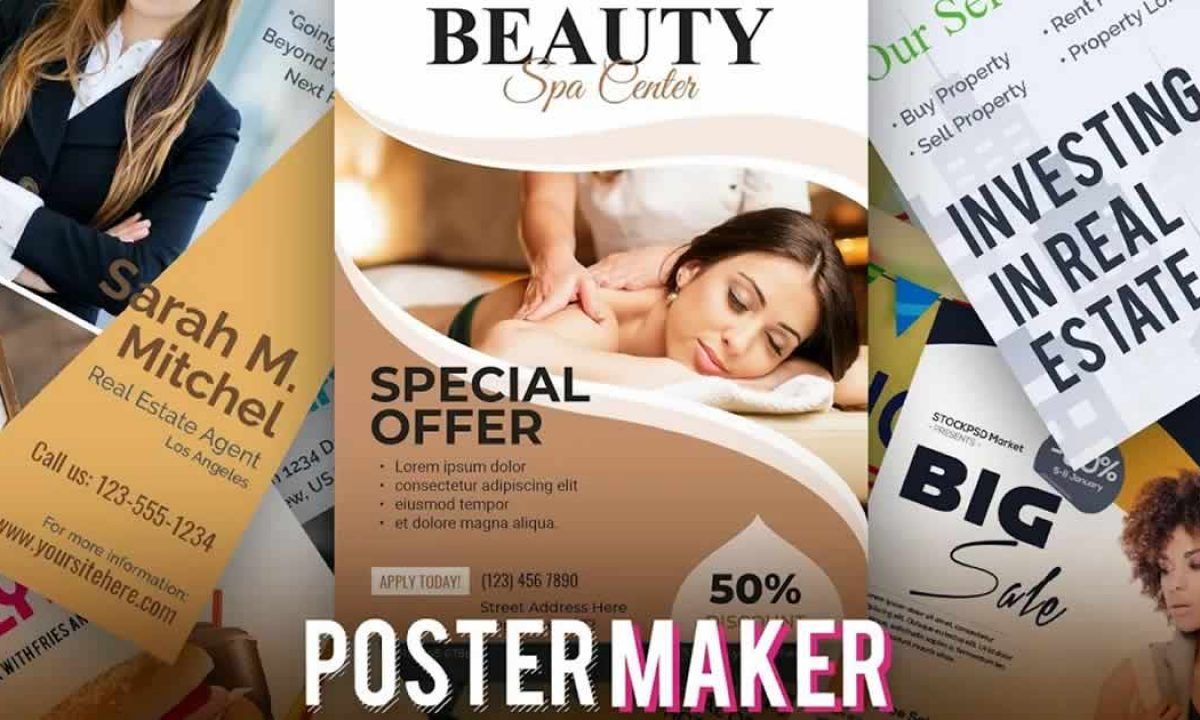 With one million+ downloads so far on the robust download engine Google Play Store, the app is in its budding stage. One can easily create customized posters sitting anywhere with this Poster Maker 2021 app.
The extensive features enable you to save hefty costs to grow your business. It's perfect for startups and small businesses that have tight budgets. But they want to post daily feeds on their media handles.
Significance Of Poster Maker 2021
Today, the internet clutches everything into its own hands. Everyone from big companies, established organizations to budding startups uses social media for advertising their products, brands, and ideas.
It is evident that all of them require a face, an initiative – a poster to do it.
Hence, a Poster Maker 2021 app is essential for business promotions, announcing events, advertising services, and gathering audiences for campaigns and social work. Poster Maker 2021 helps you create professional-looking impactful posters in minutes.
How To Download Poster Maker 2021
The Poster Maker 2021 App is entirely free to download, but it does contain in-app purchases for advanced features and items. Android users can easily create crafty posters anywhere by downloading this app from Google Play Store.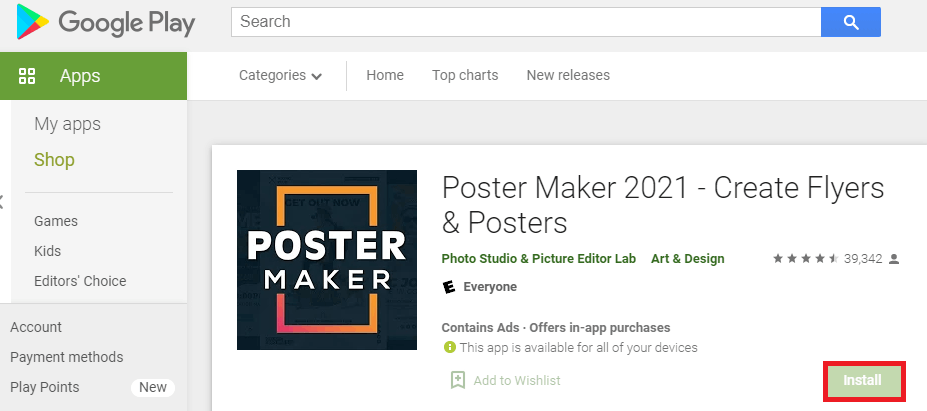 All I had to do was search the app on the Search box, click on the right app and then install it. Once installed, I granted all the necessary permissions, like access to the gallery, contact numbers, etc., to complete the installation process.
It requires Android version 4.1 and above with a free 17M space to successfully work on your device. T
Subscription Details
The Poster Maker 2021 has a monthly, six months, and annual premium subscription plans that help unlock all its features. The prominent features that come with a subscription include an ad-free experience. You can also have access to premium poster templates and graphics.
The payment for subscribing is charged on your Google Play Account only when you confirm the purchase. The cost of in-app products varies from $4.99 to $30.99 according to the services you wish to use.
The subscription will automatically be renewed unless it is turned off in your Google Play Account. Also, it should be turned off at least 24-hours before the end of the current billing period.
How To Craft An Effective Poster?
I am not a pro-artist, but I have gained enough confidence to craft an effective poster by doing a few basic things before pitching the actual poster after using this app.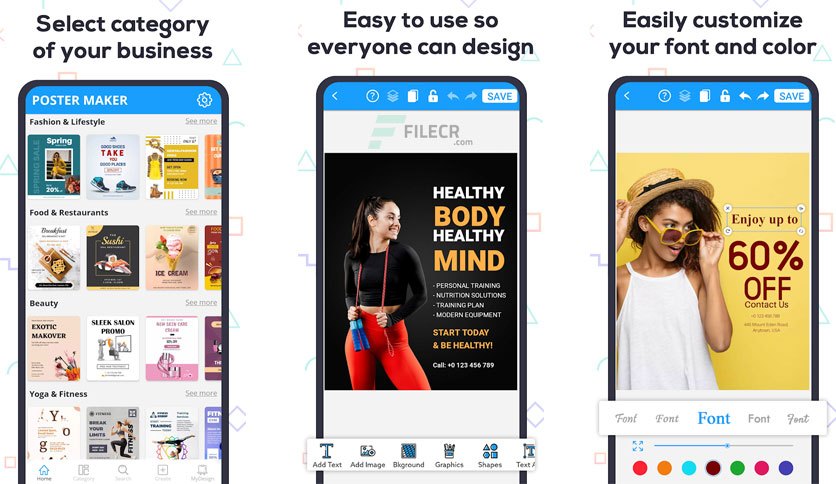 You have to make sure that your poster radiates the importance of your business theme and promotes its ideas.
Try to include these basic must-haves in your posters, like a catchy headline, a clear message, and a call-to-action.
Designing The Poster Layout
The overall layout of your poster will determine how eye-catching it is. To make your poster attractive, focus on the alignment of the poster.
The text heading you opt for should be aligned in the center of the poster as it indicates symmetry and looks professional. It's recommenced to balance the alignment for images, headers, and shapes according to the overall representation of the poster.
In addition to this, it is suggested to make the poster's main heading bold and other informational text strengthened with different fonts and styles.
Choose Vivid Graphics
Sometimes, visuals and graphics communicate certain things that words can't. Try to enhance the clarity of your poster with high-resolution images or at least a photo that is 300 pixels per inch of the poster side.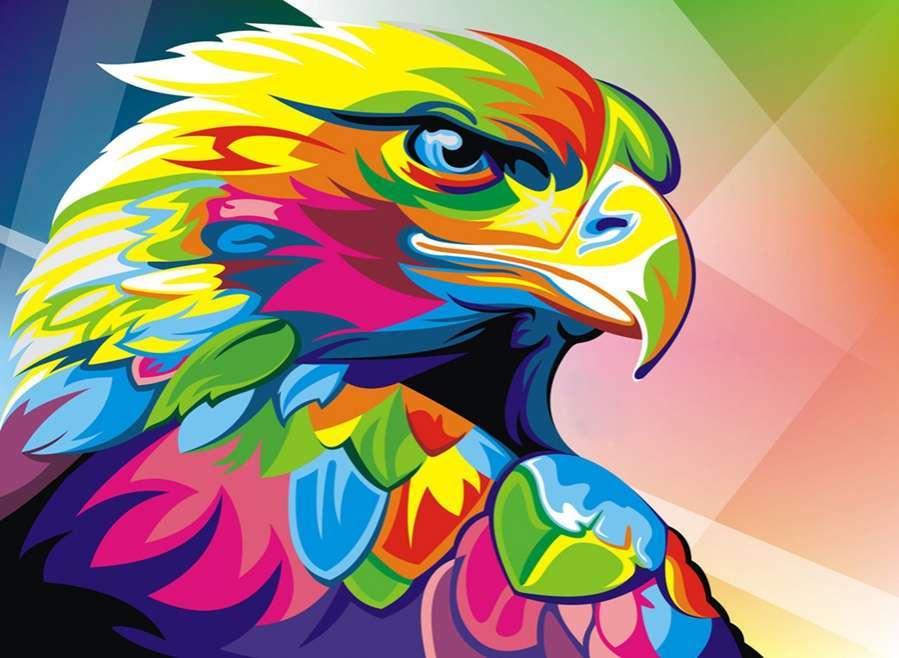 Your text and image selection should complement each other and altogether balance the poster's promotional reach. Not only this, but the color selection also plays an important role in amplifying the audience's attention.
It is the tendency of the human brain to be amazed by bright and vivid colors rather than ordinary dull shades. You can also level your poster up with the current pastel color trend.
Include Appropriate Typography
Grab your audience's attention by introducing appropriate fonts, styles, and colors. The combination of all caps and italics will grab the attention of people on social media platforms.
Also, keep the text solidified to the core message. It should answer all the What, Where, When, and How's about your brand and the products that you are promoting.
Features Of Poster Maker 2021
Poster Maker 2021 has the best features to make custom-designed flyers and posters for businesses, restaurants, events, food, parties, and almost anything to reach many people.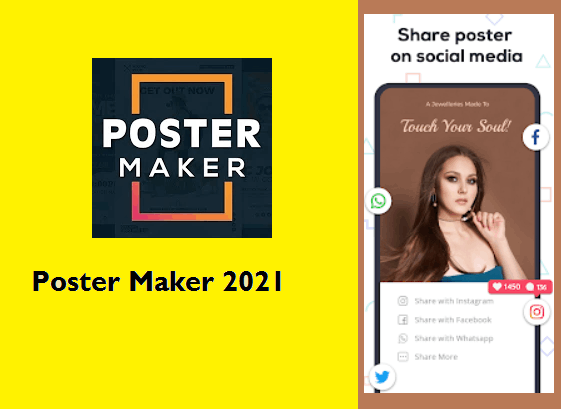 With 50,000+ poster templates to choose from, all of which are quick and easy to use, this app has helped inspire creativity. All these poster templates inside this app offer you an improvised browsing experience.
These templates vary in different sizes for almost every creative layout and design. Landscapes, portraits, squares, and adjustable ratio aspects are all available in one place to make your poster look the exactly like you would expect.
Editing Options
Poster Maker 2021 has various editing options that enhance your poster making the experience fun and exciting. The filters, colors, stickers, shapes, and text options that were once an issue to deal with are now handy and comfortable in the designing process.
First of all, select your business category and choose the best template that fits well with your poster.
After that, customize your font and color, matching it with the template you have chosen. You can even try out other intriguing options to make your poster look magnificent.
Share Directly On Social Media
With the latest improvements in the app, you can share your poster directly on popular social media giants like Facebook, Instagram, WhatsApp, and more.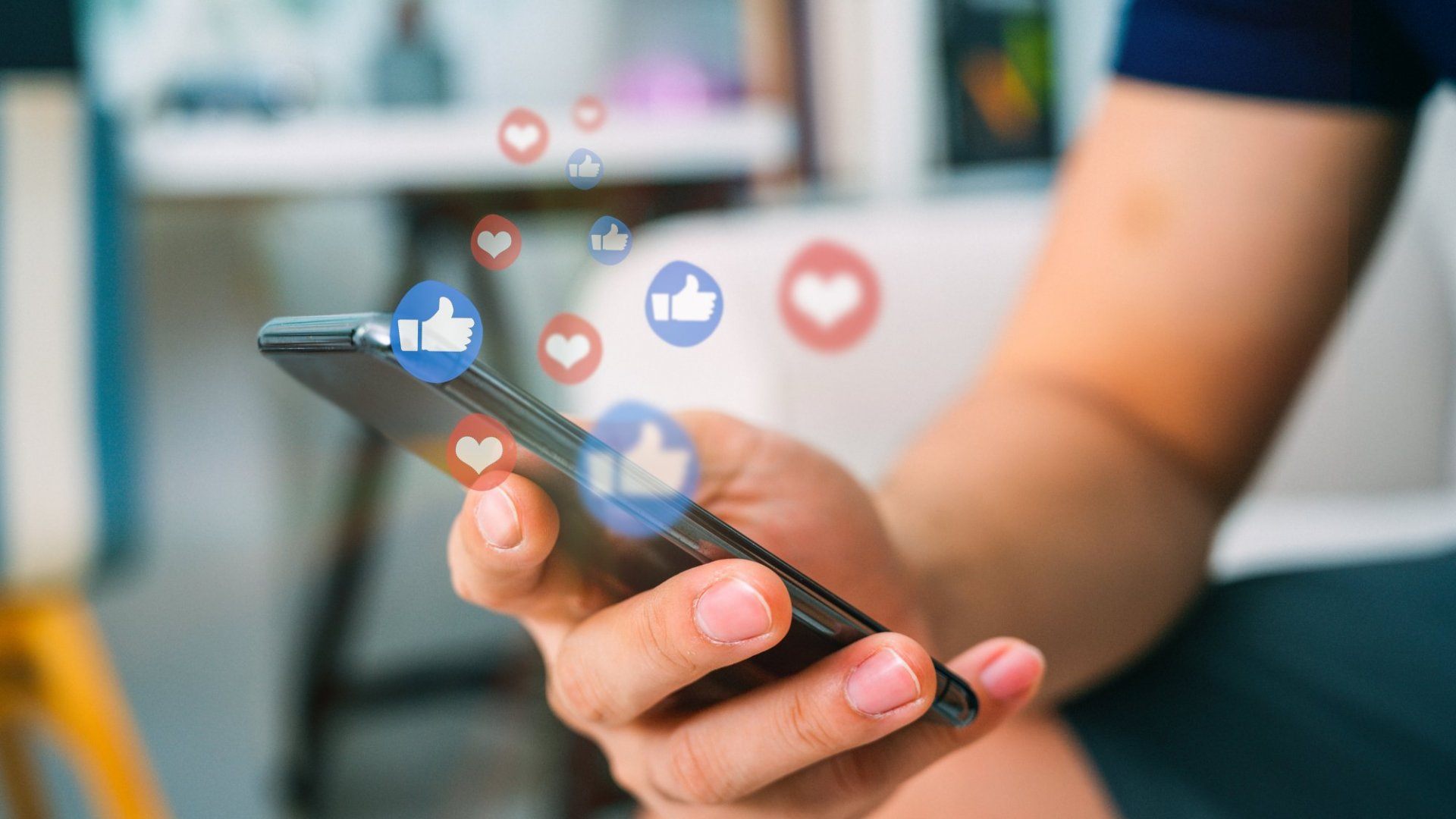 Now you don't need to go to all the different social media apps and repeat the whole process of adjusting the poster before uploading it.
Your poster can directly be posted on any social media handle from within the app.
Benefits Of Using Poster Maker 2021
Whether you are a team of one or a team of hundreds, the Poster Maker 2021 app makes it easy to create content and build your business.
To begin with, creating on-brand posters has never been easier until Poster Maker 2021 became available. Its intuitive template gallery features thousands of professionally designed features that save a lot of time.
Moreover, I can choose from categories like Travel, Food, Lifestyle, Beauty, Yoga, and never-ending options. It is a one-stop destination for everything creative.
Grow Your Brand
The more you will be actively posting on social media platforms; the more famous your brand will become. Needless to say, you will require content to publish daily posts, feeds, and stories.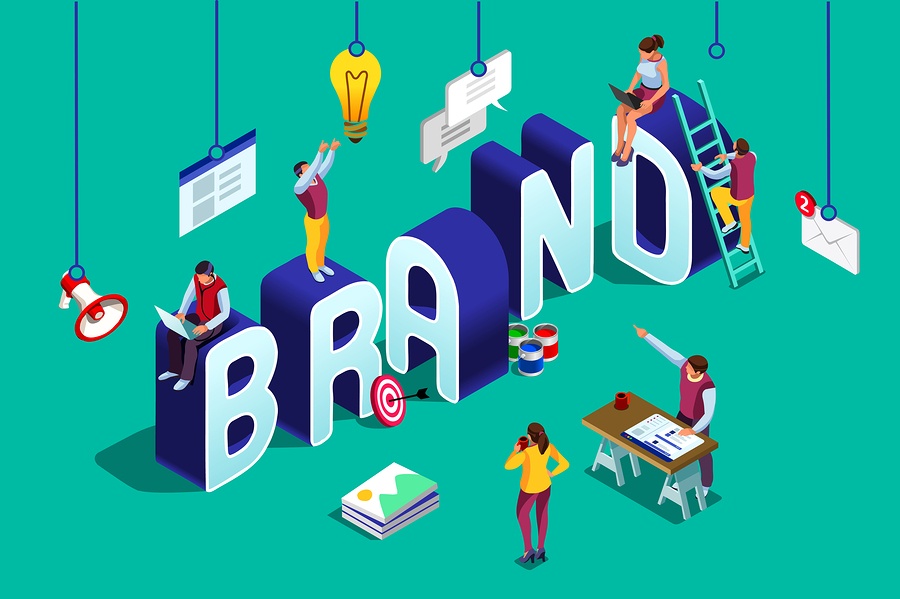 Poster Maker 2021, with its extensive template and design collection, will assist you in creating the best posters. Advanced template locking empowers me to generate co-owned templates and designs without losing y overall brand image.
I can also refer to ideas similar to my current designs for other advertisements from the same app.
Reviews, Ratings, And Feedback
In the art and design domain on the Google Play Store, Poster Maker 2021 has been attributed a rating of 4.5 stars out of a scale of 5, which is huge.
The feedback this app received through reviews in the comment section is excellent, with 38,000+ comments.
Although this app was launched in the year 2021, it has managed to get many interactive responses from people across the globe. The best part is – the customer care team always responds to your query posted in the comment box.
The Bottom Line
I can say that promotions and advertising have reached the next level with this brilliantly creative Poster Making 2021 app.
Its wide collection of editing features, effectiveness in designs and templates, and ease of use has set the bars high for other apps on the same domain.