With the podcast boom, listening apps like Stitcher make access to audio shows a breeze. The app features podcasts about almost anything under the sun, including comedy, news, hobbies, pop culture, health, and housekeeping.
Don't be overwhelmed by the stream of content because Stitcher's innovative features make things easier for users, whether it is organizing your playlist or pacing your listening experience.
The goal of Stitcher is for you to enjoy exploring over 260,000 podcasts, from giants like the New York Times, NPR, Exactly Right, and WNYC. Read on to learn more about Stitcher.
About Stitcher
Shows on Stitcher
Stitcher's Most Popular Podcasts
How to Sort and Search for Episodes
Stitcher's Mobility Features
Stitcher's Upgrades
How to Download the Stitcher App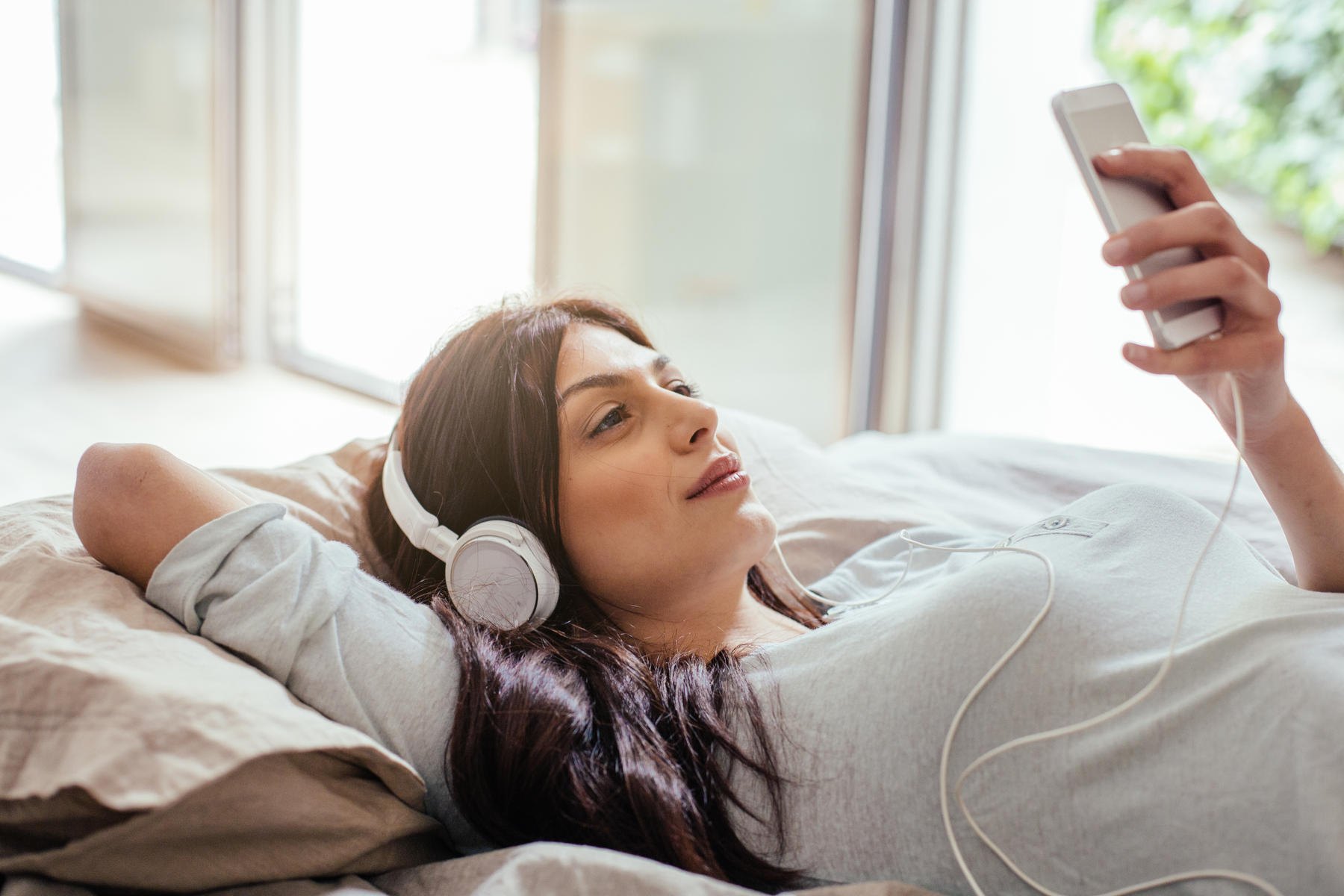 About Stitcher
Stitcher, released by Noah Shanok and Peter deVroede in 2008, is a podcast listening app that allows users to search, listen to, and download podcast shows. Stitcher also produces original podcast shows through networks Witness Docs and Earwolf.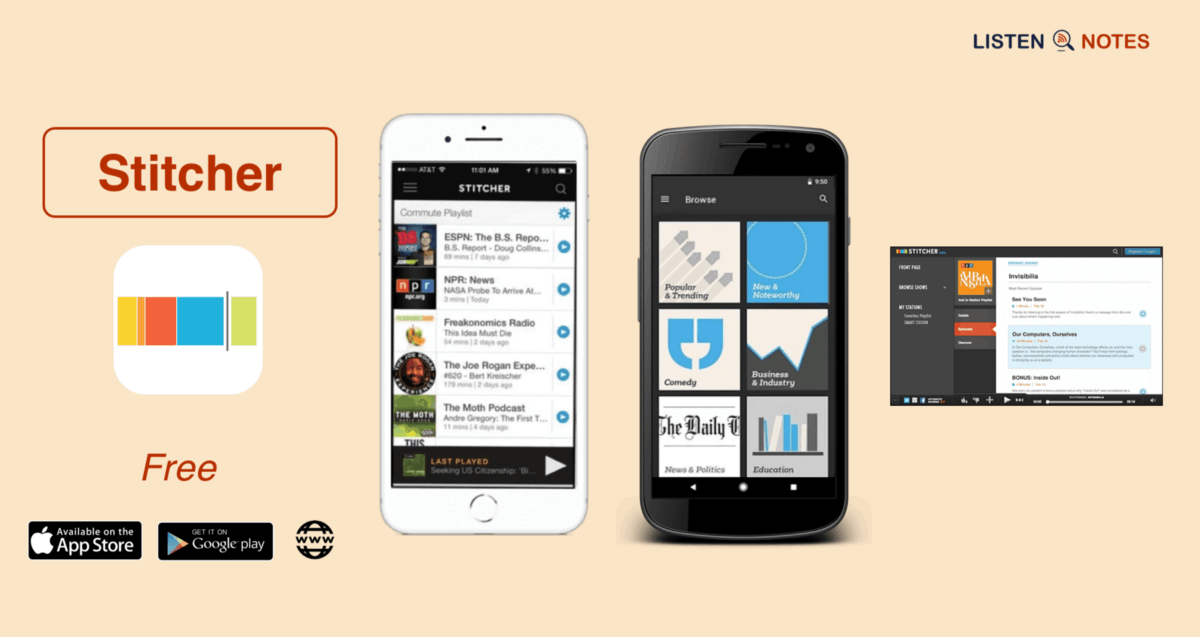 Stitcher offers ad sales and distribution services to various audio shows. The media company runs three original content networks covering 50 shows from Earwolf, Witness, and Stitcher Originals.
The app plays shows like Unfinished: Deep South, How Did This Get Made?, Office Ladies, Comedy Bang! Bang!, Verified, and The Dream.
Stitcher's revenue soared by 42% year over year. Its revenue in 2019 hit $73 million. The app is also one of the most-awarded podcast apps available for both Android and iOS devices.
Stitcher's History of Acquisitions
Stitcher was acquired in 2014 by Deezer, which sold it to the digital company Midroll Media in 2016. Midroll Media, which was acquired by E.W. Scripps Company in 2015, rebranded and made Stitcher its parent company. Earwolf is a part of the E.W. Scripps network.
Acquired by Sirius XM Holdings Inc. in July 2020, the app has introduced upgrades that podcast enthusiasts won't want to miss. Sirius XM also runs Pandora, AdsWizz, and Simplecast.
According to the company, the acquisition makes them a one-stop-shop for podcast creators, advertisers, and publishers.
Stitcher's Most Popular Podcasts
Accessible through Android, iOS, Alexa, Sonos, and various websites, Stitcher is home to some of the most recommended podcasts online. The themes of the podcasts range from politics to sports and beyond.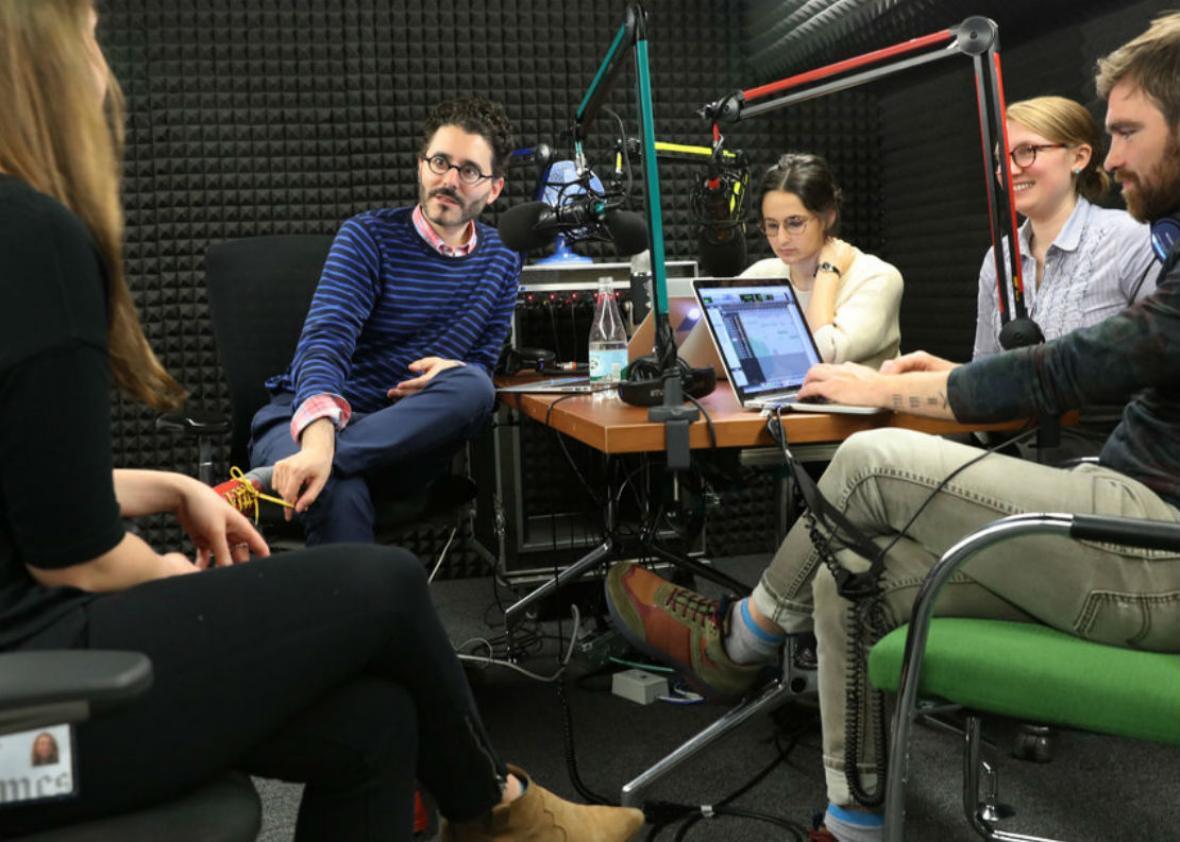 Stitcher's most popular podcasts today are The Daily, a news show hosted by Michael Barbaro, Crime Junkie, which is about everything crime-related, and My Favorite Murder with Karen Kilgariff and Georgia Hardstark, which explores true-to-life murder stories.
Other top news podcasts are NPR's Up First, The Rachel Maddow Show, and Dateline NBC for investigative stories. You can also entertain yourself by listening to light podcasts like This American Life, which features short stories, Conan O'Brien Needs A Friend, and Armchair Expert with Dax Shepard.
Parents like Wow in the World, Circle Round, and Story Pirates, which feature the imaginations of children. Science and health podcasts like Hidden Brain and Radiolab are also a hit to users.
Stitcher's Originals
Stitcher's originals include the comedy show Just Between Us, which attempts to answer the most difficult questions in life; Sold in America, which discusses the sex trade in the US; and Un-Erased, which looks into gay conversion therapy.
Other hits are Wolverine: The Lost Trail, an audiobook about Wolverine from Marvel Comics' X-Men, and Katie Couric, a news podcast hosted by Katie Couric and Brian Goldsmith. In LeVar Burton Reads, host LeVar Burton read stories by Neil Gaiman, Ray Bradbury, and Haruki Murakami.
Stitcher fans are hooked on podcasts that are heavily soaked in stories: People I (Mostly) Admire, which features high achievers; The Secret Lives of Black Women, which delves into shared experiences by black women; and Gossip, which discusses stories in the hosts' suburban town, Golden Acres.
How to Search for Episodes
If you are looking for a specific episode of a show that has hundreds of episodes, iOS users on Stitcher can do so without pain by adding an in-show search bar when they go to the bottom of a show page.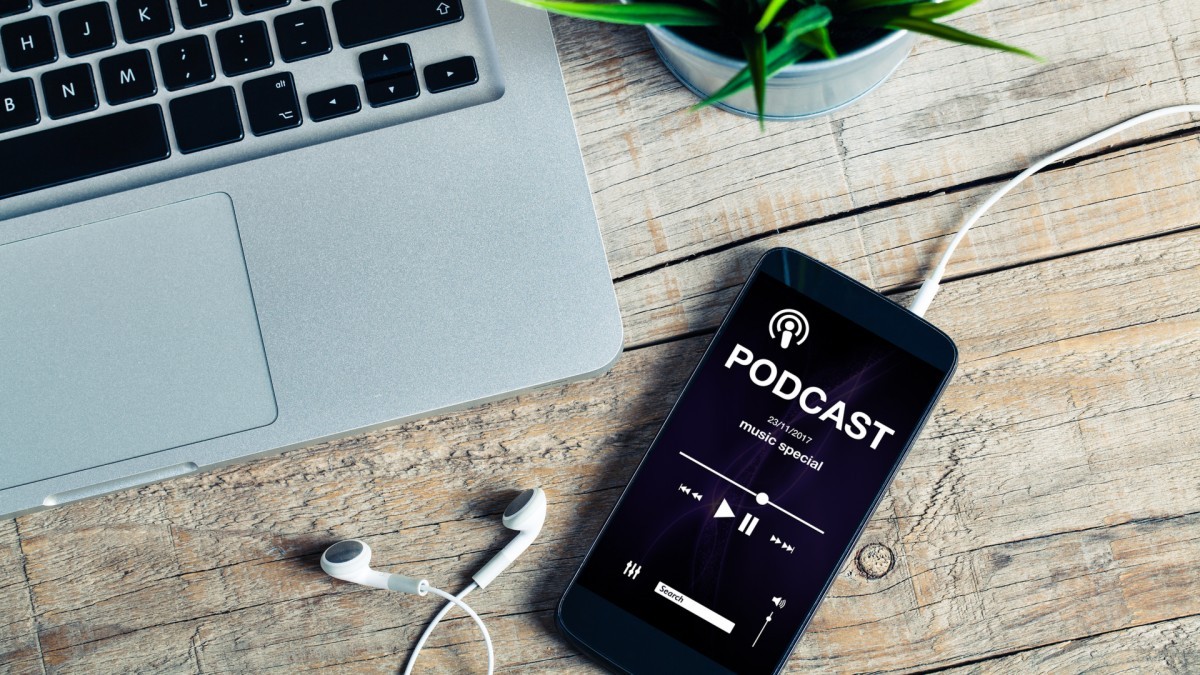 With the iOS episode search, they can simply type in the show and the search results will present relevant episode titles and descriptions.
Meanwhile, if you liked an episode and want someone to hear it from a specific point, you can do so by hitting the share button and then choosing "Share from xx:xx." For now, this feature is available for Stitcher on iOS.
As for Android, you can find an episode in the search tab. Stitcher also features sorting abilities to show all pages. Users can hit the sort button if they want to order episodes oldest to newest or newest to oldest.
Organizing Stitcher Podcasts
Sometimes, it can be overwhelming when you have so many podcasts to listen to. Stitcher solved that issue by allowing users to customize their playlists. These playlists can be customized based on their category, from news shows to comedy shows.
If you found an episode you want to play after listening to the current one, you can simply tap that episode you want to hear and hit "Play Next" in the episode menu.
Then, go to your "Up Next" queue on the player if you want to play it. You can also organize or remove episodes from the queue too.
Stitcher's Mobility Features
Stitcher takes pride in helping its fans to listen to their favorite podcast from anywhere and anytime. You can connect Stitcher to a Bluetooth speaker, Google Home, or Airplay device. Just hit "Connect to Devices" on the "Now Playing" screen to see your options for the devices.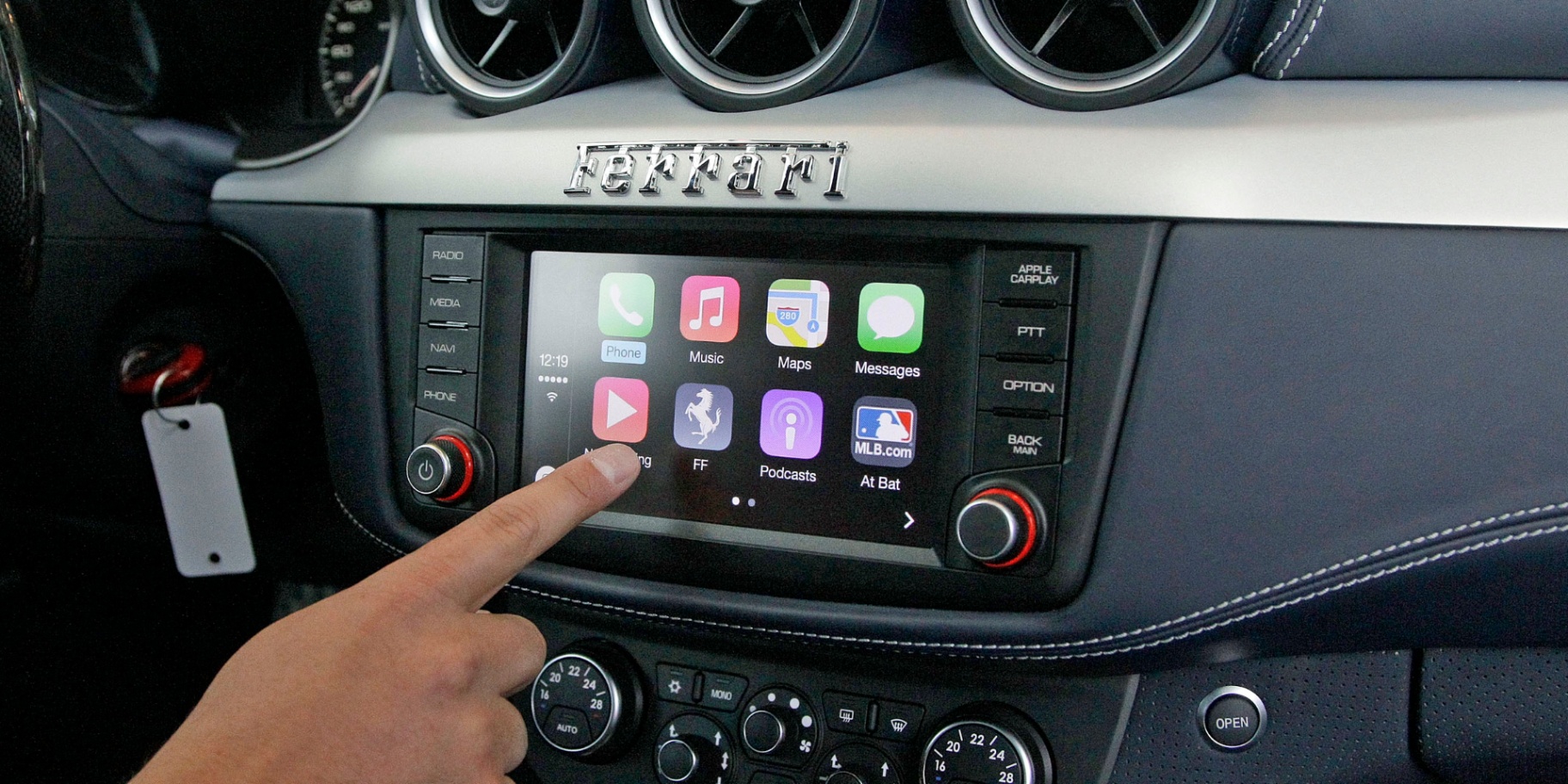 If you want to listen to a podcast while driving, you can connect Stitcher to Waze. You will be able to manage your podcast playback while driving. You can search for episodes or even skip them with your eyes still on the road.
The other way of listening to a Stitcher podcast while driving is to choose "Car Mode." Simply hit the car icon when playing an episode.
Custom Options on Stitcher
Stitcher users have the freedom to tailor the app's settings based on their situations and needs. For example, one can rewind podcasts by a certain amount of time through modifying your playback settings.
Another fun and convenient feature of Stitcher is its sleep timer. Just press the sleep timer icon, choose the duration, and then hit "Start Timer."
Moreover, if you want to delete an episode in the New Downloads list on iOS, simply do a swipe. If you want to delete several episodes at once, choose the options button in the top right, click edit, check the episodes to delete, and then press the delete button
Stitcher's Upgrades
After Stitcher was acquired by Sirius XM, the app was relaunched with a new design and new upgrades. This change came as its major competitors like Spotify and audio apps like Google Podcasts also continue to rise.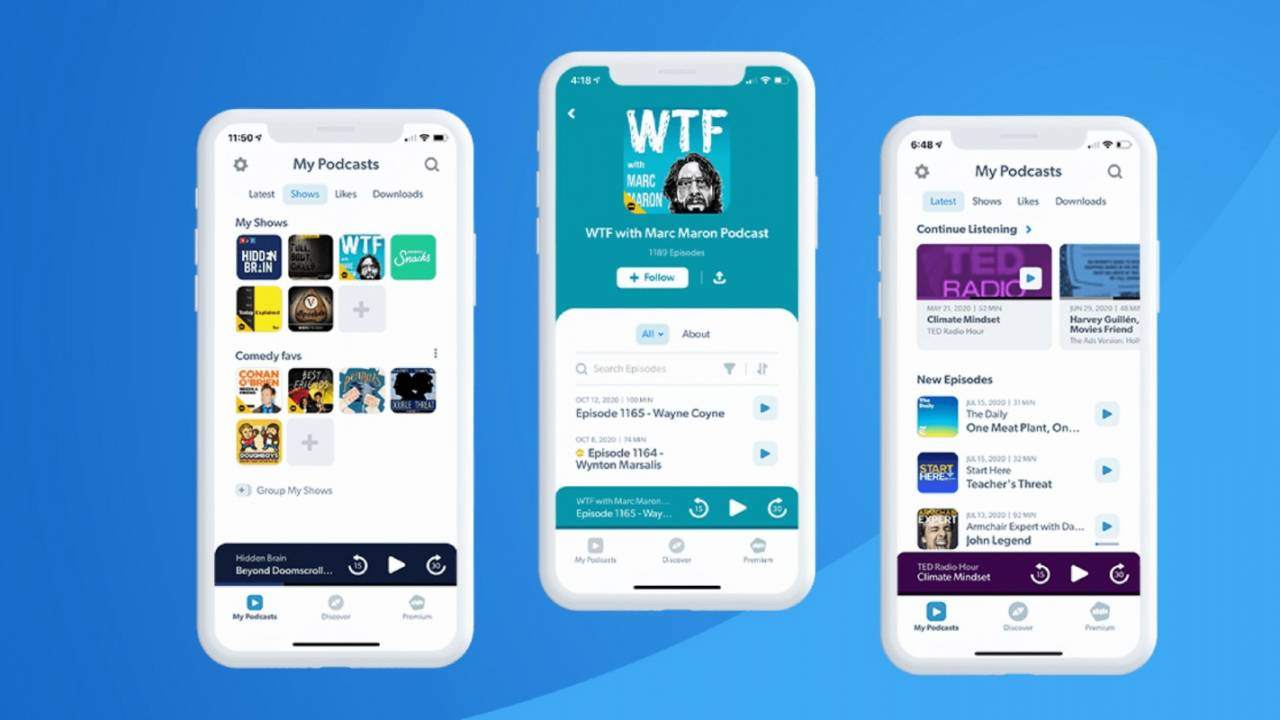 Stitcher came out with a new show layout, more personalization features, and new functions for common actions like managing content and looking up new shows.
The streamlined design gives better user control and navigation. You can organize shows using custom categories and place all of your downloads in My Podcasts.
In terms of watching podcasts, you can view recent and unfinished episodes. With filters, you can see only downloaded, unplayed, or liked episodes of a given podcast. Sorting episodes by date or by episode length is also possible.
Downloads and Playbacks
Users can pick the shows for which they want to automatically download new episodes and determine the number of episodes they want to keep on their device at a time.
There is also a slider control that lets them fine-tune the playback speed. Stitcher improved the Alexa and Sonos integrations and made the smart speaker playback more robust.
How to Download the Stitcher App
Stitcher can be downloaded for free, but it also offers Stitcher Premium, a subscription service that gives listeners access to exclusive ad-free podcasts.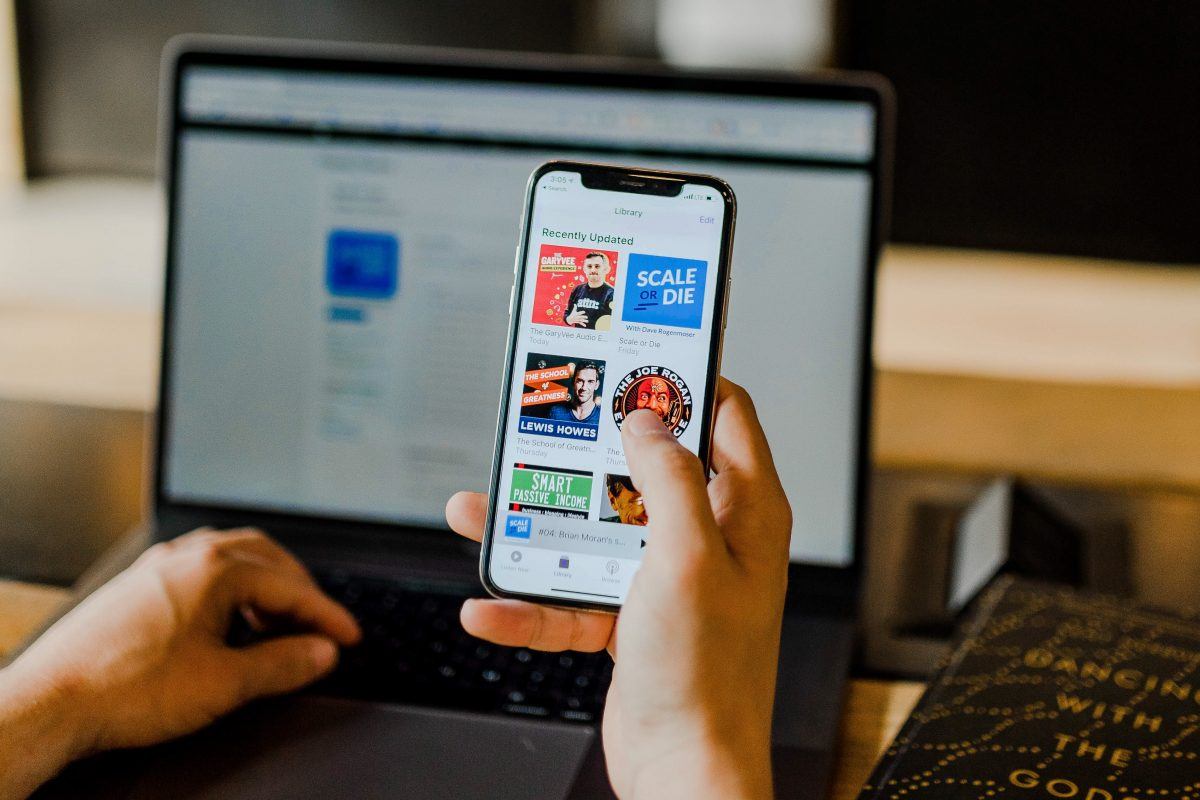 With Stitcher Premium, you won't be bothered by advertisements from podcasts. You can also access Stitcher Original podcasts, bonus podcast episodes, and more than 120 comedy albums with stand-up routines from comedians such as Hannibal Buress and Aziz Ansari.
A Stitcher Premium membership costs $4.99 a month or $34.99 a year.
To download Stitcher, you only need an email address after opening the app for the first time. Then, you can alternatively sign in with your Google or Facebook account which is easier. You can download Stitcher from the App Store or the Google Play Store.
Stitcher on Cars
Stitcher is also available on Amazon Echo and Sonos smart speakers and in more than 50 different car models.
Car brands that feature the Stitcher functionality are MINI, Volvo, Jaguar, GM, Ford, Mazda, BMW, Land Rover, and Subaru.
Car models with the Apple CarPlay and Android Auto systems can also support Stitcher.
Conclusion
The world may be jammed with podcasts to listen to but using an app like Stitcher can do wonders for your listening experience. The app is constantly evolving to adapt to the digital landscape and the content creation industry.
This is what technology is about: improving our lives, expanding our talents, and connecting us in different ways.