Ah, Wikipedia! The most popular online encyclopedia, and the most-used digital information source for millions of topics. It is basically Google for knowledge, the go-to place to learn more about anything in detail, and find out related information easily as well. And with the wonderful Wikipedia app, you can enjoy all this information for free!
Search for an in-depth topic like World War II to understand more about that complex era. Or search for the history of Zimbabwe, and get detailed information about the great country, its origin, its people, and its pride. You can learn about boats, books, architecture, sports, nature, animals, financial concepts, ANYTHING.
Wikipedia has millions of articles with footnotes and attribution that help you get started learning about almost any topic. In this article, we're going to tell you all about the features of Wikipedia's free app, how to use it to find information on almost anything with ease, and how to make it work optimally for you, all while on the go.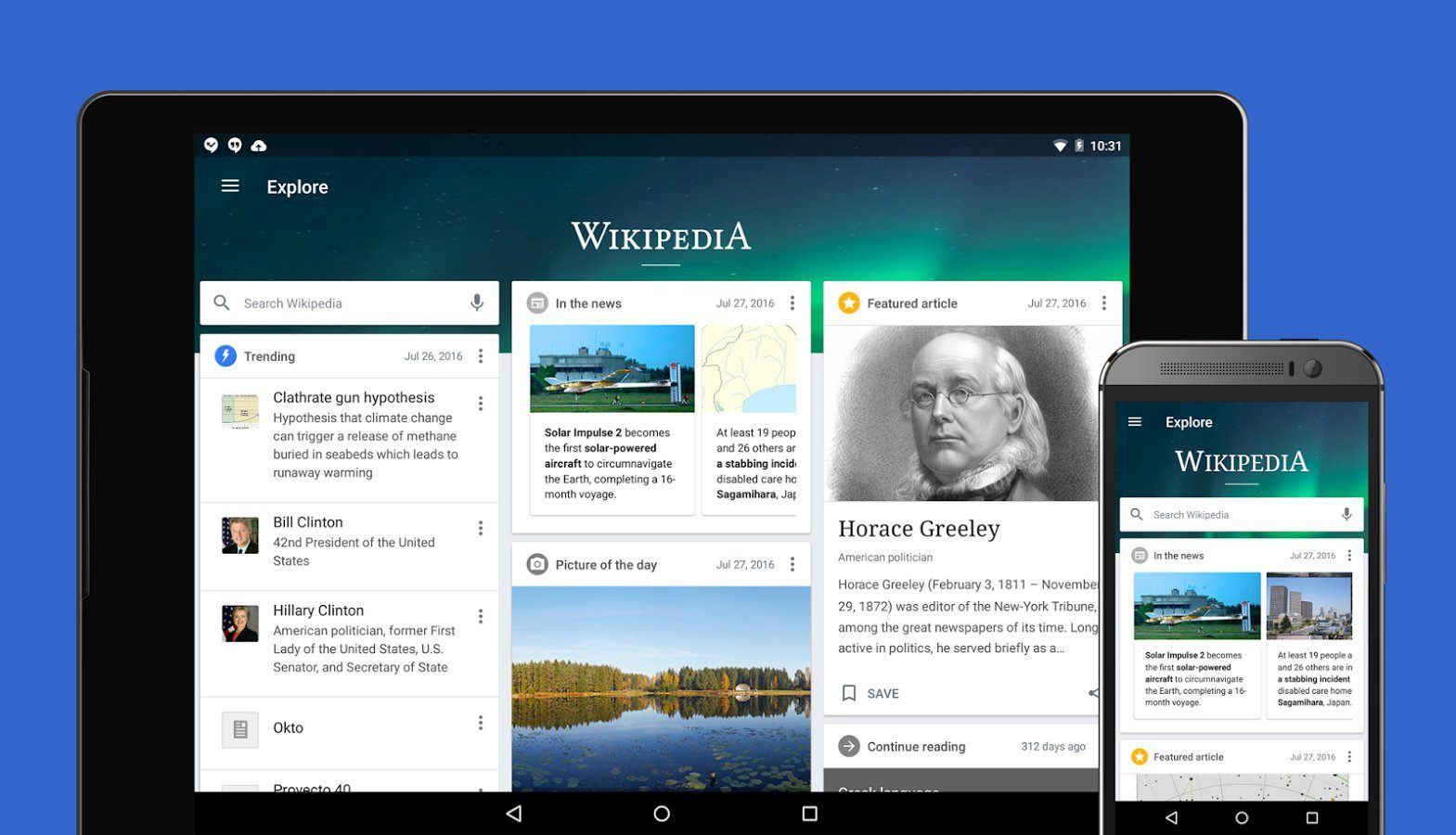 About the App
The Wikipedia app gives instant access to Wikipedia directly on your device, giving you unlimited access to search and explore the over 40 million articles, and in over 300 languages as well.
Created by a non-profit organization, the Wikimedia Foundation, Wikipedia is a whole library of information where you can search for information on pretty much anything, and read it in your own language, or in any language you want.
All of the articles you would normally find on their website have been formatted to be comfortable to read and accessible on your mobile device, totally ad-free, and without any fees to sign-up or use.
It is available to use on Android devices, iOS, and Windows devices. These variants have different apps in their respective stores but offer the same contents and great features. Find out below the quick and easy way to download the Wikipedia app for your smartphone device.
How to Download
First, find the correct app store for your device: it is available on the Google Play Store, on the Apple Store, and the Windows store. Second, search for "Wikipedia" on the search bar of the appropriate store used for your particular operating system. Click on the first option it brings out, and it will take you to the installation page.
Third, click on the "Install" button, and accept all requirements that will be requested for. The requirements are necessary for the app to properly function on your device. They are also privacy-protected and do not access your data.
Finally, after a successful download and installation, the app will be ready to be used on your device. To start surfing the millions of articles, open the app, and make sure you have an internet connection.
Main Features
For the amount of utility Wikipedia brings to all of its users, it is amazing that it is totally free. No Premium version, no Pro version, or Go version, or the like. It is accessible for everyone, including the deep pocket users, and the less deep pocket users.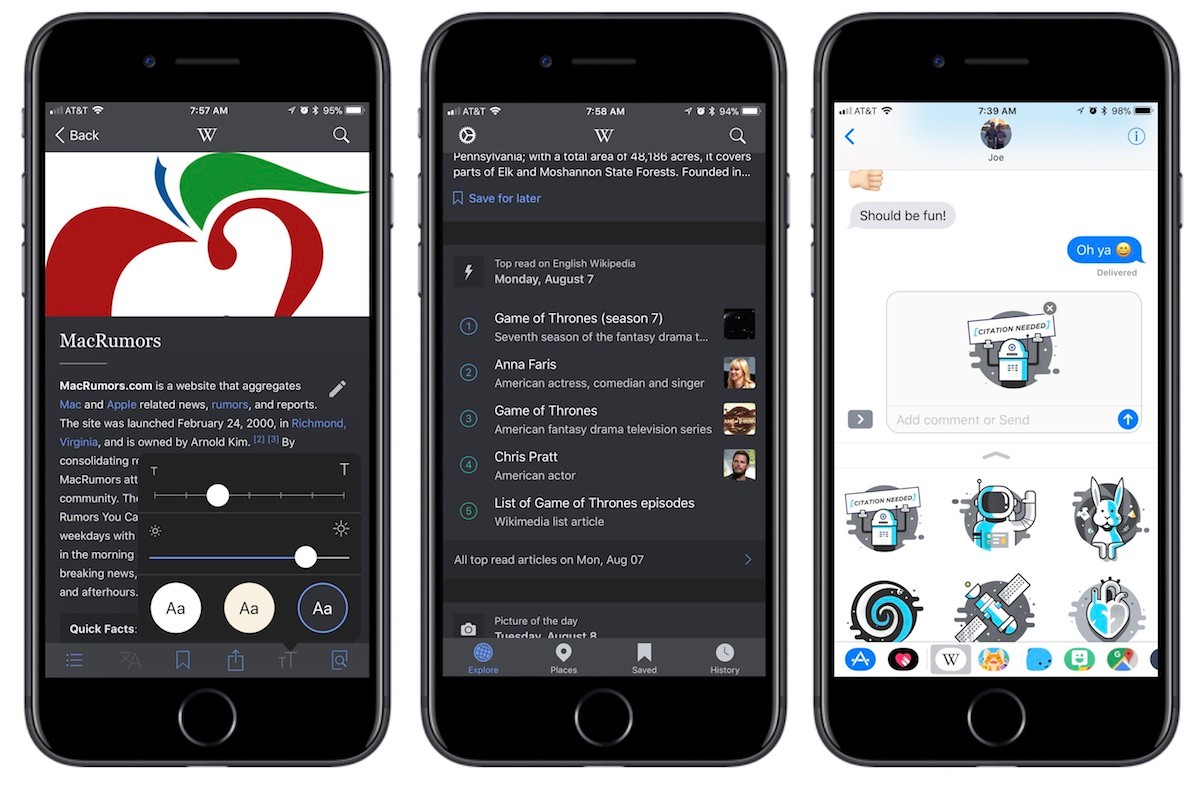 All articles are open source, rich, and duly referenced information. The Wikimedia Foundation confirms its stance on maintaining Wikipedia's free domain: "The heart and soul of Wikipedia is a community of people working to bring you unlimited access to free, reliable, and neutral information."
This concept is proudly displayed in one of the most amazing features of the Wikipedia app: the fact that it is a totally ad-free experience without the need to subscribe to anything or have a premium account of some kind. This makes using Wikipedia very enjoyable and easily navigable and readable.
According to the Wikipedia app's download page on the Google Play Store "Wikipedia is a place to learn, not a place for advertising." Wow! That is how much they value the information they give to their users. This feature makes it possible to fully concentrate on finding the information you need without distraction.
Over 300 Languages Available
For a non-native English speaker like myself, I may prefer to read articles from the Wikipedia app in my own language. Or, as I also speak and write Spanish fluently as well, I may consider reading the articles in Spanish. Why not!
With over 300 languages embedded, and accessible, you do not have to worry about struggling to read in English (which is the default language, no arguments there) if you do not understand it properly. You can click on the languages section, and go through the list of over 300 languages, and find the language you would like.
Searching and Exploring
With your search and reading history, the Wikipedia app provides other recommended articles that you can read to get informed. The Explore page is a place to go to find related articles, to see current events and updates, and to see events that happened on a particular day in history.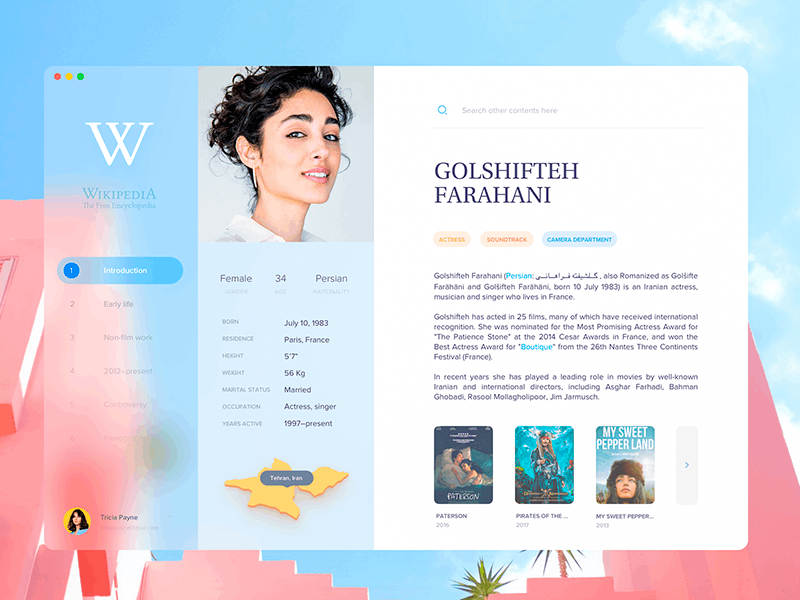 The homepage includes the centralized search pane where you can directly start looking for the information you need. Click on the search pane, and your device's keyboard shows up, where you can type in a search query to find out what you want to know.
The menu button, which looks like three dots at the top right of the app on your screen, is quite useful as it contains access to tools and features of the app. It contains the Nearby option, which uses your device's geographical coordinates to find relevant articles based on their proximity to your current location.
It also contains options to navigate to the Explore page, where you get recommendations and suggestions based on your previous search, My Lists page, a History page, and the Settings page. The setting page is where you can change theme options and send reviews.
Night Mode
The app has been built to have an impressive user experience and interface, but a night feature is also another great function included on the Wikipedia app. As you likely know, the standard background/theme is light, and that can be too bright to use at nighttime, even with the screen's brightness turned all the way down.
Thankfully Wikipedia has programmed a multitude of theme options into its app. Themes come in dark, pure black, sepia, and light. You can adjust it to suit the time of the day without it disturbing your eyes.
Save Articles to View Offline
Did you find a particular article exciting, or information-rich and want to save it? Are you considering starting a collection of related articles and categorizing them in collections? Well if you have been reading this article so far, you know this is where I assure you that: of course you can!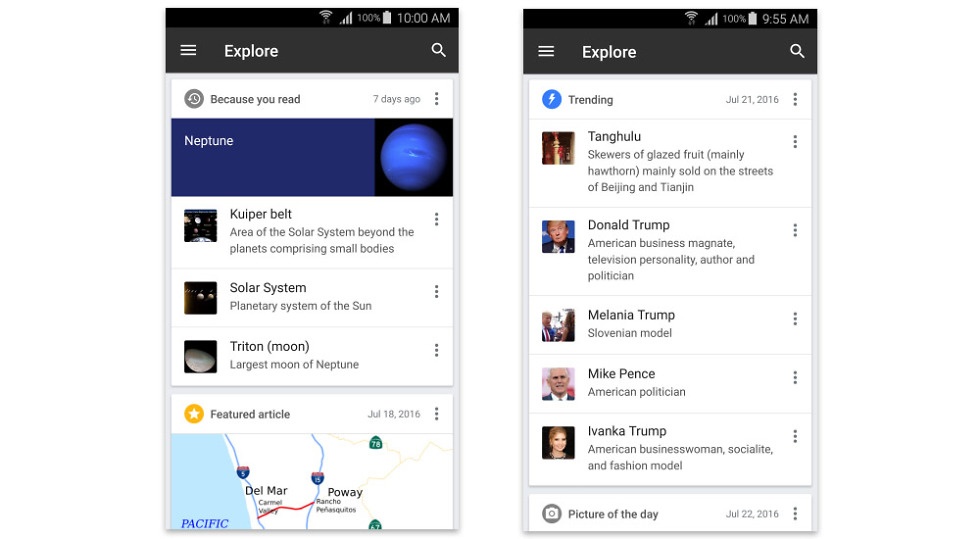 You can save articles and read them in the "My lists" section without the need to connect to an internet network. The saved articles are synced to all your devices, and you can read them, whenever, on different screens and on different operating systems.
To save an article for offline reading, when on the page to be saved, click the menu button. Then you select the option for "Save page" from the options. Then it saves into your lists.
For iOS users, there is a heart icon at the bottom of each page, and by tapping on this heart icon, the page is saved to your list. To view saved articles, click on the menu button again, then click on the "My List" option.
Feedback and Updates
Tips for using the app are simply fully understanding all of the features discussed above, customizing your theme, adding articles to your lists for offline reading or as a way to find them more quickly, and much more.
To send feedback, positive or negative to Wikipedia, go to the Settings page. Afterward, click on the "About the Wikipedia app" which leads you to another page. Thereafter, look for the "Send app feedback" link. You will then be directed to another page where you can provide your feedback.
Looking out for updates will be the next tip, as there come important things to enable a better experience for users. It comes with bug fixes, complaints being resolved (after voicing out a negative review, for example, an update can have it resolved), and more features can be added too.
Conclusion
Wikipedia has been everyone's favorite online encyclopedia since its creation in early 2001. It continues to succeed while keeping the platform advertisement-free and subscription-free. And with accessibility in mind, the app makes its articles and platform available for use in hundreds of languages.
Whether you want to learn about an obscure fruit, the career history of your favorite basketball player, how a country got its start, or even brush up on topics you learned back in elementary school, high school, or college, the Wikipedia app is the easiest way to always have something interesting to read or learn about, all within your pocket.